News
Sean Connery Cursed Out Disney Executives to Save The Rock, Says Michael Bay
Michael Bay's tribute to the late Sean Connery reveals the hilarious way in which the star secured a bigger budget for action classic The Rock.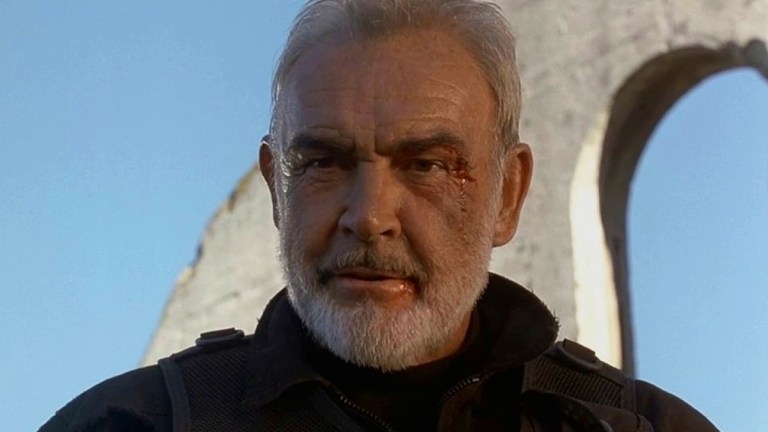 Director Michael Bay's The Rock remains a quintessential summer movie season offering. Having been released in 1996—one of the best years for action blockbusters—Bay's classic squared off the Top 4 box office earners, just behind classics like Independence Day, Twister and Mission: Impossible. Interestingly, while the onscreen grizzled gravitas of the recently passed Sean Connery complemented its interminable onslaught of pulse-pounding action, it appears that the late, great star also contributed to the film in an existential way.
It turns out that Connery, who, of course, co-starred in The Rock alongside Nicolas Cage, played an instrumental role behind the scenes during a particularly difficult time in the film's production, as Bay reveals in his tribute to the late legend on THR. While Bay describes his own initial nervousness as a young upstart tasked with directing the no-nonsense Scottish icon, he reveals that Connery became a key ally during his well-publicized tensions with executives of Walt Disney Studios (which distributed via its Buena Vista Pictures banner), as the film's production was running late and the coffers were dwindling. Pertinently, a curse-laden Connery tirade ended up securing much of the film's $75 million budget.
"This boy is doing a good job, and you're living in your Disney Fucking Ivory Tower and we need more fucking money!!" is what Bay recalls Connery shouted—in signature Scottish brogue—when defending him in front of a group of visibly shocked Disney executives. In fact, rather than wasting time being offended, the group immediately acquiesced to Connery's coarse request, responding, "OK. How much?"
However, there's some context to cover here regarding what led to this monumental behind-the-scenes moment. Bay—who was only 31 at the time of the film's release, and just broke big with 1995 feature debut Bad Boys—calls himself "young-dumb" during The Rock's production, and reveals that Connery—who was 65 by the film's release—simply referred to the then-fresh-faced helmer as "Boy." He explains of nervously giving Connery his first direction saying, "Uh, Sean can you please do that less charming." He said, "Sure, boy!" While that nickname would have rubbed someone else the wrong way, it turned out to be a term of endearment; one that Connery would back up with his actions during the film's car chase scene, which made quite a mess of some San Francisco streets.
"Sean [is] driving and I'm alone filming him," Bay writes. "He slams the brakes; my head hits the window. He says, 'You OK?' I say, 'No, the Disney folks are here to kick my butt for being two days over schedule.' Sean, with that sly look, says, 'You want me to help?'"
Connery's off-screen exploits—such as punching real-life mobster Johnny Stompanato—certainly helped cement his status as a swagger-emanating cultural icon—and that's not counting the elephant-in-the-room fact that he was the original James Bond star, who's put in numerous unforgettable film performances, notably with a 1988 Best Supporting Actor Oscar win for his role as cop Jim Malone in The Untouchables. Consequently, the Disney suits were apparently taken aback when Connery entered the room, accompanying Bay like a badass father confronting his son's bullies. "Cut to: Having lunch with the Disney execs in a third-grade classroom, sitting at tiny tables and chairs." Bay continues about the moments leading up to the shout-down, "We looked like giants. I announce that Mr. Connery would like to visit and say hi. Sean comes in, sits down across from the open-mouthed executives."
Sure, cursing out a room full of big brass is hardly recommended as a default strategy for getting ahead in the business world, but none of us are Sean Connery. It worked out tremendously on this occasion, allowing The Rock to finish filming as planned, leading to its June 7, 1996 release, which kicked off a spectacular box office run that ultimately grossed $335 million worldwide ($555.7 million in 2020 dollars). However, expletives would not suffice in Connery's subsequent clash with a big studio over his starring role in 2003 comic book movie adaptation The League of Extraordinary Gentlemen, which created a disillusionment with the industry that led to his retirement.
Nevertheless, Bay's recollection of Connery paints the portrait of someone who not only loved the business, but those who displayed similar passion. "[He] did it because he loved movies. He loved excellence and doing the best he could. His work ethic was bar none, the best I've ever experienced," he concludes. Indeed, as Connery's conspicuously-Scottish-accented Spaniard, Ramirez, famously put it in Highlander, "With heart, faith and steel. In the end there can be only one."