Features
The Time Sean Connery Punched a Real Mobster in the Face
Sean Connery's onscreen tough guy persona had an element of truth to it, and he once took on a notorious mob enforcer and won.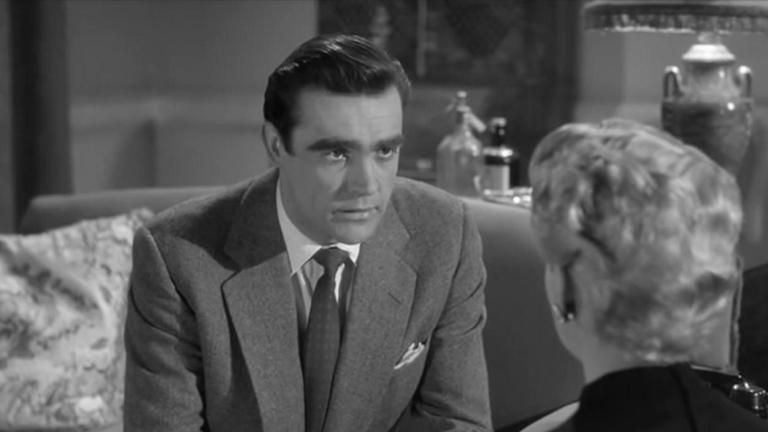 "Isn't that just like a wop, brings a knife to a gunfight," Sean Connery said in his Academy Award-winning his role The Untouchables in 1987. This, from a man who only brought his fists to one in real life. 
In the Brian De Palma film, Connery played Officer Jim Malone, a tough old Irish cop chasing gangsters in Al Capone-era Chicago. But Connery also took on a mobster in real life as a tough young Scottish actor. In 1957, Connery was shooting the film Another Time, Another Place in London. His co-star was Lana Turner, a Hollywood sex symbol whose boyfriend was a mob enforcer who looked so much like a gangster he could have come out of central casting with his penchant for lime green suits and pistol cufflinks. Connery hadn't yet earned his double-0 status as James Bond, but he put on a real-life performance which has become Hollywood mythology.
Turner's career had taken a downturn and she was shooting Another Time, Another Place in England. The film told the story of an American journalist who has an affair with a British war correspondent who is 10 years younger than her. Turner chose Connery to play the love interest.
Connery had only been acting for three years, and this was only his seventh film. He'd also been making his mark on TV and the stage, a job he got after competing in the 1953 Mr. Universe bodybuilding contest as "Mr. Scotland." He came in third in the junior section. Connery came from the tough Fountainbridge district of Edinburgh's West End. He joined the Royal Navy when he was 16, but was furloughed with an ulcer three years later. To pay the bills, he took on a series of jobs which included posing nude for art students.
With a backstory like this, it was only natural gossip would spread that the two onscreen lovers didn't end their scenes when the director called cut. Tabloids ran photos of Connery escorting Turner to shows on the West End and dining out at London's fanciest restaurants. Reports were picked up by Hollywood papers, where they were read by Turner's boyfriend.
Her boyfriend Johnny Stompanato was a mob bodyguard and enforcer who quickly got a reputation around Tinseltown as a violent mug with a thing for Hollywood starlets. Frank Sinatra had to ask Mickey Cohen to tell Stompanato to stay away from Ava Gardner. The loyal Cohen treated Johnny Stomp like an untouchable made man, and advised the Chairman of the Board to go back to his wife and kids.
The jealous Stompanato wasn't too happy about Turner and Connery's on-camera coupling, so when he heard the rumors, he went into a rage. He called Turner, threatened to kill or disfigure her, and boarded a plane for London to deal with Connery. Lana's father, the bootlegger and gambler John Virgil Madison Turner, was the victim of a gangland execution when she was younger, and the "Sweater Girl" took such threats seriously. When Johnny Stomp landed, Turner told him to stay away from the set.
Stompanato ignored her and showed up at the studios in Borehamwood, Hertfordshire, where Turner and Connery were filming. He caught a scene where the pair were embracing on a couch. After a few retakes, he walked into the frame, pointed a pistol at Connery, and told him to take his hands off Turner.
The future Bond grabbed the enforcer's wrist in a swift move, twisted it until the gun came loose, and then decked him with one punch. Turner called Scotland Yard to escort Stompanato from the set, and he was deported for breaking England's gun laws. While the whole thing was supposedly caught on camera, no footage has ever surfaced.
Some time after the film wrapped, Connery, under a seven-year contract to 20th Century Fox, went to Los Angeles to make Darby O'Gill And The Little People (1959) for Walt Disney. He soon learned about one of the biggest Hollywood scandals. Johnny Stomp had been killed at Turner's rented Beverly Hills home on April 4, 1958. Turner's 13-year-old daughter Cheryl Crane stabbed Stompanato to death with a butcher knife after witnessing him attack her mother and threaten to mess up her face. The killing was ruled justifiable homicide at trial but Stompanato's family sued Turner for $7 million.
After Stompanato's death, passages from his personal letters to Turner were published in the Hollywood press. Some of the letters mentioned his feelings about Connery taking the actress and her daughter to London vaudeville shows. Cohen, who was convinced Lana had actually murdered Stompanato, did not like the publicity, and had vowed revenge on anyone who had anything to do with his former bodyguard's death.
Connery was staying at the Hollywood Roosevelt Hotel while making the Disney film. Depending on reports, he either got a call from Mickey Cohen or one of his henchmen with the message "Get out of town or a contract will be put on your life." While Connery had proved himself a brave Scotsman, he had no way to gauge how serious the threat was. On the advice of Disney executives, he checked into the San Fernando Valley's cheap Bel Air Palms Motel until the heat was off.
The scandal didn't tarnish Connery's reputation as much as his performance in Darby O' Gill and the Little People, though. Critics may have jeered, but Cubby Broccoli's wife saw it and recommended Connery be hired to play James Bond in Dr. No (1962) based on the film.