News
Twister Reboot Set at Universal, Joseph Kosinski Eyed to Direct
Universal is rebooting the 1996 blockbuster weather-chasing hit, Twister, with Joseph Kosinski in talks to direct.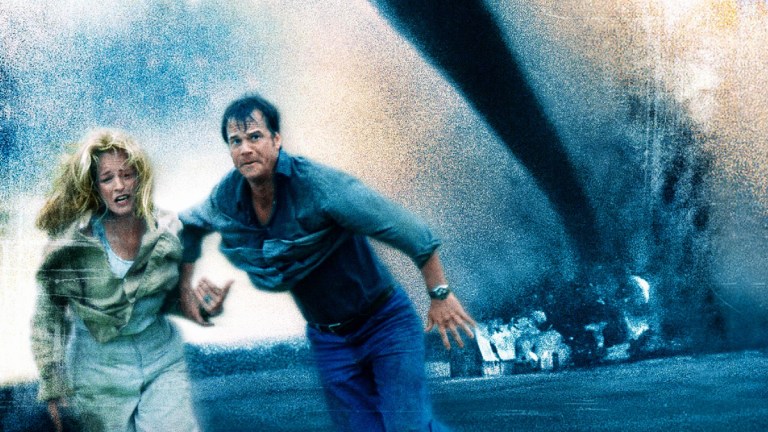 Twister, the 1996 blockbuster hit, is set to conjure a new vaunted vortex on the big screen, thanks to plans for—get ready for it—a reboot movie.
Universal Pictures, which co-produced the original film, is spearheading a Twister reboot effort, and is in talks to tap Joseph Kosinski to direct, according to Variety. While there's currently no script or even plot details in place, the studio is reportedly meeting with writers. Additionally, the legendary Frank Marshall is attached to produce the picture.
Manifesting as an archetypal effects-heavy blockbuster, Twister focused on weather-chasing meteorologist Jo Harding (Helen Hunt), who, armed with a team and state-of-the-art equipment, is determined to gather valuable data on a tornado headed for Oklahoma with potential to reach F5 status, similar to the one that claimed her father's life when she was a child. However, Jo's pursuit of her proverbial white whale is complicated by the presence of estranged husband Bill (Bill Paxton), whose fiancé, Melissa (Jami Gertz), brings a love triangle dynamic to this dangerous task amidst another complication with competing storm-chaser Jonas Miller (Carey Elwes). The film's cast also consisted of Jeremy Davies, Lois Smith, Alan Ruck and a pre-breakout Philip Seymour Hoffman.
Despite not being frequently cited these days in the '90s blockbusters conversation, 1996's Twister (not to be confused with the 1989 comedy of the same name,) was a hit as massive as the film's titular weather phenomenon. The film was the sophomore feature directorial effort of Dutch helmer Jan de Bont, who was white-hot from his debut with the 1994 Keanu Reeves-headlined cinematic smash hit, Speed. He worked off a script by the late sci-fi legend, Michael Crichton, and his wife, Anne-Marie Martin, both of whom were pitched the story concept by Steven Spielberg.
With de Bont having come off an intensity-teeming film like Speed, it meant that Twister was tasked with being an onscreen amusement park attraction of a film, and it certainly delivered. Released on May 10, 1996, the film went on to gross $494 million worldwide, and successfully kicked off a summer movie season that would prove memorably lucrative for the industry. However, Twister's status as 1996's premiere summer smash hit would slip away, courtesy of legendary summer offering Independence Day, which earned $817 million worldwide, relegating the film to a distant #2 in both domestic and worldwide annual tallies. Nevertheless, Twister still impressively out-grossed major hits from that year such as Mission: Impossible (#3), The Rock (#4) and The Hunchback of Notre Dame (#5).
Joseph Kosinski prospectively steps into the Twister reboot with potential momentum from directing Tom Cruise in the 34-years-in-the-making sequel, Top Gun: Maverick, which is currently scheduled to premiere on December 23. Having only directed features sparingly, Kosinski's last major effort goes back to 2013's Oblivion, a future-set sci-fi effort that also starred Cruise. His feature debut was a decades-in-the-making sequel in its own right in 2010's TRON: Legacy.
There's currently no production or release windows to cite for Universal's Twister remake, but we will certainly keep you updated as the news arrives.