News
Sean Connery, Acting Icon and Original James Bond, Dies at 90
Sean Connery played a variety of roles in over 67 films, but will forever be the first and most iconic James Bond.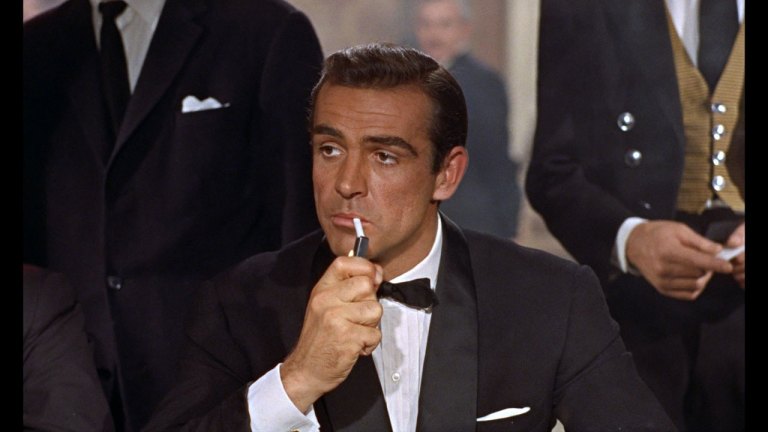 Sean Connery, one of the truly iconic actors of Hollywood, died overnight in the Bahamas at the age of 90. No cause of death was announced.
The Scottish actor's career spanned five-decades in which he played a wide range of unforgettable characters, many of them iconic on their own. But he will always be known as the first, best and most recognizable actor to play the British Spy with the license to kill, James Bond. He played Agent 007 in seven movies, beginning with the first James Bond movie Dr. No in 1962.
But Connery was no mere espionage agent, and he certainly wasn't secret. Connery starred opposite Tippi Hedren in Alfred Hitchcock's 1964 film Marnie. He stood out in a crowded all-star cast in Murder on the Orient Express from 1974. He escaped Alcatraz in The Rock (1996), defected to the United States in The Hunt for Red October, saved the day as a firefighting King Agamemnon in Terry Gilliam's Time Bandits in 1981, and played Indiana Jones' father, professor Henry Jones Sr., in Indiana Jones and the Last Crusade in 1989. He won an Academy Award for best supporting actor for his role The Untouchables in 1987. He played Officer Jim Malone, a tough Irish cop chasing gangsters in Al Capone-era Chicago.
Thomas Sean Connery was born on Aug. 25, 1930, in Fountainbridge, Edinburgh, Scotland. His mother was a cleaning woman. His father was a truck driver. His region was in a financial depression and his family lived near poverty levels. Connery dropped out of school when he was 13. He joined the Royal Navy at 16, serving three years before being discharged with ulcers.
After his discharge, Connery shoveled coal, polished coffins, laid bricks, and posed for art students at the Edinburgh Art School. He took up bodybuilding and competed as "Mr. Scotland" in the Mr. Universe competition in London. It got him his first role in the chorus of a touring show of the musical South Pacific, which is where he met Caine in 1954. Connery chose acting over his plan of becoming a professional soccer player because it offered more longevity. Connery made up for his missed education by studying Shakespeare, Ibsen, Brecht.
Connery had bit parts on London productions until he was cast in Agatha Christie's Witness for the Prosecution at Q Theatre in 1955. This led to several roles at the Oxford Playhouse. Connery's TV debut came in with a small role in the series The Square Ring. He played multiple roles in the series The Condemned. In 1956, Connery played a criminal in the "Ladies of the Manor" episode of BBC Television's Dixon of Dock Green. His first starring role on TV came in April 1957, when he played Mountain McLintock in BBC Television's production of Requiem for a Heavyweight.
Connery's film debut came in 1957 in the film No Road Back, directed by Montgomery Tully. Connery played Spike, a gangster with a speech impediment. He also had roles in the films Hell Drivers, Action of the Tiger, and Time Lock that year. He played a war correspondent to Lana Turner's journalist in Another Time, Another Place in 1958. His first leading role came in Robert Stevenson's Walt Disney Productions film Darby O'Gill and the Little People (1959).
Hot off his performance in a 1961 television adaptation of Anna Karenina, Connery auditioned for James Bond producers "Cubby" Broccoli and Harry Saltzman. Connery was not author Ian Fleming's first choice to play Bond. He'd wanted James Mason. The studio also auditioned or considered David Niven, Trevor Howard, Cary Grant and Richard Burton. After Dr. No premiered, Fleming began writing Bond as half-Scottish in his books.
Connery made five more Bond films over the next 10 years, including From Russia with Love (1963), Goldfinger (1964), Thunderball (1965) and You Only Live Twice (1967). He skipped On Her Majesty's Secret Service (1969), allowing George Lazenby to marry Diana Rigg, but returned to the role in Diamonds Are Forever (1971). He made one last appearance as 007 with the non-official Never Say Never Again (1983), when he was 52.
While initially experiencing a short post-Bond slump, Connery came back with a run of memorable performances in such films as Murder on the Orient Express, The Wind and the Lion and John Huston's The Man Who Would Be King. He played Robin Hood to Audrey Hepburn's Maid Marian in Robin and Marian. He later put in a cameo as King Richard the Lionheart at the end of Robin Hood: Prince of Thieves (1991). Connery also starred as the "Brutal Exterminator" Zed in John Boorman's Zardoz in 1974. He commanded the all-star war movie A Bridge Too Far in 1977.
Connery won a BAFTA for his role in The Name of the Rose (1986), and his only Oscar for his role in Brian De Palma's The Untouchables. He starred with Michelle Pfeiffer, but let Branford Marsalis dub his saxophone in the Glasnostic film The Russia House. He played Juan Sanchez-Villalobos Ramierez in the 1986 cult fantasy Highlander. He also played in the films First Knight (1995), Just Cause (1995), The Avengers (1998), Entrapment (1999), and Finding Forrester (2000). Connery voiced the role of the dragon Draco in the film Dragonheart in 1996.
Connery retired after making The League of Extraordinary Gentlemen (2003), turning down the role of Gandalf in The Lord of the Rings, Dumbledore in the Harry Potter series, and the Architect in The Matrix trilogy. He found a second life when Darrell Hammond played Connery as a master of the double entendre on Saturday Night Live's recurring "Celebrity Jeopardy" sketch. Connery was knighted in 2000, and received the American Film Institute's Life Achievement Award in 2006.
Connery and his first wife, actress Diane Cilento, divorced in 1973. He married his second wife, French artist Micheline Roquebrune, in 1975. He is survived by his son, Jason.