Features
How the Saving Private Ryan Cast Launched a New Generation of Stars
From Matt Damon to Vin Diesel, Steven Spielberg's World War II classic introduced a slew of new faces to the screen.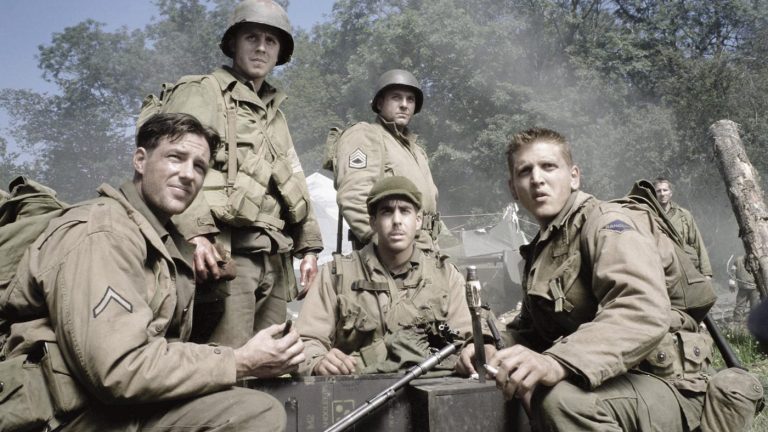 This article contains spoilers for Saving Private Ryan.
Steven Spielberg's Saving Private Ryan (1998) is known for a number of things: the gut-wrenching, visceral terror of its battle scenes (especially the opening landing at Omaha Beach), the shocking way in which bodies are torn to pieces during the course of those battles, the attention to period detail, and a powerful performance by Tom Hanks that rates as one of his finest.
But one thing that the film may not be as widely recognized for is the lineup of young actors who played members of Capt. John Miller's (Hanks) squad, or soldiers they met along the way as they searched throughout Normandy for the missing Pvt. James Francis Ryan. From Matt Damon to Vin Diesel, Spielberg recruited relatively new faces who were all, in one way or another, either launching their careers outright or just starting to make their mark on Hollywood.
Saving Private Ryan is now considered one of the greatest war movies of all time. Part of that is due to its incredible realism, part of that is due to the skilled direction by Spielberg at the top of his game, and no doubt part of it is thanks to the work of its youthful cast. Let's look back at who those actors were then, and what they went on to accomplish afterward.
Matt Damon (Private James Francis Ryan)
Matt Damon was largely unknown until around 1996 when he gained some good critical notices for his role in Courage Under Fire. At the same time, he and childhood pal Ben Affleck got to finally see their screenplay Good Will Hunting filmed, with Damon in the title role. The movie was in rehearsals in Boston when Steven Spielberg — who was shooting some scenes for Amistad there — stopped by the set to visit with Robin Williams, who introduced Spielberg to Damon. That led to Damon getting the title role in Saving Private Ryan. He's the young soldier than Tom Hanks and company are trying to find — and who must "earn" his ticket home.
By the time Ryan came out in mid-1998, Damon had gone from unknown to star thanks to the success of Good Will Hunting (which arrived in December 1997), and his and Affleck's Oscar win for Best Original Screenplay instantly became the stuff of award season legend. Damon has stayed a superstar ever since, starring in the Bourne and Ocean's Eleven franchises, along with other hits like The Talented Mr. Ripley, The Departed, True Grit, Contagion, The Martian, and Ford vs. Ferrari. Next up for Damon is in Stillwater and reteams with Affleck as co-writers and stars in Ridley Scott's The Last Duel, both due out later this year.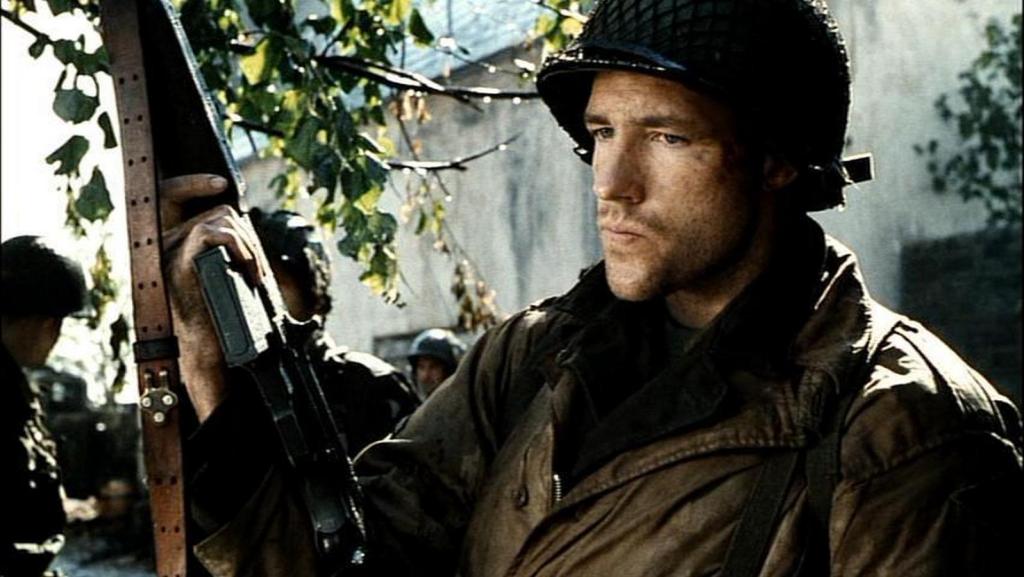 Edward Burns (Private Richard Reiben)
Ed Burns had already garnered some attention before landing the role of the feisty, rebellious Pvt. Reiben, one of the few members of Miller's squad to survive the film. He wrote, produced, directed, and starred in two independent features, The Brothers McMullen and She's The One, with McMullen in particular earning acclaim and awards (including an Independent Spirit Award for Best First Feature).
Reiben was Burns' first role in a major Hollywood production, and he followed that up with parts in films like 15 Minutes (2001), Confidence (2003), Life or Something Like It (2002, and the notoriously bad sci-fi thriller, A Sound of Thunder (2005). He also continued to make his own pictures, including No Looking Back (1998), Ash Wednesday (2002), Newlyweds (2011) and Beneath the Blue Suburban Skies (2019), while also creating, directing and starring in a TV series called Public Morals (2015) that lasted for one season on TNT. Not exactly a household name, Burns has nevertheless remained active and prolific.
Vin Diesel (Private Adrian Caparzo)
Before being cast as Pvt. Caparzo — the first member of Miller's squad to die while searching for Ryan — the only credits Vin Diesel had to his name were a short film called Multi-Facial, an uncredited walk-on as an orderly in 1990's Awakenings, and the tiny 1997 indie release Strays, a semi-autobiographical piece which Diesel wrote, directed, and starred in himself. He was, for all intents and purposes, a complete unknown when he was gunned down by a German sniper in a memorably tragic scene early on in Saving Private Ryan.
Things happened quickly for Diesel after that, as he landed the title voice in The Iron Giant (1999) and launched two franchises back to back: in 2000 he introduced the world to the space criminal Riddick in Pitch Black while 2001 brought the film The Fast and the Furious, not to mention Diesel's signature character, Dominic Toretto. While his other films since have had varying degrees of success, the Fast and Furious series has turned into one of the biggest box office behemoths of the past decade, with F9 coming this summer. Diesel has also played in the world of comic book movies, voicing Groot in the Marvel Cinematic Universe and launching his own superhero film venture with last year's Bloodshot.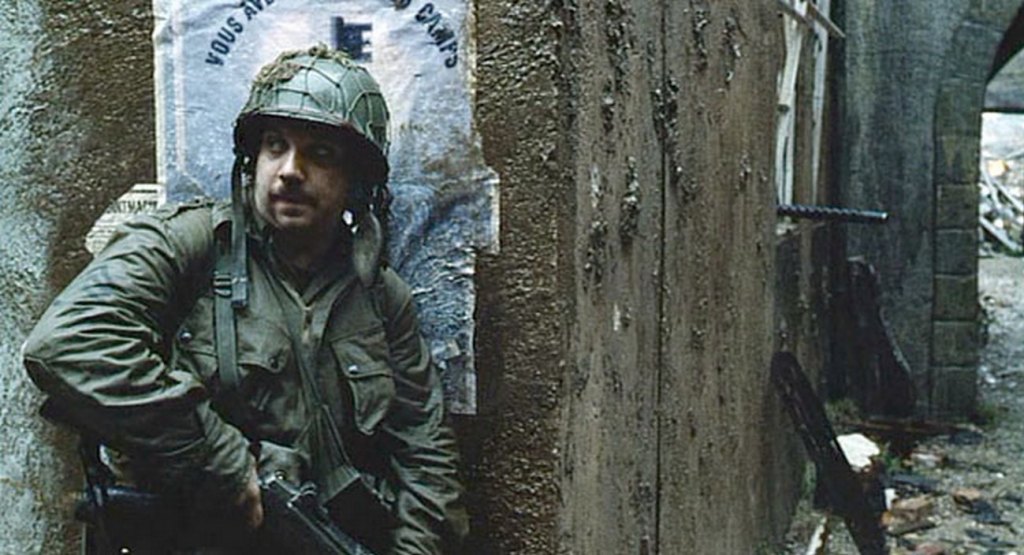 Paul Giamatti (Sergeant William Hill)
The same sequence that features the death of Vin Diesel's character also introduces the sardonic, war-weary Sgt. William Hill, played by Paul Giamatti, whose inadvertent collapse of a wall leads to a tense standoff with a hidden group of German soldiers. Before Ryan, Giamatti had bounced around in small film and TV parts for the early part of the '90s, scoring his breakout role in the 1997 Howard Stern biopic, Private Parts, as radio station program director Kenny "Pig Vomit" Rushton.
After Ryan, Giamatti continued to work steadily and garner more acclaim for outstanding performances in films like Man on the Moon, American Splendor, and Sideways, a movie for which we're still angry that Giamatti did not receive an Academy Award nomination. He did earn one the following year for his supporting role in Cinderella Man and has continued as one of today's best working actors in movies like Barney's Version, Win Win, The Ides of March, 12 Years a Slave, and Private Life, along with his exemplary starring work in TV on John Adams and Billions. He even won an Emmy for playing the United States' second president.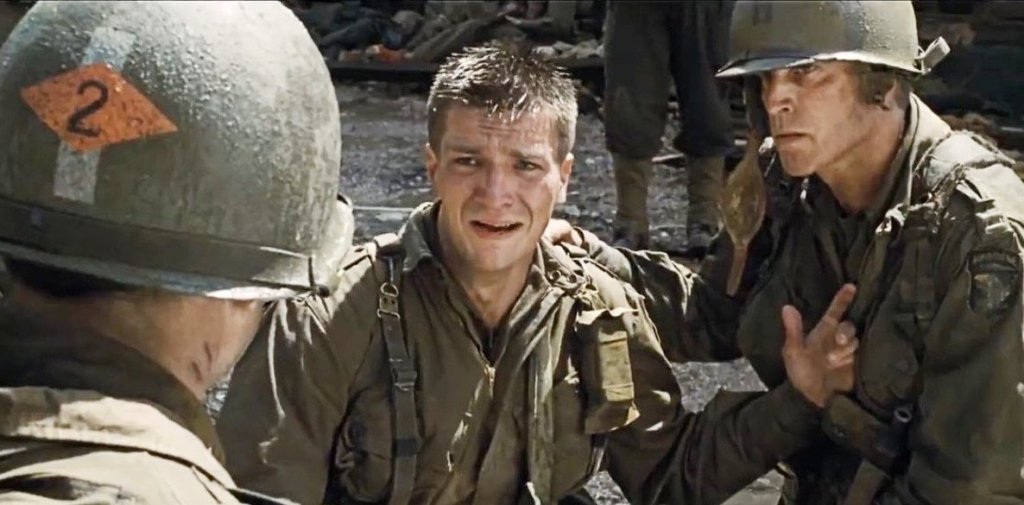 Nathan Fillion (Private James Frederick Ryan)
He's only onscreen for a few minutes, but Nathan Fillion makes a distinct impression as the "wrong" Pvt. Ryan, a soldier with nearly the same name whom Miller and his men come across — only to realize that they have to keep looking. The Canadian-born Fillion first scored some attention in the mid-1990s as Joey Buchanan on the daytime soap One Life to Live (he returned briefly in 2007). Aside from an obscure 1994 film called Strange and Rich, Saving Private Ryan was for all intents and purposes his major motion picture debut.
Since then, Fillion has worked steadily with his biggest successes coming on TV and in the world of geek culture, where he remains a fan favorite. The Joss Whedon-created sci-fi series Firefly didn't even last one full season between 2001 and 2002, but has become a cult classic and spawned the movie Serenity (2005). Fillion's later series, Castle and the currently airing The Rookie, have proven more durable. His other notable film and TV credits include James Gunn's Slither, Desperate Housewives, Modern Family, Santa Clarita Diet, and Monsters University, while his voice work has also included a recurring role as Green Lantern/Hal Jordan in a number of DC animated films. Next up: more comics-related fun as Floyd Belkin/TDK in Gunn's The Suicide Squad, and the voice of Wonder Man in Hulu and Marvel's animated M.O.D.O.K.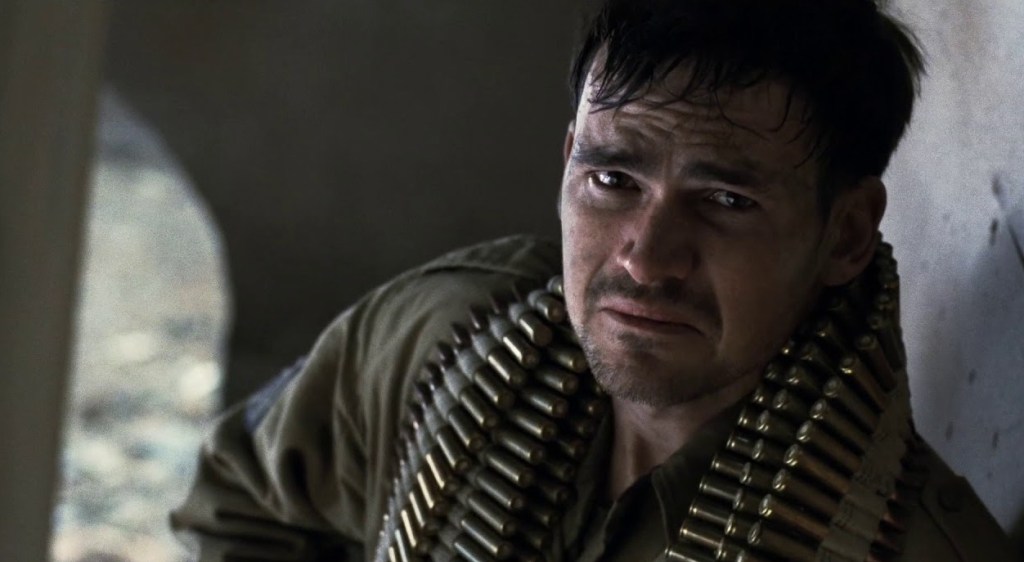 Jeremy Davies (Corporal Timothy Upham)
Jeremy Davies is unforgettable as the terrified, cowardly Cpl. Upham, a nerdy translator who is brought on the mission for his linguistic skills and can only stand paralyzed paralyzed with fear as his fellow soldier Mellish is stabbed to death just up a flight of stairs by a Nazi. Like many of his castmates, Davies kicked around in small acting jobs before garnering acclaim in the 1994 black comedy Spanking the Monkey, which also marked the directing debut of David O. Russell.
Saving Private Ryan was his next big attention-getter and cemented his position as one of the more quirky and compelling character actors in film and TV. Following Ryan, Davies worked in films like Ravenous, Solaris, Secretary, and Rescue Dawn, but has also found success on the small screen in series like Lost, Sleepy Hollow, and Justified. He's also appeared as Dr. John Deegan in the "Elseworlds" arc of the Arrowverse shows The Flash, Supergirl, and Arrow. We'll see him next in Scott Derrickson's The Black Phone, based on a story by Joe Hill.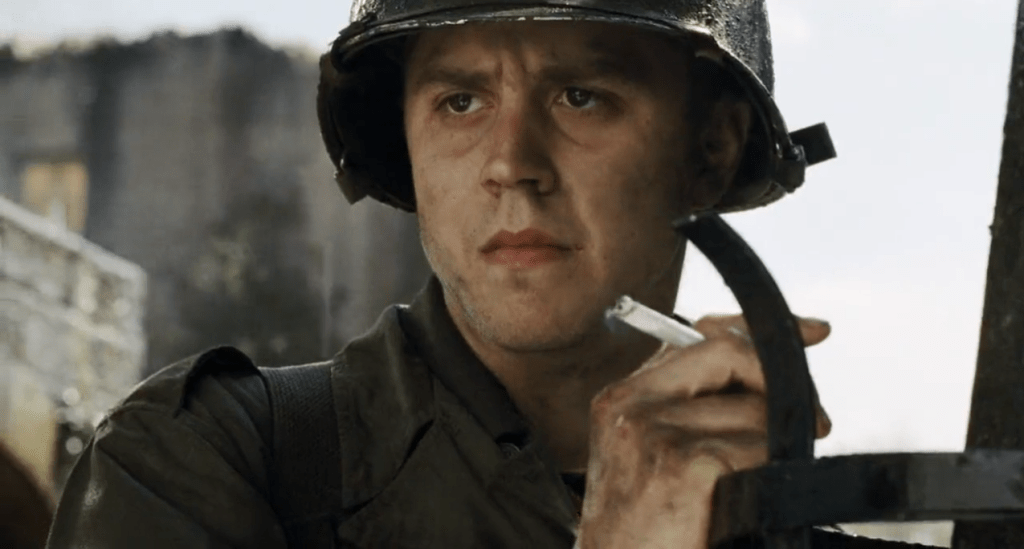 Giovanni Ribisi (Medic Irwin Wade)
Acting since he was a young child, Giovanni Ribisi already had a substantial career under his belt before playing the doomed medic Wade in Spielberg's powerful war epic. He had recurring roles in the late 1980s and early 1990s on shows like My Two Dads and The Wonder Years while guesting on a number of other series as well. In the latter half of the '90s, he landed parts in movies like That Thing You Do!, Lost Highway, and The Postman, with Ryan easily his highest-profile big screen effort during that time.
After that, Ribisi continued to do character work in movies like Gone in 60 Seconds, Lost in Translation, Cold Mountain, and Public Enemies, before landing the part of the villainous corporate stooge Parker Selfridge in James Cameron's massively successful and creatively groundbreaking Avatar (2009). He'll return in Cameron's upcoming Avatar sequels and has kept busy on the big and small screens, most recently finishing up a three-season run in the title role of the Amazon series Sneaky Pete (fun fact: Sneaky Pete was co-created by Bryan Cranston, who also has a small role in Ryan as one-armed War Department Col. Bryce).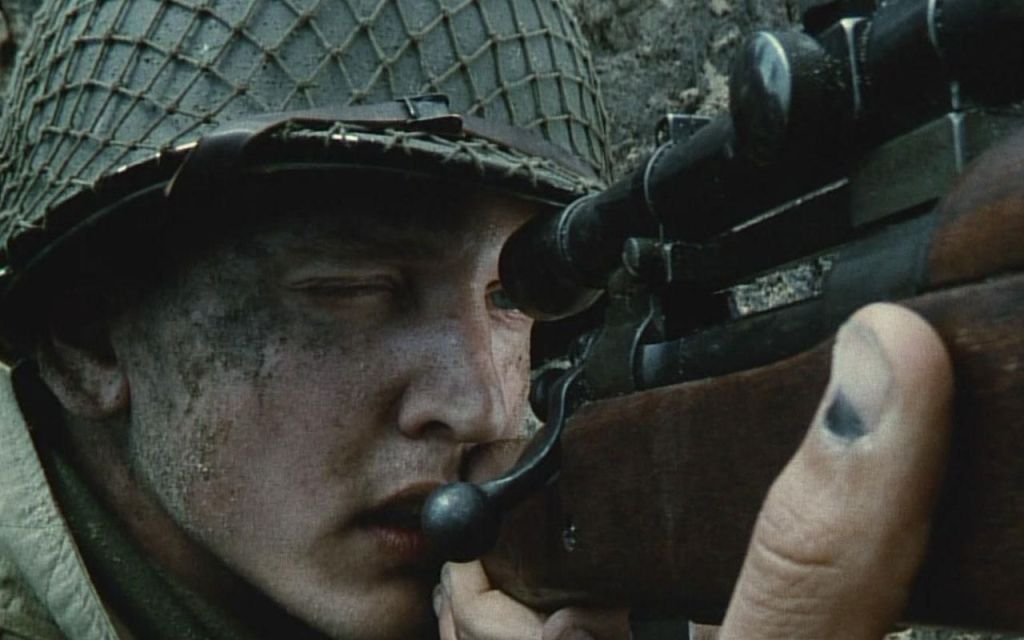 Barry Pepper (Private Daniel Jackson)
Hailing like Nathan Fillion from Canada, Barry Pepper had just a handful of small credits to his name when he landed the role of the God-fearing but lethal sniper Jackson in Saving Private Ryan. Jackson is perhaps the deadliest weapon in Capt. Miller's arsenal, although he is eventually killed along with Miller and most of the others during the film's climactic defense of the bridge in the shattered town of Ramelle.
Pepper probably remains best known for his portrayal of Jackson, but he scored notable roles soon after that in The Green Mile (1999), the TV movie 61* (2001) as baseball legend Roger Maris, and Spike Lee's 25th Hour (2002). He also appeared in the starring role of 2000's disastrous Battlefield Earth with John Travolta. Pepper's recent film work has included roles in The Maze Runner franchise and the sleeper horror hit Crawl (2019).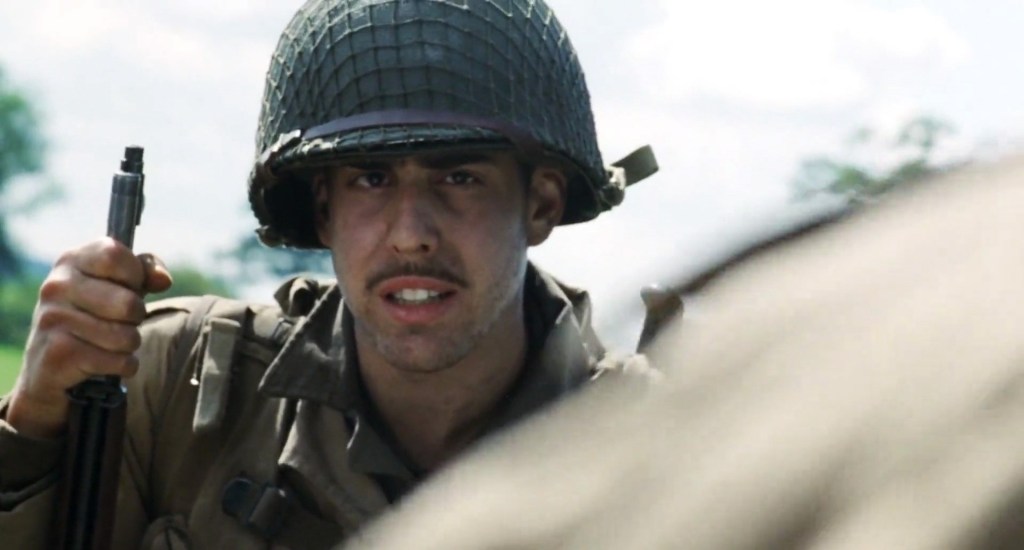 Adam Goldberg (Private Stanley Mellish)
"Juden," says Pvt. Stanley Mellish, pointing to himself and the Jewish Star of David he wears around his neck as a stream of German POWs is marched past him. It's a small but powerful moment in Saving Private Ryan for the defiant, wisecracking Mellish, who's there to wipe out as many Nazis as he can. In the movie's climactic battle, he bravely and viciously fights hand to hand with a German soldier before the latter sinks a knife slowly into his chest in one of the film's most intensely horrifying moments.
Adam Goldberg had already appeared in a number of notable films before Ryan, including Billy Crystal's Mr. Saturday Night (Goldberg's 1992 debut), Richard Linklater's Dazed and Confused (1993), John Singleton's Higher Learning (1995), and the cult horror classic The Prophecy (1995). Mellish remains perhaps his most famed role, but other standouts like A Beautiful Mind (2001), Déjà Vu (2006), and Zodiac (2007) dot his filmography. He's guested frequently on TV as well and currently has a regular role as Harry Keshegian opposite Queen Latifah on The Equalizer. He's also directed three features of his own, recorded four albums of his own music, and has exhibited his work as a photographer.