Features
Hamilton and 10 Other Ways to Watch the American Revolution
The American Revolution has been portrayed countless times on television and film. In honor of Hamilton's Disney+ release, we look at 10 other patriotic stories worth viewing.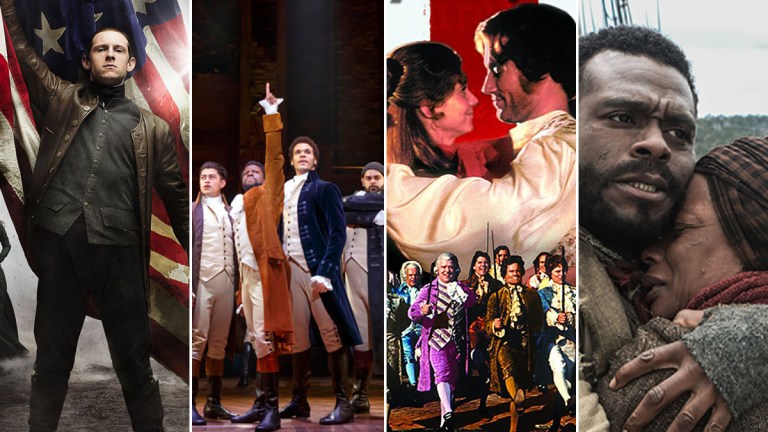 Hamilton will debut on Disney+ on July 3rd, the start of a long holiday weekend. The Walt Disney Company paid good money for the Broadway phenomenon, a reported $75 million for the rights to the film, which features performances by the original cast (we wrote a primer on the cast and where they are now).
If you're healthily avoiding crowds and already had your fill of fireworks, here are 10 more movies and TV shows that explore the American Revolution from different angles.
1776 (1972)
Making the Founding Fathers sing was truly revolutionary when Sherman Edwards's musical debuted on Broadway in 1969. The plot traced how the Second Continental Congress decided on independence; there are lots of fun character moments but really no other story. After the show won the Tony for Best Musical, Hollywood mogul Jack Warner hired most of the cast and director Peter Hunt to make a movie. Then Warner cut a big production number (now restored) to please President Nixon. This is John Adams's view of history, so he's the hero and John Dickinson the antagonist—but Dickinson still comes off better than eminent jurist James Wilson. Recognizing 1776 as an inspiration, Lin-Manuel Miranda gave the song "Sit Down, John!" a shout-out in Hamilton.
More of This: For rollicking fun in the 1700s, everybody should see Tom Jones, the 1963 film by Tony Richardson that made Albert Finney a global star.
April Morning (1988) and The Crossing (1999)
Howard Fast, proud leftist author of Spartacus, published April Morning as a novel about the Battle of Lexington and Concord and The Crossing as a nonfiction account of the Battle of Trenton. Now we recognize both as historical fiction. Fast's robust stories were adapted into television movies with stellar leads: Tommy Lee Jones played a Lexington farmer guiding his teen-aged son in 1988, and Jeff Daniels portrayed Gen. George Washington trying to get across the Delaware in 2000.
More of This: In 1984 and 1986, CBS dramatized the life of George Washington over 10 hours. Barry Bostwick played George and Patty Duke Astin played Martha, so they got the height differential right.
The Book of Negroes
At the end of the Revolutionary War in 1783, British authorities evacuated thousands of Loyalists of African descent to Canada. The names of free black refugees were recorded in a document labeled "The Book of Negroes," and Canadian novelist Lawrence Hill borrowed that title. (In the U.S., his book was retitled Someone Knows My Name.) In 2015 Hill turned his award-winning novel into a six-episode miniseries with writer-director Clement Virgo. This globe-spanning story follows a woman kidnapped in Niger, enslaved in South Carolina, and evacuated to Nova Scotia; she then returns to Africa to help found Sierra Leone. The Book of Negroes thus explores personal and political liberty, war, and nation-building—but not confined to the U.S.
More of This: The 1990 biopic Divided Loyalties profiles Joseph Brant, leader of Britain's Mohawk allies during the Revolutionary War. Why do we see such side-eye on the American Revolution from Canada? Oh, yeah…
The Devil's Disciple
It's always fun to watch Burt Lancaster and Kirk Douglas work together, enjoying each other's company and trying to steal scenes. How about adding Laurence Olivier to the mix as real-life British general and playwright John Burgoyne? All in a 1959 adaptation of George Bernard Shaw's first successful play, set in upstate New York during the crucial 1777 campaign. You might think the battle scenes acted out by wooden dolls are the most unrealistic part of this film, but wait till Lancaster blows up a room full of redcoats and stays on his feet. Because he's Burt Lancaster, dammit!
More of This: To be frank, John Ford's 1939 adaptation of Drums Along the Mohawk with Claudette Colbert and Henry Fonda is a better Hollywood movie set in upstate New York during the Revolution, but a more conventional one.
John Adams
HBO's seven-hour miniseries from 2008 remains the gold standard for Revolutionary drama because of the terrific acting by Paul Giamatti as John Adams and Laura Linney as Abigail Adams. The screenplay throws John into the center of events even more than his own autobiography did, and historical shortcuts often shortchange the facts. But the smart, cantankerous, high-minded spirit of the Adamses shines through.
More of This: Back in 1976, PBS covered the same ground in its thirteen-episode series The Adams Chronicles, which continued into the next two generations. Compare and contrast.
Liberty's Kids
PBS, DIC Entertainment, and a slew of celebrity voices taught Gen. Z about America's Revolution in this 40-episode animated cartoon. Three years before Avatar: The Last Airbender debuted, this series showed a bunch of teens navigating a world at war. The young heroes managed to go almost everywhere the action was, and also not to age much between 1773 and 1789.
More of This: For another animated take, seek out Disney's 1953 short "Ben and Me." To see teens caught up in the start of the Revolution, Disney also offers Johnny Tremain from 1957. Even better, read the novels by Robert Lawson and Esther Forbes.
Mary Silliman's War
This is undoubtedly the most historically accurate film about life during the Revolutionary War. Mary Silliman was a housewife in Fairfield, Connecticut. Her husband was a militia officer imprisoned by the British, and she pursued his release while managing their farm and evading a Royal Navy attack. Educated and pious, Silliman kept a journal, which Joy Day Buel and Richard Buel, Jr., studied to write The Way of Duty. That biography was the basis of this independent drama from 1994 directed by Stephen Surjik, whose more recent work includes episodes of Daredevil and The Umbrella Academy.
More of This: The 1997 documentary A Midwife's Tale dramatizes crucial moments in the life of midwife Martha Ballard while focusing on how historian Laurel Thatcher Ulrich recreated that life from the bare bones of Ballard's post-Revolutionary diary.
Revolution
After making the so-very-British Chariots of Fire, very-British Hugh Hudson turned in 1985 to the American War for Independence. And he cast not-at-all-British Al Pacino and Nastassja Kinski as British colonists caught up in the fighting, plus Canadian Donald Sutherland as a sadistic British sergeant. The result was widely derided as an epic mess, but there are some powerful visual sequences. Hudson later made a director's cut that's unusual in being 10 minutes shorter than the original version, as well as more coherent.
More of This: The next time Hollywood tried a Revolutionary War epic with a foreign-born director, Roland Emmerich delivered The Patriot, starring Mel Gibson. Such an invincible hero, such cartoonish villains, such whitewashing of the period's sticky issues—it made Revolution look better.
Sweet Liberty
This 1986 comedy by Alan Alda hinged on the making of a movie about the 1781 Battle of Cowpens. Alda played a local professor and reenactor trying to stand up for historical accuracy. Michele Pfeiffer and Michael Caine were over-the-top actors come to South Carolina to star in the movie within the movie, and Saul Rubinek and Bob Hoskins played the crass filmmakers. It's a mild satire of Hollywood clashing with genuine folk, but dedicated eighteenth-century reenactors who trained the troops in The Patriot say this film is the most accurate reflection of their experience.
More of This: For real drama behind Revolutionary reenactments, check out Nyier Abdou and Adya Beasley's 39-minute documentary Being George on YouTube.
Turn: Washington's Spies
From 2014 to 2017, this 40-episode AMC series told a highly fictionalized account of the Culper Spy Ring that operated on Long Island, slipping information from British-occupied New York to the American command. Later seasons covered Benedict Arnold's betrayal and carried through to Yorktown. Though most of the main characters were inspired by real people, only Ian Kahn's portrayal of George Washington felt deeply rooted in history. But adherence to the documentary record wasn't the point of Turn—melodrama was, and the plot twists and romantic entanglements are many.
More of This: For more eighteenth-century melodrama, check out the 2013 filming of Moonfleet on Amazon. (But beware: The website offers cast info about Fritz Lang's 1955 version instead.)