News
Ben Affleck Talks Working with Matt Damon Again in The Last Duel
Ben Affleck discusses with Matt Damon what interests him about the movie business these days, including work on the new epic The Last Duel.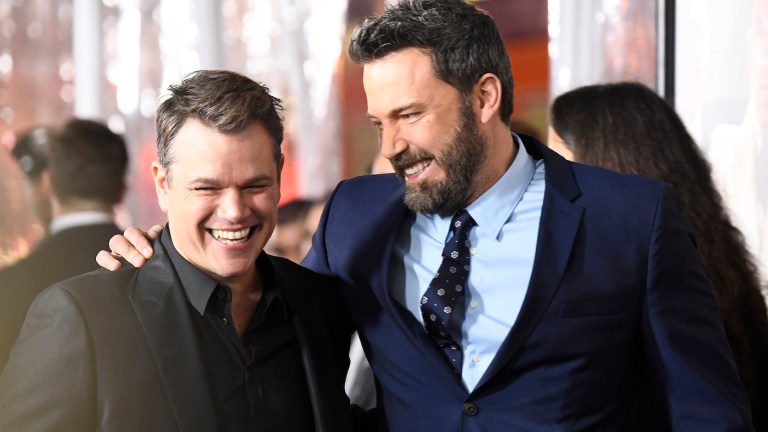 The movie industry has changed a lot since Ben Affleck and Matt Damon first conquered it in 1997. Once two hungry actors who'd done a lot of supporting work up to that point, the pair became overnight stars and Hollywood golden boys thanks in large part to co-writing and co-starring in Good Will Hunting. It netted each an Oscar for screenwriting.
The memories of those early breaks reemerged in a recent awards screening Q&A that Damon moderated with Affleck for the latter's new film The Way Back. Clearly a personal passion project for Affleck, the sports drama about a high school basketball coach with a drinking problem netted Affleck some of the best reviews of his career, and has now made both Damon and Affleck nostalgic for the type of dramas they enjoyed making starting out—and hope to continue, including with their anticipated reunion due later this year: Ridley Scott's The Last Duel.
The new film, which the pair co-wrote alongside Nicole Holofcener (Can You Ever Forgive Me?) is a departure for the writer-actors given that it is also a medieval period piece in which Affleck stars as the King of France and Damon is one of his knights. And it's in line with both actors' renewed desires to adjust their careers again toward personal interests—and perhaps move further away from superheroes and superspies.
"Finishing up this movie with you," Affleck told Damon, "it's so much more enriching to be working together, to be working with someone I know and love, and the fact I want to see and spend time with and hang out with [you]. Realizing that time goes by and how you spend your day defines what your life is going to be, and the quality of that time, is really important. And it contributes, I think, to the quality of your work."
The reflection about The Last Duel—which finished up production in late 2020 after being postponed for months mid-shoot due to the COVID-19 pandemic—came after Damon lightly teased Affleck for having a shelf in his home with every kind of award, including "the Spanish Oscar" and "the French Oscar." (Affleck also noted there are some Razzies ther too.)
But then Damon more earnestly said, "That external stuff came, but now it's about right where it started. It's about your work."
Affleck agreed: "I felt like the movies that have meant something for me has been the experiences [and] people I've spent time with. Like getting to know David Fincher was a really important thing in my life. The guy, I find, is really funny and smart and compassionate, and a real artist. [He also has] kind of the mind of an engineer, and it was just a joy to know him and get to know him. As joyful, if not more joyful, than just being in the movie."
With this allusion to Gone Girl, Affleck reiterated his interest in doing work that engages him more than the publicity it generates. "I don't need to be on the cover of another magazine as long as I live," he mused.
As for the future of the industry itself, Affleck and Damon both seemed wistful about the type of movies that used to get made—as well as their future on the big screen.
Said Affleck, "I'm nostalgic for a time when the industry was less IP driven. I know even before COVID there was a transition away from dramas, because that audience is now competing with such good work that's on streamers. You could really stay home and watch something just as good if not better than the dramas you may have the opportunity to see in the theaters. So it's very hard to get that audience to buy tickets on the weekend and be weekend driven… So I lament even after COVID when theaters reopen, there will definitely be fewer of those kind of movies released theatrically."
And yet, theaters might stand a chance for at least as long as there are stalwarts who've gone from the young guns to the elusive A-list—and who still get a movie like The Last Duel greenlit. That film, which chronicles an actual 14th century trial by combat between knights—with one (Damon) having accused the other (Adam Driver) of raping his wife (Jodie Comer)—is slated to open in theaters on Oct. 15.
Subscribe to Den of Geek magazine for FREE right here!