Features
Renfield Box Office Failure Won't Stop Universal's Next Two Dracula Movies
Renfield's rough opening weekend echoes the mistakes of "The Dark Universe," but Universal could have better luck with two more wildly different Dracula movies around the corner.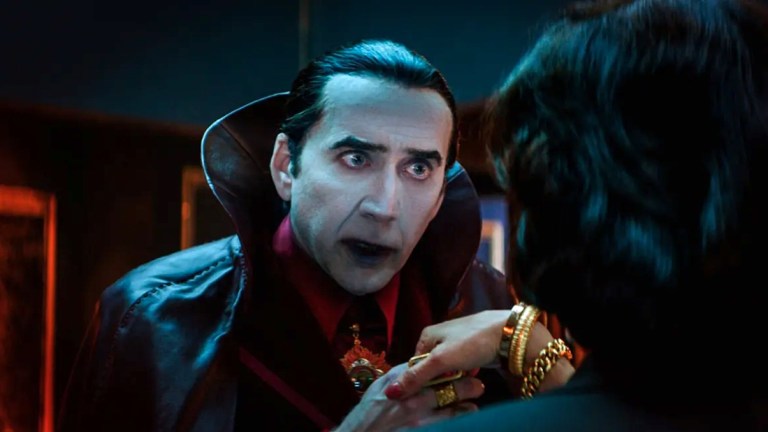 Renfield was always a risk for Universal Pictures: a high-concept reimagining of the Dracula mythology via horror-comedy. But in more ways than one, it's come up a disappointment for the studio after an opening weekend which saw the Nicolas Cage-starring vehicle debut in fourth place during its first three days—behind not only Universal's own The Super Mario Bros. Movie (which dropped a mere 40.6 percent) but also the much cheaper horror movie, The Pope's Exorcist. While Renfield walked away with $7.7 million in its debut, Russell Crowe as an exorcist compelled moviegoers to hand over $9.1 million this past weekend.
There are several ironies to this, with the first being Universal put Renfield out one weekend after the biggest release of its fiscal quarter, presumably because the studio gambled there would be little overlap in audiences between the family-friendly Mario brand and what is definitely a hard, blood-splattered R in Renfield. Another is that Crowe once co-starred in a previous attempt to exhume the Universal Monsters of the 1930s and '40s when he appeared as Dr. Jekyll/Mr. Hyde in 2017's The Mummy. That superfluous cameo was blatantly seeded in the hopes of setting up a spinoff that never came. But now in 2023, Crowe might just be on the verge of building a B-franchise around the alleged exploits of Father Gabriele Amorth while Universal just spent an exorbitant $65 million on Renfield, which doesn't include marketing and advertisements.
That price tag is high for a movie Universal bet would have little crossover appeal with Mario, especially if you've seen Renfield. While the horror-adjacent flick features R-rated gore effects, they're mostly in service to comical action sequences akin to Kill Bill, only here the titular character, Nicholas Hoult's R.M. Renfield, acts more like a superhero while killing baddies. He punches them as Spider-Man would, but their heads bust into red geysers as a result. While that's certainly not the stuff of a family movie, the picture does seem to be rather awkwardly courting the same teenage audience that could turn something like Deadpool into a box office phenomenon (an audience Mario is currently swallowing up). So much so, it's fair to wonder if Renfield represents another attempt to fit the Universal Monsters' round-shaped legacy into the square hole of modern superhero movie formula?
Repeating the Dark Universe's Brief, Ugly History
Renfield appears to be experiencing the same tonal mistake Universal made with the "Dark Universe" in 2017 when the Tom Cruise-led and Alex Kurtzman-directed The Mummy was marketed as the start of a new shared cinematic universe blatantly modeled after Disney's MCU at Marvel Studios. While Dracula had not yet been officially cast for that enterprise, Javier Bardem was slated to appear as Frankenstein's Monster and Johnny Depp as the Invisible Man. The implication was these iconic characters of horror were being redesigned as action heroes. Even while the titular monster of The Mummy was played as a supervillain by Sofia Boutella, her film was still a backdoor origin story about how Cruise's protagonist would inherit the Mummy's powers to work as a veritable superhero going forward.
Of course there turned out to be no forward for The Mummy or the Dark Universe. In spite, of the studio getting its cast of monsters together for a group portrait and hiring Danny Elfman to write a jingle for the swanky "Dark Universe" title card, the movie's immediate failure at the box office—where it opened at $31.7 million on a $125 million budget—left the Dark Universe dead on arrival.
Universal and the filmmakers behind this weekend's Renfield have been far cagier about whether the film is explicitly setting up a Universal Monsters shared universe or even a sequel, but anyone who watched the movie knows it deliberately left the door open for Cage's Dracula to return. And when writer and producer Robert Kirkman spoke with Den of Geek about a future beyond Renfield, he noted the movie was standalone. However, he also acknowledged, "The Universal Monsters are a cool world to be exploring and playing in, and there's definitely a lot of potential for other stuff there."
Whatever that "other stuff" in the Universal Monsters world might be, it seems likely it would have continued Renfield's attempt to turn a horror legacy into a backdoor superhero/monster mashup. But given Renfield's debut, the exact details of that may never be filled out.
Two More Universal Draculas Offer a Better, Bloodier Future
And yet, there remains one other irony to this, too, which is that in the years between The Mummy and Renfield, the studio did have a major success in resurrecting another Universal Monster. In the precious few months before COVID shut down movie theaters in 2020, director Leigh Whannell and Blumhouse Productions' The Invisible Man remake was one of the last healthy box office hits of the pre-pandemic era. Opening in February 2020, the tense and at times genuinely scary The Invisible Man reimagining made a concept more than a hundred years old fresh for moviegoers and critics alike, earning an aggregate score of 92 percent on Rotten Tomatoes and $144 million at the global box office off a $7 million budget. Without the pandemic, that number likely would've been higher.
None of this is to say that Universal should look to keep all of its future monster movies in the micro-budgeted territory of a Blumhouse release. But it probably would be astute to keep costs south of $50 million and to stop resisting how these characters lend themselves so naturally to horror, or at least thrillers, as opposed to the modern Hollywood formula of interconnected action movies where the monstrous characters (or their sidekicks in the case of Renfield) keep turning into superheroes without capes.
To their credit, Universal also seems aware of this appetite in audiences. Indeed, the final irony of Renfield is that whether that film was a success or failure, its studio essentially has been building a Dracula movie multiverse (albeit blessedly without any interconnectivity). And it was an especially amusing maneuver that their second of three Dracula movies in the next 18 months began its marketing by putting the trailer for The Last Voyage of the Demeter in front of Renfield.
A most definite return of Dracula to the horror genre, The Last Voyage of the Demeter is directed by André Øvredal who helmed the cult classic chiller, Troll Hunter, in 2010. Demeter is being sold as a claustrophobic, period piece horror flick in the vein of Alien, with Dracula hunting the central characters who are trapped on a 19th century shipping vessel. The film is even returning to the literary roots of the horror character, adapting an under-explored chapter from Bram Stoker's original 1897 novel, and is promisingly being produced by Steven Spielberg's Amblin Entertainment.
While also speaking to Den of Geek last week, Øvredal told us, "My hope is that it is essentially the scariest Dracula movie ever made. That's where I would love it to land if possible."
Additionally, Universal's speciality label, Focus Features, is currently producing Nosferatu, Robert Eggers' long-anticipated remake of the very first Dracula movie from 1922. It's a passion project Eggers has been developing since 2015 and will be the fourth directorial effort for an auteur who's built a fanbase for his genre period films, which includes The Witch (2015), The Lighthouse (2019), and The Northman (2022). Given the pedigree of his previous horror efforts, Eggers' Nosferatu is expected to be along the same twisted wavelength. The film has no current release date but seems likely to release sometime in 2024 given that it's currently filming.
We do not know the budgets of these other Dracula projects from NBC/Universal, however tonally we suspect making a Dracula movie intended to scare or disturb audiences instead of getting folks excited about the prospect of a sequel or spinoff is a major step in the right direction.