Features
The Last Voyage of the Demeter Director Wants to Make 'The Scariest Dracula Movie Ever'
Exclusive: Director André Øvredal invites us aboard The Last Voyage of the Demeter as the first trailer drops. The destination? A Dracula movie unlike any other.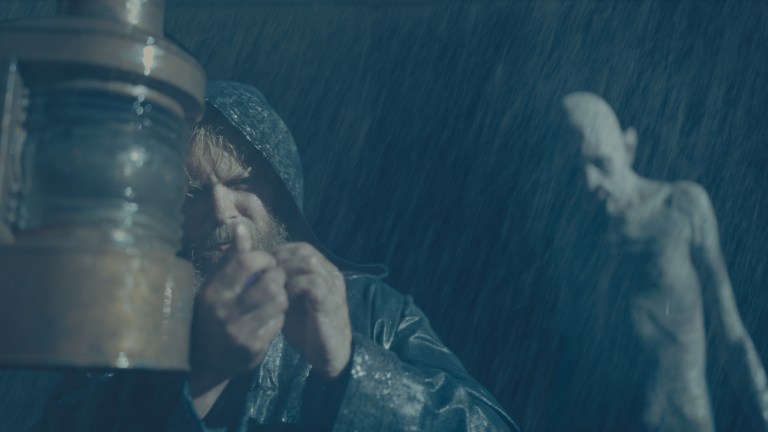 An eclectic, wearied crew of working class stiffs; a mysterious last-minute change in the manifest that has them claiming unknown cargo; and a beast beneath the boards that's picking them off one by one. It sounds like the stuff of Ridley Scott's groundbreaking sci-fi/horror mashup, Alien (1979), but it could just as easily describe a brief and brutal section of Bram Stoker's original 1897 novel, Dracula.
The last voyage of the Demeter, a Russian sailing vessel intended to cross between 19th century Bulgaria and Victorian England, comprises a mere five pages in the book, but they've left an impression on most readers who stumbled across them in the last century. Yet despite myriads of Dracula adaptations in the same number of years, the chapter's never been extensively explored by an original film. Until now.
"That is what's so fantastic about the script that Bragi Schut originally wrote," Norwegian director André Øvredal tells us. "It's basically Alien but on a ship out in the ocean. You're lost at sea, and the crew doesn't know what the hell is haunting them on the ship. It's a beautiful take on the story."
It also is a fresh way of returning to a familiar nightmare. Traditionally, the fate of the Demeter is relegated to a brief scene or two, or maybe even a montage, in most Dracula movies. Sometimes it's omitted entirely. But by expanding the tale into its own feature-length movie, suddenly we have a nihilistic yarn about men and women unaware of what's hidden within the 50 earth-boxes they've been charged with delivering to London… and when they do discover what is lurking within that soil, there isn't a trace of camp in the fate that awaits.
"Our idea, and it's from that script, is that Dracula has a different personality in this movie than in any other movie that I've seen about Dracula," Øvredal explains. "To have a more monstrous quality to him was what was intriguing as a take on the Dracula mythology. We don't have the ordinary sophisticated aristocrat; we have a feral creature attacking a crew on a ship out on the ocean."
In the trailer which was just released, Dracula certainly appears more bestial—resembling a cross between a giant bat and an outright demon—but when we press Øvredal if we might see Dracula take on a human form, he cryptically teases, "We do see him in other forms." Stoker scholars will note that could also include as the mist, a wolflike beast, or even a cacophony of rats.
Øvredal seems just as intent about expanding the undead count's milieu (and menu) of fellow travelers. The book sequence consists of the captain's log and that narrow perspective on members of his crew. In the film, though, a wide and international cast has been assembled to add dimension to the ship's doomed route.
"It's a crew on a ship traveling from one end of Europe to the other," says the director, "so there is a very broad sense of who can be on this ship. It's a vivid crew of many nationalities, and we devised a group of people who felt natural for the time and place, and also some interesting characters who wouldn't necessarily be obvious to have there."
Straight Outta Compton and In the Heights' Corey Hawkins stars as Clemons, an Englishman who's spent some time in a kind of self-imposed exile "drifting around" Romania and eastern Europe. Now his father has summoned him home. He knows how to be handy on a ship but as a doctor, he may prove vital in facing the pestilential impact of a vampire being aboard. Meanwhile Game of Thrones' Liam Cunningham stars as the ship's captain, who in The Last Voyage of the Demeter is also a grandfather convinced against his better judgment to take the journey.
"Liam brings so much gravitas and so much wonderful life," says Øvredal, "balancing being the captain of a cargo ship in 1897 with a sense of kindness. He also has his grandson on the ship, a little boy who he obviously has love and affection for." In fact, he was persuaded by a benefactor to set sail after already retiring from the sea so he could raise the child. We all make mistakes.
While being a claustrophobic horror movie, The Last Voyage of the Demeter is a major undertaking within its genre. Øvredal has made high-concept chillers before, including 2010's cult classic Troll Hunter and the Guillermo del Toro co-written Scary Stories to Tell in the Dark. However, Demeter included constructing a period vessel and commandeering an enormous water tank in Malta—where the director was told it's the biggest ship ever used in that location. It also is a project that's had a number of false starts with the original script passing between horror directors for years before finally landing at Steven Spielberg's Amblin Entertainment and Universal Pictures.
For Øvredal, it's a chance to directly confront some of his greatest influences, from the paterfamilias of Dracula movies, F.W. Murnau's Nosferatu (1922), to Alien, and other tales of dread and doom. Still, the goal for the film is to also stand apart.
"My hope is that it is essentially the scariest Dracula movie ever made," Øvredal says with a faint laugh. "That's where I would love it to land if possible. If somebody says that, I'd be very happy."
The Last Voyage of the Demeter sets sail into theaters on Aug. 11.