Features
Ranking the Best Jason Momoa Performances
Jason Momoa is the gift that keeps on giving, and with Slumberland now on Netflix we look at the most memorable Momoa moments!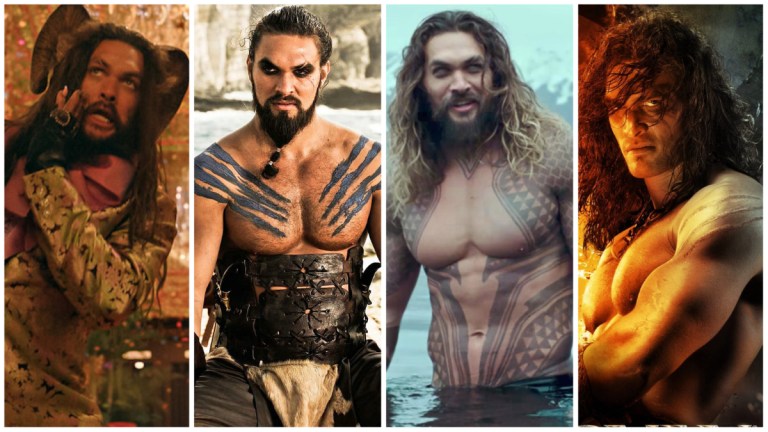 Jason Momoa has been acting since 1999 when he first donned those iconic red swim trunks on TV's Baywatch: Hawaii as a beardless 19-year-old. It took a lot of roles before the Hawaiian-born Aquaman actor got his big break as Khal Drogo on Game of Thrones. While he's often typecast as something of a brute, the actor best known for maiming folks with his sword is ready for his comedic debut in Netflix's fantastical family-friendly film, Slumberland.
So it's the perfect time to look back at a TV and movie career that's benefited just as much from Momoa's offscreen charm as it has from his considerable time in the gym. Momoa's most admirable use of his fame just might be the way he uplifts and inspires indigenous communities across the world. Momoa gives viewers an awful lot to love about his characters, even when the movies themselves are sometimes awful.
9. Conan the Barbarian (2011)
"Memorable" doesn't necessarily mean "good." This epic flop was a cash-grab meant to capitalize on the popularity of Game of Thrones, especially everyone's favorite husband of Khaleesi Daenerys Targaryen. Jason Momoa stepping into Arnold Schwarzenegger's strappy sandals seemed like a great fit on paper, but this joyless, muddled mess of terrible acting and even worse CGI failed to catapult Momoa into the leading man sphere.
But hey, it's kind of funny imagining a fantasy world where Ron Perlman is Jason Momoa's dad and, well, we did really enjoy him enough in Game of Thrones to follow him almost anywhere.
2 out 5 Momoas: It was nearly unwatchable.
8. Stargate: Atlantis (2005)
Before he burned up Game of Thrones, Jason Momoa was already making fangirls swoon at Comic-Cons when he joined the cast of Syfy's Stargate: Atlantis as the Satedan warrior Ronon Dex. Leaving the fresh-faced lifeguard look on the Baywatch set, Syfy clearly knew what they were doing when the commercials for Stargate: Atlantis promised a hot, tough new member of the expedition.
While Ronon's tragic backstory escaping the creepy Wraith was ripped straight from the pages of Anti-Hero 101, we got to spend much more screen time with the long-haired, knife-fighting bad boy than we did Khal Drogo.
3 out of 5 Momoas: Vin Diesel in Pitch Black walked so Ronan Dex could… well, competently rip off Vin Diesel in Pitch Black.
7. The Red Road (2014)
If you follow him on Instagram, you know Jason Momoa proudly shares his Hawaiian culture, educating people about the traditions of his Ohana. Pacific Islander representation is distressingly rare in major media and Momoa's exploits provide some teachable moments about things like tattoos, traditional dress including the malo, and other Pacific Island traditions like the Maori haka dance, which Momoa famously performed in his audition for Game of Thrones. But the actor also spends a lot of time working on indigenous-created projects.
The Red Road was a gritty thriller series about an unregistered First Nations tribe living off-the-grid in the Ramapo Mountains region of New Jersey, their conflicts with the local government, and a missing persons case, among other dramas. Momoa stars as Philip, a tribal baddie with a deep love for his people. The cast also features some incredible indigenous actors including Wes Studi (The Last of the Mohicans, Reservation Dogs) as the tribal chief.
3 out of 5 Momoas: Canceled too soon.
6. Zack Snyder's Justice League (2021)
The first time we got to really see Jason Momoa play Arthur Curry how Zack Snyder imagined, the James Wan-directed Aquaman movie was already out and on Blu-ray. While (as you'll see in a moment) we appreciated the dude-bro swagger Momoa brought to that reimagining of the character (and which was a definite upgrade over the fratty bonehead he played in the theatrical version of Justice League), it's nice to watch what could've been here too.
The Aquaman of Zack Snyder's Justice League is (surprise, surprise) more brooding and violent than typical depictions of the character, be it onscreen or in the comics. But if we're being honest, no physique is better suited for Snyder's demigod barbarian he-man schtick than Momoa. My man!
3.5 out of 5 Momoas: He stands in the middle of a hurricane to stare down the storm in slow-mo. What's not to like?
5. The Bad Batch (2016)
As delightfully unhinged as it is uneven, The Bad Batch is a stylish post-apocalyptic mess from Ana Lily Amirpour, director of HBO prestige dramas including Little Fires Everywhere and The White Lotus. Jason Momoa stars as Miami Man, the hulking leader of a cannibal cult caught in an existential crisis. Look out for other madcap performances from Keanu Reeves as a different cult leader, Andor's Diego Luna, and Jim Carrey as The Hermit. While this movie belongs primarily to Suki Waterhouse's female road warrior Arlen, Momoa has a very memorable entrance and brings a welcome dose of humanity to a really, really horrible human being.
Fans of Fallout and Mad Max: Fury Road won't want to miss this, even if they probably won't understand it.
3.5 out of 5 Momoas: A stylish, inscrutable arthouse attempt with great costumes.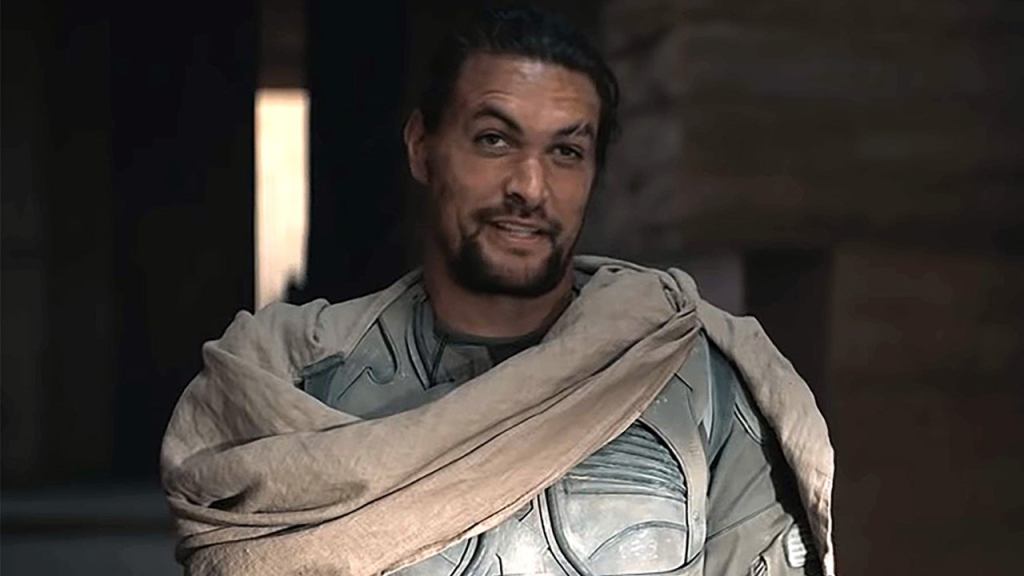 4. Dune (2021)
Jason Momoa plays Duncan Idaho and absolutely smolders while protecting Paul Atreides (Timothée Chalamet) from his own foolishness. Seriously though, partnering with director Denis Villeneuve was a smart move for Momoa, who reveals a slightly more mature and weary gravitas while still playing an absolute warrior badass.
4 out of 5 Momoas: Did we mention his name is Duncan Idaho?!
3. Road to Paloma (2014)
Jason Momoa is more than just a pretty face; he's also a writer, director, and executive producer. Road to Paloma is the first time he stepped behind the camera. Momoa plays Wolf, a Native American outlaw on the run from the FBI after murdering his mother's rapist. He and his sidekick Cash ride their motorcycles across the American Southwest in this modern-day thriller featuring copious amounts of sex, violence, and long scenes of Momoa staring at mountains. It might be a little predictable, but the strong performances by a largely indigenous cast provide an interesting perspective on the postmodern Western film, elevating this from the self-indulgent vanity piece it could have been.
4 out of 5 Momoas: He worked hard on this Easy Rider update, dammit.
2. Aquaman (2018)
Sure, Aquaman is basically another warrior role, but this time, Momoa is the leading man in a major studio blockbuster. This is about as big as it gets for an official Hollywood star.
Arthur Curry's introduction in 2017's Justice League made him part of an ensemble cast, but the plan was always to get this gruff but good-hearted loner his own film, showcasing all the action and beautiful Atlantic scenery. While Aquaman might never be quite as cool as Batman, his underwater kingdom brings a special vibrancy to the DC universe.
4.5 out of 5 Momoas: We can't wait for next year's Aquaman and The Lost Kingdom.
1. Game of Thrones (2011)
Let's get the obvious out of the way; Khal Drogo made Jason Momoa a household name. The Dothraki warlord loved to grunt, fight, and fuck his way across the Great Grass Sea, but he loved his Khaleesi Danaerys Targaryen (Emilia Clarke) most of all. Who knew the master of battle and horses had such a tender heart underneath all the slashing and stabbing? He would've raped and pillaged all of Westeros to put his son on the Iron Throne, and for the love of his mother.
That uncut hair, that guy-liner, that chest; in his one season, Khal Drogo launched a thousand cosplays and when he passed into the Nightlands, his widow never really got over the loss and neither did Game of Thrones fans.
5 out of 5 Momoas: A (mostly) undefeated icon. Damn you, bacterial infection, for taking Drogo before he could become the first Dothraki dragonrider.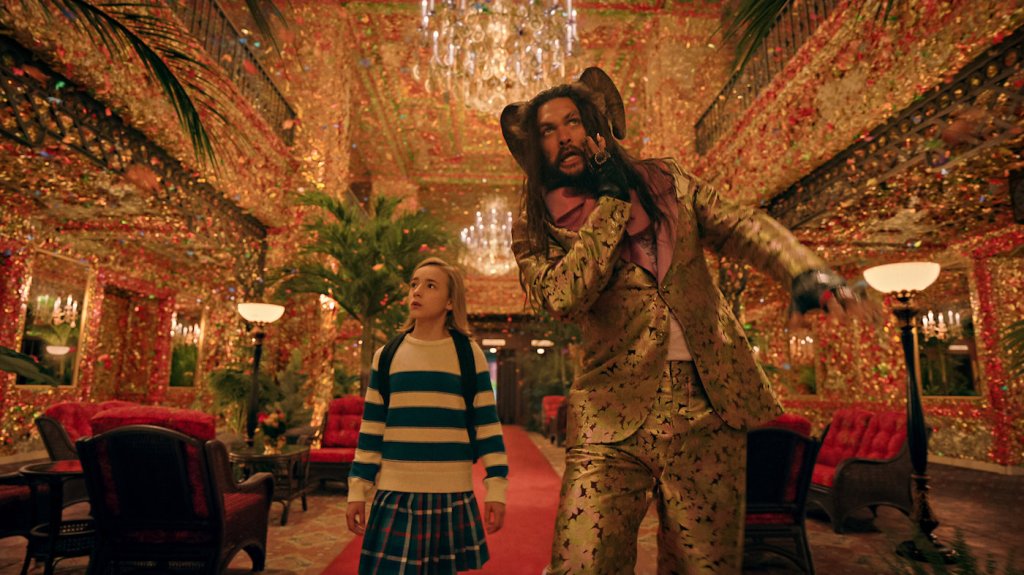 Honorable Mention: Slumberland (2022)
Okay, we haven't watched this one yet. He's neither shirtless nor kicking ass. But he is smiling a lot and his shirt is unbuttoned.
2.5 out of 5 Momoas: Humor is sexy, too. And he looks like he's having fun. Good for him.