Features
Marvel's Star Wars Easter Eggs Are Out of Control
The MCU's Star Wars easter eggs increase yet again in Disney and Marvel's Black Panther: Wakanda Forever. Has it become a little distracting?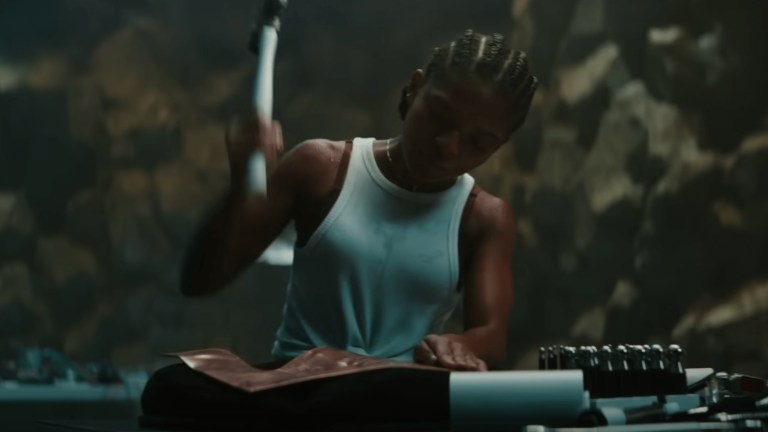 This article contains Black Panther: Wakanda Forever spoilers
It's finally time to dive into Black Panther: Wakanda Forever, as Ryan Coogler has the honor of rounding off Phase 4 of the Marvel Cinematic Universe. As with any MCU outing, there's a slew of Easter eggs that reference everyone from Ant-Man to Ultron, tragic tributes to Chadwick Boseman, and a setup for Thunderbolts. However, for eagle-eyed nerf herders or moof milkers, you might've spotted some nods to a certain galaxy far, far away.
During the scene where Shuri (Letitia Wright) and Riri Williams (Dominique Thorne) are kidnapped by Namor's forces, they are imprisoned by the entrance to Talokan. As Shuri is Wakandan royalty, she is told to dress like a princess and is given some ceremonial garments to wear. It's here that Riri makes a joke that it's a trap and that women are always made to dress by their captors. As well as giving the nod to Willie Scott from Indiana Jones and the Temple of Doom and Belle from Beauty and the Beast, she name-drops Princess Leia from Star Wars. Remember, Leia had to wear that infamous gold bikini by Jabba the Hutt. It's also ironic that Disney owns the rights to all three of these franchises.
A potential continuity problem comes from earlier in the movie, when Okoye and Shuri visit Riri's lockup. If you're looking closely, you'll spot a Maz Kanata figure on her desk. Introduced in 2015's Star Wars: The Force Awakens, Kanata is the goggle-wearing space pirate from Takodana who is over 1,000 years old. Maz is played by Lupita Nyong'o, who you'll know reprises her role as Nakia from 2018's Black Panther for Wakanda Forever. Riri is clearly a fan of Maz, so would likely know Nyong'o voiced her in real-life. It's not a major problem, but with Star Wars canonized in the MCU, it means Oscar Isaac exists as Moon Knight/Poe Dameron, Natalie Portman as Jane Foster/Padme Amidala, and Samuel L. Jackson as Nick Fury/Mace Windu. We're also about to see Harrison Ford pull double duty as a recast Thaddeus "Thunderbolt" Ross/Han Solo.
Given the mysteries surrounding Maz Kanata, there are hopes Nyong'o could return in one of the many Star Wars shows or movies. Damon Lindelof's new movie being set after The Rise of Skywalker looks like a good match. Nyong'o hasn't discussed a potential return as Maz Kanata, but we imagine she's not done as Nakia in the MCU. The end of Wakanda Forever featured Shuri visiting Nakia in Haiti, with the surprise reveal the latter had a secret child with T'Challa.
We know that Star Wars exists in the MCU thanks to the Tom Holland-led Spider-Man movies. In Spider-Man: Homecoming, Peter Parker and Ned Leeds (Jacob Batalon) build a Lego Death Star, which is destroyed and then pops up again in Spider-Man: No Way Home – as an ironic nod to what happens to the Death Star in the original Star Wars trilogy. Peter also keeps hold of his Lego Emperor Palpatine, and if you remember back to Captain America: Civil War, he trips Ant-Man like the Rebels do to an AT-AT in The Empire Strikes Back. Peter even referred to it as "that really old movie." Eternals even had Empire playing in the background of Kingo's plane.
Beyond full-blown references, there have been some more subtle ones. MCU overlord Kevin Feige confirmed to CinemaBlend that Phase 2 had the running gag where someone lost an arm or hand (a classic Star Wars trope) in every movie. From Gamora cutting off Groot's arms in Guardians of the Galaxy to Ultron doing the same to Ulysses Klaue in Age of Ultron, Feige said, "I'm obsessed with Star Wars. Who's not? I'm 40 years old. I'm in the movie business."
We've actually come closer to a Star Wars crossover than you'd think, with What If…? having a strange obsession with George Lucas' sci-fi staple. Speaking to Collider, Head Writer A.C. Bradley admitted she kept pushing for a Luke Skywalker cameo – saying the Jedi would make an "amazing Avenger." This isn't the only connective tissue, with others thinking the show's penultimate episode featured several Star Wars locations. When Ultron and the Watcher pummelled each other through the Multiverse, it looked like we visited the jungle planet of Felucia and the fiery Mustafar.
Before you get too excited that a Star Wars and MCU crossover could be on the cards, Feige previously told Yahoo, "I really don't think so… I don't think there's any reason for it." He said that if you'd asked 20 years ago, he'd have definitely said no, but even with the House of Mouse holding the keys to both kingdoms, it would be strange to hear the heavy breathing of Darth Vader in Avengers: Secret Wars. Then again, remember that Ultron said in What If…?, "Anything is possible in a Multiverse." Having the likes of Nyong'o and Jackson voice their Star Wars counterparts for an episode of the animated anthology wouldn't be the strangest thing we've seen in the MCU.