Features
Marvel's Potential Avengers Rethink With Robert Downey Jr. Suggests Loss of Confidence
A new report suggests Marvel Studios is discussing bringing back cast members from the original Avengers, even after Robert Downey Jr. and Scarlett Johansson's characters were killed off.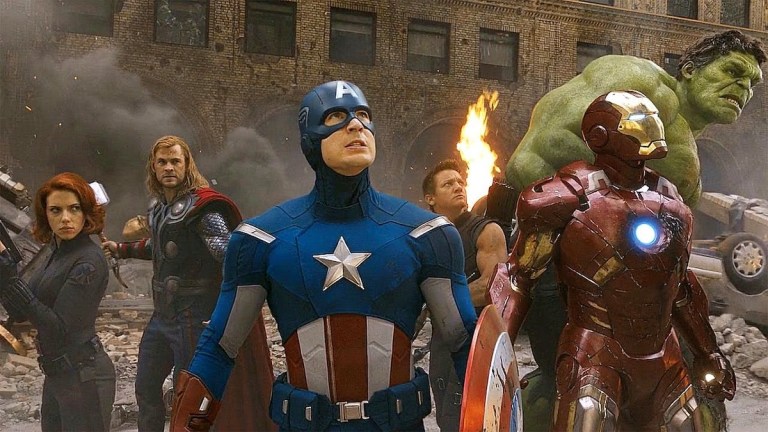 Anyone who's spent any significant time reading comic books will tell you no story—or even a character's life—ends. They just take time outs. So it apparently goes for comic book movies too following the latest bombshell report from Variety, which seems to confirm a major rethink is in progress at Marvel Studios. And this would include undoing the "ending" of 2019's Avengers: Endgame.
As per the trade, in a moment of unusual commercial volatility for Marvel Studios following the anemic response to several recent films, including Ant-Man and the Wasp: Quantamania just last February, as well as steeply declining interest in Marvel's Disney+ TV output, the studio is in the beginning of a course correction that is putting all options on the table. This includes apparent "talks" within the company to bring back the original The Avengers stars from the 2012 movie, including Robert Downey Jr. as Iron Man and Scarlett Johansson as Black Widow.
In a vacuum that would appear pretty remarkable since both characters were killed off in Avengers: Endgame while Chris Evans' Captain America was effectively retired when the character was given a happy ending where he returned to the mid-20th century and aged into an old man in the present. Of course there is precedence in comic books of many iconic characters enduring iconic deaths… only to get better.
So the prospect of those characters potentially returning to the fold is not necessarily surprising, and we've heard unsubstantiated rumors from our own sources that there have been talks of bringing back "deceased" characters for at least a cameo in 2027's multiversal-spanning epic, Avengers: Secret Wars. However, this report seems to suggest any returns would be more than just one-time cameos. Such a prospect also points to a more unprecedented phenomenon for Marvel Studios: a potential loss of confidence in the road map they've laid out for this decade.
Avengers: Endgame was never a real ending for the Marvel Studios formula, but it was intended to be a grand sendoff for the actors who played some of the studio's most beloved characters. That is why each actor got to sign a signature during the end credits, with it being a clear swan song for Downey, Evans, and Johansson—even though Johansson frustratingly only got her solo Black Widow movie after the fact. But even that belated courtesy to the star ended in acrimony when Johansson and Marvel's parent company of Disney went briefly to court over the streaming residuals generated by that film's last minute hybrid release behind a paywall on Disney+.
It is, in fact, those increasingly high fees for actors who became global superstars under the Marvel umbrella that made any long-term return seem remote, with Downey in particular enjoying a film-by-film contract that virtually guarantees he makes north of $80 million per picture. (He also is 58 years old and presumably wants to work in more than superhero movies for the rest of his life.)
So Marvel spent its self-designated "Phase 4" and "Phase 5" pivoting away from the original Avengers actors, save for Chris Hemsworth and Jeremy Renner who renewed contracts. Beyond that, the studio attempted to emphasize a new generation of talent, beginning with Florence Pugh seemingly stepping in to replace Johansson in Black Widow—a feat that has seemed to work with the actor's Yelena Belova becoming a fan favorite in subsequent appearances, which is supposed to lead into next year's Thunderbolts. Similarly, Marvel attempted to launch new characters with entirely new brands like the Eternals on the big screen, as well as next generation variations on characters we've already seen, a la Hailee Steinfeld's Kate Bishop as a Hawkeye-like archer, Kathryn Newton as the next generation of shrinking superheroes in Ant-Man 3, and the still greatly anticipated film debut of Anthony Mackie's Sam Wilson as the new Captain America in Captain America: Brave New World, which is due out next year.
However, Marvel's attempt to pivot past its original roster of Avengers stars has been checkered at best. While certain films have still hit with all the force of an Infinity Gauntlet, the biggest of them starred Marvel's most popular character, Spider-Man, and the next biggest was the first MCU summer release after the pandemic, with Doctor Strange in the Multiverse of Madness grossing a staggering $955 million worldwide only last year.
… And yet, most of Marvel's biggest success stories in Phases 4 and 5 have been products descended from Avengers: Endgame, including Marvel's biggest win of the past year: Guardians of the Galaxy Vol. 3, which grossed $846 million this past summer. That's almost as much as Vol. 2 in 2017, but the film was also a swan song of sorts itself, in this case for James Gunn's version of the Guardians roster. Conversely, Ant-Man and the Wasp: Quantumania failed to gross what the first Ant-Man earned back in 2015, never mind 2019's Ant-Man and the Wasp, which came out in the afterglow of Avengers: Infinity War.
Meanwhile this month's The Marvels, a sequel to another MCU box office juggernaut sandwiched between Infinity War and Endgame, is tracking to potentially open at half of Captain Marvel's $153.4 million debut. It's fair to wonder whether it was a good idea to market that film as a crossover between Brie Larson's Captain Marvel and Iman Vellani's Kamala Khan, the star of the underrated—but also severely underwatched—Disney+ TV series Ms. Marvel. 
But then Marvel really is undergoing a massive, and public, rethink. Disney CEO Bob Iger has signaled Marvel likely produced too many TV shows that flooded and oversaturated the marketplace on Disney+—a policy forced on Marvel Studios President Kevin Feige by previous Disney CEO Bob Chapek (but with Iger's blessing as chairman)—the result of which has been a growing cultural indifference to the MCU brand. According to third party analytics firms like Samba TV, this summer's Secret Invasion was Marvel's second-least watched series to date (behind Ms. Marvel). And the reviewers were no kinder.
Various Marvel TV series have since been canceled or rethought, with Marvel even announcing it will essentially start from scratch with its forthcoming Daredevil: Born Again Disney+ series, despite half that show's season already being filmed since before the WGA strike started.
Combined with various other unflattering headlines, including the public ouster of former Marvel exec Victoria Alonso who was made the public scapegoat for all the hideous headlines regarding the overworking and underpaying of VFX artists, for the first time in its 15-year run, Marvel Studios looks vulnerable. And attempting to course correct by potentially reaching deep into their pockets to bring Downey, Johansson, and all the rest back would be an embarrassingly public admission of this.
Modern movie franchises in the last decade have of course become heavily reliant on nostalgia—it's almost all Lucasfilm focuses on anymore—but that's generally for films and performances that are 20, 30, 40, or even 50 years old. It hasn't even been five years since Endgame. To bring them all back so soon would suggest a massive loss in confidence in the new characters the studio has spent the last four years setting up.
It also would suggest the plans for the next five years or more might be on the chopping block. As a matter of opinion, we'd suggest that the underperformance of Ant-Man 3 and disastrous failure of The Flash show audiences have grown tired of the already overused gimmick of bringing back deceased characters or antiquated castings by way of the "multiverse." It paid off dividends for Marvel when they used the same trick to bring back Tobey Maguire and Willem Dafoe for Spider-Man: No Way Home, but at this point pivoting the next four years of MCU films around the same kind of fan service seems to court serious diminishing returns and burnout. The allegations circling Jonathan Majors, who plays the primary character at the center of this storytelling structure, isn't doing Marvel any favors, either.
In fact, in the same Variety report, an unnamed source said, "Marvel is truly fucked with the whole Kang angle. And they haven't had an opportunity to rewrite until very recently [because of the WGA strike]. But I don't see a path to how they move forward with him."
All of which suggests plans for Marvel's Phase 5 and 6 are at risk of being thrown to the wind. It's a remarkable turn of events, or at least the perception of them within the industry. Just a few years ago, Marvel Studios seemed as invulnerable as an adamantium skeleton as it produced hit after hit.
Still, we'd caution writing any obituaries or eulogies for the most popular movie franchise in the world just yet. While the studio is likely about to begin a course correction, they're nowhere near buried yet. And the thing about comics is that even a trip to the cemetery can amount to another time out.