Features
Killers of the Flower Moon's IMAX Pivot Signals Oppenheimer Levels of Confidence
Do Apple and Paramount Pictures think they have the next Oppenheimer on their hands with the new global, IMAX rollout of Killers of the Flower Moon?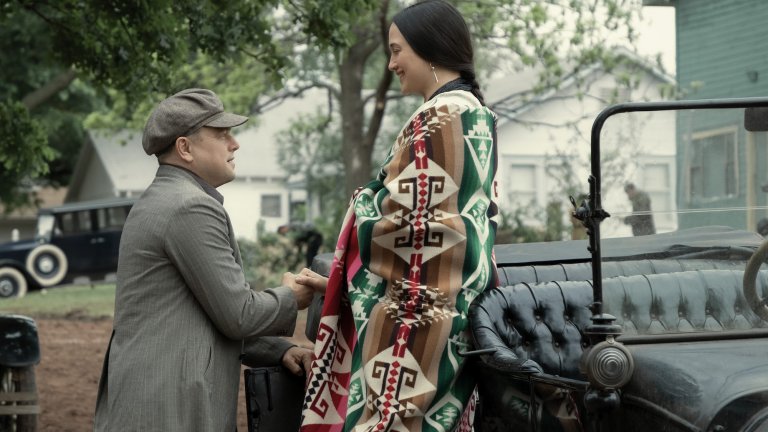 You can now add Martin Scorsese's hotly anticipated Killers of the Flower Moon to the films undergoing a delay—at least for a few weeks, anyway. In a curious move by the film's studio and distributor, Apple and Paramount Pictures, respectively, the eagerly awaited Western crime epic has canceled its limited Oct. 6 release date in the U.S. and will now instead open in wide release on Oct. 20, both in North America and various other global markets, including the UK.
And, curiouser still, the film will also be released in IMAX.
The news should be giddy to cinephiles and movie buffs the world over who have been dining well the last month on another populist auteur who put a three-hour-plus adult drama in IMAX. At a glance the move even raises the question of whether Apple and Paramount believe they have another Oppenheimer on their hands.
As of press time, the studios nor the filmmakers have commented on the move, but one obvious intent, at least, is that Apple and Paramount hope to turn Killers of the Flower Moon into a cinematic event instead of following what has become the typical path of awards season hopefuls over the last several decades, which often involves a splashy premiere at a film festival and then a platformed rollout in select cities that gradually build up word of mouth.
Killers of the Flower Moon has of course already enjoyed considerable festival prestige, becoming the toast of Cannes where it made its world premiere in May and has to date accrued a 97 percent "positive" score on Rotten Tomatoes. However, Paramount is abandoning the platformed strategy in favor of something that looks an awful lot like when Universal Pictures defiantly put Christopher Nolan's Oppenheimer into global cinemas on the same date as Greta Gerwig's Barbie, and one week after what was expected to be one of the biggest hits of the summer, Paramount's own Mission: Impossible – Dead Reckoning Part One.
Instead Oppenheimer stunned skeptics who doubted audience interest in a talky, R-rated, and adult-oriented drama with little in the way of CGI spectacle. In fact, Oppenheimer proved to be the biggest IMAX release of 2023 and has grossed $778 million to date, with projections now placing it potentially north of $900 million by the end of its run. The film's over-performance has also invited speculation as to whether adult audiences are starved for big event films that tackled serious subjects or historical figures (many times both at the same time) after more than a decade of multiplexes becoming consumed with superhero theatrics and space opera imagery.
Apple and Paramount would appear to be putting that theory to the test since only a handful of filmmakers' names have the cache of Christopher Nolan with modern audiences, and Martin Scorsese is one of them.
Indeed, Killers of the Flower Moon appears to be Scorsese's most commercially appealing film in a decade, which is how long it's been since the filmmaker worked with Leonardo DiCaprio on the screen. In 2013 that came in the form of The Wolf of Wall Street, which was the highest grossing film of Scorsese's career when unadjusted for inflation, with that spectacle of excess snorting $407 million worldwide. Killers of the Flower Moon again sees DiCaprio in a Scorsese epic about greed, avarice, and sin, and this time with Robert De Niro, who has not collaborated with DiCaprio since Michael Caton-Jones' This Boy's Life way back in 1993. Flower Moon will thus be their first collaboration in a Scorsese joint.
So could Killers of the Flower Moon be an R-rated, zeitgeist-grabbing event on the scale of Oppenheimer?
… Probably not quite that. While Scorsese has remained one of the most influential and intensely followed filmmakers of the last half-century, his clout with the mainstream never reached the levels of Nolan or (as a more contemporary comparison) Steven Spielberg in his heyday. It's highly unlikely we'll ever see a Scorsese movie flirt with a billion-dollar gross like Oppenheimer currently is.
But then, Killers of the Flower Moon doesn't need to. No one anticipated the absurd levels of success enjoyed by Nolan's latest picture, and it would be foolish to think Apple or Paramount have any intention for Flower Moon to compete in that arena. In truth, this delay is largely made possible by the fact Warner Bros. Pictures and Dune: Part Two abandoned November 2023 due to the ongoing WGA and SAG-AFTRA strikes, and studios and streamers' refusal to attempt a deal that their talent could accept.
With Dune vacating early November, Killers of the Flower Moon has a newly formed lane to be the biggest movie in theaters for at least three weeks, ahead of Disney's The Marvels (assuming that film releases this fall). IMAX therefore has everything to gain by putting Scorsese's movie on the biggest screens in the world, and the film's studio and streamer also will earn goodwill in the industry for taking a big swing in support of the theatrical experience. This will prove useful come awards season where Killers of the Flower Moon is widely considered Oppenheimer's biggest competition at this point.
Still, there was a time not long ago when Scorsese movies were close to sure things with moviegoers old enough to legally drink. Gangs of New York earned $194 million worldwide in 2002 (or about $330 million in 2023); The Aviator flew off with $214 million in 2004 ($346 million today); The Departed took $292 million with it to the grave in 2006 ($442 million); Shutter Island closed up shop with about $295 million in 2010 ($413 million); and The Wolf of Wall Street's $407 million from a decade ago amounts to about $534 million today. All starred DiCaprio.
The industry has obviously changed a lot in the past decade, but if Killers of the Flower Moon could earn $400 million globally, it would be considering an astounding hit for what was once greenlit as a streaming release; if it crossed $300 million, it might not justify the film's reported $200 million budget, but it would still be a hit for movie theaters and a helluva marketing campaign for Apple's streaming service.
Getting the film on IMAX screens just made either scenario a little more plausible.