Features
David Johansen Talks Working With Martin Scorsese, The New York Dolls, and a Lifetime of Music
David Johansen is always funky, but keeps his tongue in chic on Martin Scorsese, and a shared Personality Crisis: One Night Only.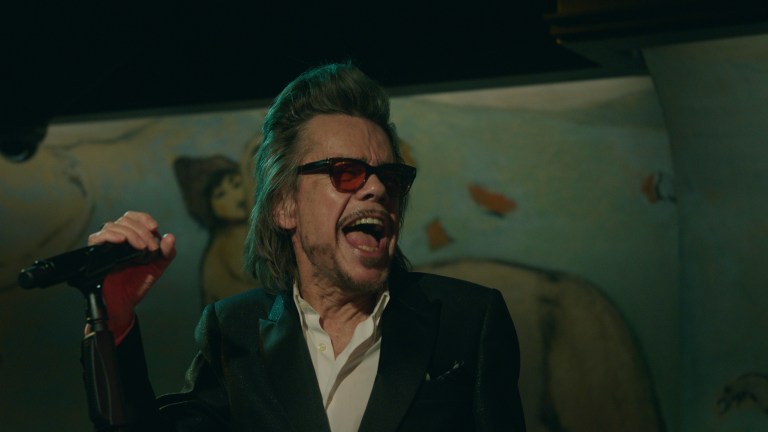 Showtime's Personality Crisis: One Night Only may showcase a multi-hyphenated personality – David Johansen is a band member, solo artist, and a songwriter who composed the show's tunes for his own alter ego, Buster Poindexter – but there is no crisis. Co-directors Martin Scorsese and David Tedeschi are documenting a party, Johansen's 70th birthday in January 2020, which he spent at the Café Carlyle.
Martin Scorsese knows how to set a table, serving up Thanksgiving dinner along with The Band for their farewell performance in The Last Waltz at San Francisco's Winterland Ballroom. But the fancy venue on Manhattan's Upper East Side is an intimate space with just enough room for Johansen's special friends, and he only has to take an elevator to put in an appearance. But what an appearance! Performing as Buster Poindexter, Johansen's got the best pompadour in the business, an attentive band which can follow his every mood, and an even more attentive maître d'hôtel Rosewood, who keeps the umbrellas in the drinks wet at all time.
Personality Crisis: One Night Only was co-directed by Scorsese and David Tedeschi, who previously co-directed The Fifty-Year Argument, but also edits Scorsese's music documentaries, such as George Harrison: Living in the Material World, Rolling Thunder Revue: A Bob Dylan Story, and No Direction Home: Bob Dylan. The Café Carlyle show is the perfect destination for the journey, and gives Johansen and Poindexter room to play with their stories.
The New York Dolls were their own wave, before punk, glam, and new romantics. Along with Johnny Thunders, Sylvain Sylvain, Billy Murcia, and Arthur Kane Jr., Johansen's unit "single handedly lowered the standards of an entire industry." He only wore a dress one time onstage at Club 82, but he revolutionized rock attitude, getting arrested during a southern-state performance for "looking like Liza Minnelli," and hitting the charts both as himself and under a nom de plume who could "only play New York City." Since then, he's traded jabs with David Letterman and Conan O'Brien, hacked cabs for Bill Murray, and kept his chops "Hot Hot Hot," just don't remind him of the song.
Den of Geek nabbed a personal audience with the rock 'n' roll raconteur himself, as David Johansen chatted about his long friendship with Scorsese, the magic of producer George "Shadow" Morton, taking classical music out of the file cabinet, and the story which cracked up Johnny Carson.
Den of Geek: I love what you've done with your hair, and I loved One Night Only.
David Johansen: Great. We're getting off to a smashing start.
Scorsese has done some world class music docs, but One Night Only feels more like the documentary he did on Fran Liebowitz, and I know she loves her some Dolls. Was she part of the connection between you and him?
No. I have known Marty since the '70s. I met him somewhere at a party or something. He told me that he had played some of the Dolls' tracks to his cast in Mean Streets before they were going to have a fight scene, to get them riled up. I thought that was really funny. I saw Mean Streets, I hadn't met him yet, but his choice of songs, you could tell that he was very into music.
Then he used to get me to sing some of those old-timey songs for his Boardwalk Empire series. [Sings the opening line to "There Ain't No Sweet Man Worth the Salt of My Tears," a 1929 song by Bix Beiderbecke]. Songs like that. He's very musical. He loves music. I was with him yesterday, and I was saying: "Is it true, because I had read it somewhere, that Fellini used to have Nino Rota write songs, and then Fellini would listen to the songs while he was writing the movie?" He said "Oh, yeah. Music is everything."
He's inspired by music. He's been kind of like a habitual listener to my radio show [David Johansen's Mansion Of Fun at SiriusXM's The Loft] for 20 years or something. I play a lot of, I mean, they're all great songs, but my program is very eclectic. It's double eclectic. We have a very collective eclectic show, opera, jazz, rock and roll, and African, Italian and whatever, but songs that I love. I don't play anything that I don't believe in. Sometimes I'll throw something in that may be a little off color just to show its historic value. You know what I'm saying?
Did you have any input into Bobby Cannavale's Richie Finestra character on Vinyl? He's based a little on [New York Dolls' original manager] Marty Thau.
No. I saw the first episode because they had a big thing at that theater on 56th Street. Mara and I went to that, my wife and I, it was like a big spectacle. But that was pretty much the extent of my participation.
The New York Dolls were named the best band and the worst band by Creem magazine, and you are possibly the only two-time one-hit wonder. How do these distinctions categorize your unique placement in pop music history?
Yeah, I couldn't be happier. When Creem came out with that thing, I thought "This is so great. This is really great." I'm smack dab in the middle.
In the documentary, you mentioned feeling "like a bug" before opening up for Pat Benatar. What was it like opening for The Who at Shea?
That was good. The kids were into it. They were into it. That was New York. I had a hit at the time, that Animals thing ["Animals Medley: We Gotta Get Out of This Place / Don't Bring Me Down/ It's My Life"]. That was good. We rocked the place. But when you're out in the middle of nowhere, and you're kind of, the word I use is exotic, those kids, they don't want to hear about it. They just want you to "Give me some classic rock, goddamn it!" So, on occasion it would feel like, especially when I was being assaulted with bottles: This is no place for me.
When I was 12, I read a quote attributed to you. When I was 15, I was doing Rocky Horror, and walking home from the theater, in the corset and the makeup, got accosted, and I used the line: "I'm more of a man than you'll ever be and more woman than you'll ever get." Is that your line, and in the entire history of street aggression, has that ever worked in averting a beating?
Wasn't that Wayne County's line? I don't remember, but that sounds like something Jayne would have said. But as far as averting a beating is concerned, I have ways of averting. I have a book full of anecdotes to avert a beating, if you know what I'm saying. Of course, it doesn't happen much anymore. Because now I walk around, like "oh what a wonderful person you are."
But in the early days, I used to get a lot of cat calls and stuff like that. And I have a lot of, just things that would come out of my mouth, retorts. A lot of them would be provocative, but I think when they heard my voice, it was kind of intimidating to them. You know?
I remember, we were in England, Malcolm McLaren and his wife Vivienne Westwood, they had a store, I think it was called Let It Rock, and they would sell Zoot Suit kind of things, and brothel creepers shoes. And the Teds from Glasgow, who had a reputation, these guys were like, "This is our life, we're Teds!" They would come down on Saturday, in a bus, and hang out there, and buy Zoot Suits, and things like that. I remember we wandered in there one day, in the clothes that we wore, and they started to get cuffed up and getting ready to have a rumble. And we were like, "What are you looking at?" You know, that New York kind of attitude, and they would just shut up, just like, "Oh, we can't deal with this." I never had a problem with that.
In the documentary, when it happened at a Long Island show, you said it was the sexual tension.
Yeah. I think that's what it was.
"Shadow" Morton always seemed an artistic madman, from the Shangri-Las to "Society's Child." What was he like to work with on the second Dolls album?
He was great. I always liked him. He was a lot of fun, and he had good ideas. He is responsible for so many great things, and I just thought this would be a good thing, a good person to hang out with. We made that record [Too Much, Too Soon] in, like, two weeks. I think the first record we made in like a week. He was a great guy. He had a lot of great stories.
He had given up producing, and was racing cars. He was a car racer. I talked him into coming back and giving it one more shot, and he was glad he did. What can I say about him? It was great. He was like an idol of mine, really. Not that I was stammering when I spoke to him, but I just had a lot of respect. The things he would do. Like the Vanilla Fudge, he would slow them down. He'd say "wait a minute, boys." And then he would play the record ["You Keep Me Hanging On"], a 45 he would play it on 33, and he'd say "do it like this." And they had a smash hit with it.
To produce that, and "Society's Child," you have to have a lot of chutzpah to do that. And the Shangri-Las, well to me, they were the greatest thing. They were like ice cream or something. When I was a kid, I would be like "I love this band!" I would see them all the time. They would be in the Murray the K Show and all this kind of stuff. They had this tough girl persona, not that they were, but that was the way they were presented. So, it was good. He was good.
When you were doing the Harry Smiths, I saw an interview where you talked about all those crazy chords you had to relearn. Do you still keep up with pushing your instrumental chops?
Yeah. Well, I'm into a lot of music. I don't know if you noticed, but in the movie, there was a scene with the Clintons where classical music was playing, and I wrote that ["Mara Dreams the Moongate of Uncommon Beauty"] for a concert that I did. For whoever the Attorney General was before Letitia James. The state had this fund of uncashed checks, money they wanted to distribute to arts groups. So, I got a chance to write a little 20-minute classical music thing that I knew was gonna get played, because there was going to be a concert. Because you can write classical music for the rest of your life, and it's going to sit. I call it "file cabinet music." Nobody's gonna get to hear it. But this one I knew people were going to get to hear. So, I did that.
I do all kinds of things like that. I'm a musical person. I could be in a crappy mood, and I realize, "Oh, my God, it's Friday night, I better start putting my radio show together." I start going through songs, and I'm listening to them, and in like two minutes, I'm in a great mood. It's just the music. It's a powerful, powerful thing. It's really important. I think if there was no such thing as music, we'd all be dead. We'd be very "Brave New World," "Zombieland." To me, it's the most powerful art.
Do you remember the moment you decided you had to do this rock and roll thing?
It's funny you should say that. I was at a Mitch Ryder show actually at the Murray the K Show. There were a lot of great acts on it. I don't know how old I was, I was a kid. Mitch Ryder came out. Each band would get like three to five minutes to show their stuff. They would do medleys of their hits and whatever. He just came out and wrecked the place. He was, at that time, the mid '60s, so dynamic, and so into it, that I just thought, "mm, that looks like a really nice gig." I think that's probably the moment I committed to it.
You were both in a band and you were doing solo stuff in the beginning?
I had bands when I was a kid. But also, I would play Hoot Night at the JCC, stuff like that. I was into a lot of different kinds of music then as well, not as much as now. When I was a kid, when I showed up in the family, I have older brothers and sisters. So, there was a lot of records around, music was always playing. It wasn't like I had to discover rock 'n' roll or something. It was there when I showed up. My father was very into opera, and Gilbert and Sullivan, and all that jazz. My mother was into show tunes and pop music, and stuff like that. Music was a big part of our family, which I just assumed everybody's was, but it was definitely for us.
It's not in the doc, but how was your relationship with the late Robert Goulet? Did that show turn out to be anything?
That was a joke.
I was kind of hoping to see you in "Bob Goulet's Old-Fashioned Cajun Christmas" in Scrooged.
Oh, he was in Scrooged, yeah, that's right. I remember now. That was a joke. Yeah, that was just, I don't know, it seemed like a good one-liner joke where the punchline is "yeah." It is Robert Goulet, but you just have to say yeah. I just thought it was so funny. Apparently, everybody did. Because I used to tell that joke on stage all the time.
Thanks for playing "Totalitarian State," the original is impossible to find.
Oh, we're going to put out a record of the show.
Personality Crisis: One Night Only can be seen on Showtime. David Johansen's "Mansion of Fun" radio show airs weekly at SiriusXM's The Loft.