News
Jamie Foxx to Star in Netflix Vampire Hunter Comedy Day Shift
Netflix has once again tapped Jamie Foxx to star in one of its movies, this time for Day Shift, a vampire hunter comedy.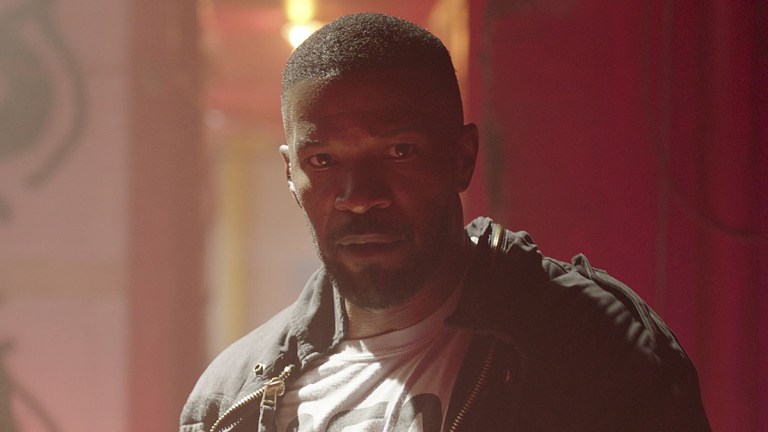 Jamie Foxx is reteaming with Netflix after having recently starred in the streamer's Project Power to headline another movie exclusive to the platform, this one a comedy in which he plays a vampire hunter.
Day Shift, as the film is titled, will see Oscar-winning actor and box office draw Foxx as its star. However, the director's chair will be occupied by an untested talent in J.J. Perry, a second unit and stunt coordinator from major films such as Fast & Furious 9, The Fate of the Furious, Bloodshot and the John Wick franchise. Perry will work off a script by burgeoning screenwriter Tyler Tice (a winner of the Slamdance Writing Competition,) that was revised by Shay Hatten (John Wick: Chapter 3 – Parabellum). Pertinent to the former credit, Chad Stahelski, who directed the John Wick films, is serving as a producer here.
Foxx's starring role in Day Shift is being officially described as "a hard working, blue collar dad who wants to provide a good life for his quick-witted 8-year-old daughter, but his mundane San Fernando Valley pool cleaning job is a front for his real source of income — hunting and killing vampires." Indeed, despite its comedy designation, one can expect to see a fair share of genre-aligned action in the film, with Foxx tapping into a talent well that first took shape on stage as a standup comedian to acquiring the dramatic chops that earned him a Supporting Actor nod in 2004 for Collateral, and, just one year later, winning the Best Lead Actor Oscar in 2005 for his role as Ray Charles in Ray.
The film will certainly benefit from the presence of John Wick maestro Chad Stahelski, who produces with Jason Spitz for 87Eleven Entertainment, joined in that capacity by Impossible Dream Entertainment's Shaun Redick and Yvette Yates. Additionally, star Foxx will serve as an executive producer alongside Datari Turner and Peter Baxter. As Redick expresses of the project in a statement:
"Day Shift is a pulse-pounding thrill ride with action, danger and grounded comedy mixed with a deep mythology — the key ingredients for the absolute best time you can have watching a movie. We couldn't be more excited about producing this at Netflix with Jamie Foxx starring."
Chad Stalheski also chimes in, lauding of the film's debuting director:
"I've known and worked with JJ for a long time. His unique vision of Day Shift makes it such a great first directorial project for him."
Day Shift is just one of several prominent entries on the docket of Jamie Foxx, who, amongst other things, will (to the surprise of everyone,) reportedly reprise his villain role as Max Dillon/Electro from 2014's The Amazing Spider-Man 2 (opposite Andrew Garfield's version of the hero,) in a completely different iteration of the film franchise, the upcoming untitled Spider-Man 3, this time opposite Tom Holland's Wall-Crawler. He's also been lined up for another iconic comic book movie reboot, Todd McFarlane's Spawn, set to star as undead hell-powered-soldier Al Simmons/Spawn. Besides the aforementioned Netflix sci-fi actioner, Project Power, Foxx recently voiced the starring role of Disney/Pixar animated feature Soul, which is bypassing theaters for a streaming premiere on Disney+ on Christmas Day.
Day Shift has yet to reveal a production or release window, but we will keep you updated on the major developments as the news arrives.