Reviews
Project Power Review: Netflix Superhero Movie is Genre-Bending Sci-Fi Fun
Jamie Foxx, Joseph Gordon-Levitt star in Project Power, Netflix's new sci-fi movie about a pill that gives you super powers, but it's Dominique Fishback who steals the show.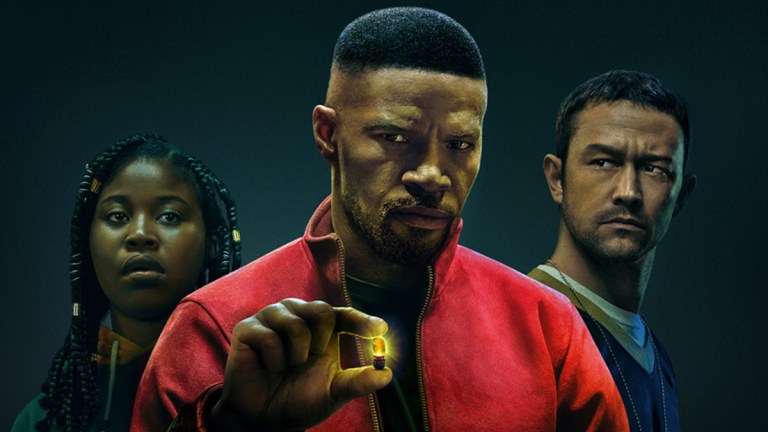 Plugged as something akin to Chronicle meets Limitless, Netflix's latest original Project Power is nothing if not ambitious. A high concept action/sci-fi/superhero/crime/buddy-movie starring Jamie Foxx, Joseph Gordon-Levitt, and Dominique Fishback, from directors Henry Joost and Ariel Schulman, the guys behind Catfish, there is A LOT going on here. If this had been a theatrical release we suspect it would have caught some flack for being overstuffed, slightly silly, and resembling a b-movie take on Marvel's X-Men. But on Netflix in lockdown, the strong, committed performances from a couple of big stars plus the extremely endearing turn from Fishback should earn Project Power enough goodwill to make it a success.
The concept is this: nefarious forces have created a pill called Power. When you take it you manifest super powers which last for just five minutes. The catch? Before you take the pill you have no idea what powers you will gain. The concepts come from strange phenomena from the natural world, so you might find yourself able to blend into the background like a cuttlefish or with the speed of a cheetah. But you might also become a wolverine frog or an exploding newt.
Joseph Gordon-Levitt is Frank, a renegade cop with a good heart who plays by his own rules. He's on the hunt for a man called Art, known as The Major (Foxx) who might be the key to the source of the dangerous street drugs. Then there's Robin (Fishback), a low level dealer fed up with school and trying to take care of her diabetic mother who gets inadvertently caught up with both and becomes the heart of the movie. Despite the subject matter the whole movie has a noirish look and feel, inspired in part by Michael Mann's Collateral – it's dark and rainy, set in the back streets of New Orleans, and its characters exist in that grey space between what's lawful and what's necessary.
Both Foxx and Gordon-Levitt commit to some decent action sequences, though in this day and age of John Wick and Gangs Of London some of the fights are a bit messy and it's not always possible to see exactly what's going on.
Not a slick actioner, nor an elevated sci-fi, nor a technicolor family superhero romp but something a bit more gritty and underground – albeit peppered with cool mutant human hybrids – strangely Project Power is at its best when it sheds its genre trappings and leans into the charisma of its three leads and it's Fishback who really makes it work. Surrogate father-daughter moments with Foxx, coaxing the inner Clint Eastwood out of Gordon-Levitt or sulking because she has to be the lookout and not the Robin to their macho Batmen, she brings a much needed freshness to the film.
Working with rapper Chika, who also wrote an original track for the film, Fishback's freestyle rapping moments really ping, bringing a different understanding to the concept of "Power." The strong ex-military Art, the armed cop Frank, the criminal overlords, and Eastern European magnates all have it, but young, poor, Black female Robin has none. If anything the movie's final coda (no spoilers) slightly lets her down, Robin is her own hero, without popping pills, and serves as a valuable part of this unusual team. And how many sci-fi movies have a young Black woman as their lead? Expect to see a lot more of Fishback in the future.
Some inventive set pieces, a zippy pace, and a keen sense of place in its New Orleans setting make Project Power a welcome bit of fun in lockdown while its indie sensibilities and higher ambitions win it further credit – even though it doesn't always entirely land. It's cinematic but the streaming platform is a much more comfortable home for this project which nicely scratches a number of itches even if it tries to scratch all of them at once.