Features
How Dwayne Johnson Finally Brought Black Adam to the Big Screen
Dwayne Johnson, director Jaume Collet-Serra, and producers Hiram Garcia and Beau Flynn explain what makes DC's Black Adam movie "the Dirty Harry of superheroes."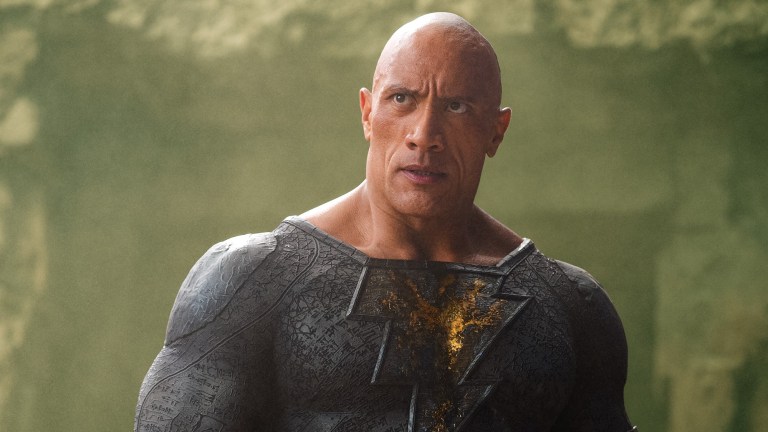 Like every interview does, our chat with Dwayne Johnson begins with a question. But it's not Den of Geek asking it. Instead, Johnson wants to know how we feel about Black Adam and what it's bringing to the world of superhero movies.
The answer is, just like the star, excited.
We're on the Warner Bros. lot in Los Angeles to talk about Black Adam, and the actor is pursuing one of his favorite lines of conversation: what the fans of these iconic DC characters think about his upcoming blockbuster, which, in his words, will "disrupt" the superhero movie landscape.
Johnson's passion for Black Adam—the DC Comics antihero who was first introduced in 1941's The Marvel Family #1 by C.C. Beck and Otto Binder—comes through as he talks. It's that drive and enthusiasm that's led him on a long, winding journey to bring the character to the big screen.
"There's nothing like him," Johnson says. "There's no character that I've ever felt more connected to for a variety of reasons."
That connection is so strong that Johnson has been working on bringing the DC antihero to life for a decade. And when we speak, he's just unveiled the movie's first full trailer for the first time. "It feels incredibly gratifying because it's been a long time, a lot of ups and downs."
Who is Black Adam?
In the earliest comics, Black Adam was introduced as a Shazam villain. The character's first story revealed that the wizard who bestowed the powers on Billy Batson originally gave them to an ancient Egyptian hero who soon realized he had the power to rule the world. The wizard renamed him "Black Adam" and banished him to the farthest star. The character's fearsome anger and quest for revenge eventually brought him back to Earth, which took him an unbelievable 5,000 years.
Black Adam returned periodically through the years to battle Shazam, but it wasn't until the late '90s that he began the road to his unique antiheroic redemption. Over the decades, new layers were added to the character, including a rise to power as the leader of his fictional homeland, Kahndaq. In recent years, readers were introduced to his backstory as a former Kahndaqi enslaved man who only wanted to use his powers to save his people. It's that tragic element to the character that helps inform Johnson's vision for the movie, which will show the character in the ancient past as well as the modern day.
Black Adam's unique powerset and attitude are one of the reasons that Johnson and his collaborators see the character as a "disruptor," both in the world of superheroes and the wider movie industry.
"This world of superheroes has been around a long time and is responsible for a lot of massive business in our industry," Johnson explains. "It's responsible for some of the greatest movies of all time. But now you have this guy who, as our director likes to call him, is the Dirty Harry of superheroes."
Shifting the tone of what it means to be a hero in the DCEU is key to Johnson, who sees the movie as an opportunity to "expand the DC Universe" while introducing Black Adam as an anchoring force for what comes next. When Johnson talks about the character, it's clear he's in for the long haul, and Black Adam is only the beginning.
A Heroic Undertaking
While Johnson's motivation and ambition have finally brought his dream of a Black Adam movie to fruition, there was a moment when the actor thought that his first foray into the world of superheroes might not happen. And it all goes back to the project where his conflicted antihero was originally supposed to debut: Shazam!.
It was initially the plan for that film to tell both Shazam and Black Adam's origins side-by-side. But Johnson wasn't convinced that this was the right approach. "There was always something funky about that," he recalls. "I just didn't feel it in my gut 100 percent… I didn't think we should go in that direction." (Ultimately, though, Johnson feels "the movie they made with Shazam! was tonally perfect.")
Johnson called then-New Line president (and later Warner Bros. Pictures chairman) Toby Emmerich and told him that the script pitting Black Adam against the heroic Shazam was "a collision of tone and energy." Looking back now, Johnson says of that early version of the project, "I think it would have been fine for Shazam, but not good for Black Adam." It was a nerve-wracking moment, but it ultimately paid off, as an hour later, Emmerich called him back and agreed.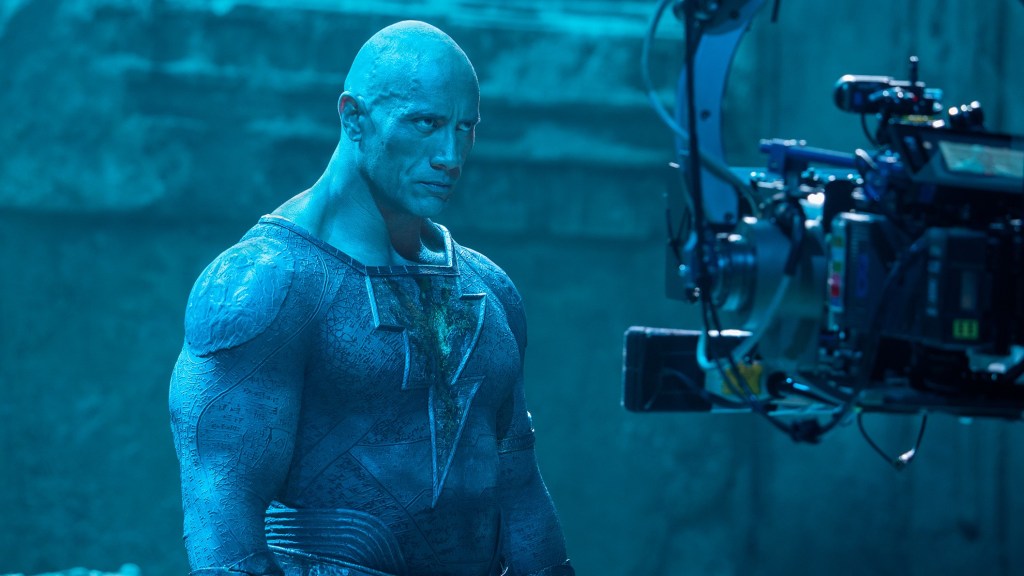 Johnson's belief in Black Adam has led him here, but if the wait has felt long for fans, it's been even more so for the actor, who describes himself as "frothing at the mouth," knowing what's in store for the DC Universe.
"I have goosebumps right now thinking about this," he says, "because you're watching things unfold, knowing that we have an opportunity here to disrupt and change the paradigm." To get a concept of just how long Johnson has been waiting to unleash Black Adam, some of the projects that "unfolded" from then to now include 2016's Batman v Superman: Dawn of Justice and Suicide Squad, 2017's Wonder Woman and Justice League, Aquaman (2018), Joker (2019), Birds of Prey and The Suicide Squad in 2020, and The Batman (2022). And, of course, 2019's Black Adam-less Shazam!.
"It's been an incredible journey," Black Adam producer and longtime Johnson collaborator Hiram Garcia tells us. "It has been a very long journey. But everything happens for a reason."
Like the rest of the world, Black Adam's beginnings were impacted by the global pandemic. Even after years of ups and downs, Johnson says Covid was "the biggest roadblock" that the film came up against. As people worked out how to survive in a scary new world and how to make the best out of a bad situation, so did the team behind the movie.
"We were rolling along, and then we got shut down," Johnson explains. "But the shutdown made us say, 'Are we telling the best story we can tell? Is there anything else that we're leaving on the table that we know fans want to see?' Because I'm a big believer in listening to the fans and what they want."
That's a lesson he says he learned "very early on" in his wrestling career when he "wrestled in flea markets in front of 50 people… [the fans] will always guide you."
It's something that's clearly very important to Johnson, which shouldn't come as a surprise because he's a fan, too.
"Since I was a little boy, I've admittedly always been into DC," he says. "I'm of that time when on Saturday mornings, we had Super Friends. So I've always been a champion and advocate of DC heroes, but also the villains. DC has the best villains!"
The reason why DC is known for having "the best villains" is because of how expansive, recognizable, and maniacal its rogues' gallery is. In fact, some of them are better known than the heroes. Part of their appeal is that many of these villains have tragic backstories that have helped cement them in the pop-culture pantheon. Black Adam looks to continue that tradition.
Family Comes First
Throughout the trailer launch event and our chat, Johnson comes back to how the idea of family became the driving force for the film. The first trailer for the movie reveals that in the distant past, Adam's son died to save him, which becomes a motivation for everything that comes after. It's something that clearly inspires Johnson and his love for the potential of the character.
"Having someone who was so dead set in his ways," he says, "who has a code but the other side of that code is death if you fuck with his family," was vital, especially because Johnson sees Adam's love for his family as a path for growth, allowing the character to evolve as his journey unfolds.
"That's a big element of this movie, how important family is," director Jaume Collet-Serra explains. Though the creative team didn't want to reveal too much, the director confirms that element plays into the character's past and present in the film. Found families are at the heart of many of comics' best stories. And in Black Adam's comic-book past, he has created close bonds with the characters with whom he has aligned himself.
Among those characters are the Justice Society of America. The group first appeared in 1941's All-Star Comics #3, which Johnson gleefully notes means they pre-date the Justice League by decades. And it's true the JSA is the first comic book superhero team. Founding members include Hawkman and Doctor Fate—who will make their big-screen live-action debuts in Black Adam. The classic golden age team has fought many battles in comics and on TV, but has never appeared in a movie.
The responsibility of building the first live-action cinematic JSA wasn't something Johnson and the filmmakers took lightly. "I love that there was no reference for this—we have a chance to start from scratch," Johnson says. "It's rare to have an opportunity to introduce something that is beloved, that's extremely well known, respected, honored, and embraced by comics fans that a large majority of the world does not know. We have that opportunity here to introduce these characters, but then also to bring in people who maybe have not seen a superhero movie."
In fact, the origins of Black Adam always included a plan to introduce DC's oldest superteam and make them a key part of the DC films going forward.
"The whole goal was that our film was going to set off a larger universe, where we were able to introduce the JSA and then also build from there," says Johnson. Those foundations were key to building their Black Adam universe. "If audiences respond to these characters—which we believed that they would, and now we see that they do—we want to honor their mythologies and build out their stories on their own in terms of spin-offs, movies, TV shows, and things like that," he says. "That was always important."
So who are the heroes that Johnson wants viewers to connect with? That would be two original JSA members—Hawkman, played by Aldis Hodge, and Doctor Fate, by Pierce Brosnan — and two young upstarts: Quintessa Swindell's Cyclone and Noah Centineo's Atom Smasher.
"We had the unique opportunity to really be precise in terms of how to cast the movie and look for people that were really passionate and inhabited the role," producer Beau Flynn explains. That included bringing a Hollywood icon to the comic-book movie world for the first time with the addition of Brosnan as Doctor Fate. "It's crazy that Pierce hadn't been in [a superhero movie]," Flynn says.
The longstanding legacy of Doctor Fate matches Brosnan's own career. But there was a balance that the creative team wanted to bring. "There have been so many characters in the JSA," Garcia says. "We wanted to anchor it in some of the original members [such as Hawkman and Doctor Fate]. Their history is fascinating." But they also saw it as a chance to "inject some youth" into the movie with the addition of newer characters like Atom Smasher and Cyclone.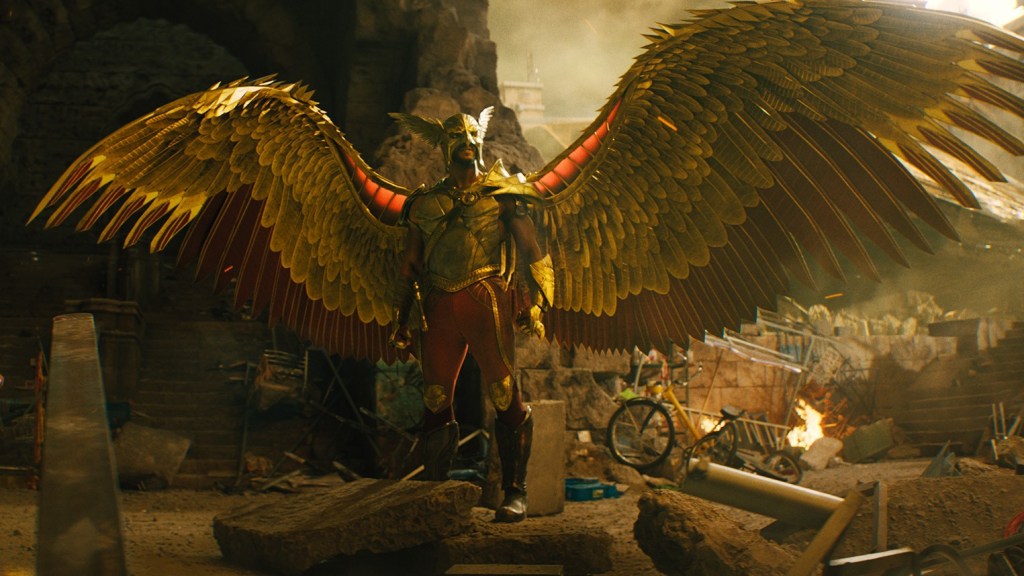 Shifting the Cinematic Paradigm
Black Adam is a first in many ways. It's Johnson's first superhero movie, it's Black Adam's first time in live-action, and it's the big-screen debut of the JSA. That groundbreaking ethos continued behind the scenes, too.
So how do you begin to construct a new superhero universe? Collet-Serra was best known for horror and action movies before he worked with Johnson on Jungle Cruise. That epic adventure gave him a chance to explore and experiment with a big-budget, special effects-laden film. Now he's taking that even further with Black Adam.
The chance to play in the epic blockbuster landscape and push the boundaries of what can be done in tentpole films is "what these big movies bring to the table for filmmakers," Collet-Serra says. To take advantage of that (and to fill theaters), filmmakers need to become what the director calls "world creators."
With his catalog of gritty action and horror flicks, a superhero movie might seem unexpected for Collet-Serra even after Jungle Cruise, but the conflicted, morally gray world of Black Adam was a natural fit for the director. Shooting high-octane action is second nature, along with "the fact that Black Adam can be a little more questionable in his decisions and morality," he says. That darker side of the film leans into something that he thinks audiences seek out. "They want to feel the danger when they're watching something that's a little bit risky."
The moral quandaries at the heart of Black Adam gave the director the chance to play with one of his favorite storytelling devices. "A character could be doing something that you really agree with but is it the right thing? I like to put the audience in that situation," he says.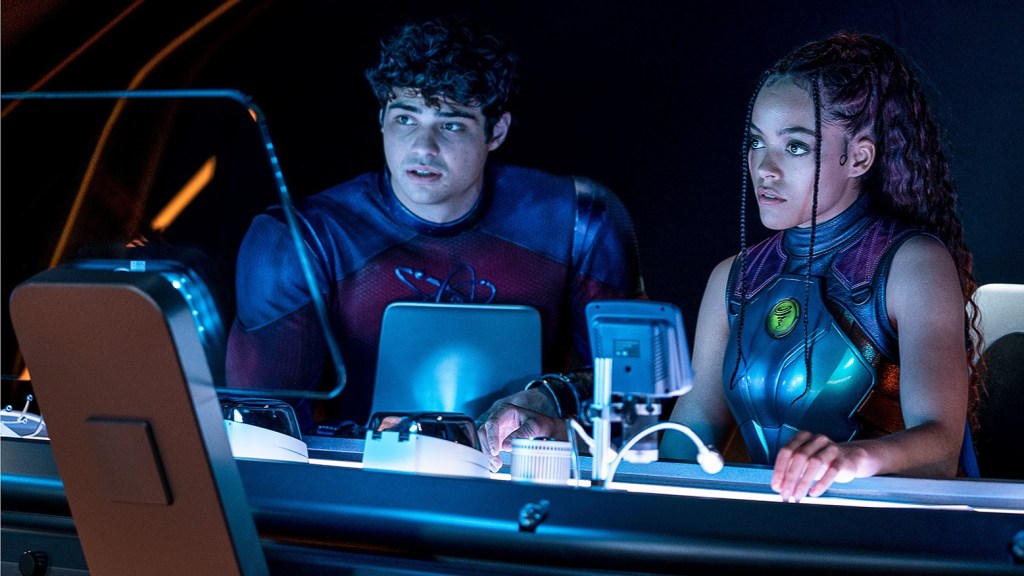 Black Adam takes place in both the distant past and modern times, which poses challenges for the filmmakers. Collet-Serra didn't have to just create a new world with the fictional nation of ancient Kahndaq, which is Black Adam's birthplace, but he also had to craft a contemporary timeline, too. And that was before he introduced the rest of the movie's superpowered cast.
"I had not only one but five superheroes," he says. "They all have their own powers and their outfits had to be designed from scratch."
Those supersuits, created by costume designers Kurt Swanson and Bart Muller (who work under the shared name Kurt and Bart), are something that Collet-Serra is particularly proud of. Each of the heroes' looks was brought to life with 3D printing technology that the director explains "has advanced so much [that] you can really create a sense of depth in them."
Black Adam is bringing another first to the table, too, when it comes to Johnson and his costume: "We don't know any other superhero who doesn't have any padding in the suit," Garcia laughs. "They had to take padding out," Flynn adds.
Stepping into the costume and taking on the mantle of Black Adam is "an honor," according to Johnson, and not something he took lightly, "from the work that I was willing to put in to prepare physically to immersing myself in all these worlds."
Taking Flight
When it came to how to make Black Adam fly, Collet-Serra and special effects supervisor J.D. Schwalm—best known for his Academy Award-winning work on First Man—knew they needed to break new ground. "It used to be that you put an actor on wires," the director explains, "and wires are so limiting for many reasons. So we were, I think, one of the first to actually use robots."
The idea was born of necessity. Black Adam flies, yes, but he also levitates. So the team needed to find a way to do that which looked smooth, natural, and cool as hell. "J.D. Schwalm brought, basically, a car manufacturing robot, one of those arms, and he adapted it so that Dwayne could stand on it," the director reveals. Schwalm then programmed the device with what Collet-Serra calls "very intricate moves," meaning that they could truly bring Black Adam to life in the air. That wasn't the only new technology that the crew used to make sure they were changing the way superhero movies were made, expanding on the Volume technology that Lucasfilm made famous with The Mandalorian to create virtual environments.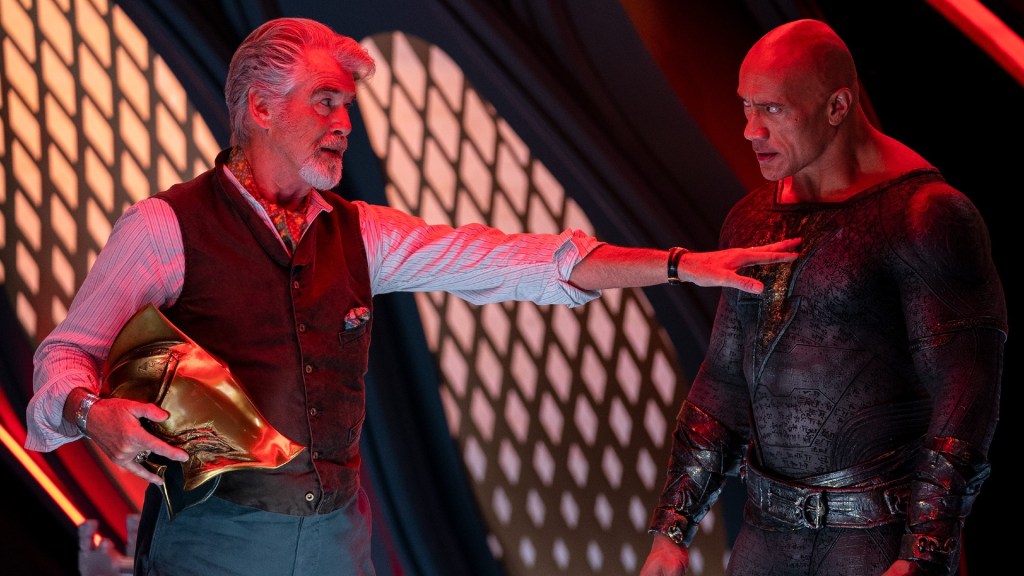 "We put Dwayne in a completely 360-degree, very small Volume with a hundred cameras," Collet-Serra says. "His whole body becomes a CG asset, and his performance then can be inserted into a shot, and we can use any virtual camera move on him."
This technique means the team can create not only a CG version of Black Adam but also a world for him to exist in. "I would go on set, get put in the apparatus, and start flying," Johnson says. "Not only did it allow [director of photography] Larry Sher and Jaume to be able to see the scene as I'm flying, I saw it too, in 360 degrees, and where I would lean, the city would lean. I would fly around buildings but I'm watching myself do this and controlling it. It was unbelievable."
Expanding the DCEU
As to whether—as fans ask him every day—Black Adam will ever follow his comic-book counterpart in facing off with Superman, Johnson offers an almost philosophical answer. In the comics, the pair have fought multiple times, as Johnson knows, but someday he hopes for something simpler: "The dream is just to have them acknowledge each other." In his mind, it's not quite the handshake that we see in the comic-book pages, but "just a head nod," a recognition from both that "we exist'' at the same time and in the same vast DC Universe.
After the long and winding path to the film, Johnson is feeling confident. "I'm just calm and in the pocket because I know what we've made," he says. "I think we made a really good movie. I think fans are gonna really enjoy it. I think they're gonna appreciate it. Not only the quality, but the swing we took to honor the mythology."
Black Adam hits theaters on Oct. 21, 2022.