Features
Black Adam: How Cyclone Honors the Legacy of a Classic DC Superhero
Exclusive: Quintessa Swindell reveals Cyclone's secret origin and connection to another DC legacy character.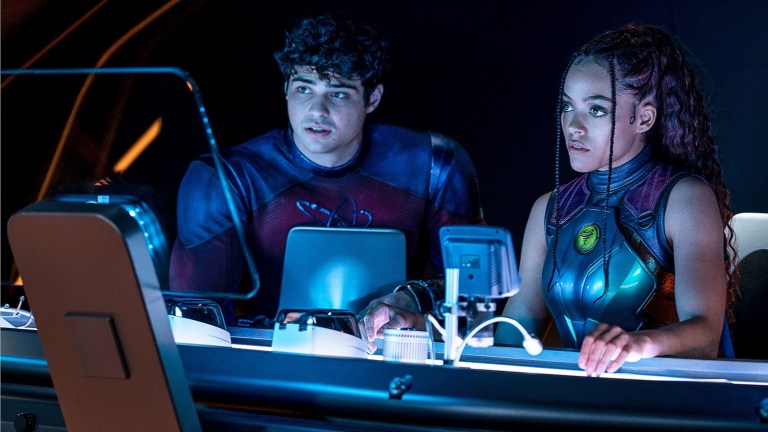 Quintessa Swindell couldn't be more excited to be taking on the role of Maxine Hunkle. While that particular DC superhero isn't exactly a household name yet, Swindell's portrayal of the cult hero known as Cyclone in the upcoming Black Adam movie is going to change all that.
We spoke with Swindell about bringing the character to life, how being a legacy hero informs Cyclone's journey, and why her relationship with Atom Smasher is at the heart of the movie's Justice Society of America.
What was it about Cyclone that first got you excited?
QUINTESSA SWINDELL: Honestly, it was the way that they wanted to represent the character. It was definitely different from any other project I'd gotten. They wanted the character to be quirky, to have fun, and to resemble the experience that I, myself, would be going through in the filming process. This is the first time that she's utilizing her powers on such a large level. So she's excited about Doctor Fate. She's excited about Hawkman. She's excited about being a part of the team and also living in the legacy of Red Tornado.
You mentioned Red Tornado. How does being a legacy character inform Cyclone?
I think the interesting thing that this movie questions, in general, is who's to say who's a villain and who's a hero? That's a question that's asked for each character. Cyclone has these moments when she's looking around and asking, "What would Red Tornado do? What was that legacy? What is my legacy?" Which I feel like are questions that are asked among all people, whether it's in real life or in comics: "What do I want to do? And who do I want to do it for?" She's constantly asking these questions. And she's incredibly intelligent. She's weighing everything that she's doing and wondering what's the most reasonable outcome of this.
Could you tell us a little more about Cyclone's relationship with Atom Smasher?
It's really important because we're the newcomers. We're both just starting to use our powers for something. So I think we're each other's counterparts. We balance each other; we're a team and a unit. It's interesting how they come together. There are scenes with both of us where we're just asking each other about our origin stories. It's very cute.
In the comics, Cyclone's origin is a tragic one. How does that shape her journey?
She's not born with her powers. Her powers were inflicted upon her by a mad scientist. So I think it's really interesting, being in a position that you didn't choose and deciding that it's not about the situation, it's about what you do in that situation.
Read more about Black Adam in our cover story here.