Features
Jungle Cruise: How to Turn a Classic Ride Into a Fun Movie
Jungle Cruise stars Dwayne Johnson and Emily Blunt explain why they boarded the latest Disney theme-ride adventure.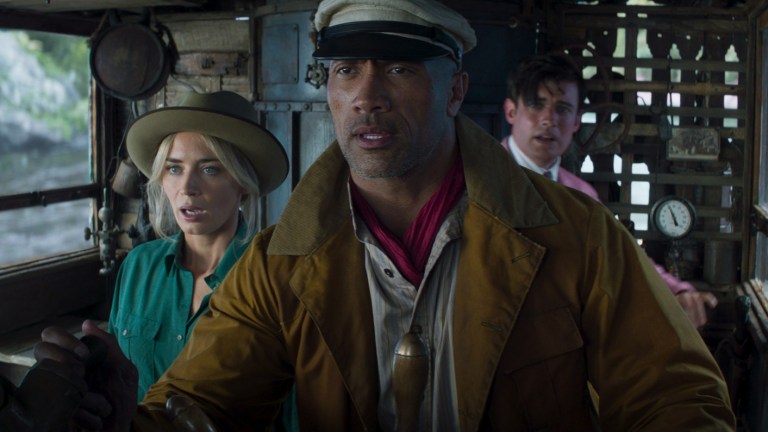 Remember when Disney announced the first Pirates of the Caribbean movie and the initial thinking was, "How the hell is Disney going to make a movie out of an amusement park ride?" Well, Pirates of the Caribbean: The Curse of the Black Pearl turned out to be more fun than anyone anticipated, and while its sequels have not always hit that same high mark, it's clear — several billion dollars at the box office later — that the Mouse House was onto something.
Some 18 years after that first Pirates launched its first shot across the pop culture bow, Disney is back at it with Jungle Cruise, which stars Emily Blunt as Dr. Lily Houghton, a scientist determined to find a legendary source of healing powers deep in the jungle, and Dwayne "The Rock" Johnson as Captain Frank Wolff, a seemingly down on his luck but still decent-minded steamboat pilot who agrees to take Lily and her reluctant brother McGregor (Jack Whitehall) down the Amazon in search of the Tree of Life.
Along the way, the makeshift team will encounter revenants, monsters, tribespeople, and other obstacles, while pursued by a rival boat operator (Paul Giamatti) and a malevolent German prince (Jesse Plemons) who wants to find the Tree of Life for his own nefarious reasons. And naturally, Lily and Frank themselves find themselves in a love/hate relationship as they barrel down the river, with their own secrets and hidden motivations coming to light as well.
"I immediately just saw the potential of the opportunity," says Johnson during an online press conference about the film. "And that opportunity was to take a beloved and iconic Disney ride — since 1955 when the park opened, this was Walt Disney's baby. There were a lot of elements that I felt comfortable with saying, 'Yes, I will come on board, I'll partner with you guys, and we will develop this thing.' And we got it to a really great place."
The Jungle Cruise attraction was indeed part of Disneyland in California when that first park opened 66 years ago, with versions of it also launched at Florida's Walt Disney World in 1971, Tokyo Disneyland in 1983, and Hong Kong Disneyland in 2005. While the ride is being refurbished this year, it has remained a popular attraction with Disney visitors since its opening, with a film version in development since 2004.
It was nostalgia for the ride that first fueled Johnson's interest in doing the film, with the Fast and Furious and Jumanji: The Next Level star officially coming on board in 2015. "I had ridden the ride when I was a kid," he recalls. "Many moons later, I went to Disney World for the first time and rode the ride then too as well. So it had a nostalgic element to it when it was first presented to me. But also, the opportunity that we had that we could create something that was hopefully unique and special."
For Blunt, who says she only boarded the "whimsical and sweet" ride for the first time at the movie's official world premiere at Disneyland, there was another aspect at work in doing the picture: the way it paid homage to a certain type of adventure movie that we haven't seen a lot of lately — a genre that ranges from Disney's own 20,000 Leagues Under the Sea to the Brendan Fraser-era The Mummy.
"It was made in the spirit of the films that we all grew up watching," she explains. "I mainlined those movies into my veins. I just loved Indiana Jones and Romancing the Stone and The African Queen. They are just joy bombs, and they're nostalgic, and I think we just needed to pierce people's hearts directly with the spirit of those films that we all loved as children."
Blunt adds that director Jaume Collet-Serra (the director of The Shallows and four Liam Neeson thrillers, who's working next with Johnson on the DC superhero epic Black Adam) brought a lot of "world building" skills to the project.
"When [Johnson] and I first met Jaume, we both asked him the same question," says Blunt. "We said, 'Well, what do you feel this movie's about?' I always ask a filmmaker that before I'm about to sign on. And he goes, 'You know, it's about love.' And it was so perfect, 'cause you could've talked about all the action, the spectacle, and the myths and the legends and all that. But that's when I knew in Jaume we had an innate romantic and a world builder, and that's what you need for this type of movie."
Capturing the free-spiritedness, appeal, and wonder of the original ride, then combining that with the classic adventure stylings, humor, and heart of films like Romancing the Stone or Raiders of the Lost Ark, Jungle Cruise became, for Johnson, much more than just a movie based on a theme park attraction.
"I think the movie is so much more than what I expected," he says. "The charm of the ride is the simplicity of it and the silliness of it. And the calmness of it too … you get on this ride and it's almost like you can exhale and really just enjoy the simplicity of the ride. But our movie is anything but simple. With all the elements that we have, I think we delivered."
Jungle Cruise is out in theaters and available on Disney+ via Premium Access now.