Features
More Great Whodunit Movies to Watch After Glass Onion: A Knives Out Mystery
Before there was Benoit Blanc and the Knives Out movies, this brand of murder mystery has long been popular on the big screen.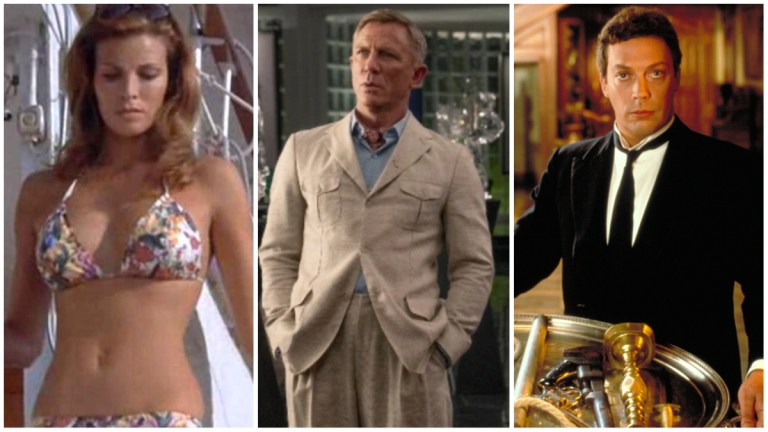 Leave it to Edgar Allan Poe. While many probably associate the mercurial author and poet with horror milestones like "The Pit and the Pendulum" and "The Fall of the House of Usher," he's also widely credited with inventing the detective story with his 1841 publication, "The Murders in the Rue Morgue." Since then the genre of detective fiction has spanned untold numbers of short stories, novels, plays, radio shows, TV series, and of course, movies.
One of the subsets of detective fiction, the whodunit, remains almost interchangeable with the genre itself and one of its most popular variations. From the urbane, eccentric likes of Sherlock Holmes and Hercule Poirot to the more grizzled Sam Spade and Mike Hammer, to the shapeshifting meta-detective Ellery Queen, stories that allow the reader or viewer to solve the mystery right alongside the protagonist are an entertainment staple to this day, as borne out by Rian Johnson's recent wildly successful Knives Out and its new follow-up, Glass Onion: A Knives Out Mystery.
If you've already watched Daniel Craig as the genteel Benoit Blanc solve the classically structured mystery in Glass Onion and you want to delve further into the genre, you could do worse than check out our list below, which spans landmarks of the field, parodies, and more. Just remember: the whodunit is the original "spoiler" genre. So don't tell anyone the ending!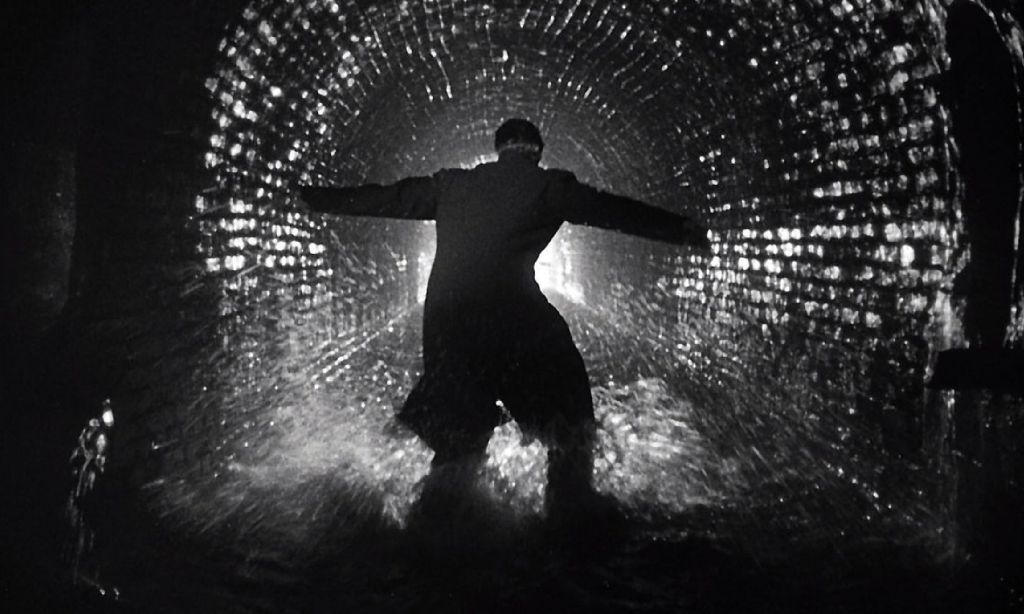 The Third Man (1949)
What happened to Harry Lime? Like everything else in director Carol Reed's brooding post-World War II noir classic—which has regularly been described as the greatest British movie of all time—the answer to that question is nowhere near anything resembling straightforward. Struggling pulp western writer Holly Martins (Joseph Cotten) comes to a still war-ravaged Vienna to take a job offer from his old friend Harry, only to find out when he gets there that the man is dead, allegedly in an accident but it soon becomes apparent that there is much more going on.
Starting out as a formal whodunit, complete with roster of shady suspects, potential femme fatale (Alida Valli), and startling twists that upend the whole picture, The Third Man is also one of the finest film noirs of all time. Shot by Reed in a surreal, crumbling cityscape full of ominous shadows, off-kilter angles, and stark dichotomies of light and darkness, The Third Man benefits from a great cast (including future James Bond boss Bernard Lee and a truly unnerving Orson Welles), and the sense that reality itself may be fraying along the edges, disrupted by war and the corrupt vacuum it creates. – Don Kaye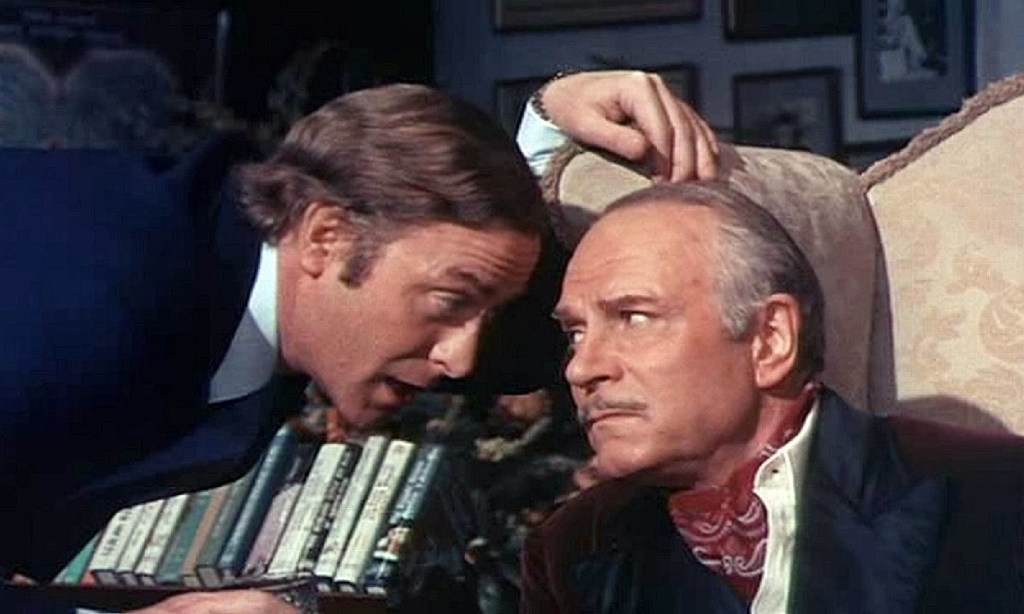 Sleuth (1972)
As with The Last of Sheila and Glass Onion, Joseph Mankiewicz's underrated Sleuth appears baked into the DNA of Knives Out. Less of a whodunit than a HowHeGonnaDoIt, Sleuth adroitly adapts Anthony Shaffer's play in which a wealthy (and older) murder mystery novelist (Laurence Olivier) lives on a regal country estate decorated with dolls, automations, and other mementos from his stories—much like Christopher Plummer's character in Knives Out.
It is there that Olivier's novelist invites a strapping young man (Michael Caine) to his home. See, he reveals to the fellow that he knows the guy is sleeping with his much younger wife, and the author honestly doesn't mind. Not at all, old chap! In fact, the writer's going to help arrange it so that the young man has enough money to maintain the wife's expensive tastes… As you can guess, mind games and manipulations ensue from both parties, as does (possibly) a case of murder! – David Crow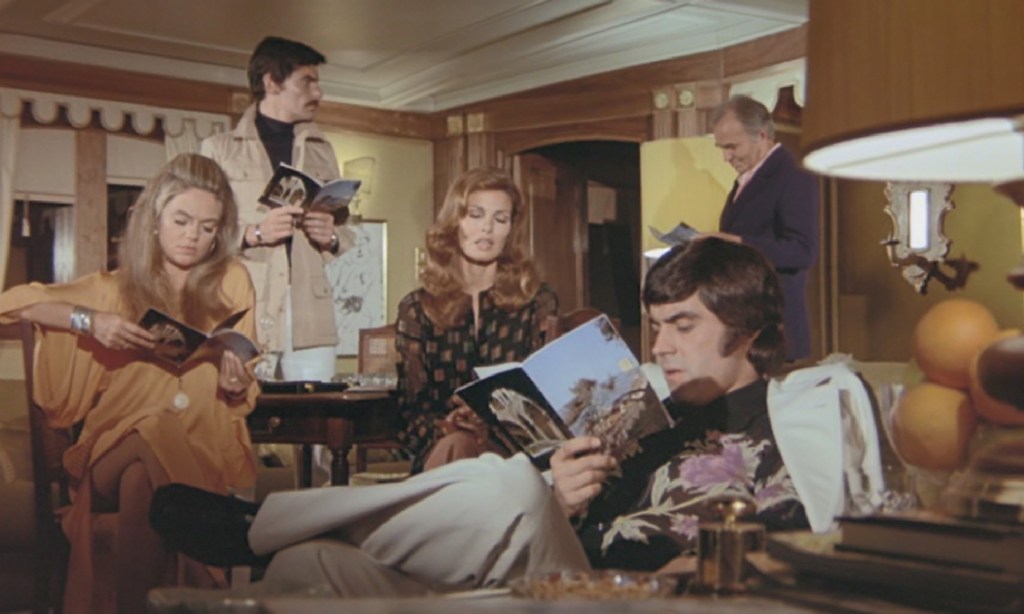 The Last of Sheila (1973)
Without The Last of Sheila, there would be no Glass Onion. Rian Johnson even seems to concede this point via the prominent placement he gives to Stephen Sondheim in an early cameo where the great Broadway composer (in his final film role) helps to bring Benoit Blanc out of his funk in the 2022 movie. Yes, Sondheim is among the five greatest composers in musical theater history, however less well-known is he co-wrote the pitch black comedy/whodunit, The Last of Sheila, along with Anthony Perkins (yeah, that one from Psycho!).
Penning a film that feels as much like deep Hollywood insider gossip as it does an original story, Sheila follows a group of old showbiz pal who join eccentric producer Clinton (James Couburn) on his yacht in the Italian Riviera for what is ostensibly supposed to be a murder mystery party. However, each friend realizes the "game" they're playing will slowly reveal their darkest, most wicked secrets… and that's before someone winds up dead and it's up to these little monsters to figure out who's responsible before the police steps foot on the boat. (DC)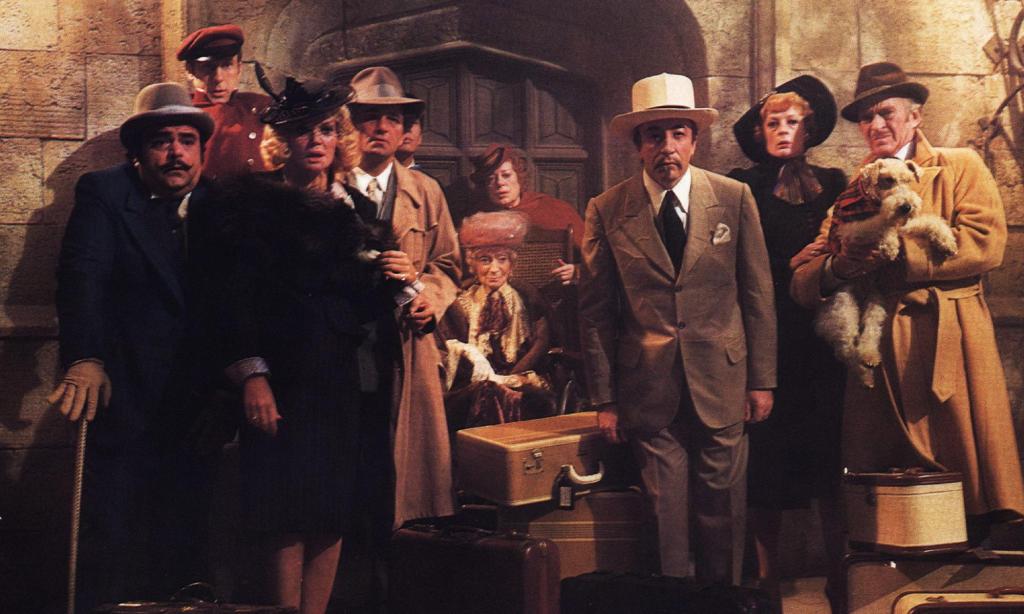 Murder by Death (1976)
Murder by Death basically spoofs the entire mystery/whodunit genre by having an all-star cast play comedic variations on classic literary detectives. Peter Falk plays Sam Diamond, i.e. a Sam Spade parody, James Coco shows up as a Hercule Poirot knockoff named Milo Perrier, and Elsa Lanchester's Jessica Marbles spoofs Agatha Christie's Miss Marple. Meanwhile David Niven and Maggie Smith's Dick and Dora Charleston do their best riff on Nick and Nora Charles from the Thin Man series. Unfortunately, Peter Sellers is also on board as Sidney Wang, a "yellowface" take on Charlie Chan that would never pass muster now and frankly shouldn't have even 46 years ago.
All gather at the country estate of the enigmatic Lionel Twain (played by legendary author Truman Capote), who proclaims himself the world's greatest detective and challenges the others to solve a murder that will take place in his sealed-off, trap-laden puzzle box of a mansion. Of course, it's Twain himself who turns up dead, but that's only the beginning of the fun in acclaimed playwright Neil Simon's witty, highly meta spin on the classic murder mystery. Sellers' hopelessly cringey Wang aside, the rest of the cast is delightful, and the setup itself is echoed, in thankfully more modern terms, in Knives Out and Glass Onion. (DK)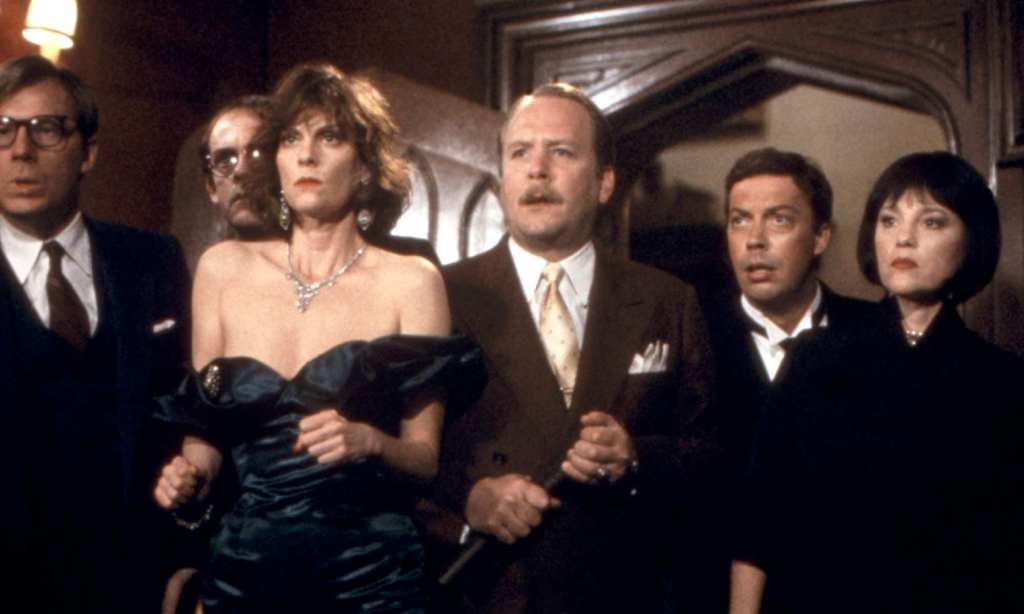 Clue (1985)
At the forefront of a longstanding wave of entire film franchises built around games and toys, and long before choose-your-own-adventure content was commonplace, there was Clue. Based on the popular board game (developed in England in the 1940s and distributed in the U.S. by Parker Brothers), Clue replicates the classic murder mystery formula that the game itself was structured around: Six strangers are invited to a remote mansion by a man who claims to be blackmailing all of them—a man who ends up dead shortly after his visitors/victims arrive.
Clue was not only funny and entertaining, cleverly using all the characters, weapons, and settings from the game, but since the game could always end differently, so did the movie. With three endings shot and randomly sent to theaters as part of the release (you could eventually see all three on home video), it was a gimmick, sure, but also a gentle way to spoof the entire whodunit genre in the bargain. There's quite a bit of Clue in the DNA of Knives Out and Glass Onion, right down to the starry cast, which in this case included Tim Curry, Eileen Brennan, Michael McKean, Christopher Lloyd, and Madeline Khan. (DK)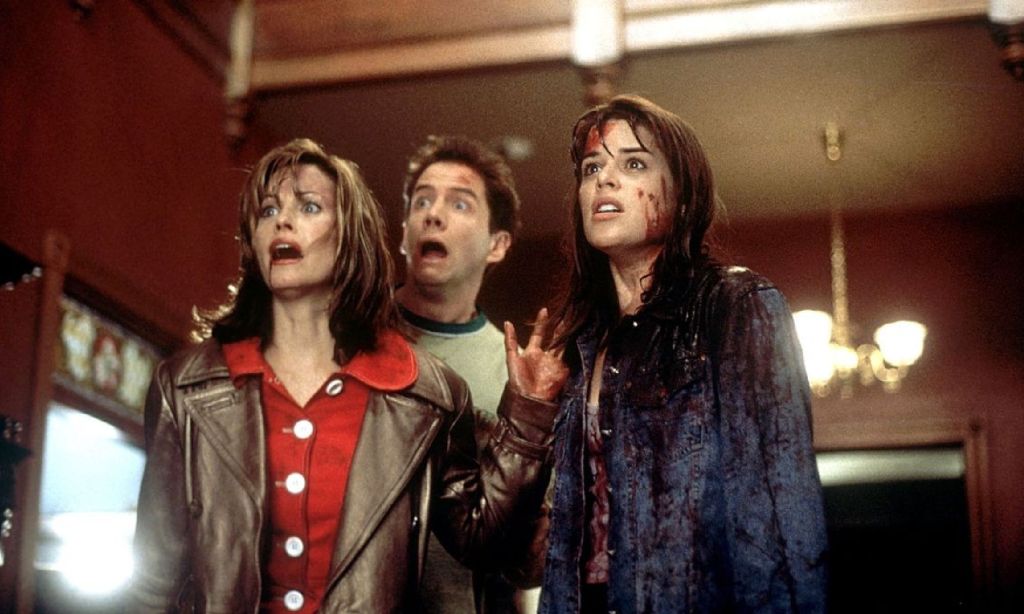 Scream (1996)
Underneath all the meta-horror trappings and post-modern slasher genre commentary, it's kind of easy to forget that Scream, the original, is a pretty nifty little murder mystery (a trick then attempted by all the sequels). It follows a classic whodunit structure: a masked killer is offing a group of teenagers and adults in the town of Woodsboro, and the only clue is that the murderer follows the rules of horror movies. Although there is no detective around to solve the case, the killer's main target, Sidney Prescott (Neve Campbell), takes on that role, with assists from reporter Gale Weathers (Courteney Cox) and Deputy Dewey Riley (David Arquette).
The final reveal of the identity of the killer(s), along with the standard exposition explaining how it all happened, is also classic whodunit material, sort of making Scream a commentary on that genre as well. But the unraveling of the mystery does provide a genuine surprise or two and a satisfying payoff, setting the standard for the modern franchise that followed. (DK)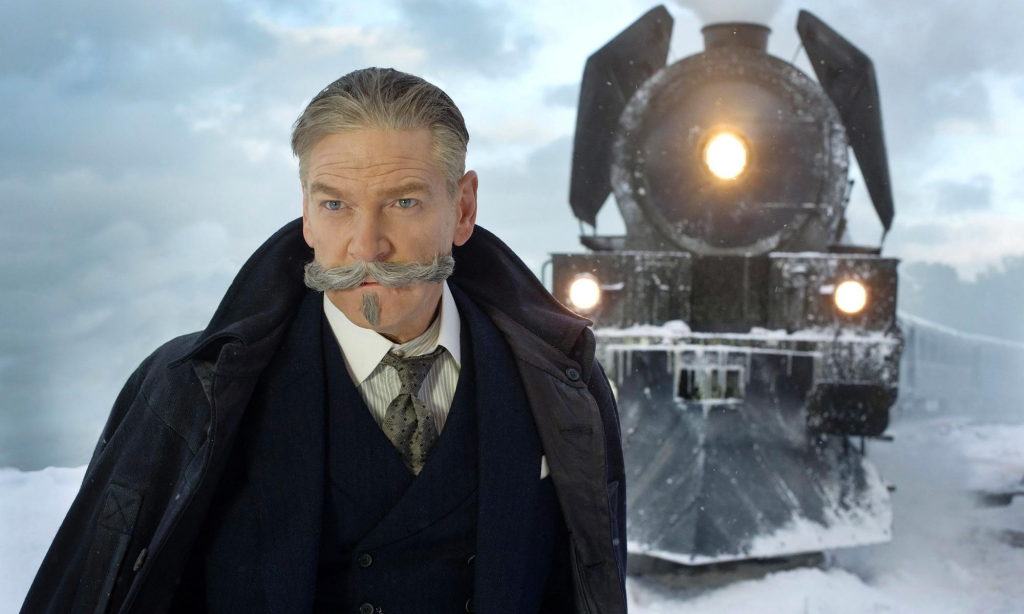 Murder on the Orient Express (1974/2017)
We're going to call it a tie here, because both big screen versions of Agatha Christie's classic novel—the former directed by the great Sidney Lumet, the latter by the sometimes great Kenneth Branagh—have many riches to offer. Let's start with their illustrious all-star casts: the former features Albert Finney as master detective Hercule Poirot aboard the Orient Express. He travels alongside Lauren Bacall, Ingrid Bergman, Sean Connery, John Gielgud, Jean-Pierre Cassel, Vanessa Redgrave, Michael York, Jacqueline Bisset, Anthony Perkins, and more. Meanwhile the latter finds Branagh taking the lead as Poirot himself, with exceptional support from Judi Dench, Daisy Ridley, Willem Dafoe, Johnny Depp, Penelope Cruz, Michelle Pfeiffer, Leslie Odom, Jr. and others.
Both productions are stylish and sumptuous, and even the Branagh moves at a leisurely pace more associated with older films than today's modern day speed-edited whizbangers. We'll have to give the acting nod just slightly to Finney, who doesn't quite chew the scenery as much as Branagh, although the latter clearly has the most astonishing (and most faithful to Christie) mustache to ever grace the screen. Both versions are fun, classic mysteries, and the 1974 version was one of just two adaptations of her work that Christie herself enjoyed. (DK)