Features
Glass Onion: A Knives Out Mystery Slices Up a Classic Beatles Song
We unpeel The Beatles' "Glass Onion" for clues to Rian Johnson's Glass Onion: A Knives out Mystery.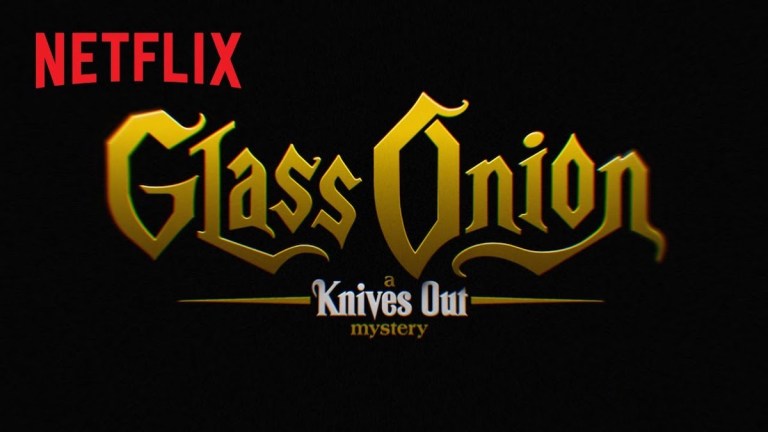 When Netflix is desperate, the knives come out, but fine cutlery is useless on glass. In the Knives Out sequel, the gentleman detective Benoit Blanc, once again played by Daniel Craig with that unplaceable Southern accent, travels to Greece to solve a new crime. He's apparently been listening to the Beatles for inspiration. Directed by a returning Rian Johnson, the follow-up film will be called Glass Onion: A Knives Out Mystery. Here's another clue for you all. The Walrus did it, and the Walrus was Paul.
"That's some heavy-duty conjecture," the Knives Out sleuths might say, but "Glass Onion" was all about double meanings. The third song off the band's 1968 double-album, The Beatles (more famously known as "the White Album") is the most over-interpreted of all the Beatles songs, which makes it an ironic classic, because it was making fun of exactly that kind of compositional scrutiny. (Did you just Google that?) The idea has its roots in 1967, when John Lennon heard about a teacher at his alma mater, Quarry Bank School in Liverpool, who assigned his class Beatles songs to analyze.
"I was having a laugh because there had been so much gobbledegook about Pepper, play it backwards and you stand on your head and all that," Lennon told Rolling Stone in 1970. The Beatles had gotten quite a bit of flak from misinterpretations of their lyrics on the influential 1967 album Sgt. Pepper's Lonely Hearts Club Band. The name of Henry the Horse in "Being for the Benefit of Mr. Kite" was deemed a code word for heroin. In truth, it was just a line on a circus poster. "Lucy in the Sky with Diamonds" was attacked for promoting LSD trips, when it was inspired by a drawing made by Lennon's son Julian.
Even the title "Glass Onion" has multiple meanings. It could be an oval-shaped, wide-bottomed bottle used on sea vessels so drinks don't tip over or a crystal scrying mirror for peaks into the future or other dimensions; it could also have roots in the Hindu philosophies the Beatles were studying in India. As per yogic thought, a lotus has petals like an onion has layers, and they have to be peeled away for further revelations. But a glass onion is transparent, possibly as much as Lennon came to believe the Maharishi Mahesh Yogi's teachings were.
Of course most people assume the title is just another name for a glass-topped coffin with a see-through lid, all the better to "bury Paul," according to the "Paul is Dead" conspiracy theories. But even this is just so much cranberry sauce.
Written by Lennon while on the Beatles' spiritual retreat, "Glass Onion" was finished off with a little help from his friend Paul McCartney.
"He and Yoko came round to Cavendish Avenue, and John and I went out into the garden for half an hour, because there were a couple of things he needed me to finish up, but it was his song, his idea," McCartney says in Barry Miles' 1994 biography Paul McCartney: Many Years from Now. "People read into our songs and little legends grew up about every item of so-called significance, so on this occasion we decided to plant one."
Recording began on Sept. 11, 1968 at Abbey Road. According to Mark Lewisohn's Complete Beatles Recording Sessions, the session was produced by engineer Chris Thomas because George Martin was on vacation. The Beatles ran through 34 takes of the rhythm track. Lennon strums a Gibson acoustic guitar, George Harrison plays a Fender Stratocaster, McCartney fingers a Fender Jazz bass. Ringo Starr pounds a Ludwig Hollywood kit, which was new, double-bassed for that extra kick, and a cigarette-pack-rigged snare, which punches an insinuating sting into the incendiary vocals.
The lyrics were finalized on Sept. 12 when Lennon recorded his lead vocal track, and the opening line is a major achievement in A minor. Every single line references a different song, obviously "Strawberry Fields Forever," which is namechecked, but also "There's A Place" and Harrison's "Within You Without You." The song would go on to reference "Lady Madonna," "Fool on the Hill," and possibly "She Loves You." It's all open to interpretation.
The Beatles loved in-jokes and comic self-references. Paul improvised "She loves you, yeah, yeah yeah" live during the worldwide transmission of the recording of the single "All You Need is Love." Lennon references both "Lucy in the Sky with Diamonds" in the song "I am The Walrus." Harrison pulls a tasty nugget from "Ob-La-Di, Ob-La-Da" for "Savoy Truffle," itself a song about Eric Clapton's sweet tooth.
The "bent-backed tulips" line in "Glass Onion" conjures delicious memories from Harrison's then-wife Pattie Boyd. In her autobiography, Wonderful Tonight: George Harrison, Eric Clapton, and Me, she says it referred to a table-top floral arrangement at an "expensive restaurant" near Harrods in Kensington. The "cast iron shore" is a local nickname for a poor section in Liverpool where ships were once scrapped, staining the sand on the Mersey River red.
The most pungent layer of the onion wafts from the four lines: "I told you about the walrus and me, man. You know we're as close as can be, man. Well, here's another clue for you all. The walrus was Paul." The phrase is a masterwork of misleading mythology. Like most analysts, McCartney believes it refers to which Beatle is wearing the walrus costume in a musical sequence from the band's 1967 self-produced and directed film.
"What John meant was that in Magical Mystery Tour when we came to do the costumes on 'I Am the Walrus' it happened to be me in the walrus costume," McCarney says in Many Years From Now.
But even that is a red herring. It is Lennon in the walrus suit, playing the piano. The rabbit is George, and the chicken is Ringo. Paul is in the hippo costume playing a left-handed bass.
"It could have been 'the fox terrier was Paul,'" Lennon told Playboy in 1980. "The line was put in partly because I was feeling guilty because I was with Yoko, and I was leaving Paul. It's a perverse way of saying to Paul, 'Here, have a crumb, this illusion, this stroke, because I'm leaving.'"
The line was inspired by Lewis Carroll's "The Walrus and the Carpenter." The working-class hero confused the proletariat with the capitalist, but meant well, because the next line directly references McCartney's "Fixing a Hole."
A "dovetail joint" could be an interlocking wood joint used in carpentry, or it could be an elaborately rolled marijuana cigarette with a small piece of cardboard in the tip. The phrase may also inadvertently refer to how Lennon fit all the pieces of the puzzle together. The final song features musical as well as lyrical references, such as the recorders over the "Fool on the Hill" line, and various passing tones in Martin's increasingly suspenseful string arrangement.
If Marta (Ana de Armas) puked at the very thought of lying in Knives Out, she would find it impossible to keep a glass onion down. Glass Onion: A Knives Out Mystery will be served this holiday season. It comes with a side dish of Agatha Christie suspense, and healthy portions of new blood in the cast, including Edward Norton, Janelle Monáe, Dave Bautista, Kathryn Hahn, Leslie Odom Jr., Kate Hudson, Jessica Henwick, and Madelyn Cline.
Glass Onion: A Knives Out Mystery release date has not yet been disclosed.