Features
Cruella: Why Mark Strong Was 'Fascinated' to Work With Emma Stone
Mark Strong's character in Cruella doesn't say much but plays a crucial role in Disney's live-action origin story.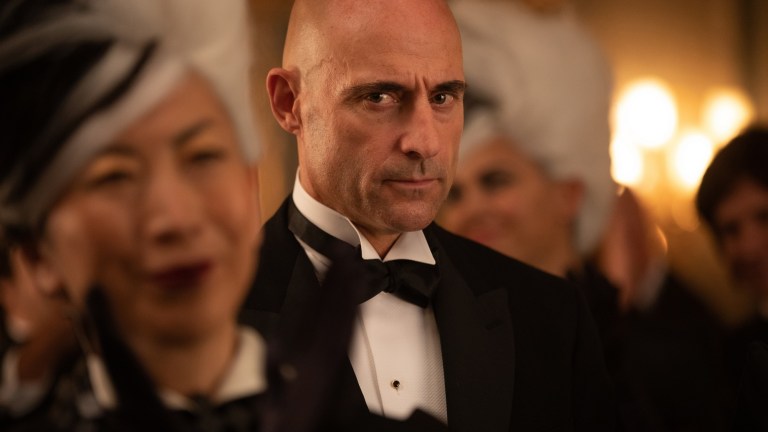 Disney's new film Cruella is dominated by two exceptional performances from Emma Stone and Emma Thompson. The former plays the title character, an ambitious fashion designer who morphs into one of Disney's most infamous villains, while the latter plays the designer who hires Cruella (in her Estella persona) and then tries to destroy her.
While the two Emmas drive the story and take full command of the screen, lurking around the edges is John, played by Mark Strong, the valet to Thompson's Baroness who doesn't say all that much. But even his stoic presence eventually reveals a character with more nuance and layers to him than the standard supervillain henchman.
Strong often plays antagonists and heroes with a certain level of complexity to them, whether it's the haunted assassin Prideaux in Tinker, Tailor, Soldier, Spy, the well-meaning but ultimately corrupt Sinestro in Green Lantern, CIA analyst George Panetta in Zero Dark Thirty, the sinister Lord Blackwood in Sherlock Holmes, or Dr. Sivana in 2019's Shazam!
Strong himself is affable and charming in person (or at least on Zoom), marking quite a difference from the darker or more enigmatic characters he often portrays. We spoke with the London-born actor about working with the two Emmas, his own memories of the 1970s London punk and fashion scene that serves as the backdrop for Cruella, his own short career as a punk rocker, and more.
Den of Geek: John the valet is, without giving too much away about him, the silent, but watchful type. What was your take on the character and your approach to him?
Mark Strong: He's exactly that. Silent, watchful. I think you've hit the nail on the head. Craig Gillespie, the director, basically said to me, "I want the character to have presence." He said, "There's not a lot of dialogue for him, certainly not in the first half of the movie, but I want him to be present. I want people to wonder who this guy is, what he's thinking, what's happening, whose side is he on? And so that when there is a revelation later on in the movie, it pays off."
I also think he was playing off the fact that I've played a lot of villains. So you just assume coming into the movie that I'm going to be the bad guy. And although he's the henchman of the Baroness, who is the evil character in the movie, as we learn, as the film goes on, things aren't all what they seem.
He's got layers to him.
He certainly has. Yeah. Still waters run deep.
As an actor, when you don't necessarily have a lot of dialogue, what are the tools you use to make the audience feel his presence?
Well, you're very reliant on the director then. And when I had the meetings with Craig [Gillespie], I hadn't actually initially read the script, because it hadn't been made available to me. But I wanted to meet him because I loved Lars and the Real Girl and I, Tonya, his past films. And I think he wanted to meet me. So we just got together for a chat really at first.
But he said, "I will make sure the guy has presence." So I was reliant totally on him to film moments of John thinking whatever he might be thinking. And then finally to use them in the edit. And I think he used pretty much everything we shot. Because I think he wanted that character to be noticed, so that when the revelation comes, you understand what's going on.
Emma Thompson recently said that she remembered the '70s punk and fashion scene in London as a teenager. I think you're roughly around the same age or so. Do you remember that era?
I do. Yeah, but mine was much more a punk thing. So that '70s thing of long hair and baggy, baggy trousers and stuff, that was just before my time. My consciousness kicked in around about 1977. But of course I was still wearing early '70s clothes when I was trying to be a punk. That's the irony.
How'd that work for you?
Well, it just meant I wandered down my high street, I remember, and I had a very '70s cut jacket, but with silver paint, I'd written the word "punk" on the back. But I still had hair down to my shoulders, you know.
Apparently at college, you sang in a couple of punk rock bands: Private Party and Electric Hoax.
I did, I did. And what fun we had coming up with those names, you know?
It certainly all ties into the punk element of Cruella, in a way.
Back then, England at the time, Britain, was a very strange place. I think if you probably look at what was in the charts, it's real middle of the road stuff, you know. And society was sort of dominated by just people who didn't really have much drive. So when punk came along, it really was a massive social upheaval. It was a proper attempt to try and change things.
I always remember reading a magazine that had a picture of three different guitar chords. And underneath it said, "Here's three chords. Now go out and form a band." And I took it literally. I basically said to some mates of mine at school, "Okay, you go and get yourself a snare drum and a hi-hat, you get an electric guitar, I'll get the mics and a bass." And then we literally just made a noise. None of us could particularly play very well, but that was the genius of punk — you didn't have to at first. But we kind of learned on the job, and then we got quite good.
Ever had the desire to get on the mic for old times' sake or belt out a couple of tunes?
No, I don't think the music industry's lost anything important by not having me as part of it.
Let us be the judge of that, Mark. You got to work with the two Emmas in this film. How are they different or similar in their approaches to these characters?
They really are fine actresses. I'd say I loved every moment on set with both of them. Emma Thompson is just very funny, very inclusive. She's generous, she's warm, and she'll talk to anybody. It doesn't matter who you are on set. There's no hierarchy going on with her. She's really a really lovely lady and great company.
And Emma Stone is pretty much the same. I was fascinated with her, how hard she worked. Because she has to carry that movie. And watching it, she's just absolutely mesmerizing. She does an incredible job of really painting in that journey with such subtlety, even though it's a kind of heightened movie. It's really moving and she's really brilliant. And yeah, on set, she was still chatting to people. She was very casual. You know, she didn't rush off to her trailer and go and have to stay in character or anything like that. They were really great company, both of them.
For this film in particular, how much did the clothes, the sets and all that period stuff really help to enhance just shooting the movie for you?
Well, Jenny Beavan, the costume designer, created some unbelievable dresses for Emma Stone. But also what she did was, there were three huge ballroom sequences, in which she had to clothe everybody. So everybody looked fantastic all of the time when I was on set. The thing about being an actor is when you get on set, and all the work is being done for you, because the set is massive and brilliant and really well done, and the costumes are all vivid and real, you just feel the part. You don't have to do any work in a weird way. I mean, as a butler obviously, or a valet, I just got the one outfit. But that was fine by me because it was a really classy one. And it does the work for you.
What's happening with Shazam: Fury of the Gods? Is Dr. Sivana coming back?
I literally spoke to the producer last night, because I saw that Zach Levi tweeted that they're about to start shooting in Atlanta. Dr. Sivana isn't in Shazam! 2. What's happened is, I think Helen Mirren and Lucy Liu and perhaps someone else — they've got some female villains in. And to be honest with you, I'm very happy to take a back seat to some female villains and let them have a go, because judging by the work that Emma Thompson and Emma Stone have done in Cruella, it's about time.
Do you think Sivana will come back if there's a Shazam! 3?
Who knows? He's still got unfinished business with Mister Mind.
Cruella opens in theaters this Friday (May 28), and will also be available on Disney+ via Premier Access.