News
Black Widow and Cruella Disney+ Releases Signal Disaster for Theaters
Disney putting Black Widow and Cruella on Disney+ signals the theatrical release model's days are numbered for the world's biggest blockbuster content provider.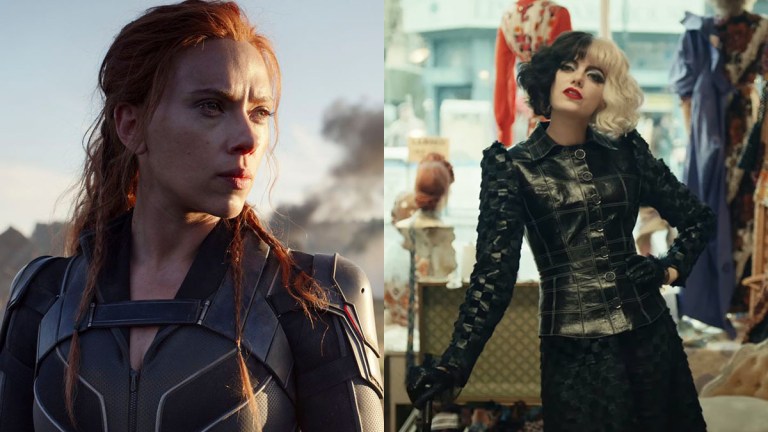 Earlier Tuesday morning, Regal Cinemas announced that it would be reopening its doors for the first time in half a year on April 2, and additionally they've signed an agreement with Warner Bros. Pictures to ensure there is a 45-day theatrical window for the studio's 2022 film slate. With vaccinations numbers rising, it seemed movie theater owners could see a light at the end of the tunnel… Then Disney announced Cruella and Black Widow were premiering on Disney+ this summer, on May 28 and July 9, respectively.
And like that, the ground gave way again beneath cinemas and supporters of the theatrical experience. And this fall is going to hurt.
Despite other studios seemingly making moves to return to theaters this summer, Disney revealed Tuesday that even if the pandemic might be ebbing soon, the company's transition to a Disney+-first media strategy is barreling full steam ahead. Indeed, Marvel Studios' long-delayed Black Widow and the Emma Stone-starring Cruella are leading the pack with planned day-and-date releases in theaters and via Disney+'s $30 paywall, "Premier Access."
"Today's announcement reflects our focus on providing consumers choice and serving the evolving preferences of audiences," said Kareem Daniel, chairman of Disney Media and Entertainment Distribution. "By leveraging a flexible distribution strategy in a dynamic marketplace that is beginning to recover from the global pandemic, we will continue to employ the best options to deliver the Walt Disney Company's unparalleled storytelling to fans and families around the world."
Nowhere in Disney's triumphant press release is there a mention of Disney's theatrical exhibition partners or some type of rosy language about a commitment to the theatrical experience. Interesting, no?
The move to push the next Marvel Studios' film, Black Widow, on streaming after fans have gone almost two years without a Disney cape or shield flying into theaters is a particularly brutal blow to movie theaters who are desperate for the return of big ticket blockbuster guarantees. And nothing is a bigger guarantee for success these days than a Marvel superhero movie.
Film distributors' reluctance to open movies during the height of a pandemic is justifiable and even ethical, a fact which Warner Bros. learned the hard way following Christopher Nolan's demand that Tenet be released into theaters last fall. However, the decision to now make Black Widow and Cruella easily viewable at home, with the latter debuting in the same month that Paramount Pictures is opening A Quiet Place Part II—and one month before Universal Pictures puts F9 into theaters—shows a coldly utilitarian logic from the Mouse House. This appears to have always been the endgame for Disney+.
Since the streaming service's inception, many have speculated Disney's goal is to eventually move all new content onto Disney+ within the next decade, where the revenue generated by the service is earned entirely in-house, as opposed to being shared by a 60-to-40 percent split with theaters (or given Disney's aggressive bargaining with theater owners, sometimes closer 70-to-30 percent).
However, even at the beginning of the COVID-19 pandemic, this business strategy seemed relatively far off, not least of all because of the challenging economics of a streaming service earning back a budget of around $200 million (not including marketing), which has become common for Marvel Studios movies and their angling for $1 billion global grosses. But Disney is at least giving the impression that they've cracked the problem with a $30 paywall in addition to the monthly subscription fees associated with Disney+.
In their new announcement about "evolving preferences of audiences," Disney more tellingly credited the success of Raya and the Last Dragon's Premier Access debut with giving the company the confidence to put Black Widow and Cruella on the same platform, albeit with a nominal simultaneous theatrical release. Yet that concession to theaters, much like WB's choice to release its entire 2021 film slate simultaneously on HBO Max and in theaters, is likely cold comfort to exhibitors.
The actual long-term viability of this strategy remains unknown, especially since we do not have the actual numbers for Raya and the Last Dragon's Premier Access purchases. But a general perusal of social media penetration would suggest Raya, like Mulan before it, failed to create as much of a cultural awareness as similar 2019 theatrical releases like Frozen II and The Lion King remake.
But then, without knowing the actual numbers, the truth is Disney could make as much or more money off the cost prohibitive Premier Access paywall than they might with a larger audience seeing these movies in theaters. After all, most audience members don't spend $30 per household on just movie tickets (or pay that charge more than once), and even those that do are sending a third or more of their dollars to theaters instead of Disney.
While Disney also announced Tuesday that a number of other 2021 releases are being shuffled around with intended theatrical release dates on the calendar—including Free Guy moving to August, Marvel's Shang-Chi to September, and Death on the Nile to next February—it seems unlikely that such commitments will be strongly held if Black Widow's Disney+ debut ends up being as satisfying for shareholders as the Mouse House hopes.
This will have seismic repercussions for a theatrical industry that's become overly reliant on blockbuster tentpole sequels, particularly from Disney. The company has dominated the moviegoing market with a steady stream of sequels, prequels, and remakes for nearly a decade at this point. But if the Mouse finds success with Black Widow on Disney+ despite a smaller audience—and the rarely mentioned fact it will be pirated almost immediately on the internet—then that stream of blockbusters could be cut off from theaters very quickly.
In the meantime, Marvel fans anxious for their next adventure with Scarlett Johansson's Natasha Romanoff, but also wary of returning to a movie theater especially without a vaccine, can rest easy. And for $30, they can watch it as many times as they want without ever paying twice.