News
Robert Downey Jr. Wants to Build a Sherlock Holmes Universe Like the MCU
With Sherlock Holmes 3 on the horizon, Robert Downey Jr. would like to start building a MCU-style world for the existing Warner Bros. franchise.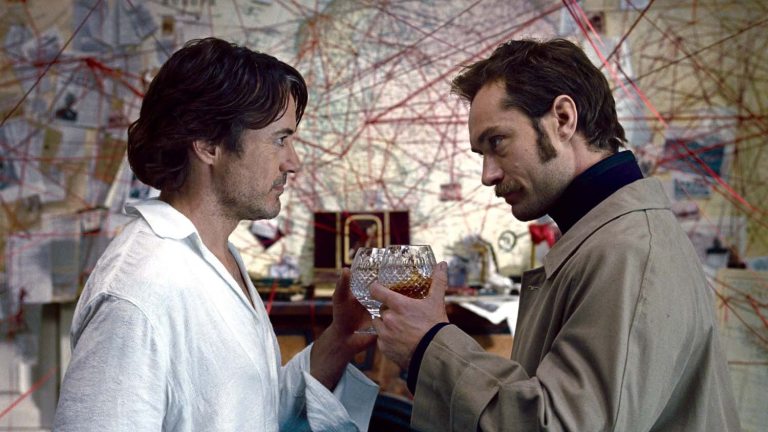 You don't come out of working in the Marvel Cinematic Universe for a decade without high aspirations and some good ideas—nor without the resources and star power to potentially make them happen. This is the case for Robert Downey Jr. who, after helping Marvel to launch the MCU and working as a key part of the ever-growing franchise for almost 10 years, wants to use what he's learned to grow another franchise: Sherlock Holmes.
"At this point, we really feel that there is not a mystery-verse built out anywhere, and Conan Doyle is the definitive voice in that arena, I think, to this day," Downey said during a keynote panel at the Fast Company Innovation Festival on Monday (via Fast Company), referring to the already-existing Sherlock Holmes franchise he helped launch back in 2009. "So to me, why do a third movie if you're not going to be able to spin off into some real gems of diversity and other times and elements?"
Downey has already appeared as Sherlock Holmes twice on the big screen, in the Guy Ritchie-helmed films Sherlock Holmes (2009) and Sherlock Holmes: A Game of Shadows (2011). He has plans to reprise the role for a third film in the franchise in 2021, which is to be directed by Dexter Fletcher (Rocketman). Jude Law plays John Watson in the films.
"We think there's an opportunity to build it out more," producer Susan Downey, who is also Robert Downey Jr.'s wife, added during the panel. "Spin-off characters from a third movie, to see what's going on in the television landscape, to see what Warner Media is starting to build out, things with HBO and HBO Max." In other words, the Downeys are looking not simply to make Sherlock Holmes films, but to expand the Sherlock universe with different kinds of stories that exist within the same world—MCU-style. As the Sherlock Holmes movies belong to Warner Bros., the Downeys note that the franchise would potentially have the distribution resources of HBO and HBO Max at its disposal to spin out other Sherlockian stories.
"I do think that the decade of tutelage and observation, what we were both able to have with Marvel, watching them build out and see all the opportunities, was invaluable. It was like a master class," Susan said. "And they really did know what they were doing and they had this tight-knit group of people from [the] jump locked into a vision that enables them to broaden [the comics]."
"What I saw was very humble beginnings, very uncertain outcomes, a lot of creative risk-taking, but there was also an algorithm to the potential," Robert added. "It's also having the right people … Different sensibilities will get you to different places downfield."
At this point, there are no specific plans for the on-screen universe past the third Sherlock Hilmes movie, however the Fast Company article stated "conversations are indeed happening."
It's worth noting that this discussion comes shortly after the release of Enola Holmes on Netflix, which sounds a bit like the sort of thing the Downeys are suggesting. The feature film adapted from a book of the same name follows Sherlock's younger sister as she works to solve the mystery of her missing mother while also having to deal with the Victorian-era limitations put on girls and women. The 2020 film set up a world that could easily be expanded in future installments.
More news on what an MCU-style Sherlock Holmes universe would look like as we get it.