Features
Bong Joon Ho Movies: Where to Stream
He just won the Best Director and Best Picture Oscars, so if you're a new Bong Joon-ho fan, here is a crash course of where to go next.
So you just saw history be made on Oscar night when Parasite won Best Picture, beating out the expected frontrunner 1917 and becoming the first non-English film to ever win that award. Maybe you were already a Bong fan or maybe this is your first introduction to the increasingly legendary filmmaker. Either way, you want to take a trip down memory lane and explore his previous work. So now what?
That's where we come in! Below we have assembled the best places to stream his feature length films, Korean and English, theatrical and Netflix-produced. So get on that warm bullet train and hug your super-pig close, because we're doing this.
Barking Dogs Never Bite (2000)
Here is Bong's theatrical feature-length debut. A movie crackling with style and vision right from the outset, Barking Dogs Never Bite is a satisfying drama that begins the filmmaker's lifelong critique of capitalism and the woes it produces—it also is a movie decidedly not for dog lovers.
In the film, a listless and unemployed grad student (Lee Sung-jae) dreams of becoming a professor, but is mostly just the uninspired husband of his pregnant wife (Kim Ho-jung). They live in an apartment complex where neighbors try his patience until one day he snaps and kidnaps a neighbor's dog, convinced its barking is driving him mad. Yet when he effectively buries it alive he discovers a funny thing… it wasn't actually the dog who was barking. Things go sideways from there.
Available on: Amazon
The Host (2006)
The movie that brought Bong to international prominence, The Host is the most bizarre and painfully human version of a kaiju movie we've ever seen. The film marked Bong's second collaboration with Song Kang-ho (their first is sadly not available for streaming). In the film, Song plays Park Gang-doo, a slow but affable father of a food stand in a park overlooking the river. Some years earlier, the U.S. military dumped grotesque chemicals down a drain that poured into the Han River, and now those same chemicals return again in the form of a giant monster borne out of infection!
read more: Best Horror Movies to Stream on Netflix
In the creature's attack, Gang-doo's daughter (Ko Asung) is kidnapped by the beast and presumed to be dead. Worse still, Gang-doo is kept in quarantine and isolation because the creature allegedly holds a contagious disease. Yet when the father receives a call from his daughter's cellphone, he learns she's in the sewers alive but scared, and with the monster holding her captive. Thus a story about destruction becomes one about a broken family looking for salvation.
Available on: Amazon
Tokyo! (2008)
A bit of a cheat to include this one, Tokyo! is actually three short films interwoven together, or rather a "triptych about Tokyo-set stories," as the logline goes. Intriguingly, none of the three segments are filmed by Japanese filmmakers. Rather they're told from the unique vantages of Bong, Michael Gondry, and Leos Carax.
read more: Best Horror Movies on Amazon Prime
Bong's portion of the anthology, "Shaking Tokyo," studies the recent phenomenon of "hikikomori," which refers to people who for no physical or simple psychological reason refuse to interact with society—rather they hole themselves up in a room all day, every day. One such person is Teruyuki Kagawa's central character, who hasn't left his apartment for a decade. But when he meets a beautiful pizza delivery girl, who falls into his apartment because of an earthquake, he might finally be inspired to engage with the outside world. Maybe.
Available on: Amazon Prime
Mother (2009)
A mother's love is a profound thing. It is also something that is rife with possibility for storytellers like Bong and his co-screenwriter on this film, Park Eun-kyo. More intimate than The Host, Mother is the story about a mother (Kim Hye-ja) and her teenage son Do-joon (Won Bin). Do-joon is somewhat slow but he's not stupid. Yet police treat him like that when he's accused of murdering a local girl whose body is discovered on a rooftop.
With the whole community convinced of Do-joon's guilt, his mother stands alone at trying to prove Do-joon's innocence and circumventing the incompetent small town police who are confident her son is a murderer. But the more deeply she searches into the facts of the case, the more she begins to also doubt the virtue of her only child.
Available on: Amazon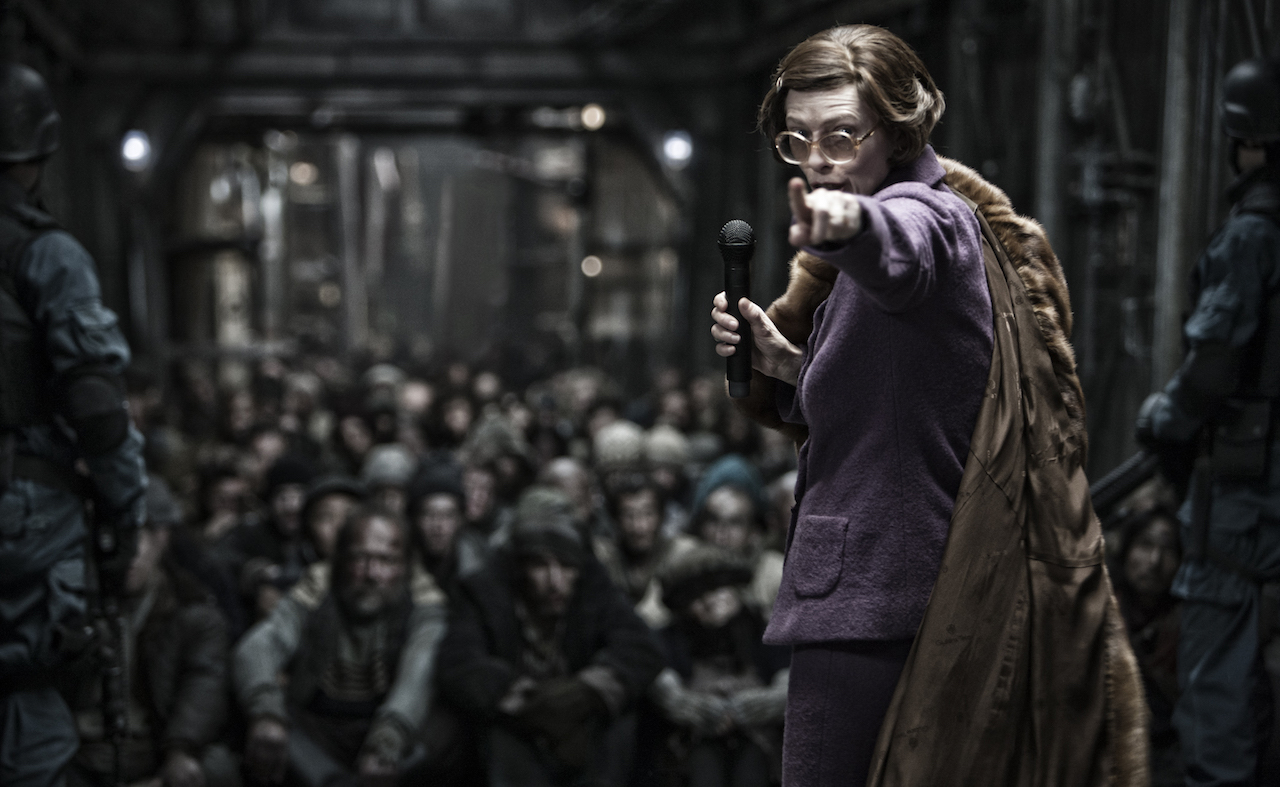 Snowpiercer (2013)
Bong's first English language film, Snowpiercer is probably his most famous work after Parasite. Something of a companion piece to that Oscar winner, this sci-fi/action hybrid has income inequality on its mind with its depiction of capitalism at its most fairy tale extreme: After an apocalypse causes the world to freeze, the last of humanity survives only by living on a train traveling around the world. But even here there is a class system with the rich living at the luxurious front of the train, and the poor surviving in the destitute back. Yet they are the ones who power the engine's fuel.
read more: Discussing Snowpiercer with Bong Joon Ho
Snowpiercer is a fascinating movie full of ideas about the use of power, money, and even political capital. For instance, John Hurt's Gilliam attempts to both mediate and engineer a revolution desired by the rear's young riders, including heroic Curtis (Chris Evans). But things fall apart when Curtis and the rear of the train's demands for equality become too strong and threaten to overthrow the happy tranquility of the rich at the top. It's a delicious fable.
Available on: Netflix
Okja (2017)
More of an international effort, this Netflix original production is sadly too underappreciated. Like Snowpiercer, Okja is a a fairy tale with much more nuanced and adult meaning than a typical storybook. At its center is Mija (Seo Hyun), a little girl whose best friend in the whole world is Okja, a genetically engineered super-pig. For five years, Okja has been her playmate, but the day comes when the corporation that created her to be a more delicious type of pork comes calling.
With Tilda Swinton playing the twin faces of corporate life, publicity and management, and Jake Gyllenhaal giving a batshit turn that crosses Geraldo Rivera with Steve Irwin, the film has broad campy elements that can be delightful. But as Mija struggles and marvels in her journey to get Okja back, you know this is going somewhere dark and uncomfortable: a meat factory.
Available on: Netflix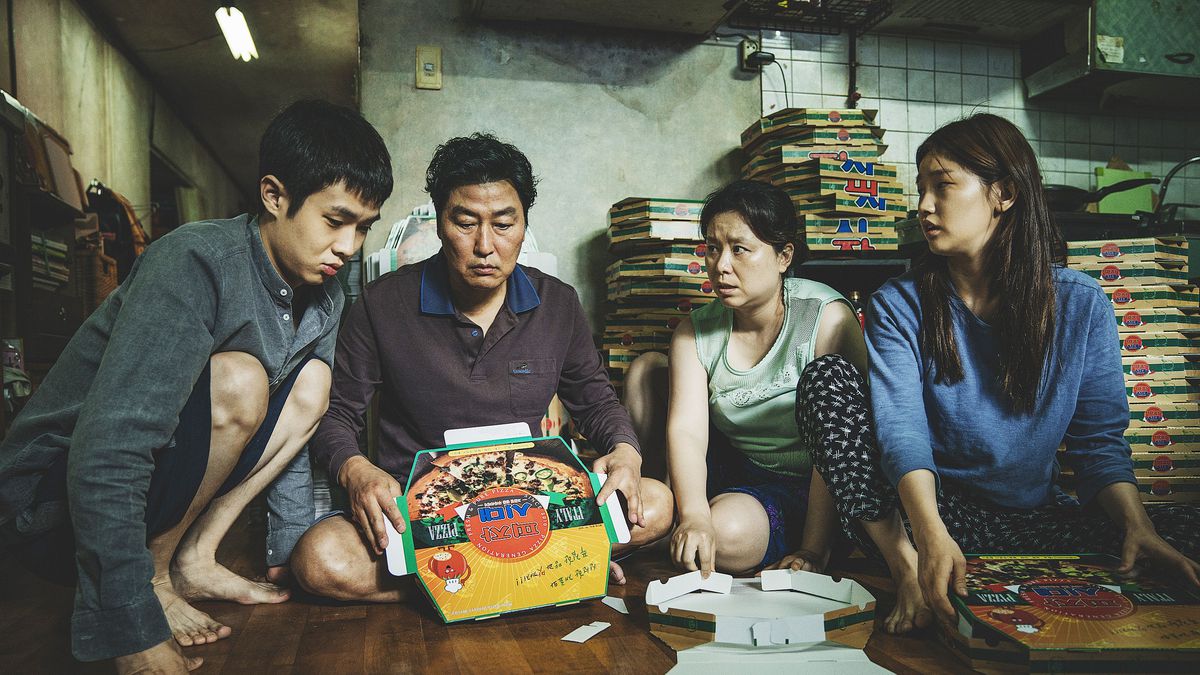 Parasite (2019)
As the movie that made history when it won the Best Picture Oscar despite being almost completely in Korean, Parasite broke down barriers. Then again its message is fairly universal. Dispensing with the allegorical elements and artifice of his other films, Bong treats the income inequality at the heart of Parasite with disquieting naturalism, even as his movie unspools as a thriller.
The thrills are borne out of the conflict that arises between two families, the Kims and the Parks. The former live in literal gutters with their basement apartment, and the latter lives in a palatial house on a hill. The Kims are also grifters who talk their way into becoming every employable servant the Parks could ever want. Nonetheless, the question lingers of just who is using who?
Available on: Amazon
David Crow is the Film Section Editor at Den of Geek. He's also a member of both the Critics Choice Association and the Online Film Critics Society. Read more of his work here. You can follow him on Twitter @DCrowsNest.