Features
Bill & Ted Face the Music Director: "It's Still a Ridiculous Comedy"
Bill and Ted Face the Music director Dean Parisot talks about the challenges he faced bringing the comedic duo back to movies after a nearly 30-year absence.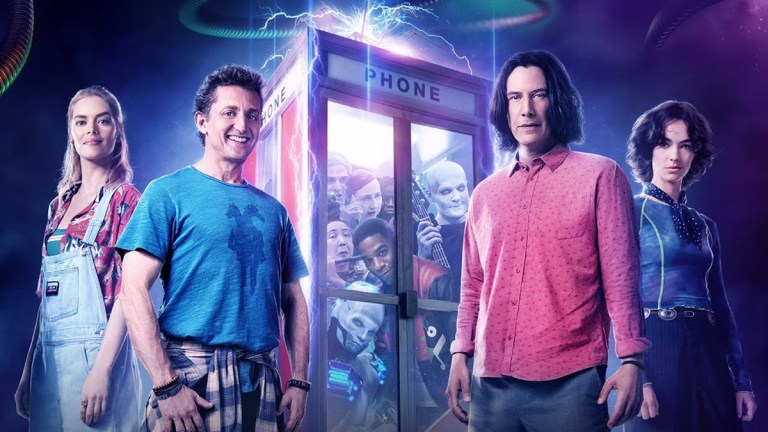 This Bill and Ted Face the Music article contains spoilers.
There's no other film right now that offers up as welcome an escape from 2020's awfulness marathon as Bill and Ted Face the Music. The film is an extraordinarily satisfying conclusion to the Bill and Ted saga (and one that leaves the door open for the continuing adventures of a new generation of Wyld Stallyns) to be sure, but perhaps the most surprising thing about it is how Keanu Reeves and Alex Winters have mellowed and matured their iconic characters without sacrificing any of the comedy we've come to expect from this saga.
The creative team that brought Bill and Ted Face the Music to life are returning writers/co-creators Ed Solomon and Chris Matheson, and director Dean Parisot– best known for helming 1999's sci-fi comedy masterpiece Galaxy Quest. In conjunction with the film's U.K. opening we spoke to Parisot to get into a spoiler-heavy chat about the movie's production.
How did you first get involved with this project?
Ed and Chris and Keanu and Alex have been trying for 11 or 12 years to do it. I'm an old friend of Ed Solomon's, we've known each other since probably just after Bill and Ted's Excellent Adventure. So Ed and (producer) Scott Kroopf and Keanu asked me. We just kept attempting to set it up at various studios and then it would fall apart again. As happens in the movie business. We finally found Hammerstone Studios, which produced it for us.
How challenging was it for you to immerse yourself in the world of Bill and Ted?
It wasn't challenging to immerse myself in their world, it was challenging to immerse myself in the world of Bill and Ted 30 years later. Because they're middle-aged now, it's different than being a teenager.
The challenge was contemporizing it but also holding on to the essence of what makes those characters lovable and fun and ludicrous.
There's something comforting about seeing here that Bill and Ted are friends to the end of their lives. The film has some weighty things to say about friendship and middle age, and some bittersweet moments that caught me off guard.
Ha! Well that's good then. I hope that does happen.
What anyone can hope to do when you make a movie is have it somehow universally deal with aspects of human nature. This is an aging Bill and Ted. At its heart it's still a ridiculous comedy, so you don't want to weigh it down with the added material. You want it to happen in spite of itself as part of the story. So hopefully that is true.
Eventually the most important thing is to hold on to the essence of what makes Bill and Ted fun. And hopefully we did that.
Bill and Ted Face the Music is a film that takes people to hell and back, so I was surprised to learn of its 37-day shooting schedule due to how ambitious the picture is. Despite this, nothing about the film feels rushed. What were the biggest obstacles you faced making the movie?
I guess one of the only advantages of being older in the film business is being able to solve problems easier, but this was very difficult. To make a movie on a Marvel budget is difficult enough — to go into those environments. But to go into the past, the future, hell, the destruction of all of space and time, a killer robot, prosthetics, all of that? It's the world of big expensive movies. There was a lot of shortcuts and a lot of help and goodwill from people who love Bill and Ted. A lot of the people I've worked with over the years rose to the occasion and helped us out.
An old friend of mine when I made Galaxy Quest is Bill George from ILM. I said "Bill would you help me on this" and he responded"Bill and Ted? Absolutely!" The goodwill of everyone involved is what allowed this to happen.
You filmed in New Orleans in the middle of summer. Was there a specific sequence that was the most difficult to film?
Those muscle suits (from the prison sequence) weigh 35-40 pounds each. It was 100 degrees with 100% humidity. I thought Alex was going to keel over. Keanu never complained, was going and going and going. But I looked at Alex at one point and he said "Dude I'm going to fall over if I don't go inside right now." The whole thing was difficult…but it was fun on top of that.
The film is full of supporting characters who have comedy backgrounds like Kristen Schaal, Beck Bennett and Jillian Bell. Was there a lot of improvisation on set?
Yes there was. As always on the sets that I've had, I shoot the script and then I open it up for improv on a last take or two. We especially were able to improv with the historical characters. For the most part I'm shooting the script as written, so the improv happens in between the lines, you know?
The supporting characters are really allowed to shine in the film. Samara Weaving and Brigitte Lundy-Paine as Bill and Ted's daughters steal the movie at times. As you were filming it, did you have any sense of how beloved Thea and Billie were going to be among the fans?
In casting them I thought they were just brilliant. We saw a lot of people and with both Brigitte and Samara, there was no question. The only question we had is how are they together, then we brought them back to play against each other and they were brilliant. They became great friends as well, sort of like how Keanu and Alex did when they first made Bill and Ted's Excellent Adventure, and I think that shows on screen.
Unfortunately, the past couple of years have seen the toxic aspects of fandom dominating the headlines. As the director have you experienced blowback from any Bill and Ted "fans" who don't appreciate how Thea and Billie are ultimately the ones who save the world?
I don't think we've gotten that blowback. I'm surprised by the goodwill from fans and from the media as well. I think the wives aren't as fully realized maybe as we would want but we couldn't service that many subplots that easily, it was a hard balancing act.
This was written 11 years ago, it wasn't in the same environment of woke gender politics as today. It wasn't meant to pander. They wanted to tell that story, we all have daughters.
Is there any chance we might see Thea and Billie return as these characters?
That's not quite up to me, but I don't see why not. They're quite brilliant at it. I would love to see them play out those characters again.
Bill and Ted Face The Music is out now