Features
Examining Bill & Ted's Excellent Pop Culture Adventures
We take a look at how Bill & Ted's cultural impact through the duo's spin-offs and merchandise.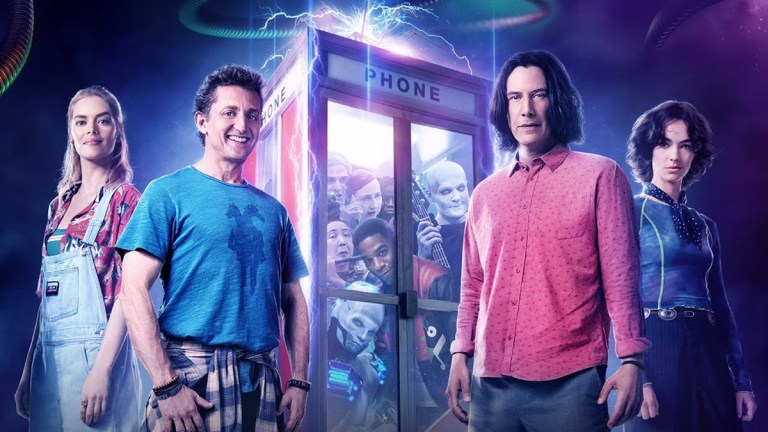 Bill & Ted Face the Music is OUT NOW! Excellent! (Loud screeching guitar solo). And really, the dim time-traveling duo have returned just when we need them the most. Since first making their debut in the 1989 sleeper hit Bill & Ted's Excellent Adventure, these characters — portrayed with glee by Alex Winter and Keanu Reeves — have become that unique thing: A sci-fi/comedy franchise that somehow is both a cult sensation and a mainstream success. Following the unexpected success of the first film, the sequel Bill & Ted's Bogus Journey was released in the summer of 1991. Fans expecting more of the same were instead treated to a rumination on life and death that featured everything from aliens to evil robot doppelgangers of our leads. But the inventiveness of Bill and Ted creators Chris Matheson and Ed Solomon worked against him, and the film went underappreciated during its original run.
In the nearly 30 years since their last big screen outing, the legend of Bill & Ted has only grown. Much has been made about how the pair influenced everything from Beavis and Butthead to Kevin Smith's Jay and Silent Bob, and while there's validity to these claims it's important to remember that the template for Bill and Ted was forged as far back as 1980s teen sex comedies in which goofball/borderline stoner characters were used to great effect. (See also: Sean Penn's performance in The Beaver Trilogy, a terrific cult effort that was a dry run for his take as Jeff Spicoli in Fast Times at Ridgemont High). Ultimately however, Bill and Ted have endured because their films are smart and strange with terrific performances, a game supporting cast (George Carlin as Rufus is particularly great), and a fun concept that merges teenage wish fulfillment with offbeat science fiction concepts.
So with the final, for now anyway, Bill & Ted film upon us, we thought we'd look back on the characters' first three decades with an exploration of how their impact has reverberated throughout popular culture. From misguided TV spinoffs to audacious rip off ads, this is a journey that you will find to be most excellent indeed.
Bill & Ted's Excellent Adentures (Animated)
No one expected Bill & Ted's Excellent Adventure to be a success. At the time, most everyone involved with the film — with the notable exceptions of George Carlin, Bernie Casey, and Jane Wiedlin — were unknowns. Furthermore, the film had the kind of small budget that screamed straight-to-video. So when it became successful, the decision was made to strike while the iron was hot, and so Bill & Ted's Excellent Adventures was born. Produced by Hanna-Barbera and aired on CBS, this cartoon chronicle of Bill and Ted's ongoing adventures had them encountering everyone from Little Richard to William Shakespeare. Giving the enterprise an air of legitimacy was the fact that Winter, Reeves, Carlin, and Casey all reprised their roles. After the first season, the series switched to the Fox network, with DIC Entertainment (creator of shows like Inspector Gadget and The New Archies) taking over production. The big name stars were jettisoned and the show took a dip in quality. It ran for another eight episodes before whimpering out of existence. But for the actors who voiced Bill and Ted on this iteration of the show, they were just getting started…
Bill & Ted's Excellent Adventures (Live Action)
Cartoon spin-offs of sitcoms like The Brady Kids and Fonz and the Happy Days Gang were commonplace on the televisual landscape of the 1970s and '80s. But what made Bill & Ted's Excellent Adventures so unique, and probably the only truly memorable thing about the whole affair, is how what started as an animated version of a popular film ditched its actors for the toon's second season and then these replacements went on to anchor a live-action version of more or less the same show. That's some inverse Coy and Vance/The Dukes of Hazzard nonsense right there. Evan Richards and Christopher Kennedy once again portrayed Bill and Ted respectively when Bill & Ted's Excellent Adventures hit Fox in 1992. Don't lay the show's failure on their performances though, they did a more than passable job of walking in Winter and Reeves' footsteps. It was the lack of budget and, you know, creativity that quickly and rightfully doomed the series. Yet around the same time as the Wyld Stallyns were ending their television run, they were thriving in another medium.
Bill & Ted Comics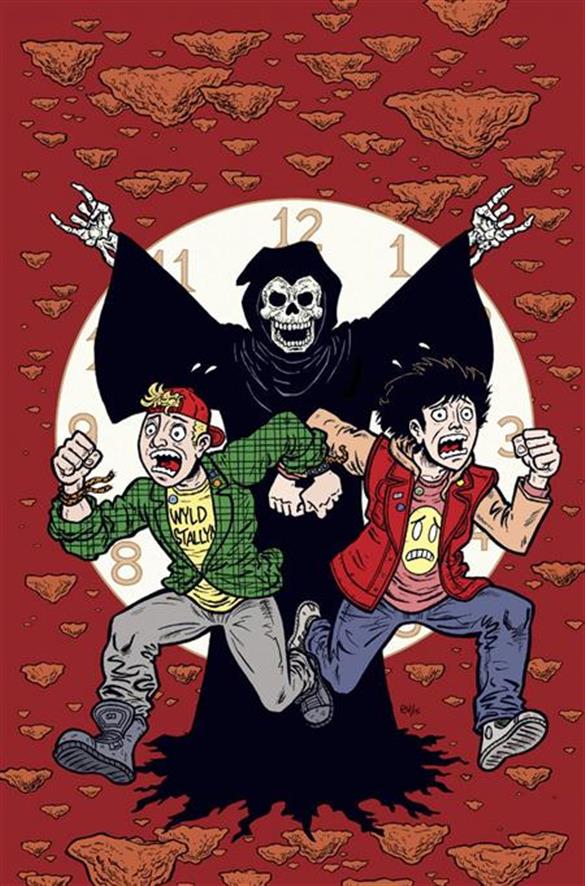 Bill & Ted's first foray into comics was a straightforward adaptation of the first film that DC Comics released and is noteworthy merely for Angelo Torres' fun art. After this release, Marvel got the license to the characters, and a Bill & Ted's Bogus Journey adaptation soon followed with work from Milk & Cheese's Evan Dorkin. The comic subsequently spawned a 12-issue ongoing series in which Dorkin let his imagination run wild. As someone who is obsessed with the things I am speaking with experience when I say that most licensed comics are a slog to get through. That is not the case here, and Dorkin's work with Bill and Ted stands alongside of Carl Bark's Uncle Scrooge efforts and Roger Langridge's The Muppets comics. (To prove I'm not being hyperbolic here, Bill & Ted's Excellent Comic Book was nominated for a Best Humor Comic at the 1992 Eisner Awards). There have been other Bill & Ted comics in recent years, but none have reached the stellar heights of Dorkin's work with the characters. Fortunately, he has returned to the fold with the just-released mini-series Bill & Ted Are Doomed, so spread that news to comic lovers far and wide.
Bill & Ted's Excellent Cereal
Unfortunately, Bill & Ted's Most Excellent Cereal was anything but. Imagine stale Cinnamon Toast Crunch mixed with decades old marshmallows and that begins to describe the heinous experience that downing a bowl of the stuff was like. That said, I still have the phone booth cereal premium that came shrink wrapped with it and that is, of course, excellent.
Bill & Ted's National Air Guitar Championship
In the summer of 1991, MTV went all in with its promotion of Bill & Ted's Bogus Journey. As a result we have the above Bill & Ted's National Air Guitarist Championship contest, which features an appearance by a bemused William Sadler (who rules, always) and introductions from Dweezil Zappa, who seems like he can barely hold in his contempt for the entire enterprise.
Bill & Ted's Bogus Premiere Party
Another A/V relic from MTV's summer of Bill & Ted is the premiere party the network hosted by Bill & Ted's Bogus Journey. Featuring Pauly Shore on hosting detail and appearances from a bunch of bands who were about to rendered irrelevant due to the rise of grunge, this program is a journey back to a simpler, less flannel-centric time in our now-distant past.
Bill & Ted Action Figures
Looking back now at Kenner's Bill & Ted Excellent Adventure action figures, the main question I have is just why didn't I snatch these things up when I saw them in the closeout bins at Kaybee Toys? Genghis Khan in a Wyld Stallyns shirt? The second I'm done this article I'm heading over to eBay.
Bill & Ted's Excellent Adventure Sideshow Figures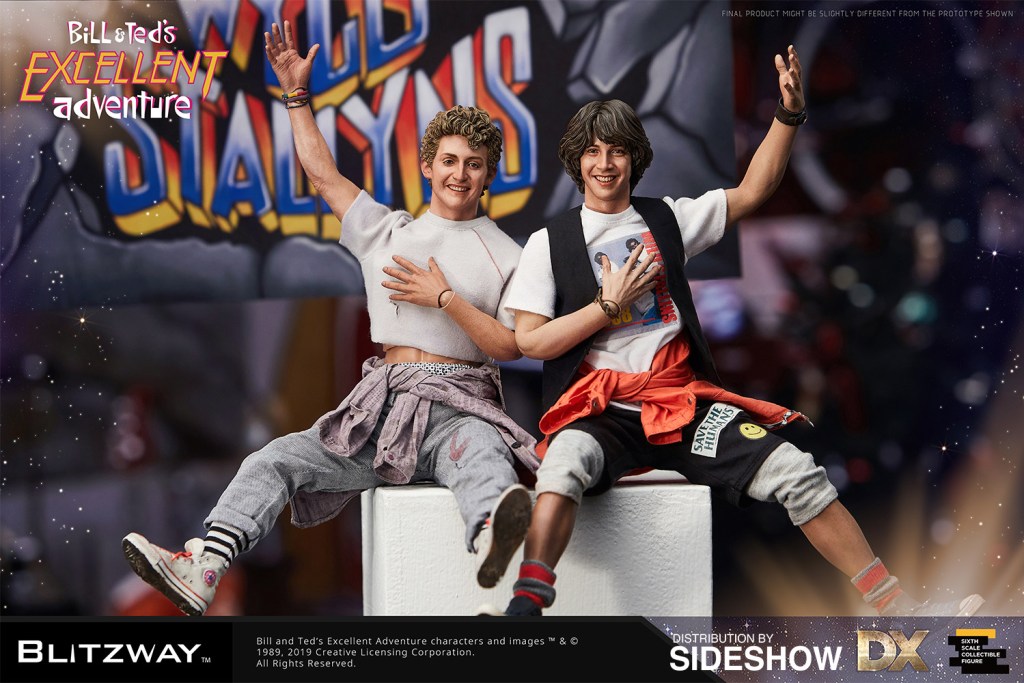 With nostalgia being one of the few things that 2020 has yet to destroy, the deluxe action figure market is booming. NECA is currently offering stunning figures based on the Bill & Ted saga, and for those who really want to up their uncanny valley collecting game there are these toys from Sideshow that well set you back $399. Decide for yourself if this is excellent or bogus.
Bill & Ted's Excellent Video Game Adventure
In the 1990s, LJN was notorious for making confounding Nintendo Entertainment System games out of popular movies. Jaws, Friday the 13th, Back to the Future, and Bill & Ted's Excellent Adventure were all given the LJN treatment to various degrees of frustration. My personal memories of playing their Bill & Ted title solely consist of wandering around in a daze wondering what the hell was going on. Wait? Was the game secretly a stealth 2020 simulator?
Bill & Ted's Excellent Musical Adventure
The invaluable Bill & Ted's Excellent Online Adventure website is the Internet's greatest resource when it comes to information on these characters. While researching this piece I was blown away to discover that Bill & Ted's Excellent Musical Adventure exists, and the site breaks it down thusly:
It was in 1992 that Dean Collinson, a singer, songwriter and actor, first saw the Bill and Ted movies and set about to write a musical version of our favorite movies with his writing partners Mick Walsh and Gene Jacobs. In October 1998, Dean Collinson would win the Vivien Ellis Award for Best New Musical Composer for the music to Bill & Ted's Excellent Musical Adventure.

The musical seems to have been staged at least a couple of times, once as a three week run during the Edinburgh Festival at the venue The Pleasance in Scotland. The other was a condensed version on May 4, 2000 as part of a program called "Musical Futures" at the Greenwich Theatre in London.
Unauthorized though it may be, this thing sounds glorious. You can hear the songs and learn more about it here, and whoa, you should. Spoiler alert: There is no song called "San Dimas High School Football Rules." Tragically.
McDonald's Ads
Speaking of unauthorized, McDonald's produced and aired the above commercials that shamelessly tried to ride Bill & Ted's pop culture coattails. There's a lot that is wrong with this, but the main thing is probably how you just know that Bill & Ted are In-N-Out burger dudes.
Weezer – Beginning of the End Music Video
The Bill & Ted movie soundtracks have contained everyone from Kiss to Slaughter. Apparently now the pair are listening to Weezer? I mean, I guess the franchise's ultimate message is that we all eventually give up our youthful dreams and become what we fear most. And what I fear most is ever having to endure another conversation about Pinkerton, so I suppose I'll end things here. Just do me a favor, be excellent to each other, okay?