News
Keanu Reeves Needs You to Accept That Bill and Ted Aren't Stoners
Keanu Reeves has had enough of people assuming that Bill and Ted are sky high.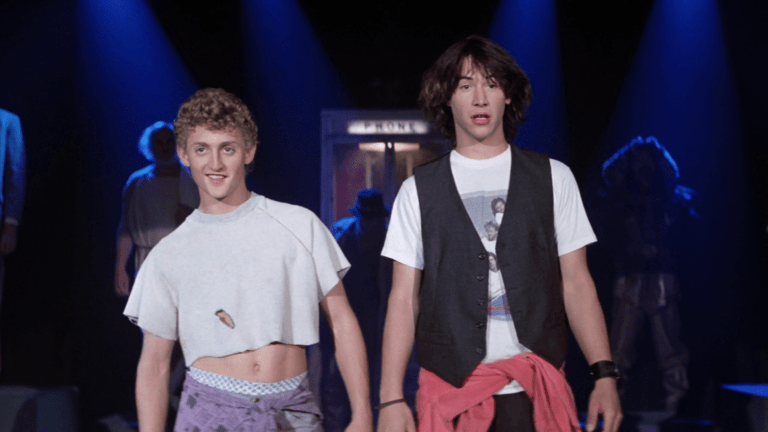 Just as long-awaited comedy threequel Bill & Ted Face the Music is about to be unleashed onto the world, Keanu Reeves has something to say about its iconic central characters, Bill S. Preston Esq. and Ted Theodore Logan: they are categorically not stoners.
Sure, some people might have enjoyed watching Reeves and longtime pal Alex Winter in the Bill and Ted movies over the decades while high as all fuck and may have also projected that onto the beloved pair of time-traveling dudes, but that doesn't mean the characters were ever anything other than lovable goofballs who just wanted you to be excellent to each other.
Bill and Ted have never explicitly been shown smoking weed or pictured with any assorted paraphernalia in the franchise, but the first two films are often cited as stoner movies, and as recently as April, Rolling Stone put 1989's Bill & Ted's Excellent Adventure in its 10 Best Stoner Movies of All Time. With the release of Bill & Ted Face the Music on the horizon, though, Reeves has had enough of people assuming the duo are baked.
"I'd like to get one thing straight. Bill and Ted are not stoners," Reeves confirmed in the midst of a new interview with AP. "You know, they have a nice outlook. They like people – their friendship."
After witnessing Reeves lay down the law, we strayed to the comments (usually a very bad idea) to see how people were taking the news, and it was a mixed bag honestly.
"As a long time fan of Bill and Ted I never once got the impression that they were stoners. It was never implied or suggested. It never crossed my mind. Complete idiots, yes, but not stoners," one piped up, while another challenged Reeves' assertions with "This only confirms that Bill and Ted are HUGE stoners." However, a gentleman with the handle Mike's Cannabis Reviews, who recently posted a 'sesh update' after trying out a recipe for pot-infused meatballs, took it less well:
"Bill & Ted not stoners wulp u lost a fan and I use to love these movies smh thanks for ruining my childhood smfh," he posted solemnly.
Meanwhile, we only had one lingering question about the above clip of Reeves and Winter, echoed in the comments by someone called 'cybernex': "what is a reason to put videos on YouTube in 360p in 2020?"
Co-starring Brigette Lundy-Paine and Samara Weaving, Bill & Ted Face the Music follows the best friends encountering various versions of themselves after they find out that one of their tunes could save the world. The film will be released in (some) theaters and via VOD on August 28, and pretty much everyone is looking forward to it.