Features
Beyond Bond – The Acting Legacy of All the 007s
A look at life after James Bond for all the lead actors.
This article comes from Den of Geek UK.
James Bond is a hard role to shake. To date, we've had six interpretations of Ian Fleming's relatively straightforward character in the official EON Productions series, portrayed by actors from England, Scotland, Wales, Ireland, and Australia. For every single one of them, it's inarguably a defining role.
Daniel Craig is widely expected to hang up his tux and Walther PPK after 2019's long-awaited new instalment, his fifth entry in the franchise. At this time, in particular, it's fascinating to look at what his five predecessors in the role – Sean Connery, George Lazenby, Roger Moore, Timothy Dalton, and Pierce Brosnan – did next.
Almost every film in the franchise ends with a promise that "James Bond Will Return", which inevitably colours the expectations of the various James Bonds after they quit the role. Plenty of actors have turned the part down over the years, presumably for fear of typecasting, and sure enough, it has occasionally presented a problem for those who accepted. It's no coincidence that many of them wound up playing upon the character's image at least once in their career.
Nevertheless, each of them has made clear efforts to move on from the role that made them, with varying degrees of success. Here's a look at life after Bond for the previous five leads of the franchise, including how they left and how they shook off the image of their most enduring character.
Sean Connery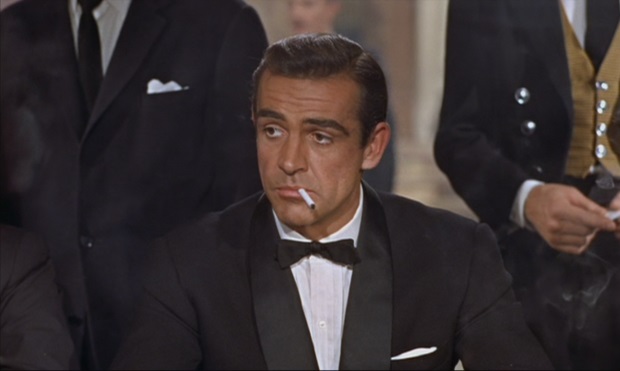 In the beginning, the series' producers propelled a 32-year-old Sean Connery to global stardom by casting him as Fleming's 007. Connery played the role in five films, from Dr. No to You Only Live Twice before departing the role for the first time. He made no secret of the fact that he didn't like playing Bond.
As Connery's friend Michael Caine once put it: "If you were his friend in these early days you didn't raise the subject of Bond. He was, and is, a much better actor than just playing James Bond, but he became synonymous with Bond. He'd be walking down the street and people would say, 'Look, there's James Bond.' That was particularly upsetting to him."
Given how the Bond films were big, producer-led affairs, it's unsurprising that Connery pursued major directors for his between-Bond projects, but still had high standards. Notably, Alfred Hitchcock was mildly affronted when Connery asked to see a script before signing up to be in 1964's Marnie.
But by far the most fruitful collaboration of Connery's career outside Bond was with the great Sidney Lumet. The pair made five films together over the course of three decades and they enjoyed a mutually beneficial working relationship.
Lumet gave the actor the challenges that he craved, such as the lead role in their first and possibly best collaboration, 1965's The Hill. Set in a British military prison or "glasshouse", it's truly gruelling thing in which Connery is the furthest thing from the paragon of capable and unflappable masculinity that he plays in the Bond movies. Other collaborations included The Anderson Tapes, in which he plays a cuckolded burglar, and The Offence, in which he infamously takes on the role of an abusive and abused violent police detective, who attacks a sex offender in custody.
In return, Connery's star appeal helped Lumet to get his films made. Critics weren't kind to The Offence, which had more in common with the European dramas that both director and star admired than it did with any globetrotting spy movie. On a more commercial level, Connery was the first actor to join the all-star cast of Lumet's Murder On The Orient Express, a forerunner to Kenneth Branagh's similarly starry 2017 version.
The director observed that all he needed was one big star to get the rest of his ensemble on board, and that was Connery. In a similar vein, many of Connery's post-Bond successes were as part of an ensemble, rather than as the lead. But even going into the 1980s, Bond cast a shadow.
Connery's tenure on the Bond films generated a long-running public feud with series producer Albert "Cubby" Broccoli, which is the only fathomable reason why he would later get involved in a remake of Thunderball by rights-holder Kevin McClory, which was unauthorised by EON. With a title that Connery's wife suggested on account of his previous promise that he was done, Connery's unofficial seventh outing was released by Warner Bros in 1983, in almost direct competition with Eon's Octopussy.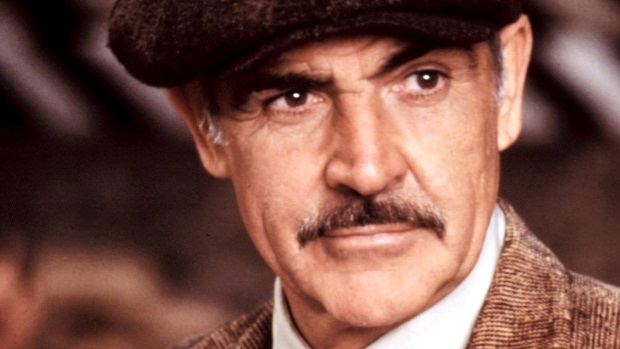 A number of behind-the-scenes problems on the film put Connery off working on Hollywood studio films for a few years. Not least among these problems was having his wrist broken by the then-unknown stunt coordinator Steven Seagal. It was only after a period of making European films that Connery came back with another ensemble role, as the dubiously accented Irish cop Jim Malone in Brian De Palma's The Untouchables.
This role won him an Academy Award for Best Supporting Actor and kicked off a string of box office hits that included The Hunt For Red October and Indiana Jones And The Last Crusade. The latter provided a much more significant connection to Bond, as Indy was famously born out of Steven Spielberg's desire to make a James Bond movie, and Connery wound up becoming the literal father of the character.
As the 1990s went on, Connery's career had some ups and downs. The Rock and Entrapment were big hits, but First Knight and The Avengers (not that one) definitely were not. He said no to the roles of Morpheus in The Matrix and Gandalf in The Lord Of The Rings, but said yes to playing Allan Quartermain in 2003's The League Of Extraordinary Gentlemen.
Conspicuously soon after his experience of making LXG, Connery became utterly disillusioned with Hollywood and retired from acting. He's the biggest movie star of all the Bonds precisely because he sought out massively different roles. Seeing as how he lent his voice to Electronic Arts' 2008 video game adaptation of From Russia With Love, he can't have held too much ill will towards the character by that point in his career. Besides, in terms of the cinematic history of the franchise, he made Bond more than Bond made him.
George Lazenby
As the infamous one-night-only Bond from 1969's On Her Majesty's Secret Service, George Lazenby's career was affected more than the other four non-Bonds. Having blagged his way into the role with no acting experience to speak of, the Australian male model got mixed reviews for his turn. History has been much kinder to the film and to his performance, but when the time came to reprise the role, he had other plans.
Showing up to the premiere of the film wearing a beard and long hair, Lazenby was convinced that Bond's time was up and, in the era of peace and love, audiences wouldn't be interested in watching a murderous government agent trotting around the globe like he owned the place. Lazenby's then-manager, Ronan O'Rahilly, is often noted for being instrumental in persuading him to turn down a seven-picture deal and $1m signing bonus from EON.
This earned him a reputation for being difficult, which proved difficult to shake as he moved onto other acting roles. His next film, 1971's Universal Soldier (not that one), was billed as the opposite of Bond, but despite some positive notices, it barely got a release.
Lazenby would later concede: "After the Bond fiasco, nobody would touch me … [Producer] Harry Saltzman had always said, 'If you don't do another Bond, you'll wind up doing spaghetti westerns in Italy'. But I couldn't even get one of those."
One of his biggest offers in the years following On Her Majesty's Secret Service came from John Cleese, who wanted him to play the minor role of Jesus in Monty Python's Life Of Brian, but Lazenby's agent turned it down. After appearing in a string of Hong Kong actioners and Australian TV movies, Lazenby moved to Hollywood in the 1970s in a bid to start over.
He took out a full page advertisement in Variety to reckon with his reputation and admit that his early success had gone to his head. In the years afterwards, he made a decent career as a guest star on various US TV shows, including Hawaii Five-O and Superboy, as well as sending up the role that landed him in actor jail in the first place, as in the case of the mysteriously monikered J.B. in the TV movie The Return Of The Man From U.N.C.L.E.
Although Broccoli once claimed that Lazenby asked for another chance a couple of years after burning his bridges, the actor is clearly in good spirits about the effect that Bond had on his career. Most recently, he appeared in the very entertaining 2017 documentary drama Becoming Bond, which tells his story in his own words and is well worth a look for any fan of the series.
Roger Moore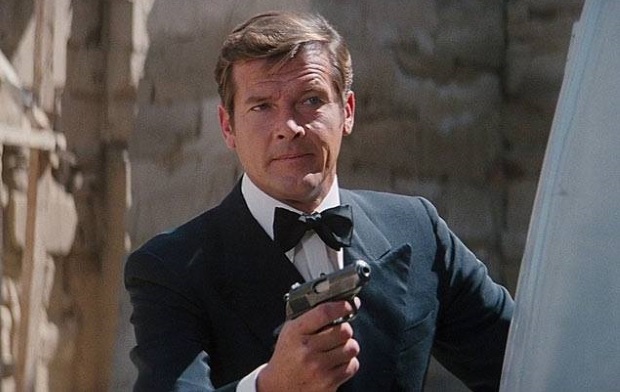 As the longest serving Bond,(although Craig recently surpassed his 12 years in the role, 7 films remains the record), the late, great Roger Moore should have had the most trouble getting away from the role. But in his case, he seemed to embrace the fact that the Bond movies would be his most popular and beloved works, while still working consistently on other projects.
Like Connery, Moore worked on other films throughout his tenure as 007. On average, he made two other films to every Bond film throughout his tenure in the role, including such gems as The Wild Geese, Shout At The Devil, and Sherlock Holmes In New York. While Spitting Image famously sent up his limited acting range as Bond, he still worked a lot on other roles throughout his years fronting a lucrative franchise.
Upon realising that he was older than his female co-star Tanya Roberts' mother, Moore decided to quit with 1985's A View To A Kill and didn't appear in another film until 1990. He appeared in two films that year – the German sports sequel Fire, Ice And Dynamite, and Michael Winner's mistaken identity comedy Bullseye, in which he and Michael Caine played dual roles as con men posing as nuclear physicists.
One of his most memorable roles in the 1990s came in the directorial debut of one Jean-Claude Van Damme. With more than a few echoes of Bloodsport, 1996's The Quest saw Van Damme play a pickpocket who is sold into slavery by Moore's English mercenary, Lord Edgar Dobbs, only to be bought again so that he can fight for the US in a Kumite-like martial arts tournament. We can only hope to see this kind of fabulous nonsense from a post-Bond Craig.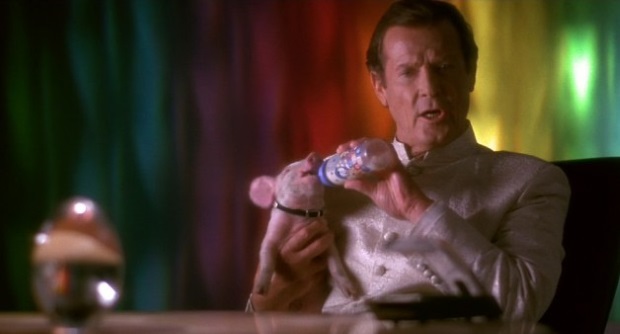 Having previously sent up 007 in The Cannonball Run, Moore did play on his Bond cachet after leaving the role too. He played a Blofeld-esque record producer in Spice World and voiced a cat called Tab Lazenby in Cats & Dogs – The Revenge Of Kitty Galore, a sequel that leaned further into Bond-flavoured parody than the original, with both Moore's role and an opening number by Shirley Bassey.
Having recorded many DVD commentaries and written multiple books on the subject of his most famous role, Moore never seemed unhappy with the legacy of playing the character. In terms of embracing the role and the baggage that came with it, nobody did it better.
Timothy Dalton
At the early stages of development on GoldenEye, it was presumed that Dalton would return for a third instalment. But production stalled throughout the early 1990s while Broccoli put the franchise rights up for sale, and Dalton officially quit the role in 1994. Following 1989's Licence To Kill, Dalton had already returned to work on screen and stage, just as he had done before taking the role.
Tantalising as the prospect of a third Bond outing may be to those of us who enjoy his portrayal, Dalton likely stayed in the role for just the right amount of time. The Living Daylights and Licence To Kill make a superb double bill, pre-figuring the darker tone of the Craig films and stretching the format of the movies without breaking them.
As Dalton reminisced to The AV Club in 2014: "The prevailing wisdom at the time — which I would say I shared — was that the series, whilst very entertaining, had become rather spoof-like. It was one-liners and raised eyebrows and it had become, let's say, too lighthearted. And the producer, Mr Broccoli, felt that, and he wanted to try and bring it back to something more like its original roots with those Sean Connery films."
Counter to his predecessors and successors, he got to make his mark on Bond without becoming defined by it and carried right on working on an eclectic mix of Shakespeare productions and pulp film roles, such as his previous efforts in Flash Gordon and The Rocketeer.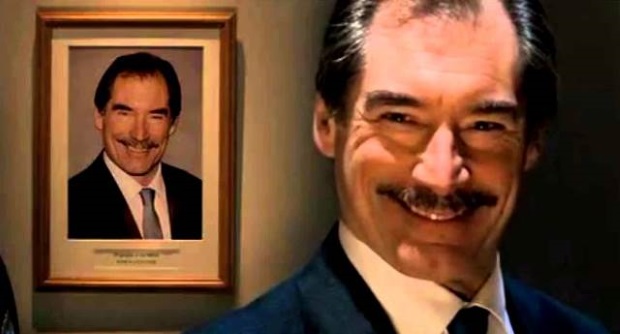 Given a few more repeats on ITV, you could even argue that more viewers know him as Simon Skinner, the supremely smug supermarket manager from Hot Fuzz, than as Bond. But take any three of his roles in different mediums – such as Rassilon in Doctor Who, Lord Asriel in the stage version of His Dark Materials, and the voice of Mr Pricklepants in Toy Story 3 – and his range becomes self-evident.
Like Moore, Dalton has also revisited his image as Bond in a family comedy movie, specifically Joe Dante's Looney Tunes: Back In Action, in which he plays Damien Drake, the super-spy dad of Brendan Fraser's character, doing a reliable line in gravitas. He's the only past Bond who would have fit this particular role, but it's just a cheeky bonus that he's so good at looking serious while being electrocuted and mind-controlled by Steve Martin's cartoonish villain.
Pierce Brosnan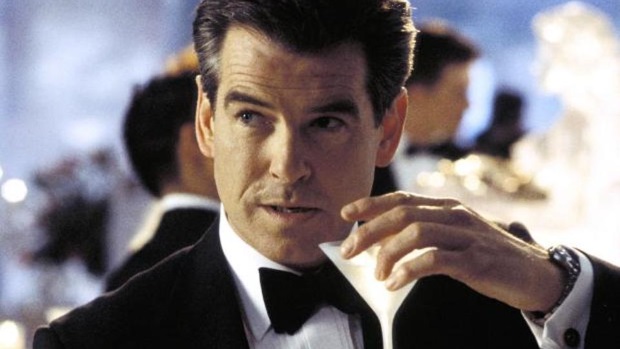 When it was officially announced that Pierce Brosnan was leaving the franchise behind, there had been lots of speculation about him playing the role again. It was none other than Quentin Tarantino who floated the idea of casting the star in a period-set standalone film based on Ian Fleming's first Bond novel, Casino Royale.
EON eventually went with a 21st-century update of the story as the series' biggest reboot to date, but it was without either Tarantino or Brosnan. As Bond, Brosnan had unironically essayed the hairy-chested sex appeal of Connery, in parallel with Mike Myers lampooning the same thing in the Austin Powers movies, leaving him ideally placed to carry on as a romantic lead.
Of all the Bond actors to date, Brosnan is indisputably the biggest movie star still working, not least because he is the only one who can say that his highest-grossing film at the UK box office isn't a James Bond film. Brosnan's biggest hit on 007's home turf is Mamma Mia!, which was the highest-grossing film in our box office history until Skyfall and Star Wars: The Force Awakens came along. (Funnily enough, both films feature Brosnan's successor, Daniel Craig.)
Superficially, one might argue that Mamma Mia! was just another in a line of films where Brosnan used his cachet as a romantic lead to star in a string of films set in exotic locations. These range from Susanne Bier's sublime Love Is All You Need, to the altogether shallower Lessons In Love, which casts the actor as an English professor who cheats on Jessica Alba with Salma Hayek. In sunny California.
To be fair, these have largely been more successful than his forgettable returns to action fare, such as The November Man, Survivor, and No Escape. While we know he can do stuff like The Matador and Seraphim Falls, you couldn't really blame him for picking roles in his comfort zone. But in truth, there's at least a little more to his involvement in the ABBA-tastic crowd-pleaser than that.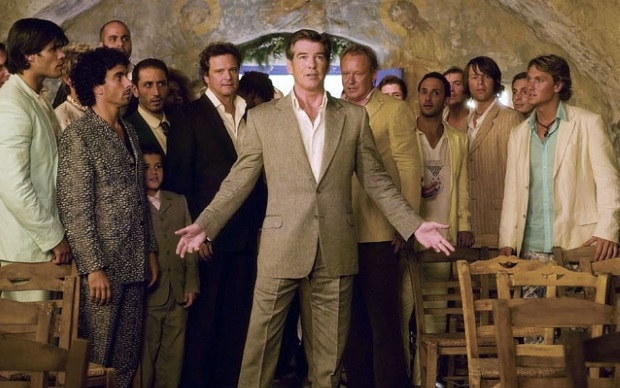 As one of Meryl Streep's potential baby dads, Sam Carmichael, he is uniquely suited and unsuited to the film. He looks intensely uncomfortable through most of the running time and particularly in the scene where he's left awkwardly standing around with no choreography in the scene where Streep belts out The Winner Takes It All. Nevertheless, he throws himself wholeheartedly into the scenes where he has to sing, even though it's not his strong suit.
Brosnan took the brunt of the bad notices for his singing abilities, but he freely admits that he's not the best singer and he puts himself out there anyway. In a film with lots of famous people having a big, daft singalong, he's apparently more willing to look silly than most of his co-stars. It's to his credit that he came back for the second go-around, in the immaculately titled Here We Go Again, given how he was singled out for criticism last time.
Throughout Mamma Mia and its sequel, Brosnan completes his successful climbdown from playing Bond. In his own way, he's following Connery's lead in showing a more vulnerable side to his screen presence. Granted, he's not going to win any Oscars doing it this way, but he's put some considerable distance between himself and a role we have seen weigh down other actors.
What will Daniel Craig do next?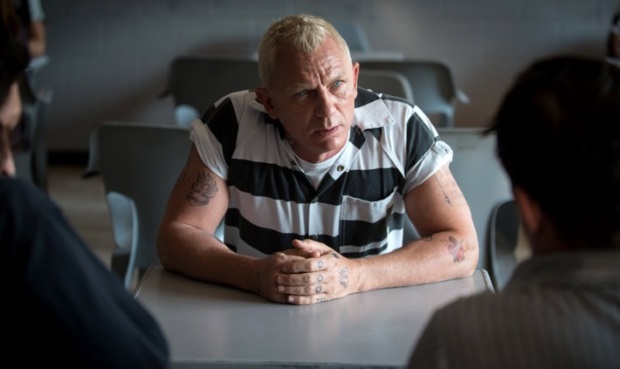 As we've seen, there's no set way for an actor to go after leaving a role like Bond. Between franchise outings, most of Daniel Craig's work has been on stage, rather than on-screen. Still, he's also found time to work with directors like Steven Spielberg, David Fincher, and Steven Soderbergh.
Significantly, Craig is the first and only Bond thus far to have played the part during the era of modern media. From the initial backlash against his casting to the endless speculation about whether or not he'll be in Bond 25, a lot of the media scuttlebutt over the last 12 years overlook his talents as an actor. He's not a movie star, but new movie stars are rare now.
As characters and properties have overtaken actors as the main box office draw, Craig is being tied to a model that needn't affect his career any more. All things being right, he should be fielding offers, left, right, and centre.
He might go back to stage work and never appear in another movie, or he might continue on screen with the sterling against-type comic work that he's done with a brief cameo as a flummoxed Stormtrooper in The Force Awakens and the scene-stealing Joe Bang from Soderbergh's Logan Lucky. Either way, you need only look at history to see that there is life beyond Bond. Daniel Craig Will Return.
Read the latest Den of Geek Special Edition Magazine Here!