Features
Best Recent Family Movies to Stream on Disney Plus, Netflix, Amazon Prime, and Hulu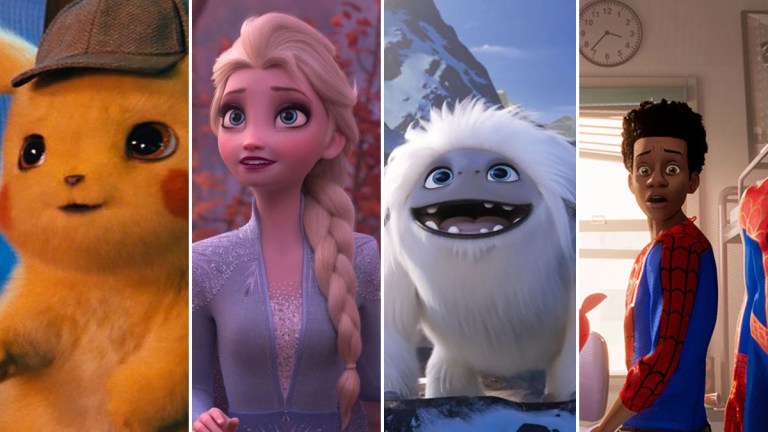 The COVID-19 pandemic has many of us at home with our kids, and while we've got distance learning to handle from many of our school systems, giving us a taste of what homeschooling is like, there's also some great opportunity for watching films together as a family. Since we can't go out to see a movie right now, here are some recent kids and family films you can catch right in your living rooms.
Detective Pikachu
Where to Watch: Hulu, Amazon
While my kids and I can still play a little bit of Pokemon GO (as long as we keep our social distancing), hanging out with Pikachu on screen is another option, thanks to the recent film. Set in a world where trainers really do collect Pokemon, and no one seems to be able to understand them, the film features Ryan Reynolds as the voice and facial capture actor for Pikachu alongside Justice Smith as Tim Goodman, a failed Pokemon trainer.
When Tim's father, a private investigator, goes missing, Tim finds himself paired up with his father's Pokemon companion. While other people only hear Pikachu say "pika," Tim realizes he can communicate with the Pokemon, and the two work together to unravel the mystery. As they hunt for clues, they discover vials of purple gas that cause Pokemon to go into a battle frenzy. The disappearance of Tim's father and the strange gas must be related, and their journey leads them to confront an advanced form of Mewtwo before they can save the day. While some critics felt the film was too formulaic, and didn't do enough to reach out to the non-Pokemon-fan audience, kids (and parents) familiar with the franchise will enjoy all the Pokemon cameos they can spot throughout the film.
Frozen 2
Where to Watch: Disney+
If you're like my family, you were patiently waiting until this summer for Frozen 2 to come to Disney's streaming service. In a cool surprise from the media giant, they released the film to Disney+ subscribers months ahead of schedule, due to the coronavirus quarantine.
Unless you've been living under a rock since 2013, you know the story of Frozen: one sister, cursed and afraid, causes an eternal winter; the other, plucky but desperate for love, sets off to find her and solve the problem. The sisters quickly captured the imaginations of children everywhere—you couldn't pass a swing set at a park in 2014 without hearing some child singing "Let It Go"—and Elsa and Anna became household names. The pair were featured in two short features, Frozen Fever (2015) and Olaf's Frozen Adventure (2017)—before making their second big screen appearance in November 2019.
Enjoy a FREE TRIAL of Disney+, courtesy of Den of Geek!
The second movie follows Elsa, who, as her powers are growing, finds that she still feels she doesn't fit into her role in Arendelle. When she accidentally awakens elemental magical spirits, causing the whole kingdom to evacuate from their capital city, she, Anna, Kristoff, Olaf, and Sven travel to the Enchanted Forest. There, they discover the truth behind a conflict between Arendelle and the indigenous Northuldra people—and the truth isn't pretty. The story and music are both more complex than the original story, but in many ways, that makes for a richer, more mature film (that can still be enjoyed by the preschool set). While, as in the previous film, Idina Menzel's performance on the film's central songs steal the spotlight, it might be Kristen Bell's heart-wrenching "The Next Right Thing" that sticks with you long after the film is over.
Dora and the Lost City of Gold
Where to Watch: Amazon Prime
Okay, okay, a lot of parents out there have no love for Dora. I'll admit a fondness for the cartoon, but, according to my children (who caught this in the theater with their grandparents), the nods to the original cartoon are mostly poking fun at the audience participation portions. ("This is a golden poison tree frog. Can you say 'extreme neurotoxicity?'")
The film focuses on teenage Dora, who has been home schooled while living in the rainforest with her scientist parents. When they have to go on a mission of their own, they send Dora to stay with her cousin, Diego, who now lives in the city and attends high school. But when her parents disappear, Dora returns to the rainforest with a whole crew of teenage adventurers (with varying degrees of enthusiasm) to rescue them—and maybe solve the mystery of a lost civilization in the process.
While a lot of the humor of the film is tongue-in-cheek teasing, most of those notes went right over the head of my youngest, who was just excited to see a live action version of one of his cartoon heroes. So parents can enjoy a little bit of poking fun at the show, while the kids can sink into an action-adventure version of an early childhood favorite.
Abominable
Where to Watch: Hulu, Amazon
There were several yeti movies out in the last couple of years, but the one I wish I hadn't missed in the theaters was last year's DreamWorks/Pearl Studio collaboration Abominable. Set in China, the story follows three young people who discover a baby yeti—and are determined to get it home.
The story opens when a captured yeti, later named Everest, escapes from the clutches of zoologist Dr. Zara. Trying to get home, Everest hides out near a "Visit Everest" billboard, where he's found by teenager Yi. Working odd jobs so she can save up for the cross-China trip she planned with her dad before his death, Yi instantly gravitates toward Everest, determined to help him. She helps Everest get on a boat to head toward home, narrowly escaping being recaptured, but Everest is so afraid, Yi decides to stow away and keep him safe. Joined by two of her friends, Yi makes a long cross-China trek in a totally different way than she planned, on a quest filled with danger and magic.
While the movie got praise for its beautiful animation, I'll admit that my big excitement about the film comes from Chloe Bennet (better known as Skye/Daisy Johnson/Quake on Marvel's Agents of SHIELD) playing the role of Yi. The original score, and the incorporation of the violin and the magic of music as a major plot, give the film even more adult appeal—and the adorable abominable snowman will definitely keep the kids entertained.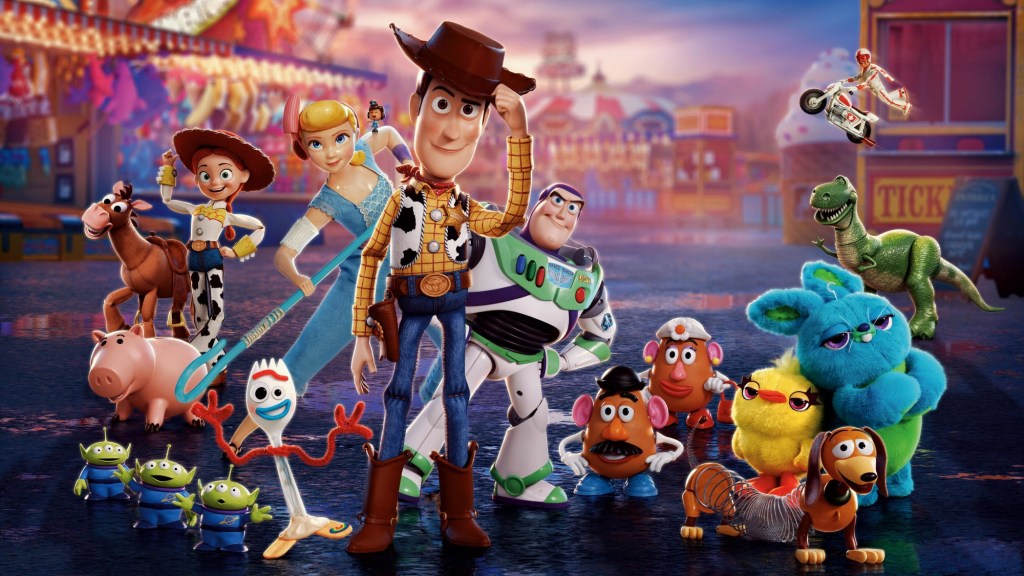 Toy Story 4
Where to Watch: Disney+
Fans who have followed the Toy Story franchise since it changed the face of animation in 1995 may have expected the series to conclude with the climactic 2010 Toy Story 3. But in 2019, a fourth film in the sequence let us check back in on the characters that so many kids have come to know and love—and threw the spotlight on Bo Peep, giving some added girl-power to the male-heavy franchise. Woody, now an adopted toy of Bonnie (as shown in the previous film's coda), has made it his life's mission to make Bonnie's life happy, even though Bonnie doesn't seem to need him as much as her other toys. When her prized homemade companion, Forky, flings himself out a window, it's up to Woody and the crew to bring him back. Woody winds up at an antique store, where he becomes reacquainted with Bo, his unrequited love. When Woody fails to return, Buzz heads off in search of him, getting sidetracked through a carnival along the way. The ending might cause a few tears, but it's true to the characters, and involves a passing of the torch to my favorite character, Jessie.
Not only does the film celebrate how children love the toys they create for themselves (a ready-made art-education lesson for stuck-at-home students!), but it continues to focus on the growth and love of the characters who have always been the heart of the series. While the stakes may not be as big as they were in previous installments, fans will be thrilled to return to a world where toys can talk, and are always working in the best interests of their kid.
Spider-Man: Into the Spider-Verse
Where to Watch: Netflix, Amazon
It's true, this film has been out for longer than the others on this list, but it's just so good that it's worth another watch. With multiverse hopping, several different versions of the Spider-Man origin story, and Miles Morales as the star, what's not to like?
In case you missed it the first time around, the film serves as an origin story for Miles Morales, the fan favorite Marvel character we've been waiting to see come around in the MCU. Here, teenage Miles is bitten by a radioactive spider, witnesses the death of Peter Parker (the camera pans away, but it's still a brutal moment for the youngest viewers), and becomes involved with several multiverse hopping spider-people: Spider-Gwen, Spider Ham, Spider-Man Noir, Peni Parker, and an older, sadder version of Peter Parker. Peter and Miles form an unlikely mentor-student relationship, in which Peter absolutely learns as much about what makes life important as Miles does, in the process of trying to unravel a plot created by Miles's universe's versions of Kingpin and Doc Ock. Spider-Gwen steps in to help out when it becomes clear that Peter and Miles can't save the world by themselves, and an epic team-up of spider-people ensues.
If you haven't seen this movie yet, there's no excuse for waiting. You're stuck at home. Go watch it. Even if you don't have kids. Go watch it now. It's one of the best comic book films—making the most use of the comic book format inside an animated feature—ever made.
Onward
Where to Watch: Disney+
I was really looking forward to seeing Onward in theaters this month, but I didn't make it to my local movie theater before the world went into quarantine. The film absolutely suffered for it at the box office: Onward opened at $39.1 million, which is respectable if not Pixar's best. But one week later, the film had lost 73% of its audience due to coronavirus fears. Numbers like that are not good news, but Disney is absolutely making the best of it—by releasing the film to its streaming service less than a month after its big screen release. If you're not a Disney+ subscriber (or really can't wait any longer!), Onward went on sale for digital purchase on March 20 and it hits Disney+ on April 3.
The lighthearted film of a brotherhood quest to connect with their long-dead father takes place in a suburban-fantasy setting. There are plenty of nods to Dungeons and Dragons and Magic the Gathering through slacker-brother Barley, who goes on about the rules of magic. The chemistry between Tom Holland as main character Ian and Christ Pratt's Barley is also something to look forward to, as is Pixar's typical breathtaking animation. So keep an eye out for it to hit your small screen—it's not a replacement for heading out to the theater, but it's a version that keeps you (and your neighbors) a little safer in our new reality.