Reviews
Spider-Man: Into the Spider-Verse Review – The Best Superhero Movie of the Year
Miles Morales meets Peter Parker in Spider-Man: Into the Spider-Verse, which might be the best movie to bear the hero's name.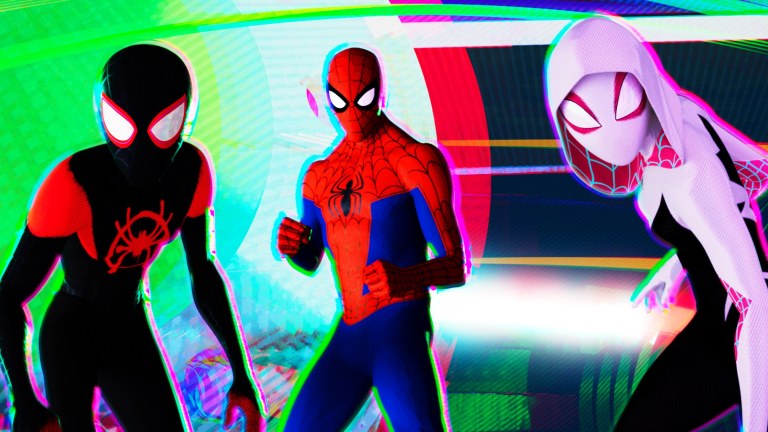 You've all seen the trailers. The hyper-kinetic action sequences. The unfamiliar kid in the stylish new Spider-Man costume. And those colors. If that's all Spider-Man: Into the Spider-Verse was, an ever so slightly off-kilter animated movie that takes chances with one of the most bankable box office superhero icons of them all, it would still be worth a look. But Spider-Man: Into the Spider-Verse is much more than all of that.
Miles Morales (voiced by Shameik Moore) is a Brooklyn teen just trying to get through the advanced school he's been placed in. His father is an NYPD officer, his mother is a nurse. He's got plenty of friends. He has an uncle he looks up to (Mahershala Ali, whose boundless charisma is undiminished when it's just his voice behind an animated character) but who also hides a secret. And then Miles gets bitten by a genetically modified spider, sees something he shouldn't, meets a legendary hero (and several versions from alternate realities), and learns how to be one himself. If this sounds like a straightforward superhero origin movie, don't worry, because the screenplay by Phil Lord and Rodney Rothman is so playful, the voice cast so energetic, and the animation so endlessly inventive, that there's no time for anything to get stale.
The animation and the novelty of its crazy style is of course a huge draw, but don't be fooled. First and foremost, this is a Spider-Man movie, and specifically about what it means to be Spider-Man. Spider-Man: Into the Spider-Verse is still very much about a new, young Spidey accepting the responsibility that comes with his power, but here, we get a far better picture of what that famous phrase actually is supposed to represent.
Tried and true elements of Spider-Man mythology are both subverted and celebrated throughout. The movie plays with and promptly dismisses the old puberty metaphor in sharp fashion, and his first onset of Spidey sense becomes not about impending danger but rather about teenage anxiety and insecurity (or maybe the most accurate depiction of weed-induced paranoia in movie history). He isn't driven solely by personal tragedy, nor is he a reluctant hero. Despite the movie's central premise of there being a multiverse out there, each containing a version of Spider-Man, the movie still thankfully steers clear of tired "chosen one" cliches.
Central to this is Shameik Moore's Miles Morales. Balancing early teenage innocence and awkwardness with a certain amiable cool that Peter Parker never had is no easy feat. There's nothing cynical or moody about Miles Morales or in Moore's performance, and the result might be the most immediately likeable screen portrayal of any Spider-Man alter-ego. The Miles Morales character has been around for less than a decade, starring in plenty of comics and a handful of animated TV episodes. If this movie is any indication, we'll be seeing a lot more of him in years to come.
He's balanced by an equally sympathetic Jake Johnson as Peter Parker. This is a Spider-Man nearing 40, who has endured (in true Parker style) plenty of personal failures and isn't exactly in fighting fit shape. And even here, while there are laughs to be had at Peter's midlife crisis, they're never mean-spirited. Just as Miles is the kind of character that young viewers will want to hang out with (and be), this Peter Parker directly reflects a portion of his aging audience. Seeing Spidey at a different point in his life than we've ever witnessed could easily have been a one-note gag, but now feels like a vital component of the character, one that's immediately at home in the larger tapestry of Spider-Man stories. Johnson's Peter Parker is weary but not bitter, and both the story and the performance manage to do something that even the most die-hard Spidey fan would have thought impossible: it shows us a genuinely new side of the character.
The Peter/Miles dynamic could fuel the movie on its own, but then it wouldn't live up to the Spider-Verse portion of the title, would it? We're also introduced to a superheroic Gwen Stacy from an alternate dimension (Hailee Steinfeld, a role which she should and will return to before long), Peter Porker: The Spectacular Spider-Ham (not a typo, voiced by John Mulaney), Peni Parker and her mecha SP//dr (Kimiko Glenn), and the mysterious Spider-Man Noir of 1933 (Nicolas Cage, clearly having a blast). You'll want to spend more time with each of them, and one of the movie's many triumphs is how it blends not just different animation styles but storytelling techniques for each of them. And yet, no matter how many Spider-Men (and women) are on screen at any given moment, Miles' arc is always clear, and somehow never gets lost even amid the reality-warping abstract madness of its final act.
But perhaps the movie's most impressive feat is how it never loses sight of its humanity despite all of its day-glo stylings, something made even more remarkable when one of its supporting players is an anthropomorphic pig in a Spider-Man costume. In addition to the endlessly sympathetic Miles and Peter, Brian Tyree Henry provides emotional grounding with a warm performance as Miles' father, whose relationship with his son is quite distinct from the more familiar Peter/Aunt May relationship. And yes, May Parker is here (voiced by Lily Tomlin, no less!) stealing scenes with unexpectedly wry humor and timing.
And what's a Spider-Man movie without his incredible rogues' gallery? Our heroes' woes and the breach in reality are the result of Wilson Fisk (Liev Schrieber) going far outside his organized crime comfort zone to do something very bad… but for almost understandable reasons (there's this movie's underlying humanity again). He's aided by the Prowler, a third-rate Marvel Comics baddie who is perhaps the best visual in a movie with no shortage of them. Prowler is all purple and shadow, more menacing than most live action Marvel villains, and his arrival is always heralded by unsettling sound effects and terrific stabs of music. There are others, and I won't spoil them, but do keep an eye out for Kathryn Hahn voicing a scientist with a secret of her own.
There have been plenty of good, even great, Spider-Man cartoons on the small screen, and Spidey has been (mostly) luckier than some of his superheroic colleagues in live action on the big screen. But this is different. Using every possible advantage of its format, Spider-Man: Into the Spider-Verse never misses an opportunity to be playful, including the moment the Columbia Pictures logo appears on screen, frequently alternating between comic book, almost pop art stylings (right down to the Ben-Day dots) and anarchic, graffiti-inspired visuals, all the way through its closing credits (and, of course, beyond).
Like Logan, The Dark Knight, Deadpool, or Guardians of the Galaxy, this is the rare modern superhero movie that leaves you wondering how they got away with it, why such freedom was afforded these creators, and when we might see something like it again. Just last year, Marvel Studios righted the ship for Spidey in live action with Spider-Man: Homecoming, which was refreshing for both its straightforward approach to Peter himself and the novelty of seeing the character in the MCU. But here comes Into the Spider-Verse to remind everyone that you don't need a shared universe of dozens of films to tell a big story, and that great characters can pull their own weight just fine, thank you very much. For comic book fans, there are endless easter eggs both of the traditional "spot the Spidey trivia" variety to the kind of sharp, timely pop culture jokes that Tiny Toon Adventures and Animaniacs specialized in (pay special attention to the billboards in Times Square). And while there's plenty of room for a sequel (which, along with that Spider-Gwen spinoff, is already in development), none of this fan service gets in the way.
Bouncing from one dizzying action sequence to the next, Spider-Man: Into the Spider-Verse could easily have become a migraine-inducing chore. It's anything but. It took three directors (Bob Perischetti, Peter Ramsey, and Rodney Rothman) and countless animators to thread that needle, but the movie never pulls the same trick twice, and even its most visually intense moments are in service of the story, often broken up with impeccably placed gags. By the time Miles truly embraces his role as Spider-Man, you've already seen a lot, and that's where the movie chooses to deliver its most graceful, kinetic sequence. It somehow feels understated in comparison to the rest of the film, yet it's one of the best big screen moments in Spider-Man history. And it belongs to Miles Morales.
That Miles Morales can share the screen with one of the most recognizable icons in all of pop culture and still clearly be the hero of his own story is impressive, and a testament to the obvious love that went into crafting both the character and his world. Delivering that kind of emotion in a movie this big and brash is no small task. It's the kind of achievement that brings to mind the adjectives usually attached to one of Peter Parker's comic books. Amazing. Spectacular. Sensational. Welcome to the big time, Miles. Let's do this again soon.
Spider-Man: Into the Spider-Verse is in theaters now.
Mike Cecchini is the Editor in Chief of Den of Geek. You can read more of his work here. Follow him on Twitter @wayoutstuff.