Features
The 62 Must See Movies of 2018
From the biggest blockbusters to movies you might have missed, these are the most essential movies of 2018 to watch.
The year of 2018 is coming to a messy and tumultuous end. After a perpetual season of upheaval and acrimony, it is easy to look back negatively on the past 12 months, yet there have been many great moments in the culture too: plenty of them at your local movie theater. This was, after all, the year that Black Panther proved Marvel Studios films can be about more than pure escapism, and the one in which Lady Gaga became a movie star. 2018 took us on a voyage to the moon and emotional agony therein via Damien Chazelle's First Man, and to the heights of witty decadence in The Favourite. It even gave us the decade's five best movie monsters, and all of them are a fantastic Toni Collete. It has been the year of a many splendored things.
In such a crowded marketplace trying to grab the attention of filmgoers of every stripe, from horror to prestige, and musicals to tragedies, it is hard to sort through the cacophony to know what you must really see. And for that very reason, we have overhauled this list one last time for your perusal. Our critics have already given their Top 10 picks for the Best Movies of 2018, but the must see list below contains no fewer than 60 movies that have been voted on by Den of Geek's complete staff and friends. Below you can find a ranking, beginning at the top with our consensus picks of what you really must see from 2018.
Sorry to Bother You
As one of the best feature film debuts that I've seen in the last half-decade, Sorry to Bother You comes out of the gate fully formed and driven by a burgeoning auteur's perspective… This aesthetical rope-a-dope is apparent from the very first scene in which Lakeith Stanfield sits in an office ready to charm his way into a telemarketing job. With an employee of the month placard in one hand and a high school trophy in the other, his desperation for the gig is not subtle, nor is the revelation that both "qualifications" are forged. Luckily the white employer conducting the interview sees such flexibility with the truth as perfect prerequisites for a career in salesmanship.
Watch Sorry to Bother You on Amazon.
Black Panther
Black Panther is unlike almost all the Marvel Cinematic Universe movies that have come before it. Director/writer Ryan Coogler (Creed) and co-writer Joe Robert Cole (American Crime Story) have found just the right sweet spot to tell a story that is deeply Afro-centric and affirmatively political in its themes and concerns, while dressing it in some of the familiar Marvel superhero pyrotechnics and adding a dash of James Bond espionage thriller. In other words, they've made a movie that speaks to a segment of the populace who have long awaited a mainstream film that addresses them directly, yet in no way does Black Panther alienate anyone else–this is still a comic book adventure for everyone.
Watch Black Panther on Amazon.
Hereditary
Believe the hype: Hereditary–which rattled jaded audiences earlier this year at the Sundance Film Festival — is an instant horror classic, a terrifying chronicle of the destruction of a family that also serves as an outstanding feature debut for writer/director Ari Aster. Like other assured filmmakers who work in the genre, Aster understands that horror works best as metaphor, and that the story and characters must function successfully on their own if the supernatural trappings are removed from the plot.
Spider-Man: Into the Spider-Verse
That Miles Morales can share the screen with one of the most recognizable icons in all of pop culture and still clearly be the hero of his own story is impressive, and a testament to the obvious love that went into crafting both the character and the world of Into the Spider-Verse. Delivering that kind of emotion in a movie this big and brash is no small task. It's the kind of achievement that brings to mind the adjectives usually attached to one of Peter Parker's comic books. Amazing. Spectacular. Sensational. Welcome to the big time, Miles. Let's do this again soon.
Watch Into the Spider-Verse on Amazon.
Annihilation
Alex Garland has made a perceptive and sometimes ponderous tome for his second writing and directing feature after the masterful Ex Machina. Like that film, and several of the other screenplays he's penned, the filmmaker borrows familiar genre conceits to craft something provocatively counterintuitive and richer than many of its conceptual influences. Also more ambitious and epic in scope than Machina, Annihilation features a strong and wide ranging cast of curious and enigmatic women, including a tenacious Natalie Portman, trapped in an even more imposing mystery box.
Roma
Roma is such a sublime achievement in this vein that while it acts as Netflix's best shot yet to break through to Oscar's Best Picture race, it also suggests the perfect launching pad for the streaming service to open an original production in a wider release than New York and Los Angeles. For Cuarón's vision is so softly grandiose that it really should be seen on the biggest screen possible. Like the rolling surf that features so prominently in the film's third act, Roma is a slow but steady immersion that, for the most patient and least distracted viewer, will sweep you away in a vision that turns mid-20th century domesticity into a 70mm epic.
Eighth Grade
From the start, Eighth Grade makes clear that it deals in authentic teenagerdom. The actors are real teens, and they look and sound like it. Viewers might wince over the "likes" and "ums" in Kayla's opening video, verbal tics with a gendered history that are often used as pop culture shorthand for vapid young women. But here the audience is meant to interrogate their own cruelty and eventually understand the need to cheer earnestness. Why did we laugh at Kayla, who's just an awkward kid trying to do her best? Where does that impulse come from?
The Favourite
The Favourite is hence an exercise in droll deconstructionism, marveling in exquisite set design and costumes that rarely veer toward the anachronistic (although when it does, you will notice), yet still resist the urge of fawning reverence and hagiographic sentimentality that so bedevils most American productions about British monarchs and the centuries-old gentry class. In the place of such noble pursuits, Lanthimos crafts a delightfully twisted ensemble piece that happily blurs the line between affairs of state and the affairs of the head of state. And infusing passion into this potentially disaffected aesthetic is a triumvirate of tour de force performances from Olivia Colman, Emma Stone, and Rachel Weisz, which includes some of each's most indelible work.
Watch The Favourite on Amazon.
BlacKkKlansman
At its best, Spike's new joint embraces this ongoing conversation between art and culture, race and propaganda, to speak of the persistent malignancy in American life that has manifested itself from the fringes of David Duke to the mainstream of Donald Trump. As such his film is angry, disparate, and for the first time in ages for the filmmaker, unconcerned with making its conflicting emotions congeal. It wants to capture the wide range of human experience, from comedy to drama, and joy to tragedy, that Lee feels in Trump's America… all while tracing its ugly lineage back to a time when even the film's lead black character scoffs at the idea of a David Duke-type ever becoming president. Lee is using his artistic vision of the past to denounce the kind of art that's so emboldened the Klan and their ilk for the past hundred years.
Watch BlacKkKlansman on Amazon.
Widows
Adapted from a Lynda La Plante miniseries, McQueen's approach to Widows is by far his most mainstream and commercial effort to date after somber journeys into despair like 12 Years a Slave and Shame, yet the latest is still clearly a Steve McQueen picture, even when it occasionally runs against some of Flynn's most sensationalist and pulpy flourishes. As such, the heist that the film builds to is less the goal than it is the byproduct of three fascinating women who've been forced into each other's orbits because of a common thread; cleaning up after their late husbands.
Three Identical Strangers
A deceptively giddy and exciting documentary, Three Identical Strangers is a film that plays all the better with the less you know about it. A "fact is stranger than fiction" yarn about one good-looking 19-year-old discovering he has an identical twin he never knew about–which in turn leads to their triplet seeing their story in the paper and reaching out–Three Identical Strangers is the feel-good documentary… until its not.
With a lurid conspiracy at the heart of their separation at birth, which leads to sometimes tragic and sometimes heartfelt consequences as the decades pass and the 1980s news media loses interest, here is one of the most surprising and engrossing docs in this year or any other.
Watch Three Identical Strangers on Amazon.
Avengers: Infinity War
The Russos have upped their game as directors here, mostly ditching the hand-held, grittier look of Captain America: The Winter Soldier and Captain America: Civil War for real scope and grandeur. Infinity War is a knockout sci-fi movie that travels around the universe and back, and not only does it capture the vastness of that but it's also perhaps the most beautiful, colorful film Marvel has released to date. Some of the action is still a bit hard to follow at times, but the brothers prove that they can shoot a spectacular interstellar adventure with the best of them.
Watch Avengers: Infinity War on Amazon.
Won't You Be My Neighbor?
Won't You Be My Neighbor? is more of a cinematic group hug than outright emotional manipulation, and considering the aforementioned fear some will fleetingly experience toward the end, it's a much-needed hug. Actually, it's far more than that, because the filmmakers have somehow managed to condense Fred Rogers' lifetime of positive messaging into one hour and 33 minutes. Neville pinpoints exactly what made the children's entertainer and advocate tick across 31 seasons and 192 episodes and specials and, while documenting the man and his wonderful show, offers us some desperately needed healing.
Watch Won't You Be My Neighbor? on Amazon.
A Quiet Place
John Krasinski may be a self-described scaredy cat who never really considered himself a fan of horror films, but he has crafted a movie that may ironically be remembered as the loudest declaration yet that we are indeed living in a golden age of horror films. From its silent opening to the burst of cheers that will no doubt end many of the movie's screenings, A Quiet Place is an instant classic that begs to be experienced with a theater full of emotional hostages.
Watch A Quiet Place on Amazon.
Mission: Impossible – Fallout
Vanishing into the distance of a stationary wide shot, one deep cardio breath at a time, the moment is not oversold as a gag or part of an elaborate CG spectacle; it's just slightly humorous and quixotically heroic. It's a smart bit of fun, and the canniness with which it's presented highlights that in its later years, the Mission: Impossible franchise has become a refuge for shrewdly intelligent blockbuster filmmaking, during both the dazzling stunts and in the moments in-between. With an ear for salient dialogue and acute characterization, Fallout's "downtime" can be just as as sharp as when Cruise is falling out of an airplane in one scene, or off the side of a mountain in another. At both ends of the spectrum, it's implicit this is a movie made by incredibly savvy people who know exactly where to place the camera, be it for some of the decade's very best jaw-dropping, in-camera stunts—bar none—or merely an image of Cruise cantering away.
Watch Mission: Impossible – Fallout on Amazon.
Paddington 2
Paddington 2 is a feel-good masterpiece, a cinematic salve for the prejudice of our times. Vibrant and kind, it imagines a better world for all of us. It is a movie where the main character's "superpower" isn't the ability to fly or jump a building in a single bound, but rather an earnestness and empathy that makes everyone around Paddington more earnest and empathetic too.
A Star is Born
Several times throughout A Star is Born, Bradley Cooper purrs the lyrics, "Maybe it's time to let the old ways die." We think he doth protest too much, particularly in a film that so lovingly updates not only a few old ways of moviemaking, but also a very specific, older Hollywood myth. Indeed, Cooper's pensive directorial debut, which likewise stands as a remarkable introduction for Lady Gaga in the role of movie star, is the fourth version of this tale (not counting the many knockoffs) in which a fading star gives birth in his last gasp of fame to a new pop culture sun. Like the misbegotten 1976 version with Barbara Streisand and Kris Kristofferson, 2018's A Star is Born moves the showbiz fable from movie studios to the music industry. But unlike that vanity project, Cooper uses American entertainment's favorite creation myth to recreate how audiences will forever perceive him and Gaga.
Watch A Star is Born on Amazon.
Can You Ever Forgive Me?
In a word, McCarthy is astonishing in Can You Ever Forgive Me?, and may have delivered her best performance to date (she also deserves to be right in the thick of the Oscar race since we're well into that season now) as Israel, out of work and a one-time biographer of fading pop culture and entertainment figures. Now her struggle to stay afloat in a very rough patch (no publisher wants her Fanny Brice biography) leads her to a life of crime. Initially she merely steals two letters of Brice's that she stumbles upon and sells them to a collector, but she eventually begins forging letters from famous dead authors and celebrities herself, turning her transgressions into a lucrative business even as she teeters closer to discovery and disaster.
Watch Can You Ever Forgive Me? on Amazon.
First Man
There has been a manufactured outrage in the press about the supposed lack of an American flag in First Man's lunar landing sequence. Atop of being political hackery, this is also dishonest as the flag is present. However, the picture does curiously not include its placement into the soil. But this seems devoid of any political connation; rather it stems from an introspective one. Despite having all the trappings of a Hollywood epic about that great leap for mankind, the movie, like Gosling's version of Neil Armstrong, refuses to get out of its own head. Only when it is at its grandest in IMAX scope, casting shadows across a lunar surface, does it become its most pensive about what oceans hide beneath Neil's own surface. The result is a film that at times can be a little too happy in its own company, and one that is less passionately engrossing than Whiplash or La La Land. Yet it most definitely will engross, carrying you well beyond that first step. First Man savors those dark outlines cast across lunar rock, which, like the moon itself, enthralls the longer you stare.
If Beale Street Could Talk
As Jenkins' first feature after Moonlight won a Best Picture Oscar, the filmmaker has used the opportunity afforded by Hollywood accolades to adapt the long underrepresented author James Baldwin to the screen. Pulling from the 1974 novel of the same name, Jenkins' movie turns the page to a specific time and place in 1970s Harlem that, by its very nature, could just as easily apply to the America of today. For the Beale Street the title refers to is neither in Harlem or New York City. Rather it's a path down in New Orleans immortalized by a W.C. Handor blues ballad. And like this new lyrical film, Baldwin saw no difference between the Big Easy and the Big Apple; in terms of the African American experience, the love story at the heart of If Beale Street Could Talk can and will occur anywhere.
First Reformed
First Reformed may be the finest work Hawke has done yet as an actor who has clearly and noticeably evolved so much during the past decade and a half. His Toller is a man grappling with his own faith (embodied by his shrinking church overshadowed by the super-sized one), his continuing grief and loss over his son's death, his growing dependence on the bottle and his own mortality, and every detail of those battles flickers across his haunted face. It's inevitable that his late-blooming resentment toward the megachurch and the power broker behind the anniversary is going to lead to more tragedy.
Watch First Reformed on Amazon.
Halloween
The mission statement of David Gordon Green's Halloween is plainly visible in the opening credits. Following a perverse cold open, in which mere mortals attempt to commune with the living manifestation of evil—our dear Michael Myers—John Carpenter's sinister score begins. As with so many other Halloween films, including Carpenter's 1978 masterpiece, the relentless menace of familiar synthesizers are accompanied by the image of a Jack-o-lantern, except this time it's been smashed. After so many long All Hallows' Eves of misuse, and after so many sequels, remakes, and retcons, there doesn't seem to be much life left in the old pumpkin. Yet as Carpenter's musical enmity grows, so too does the pumpkin's face, inflating like a candlelit beach ball. By the end of the retro title cards, the smiling Jack is back. Halloween's returned to its former glory.
You Were Never Really Here
Based on a novella by Jonathan Ames, You Were Never Really Here is adapted and directed by Lynne Ramsay, the Scottish filmmaker behind Ratcatcher (1999), Morvern Callar (2002) and We Need to Talk About Kevin (2011), whose movies mix almost unbearably brutal scenarios with moments of great beauty and transcendence. You Were Never Really Here continues that tradition with the story of Joe (Joaquin Phoenix), a PTSD-addled former combat veteran and FBI agent who now works outside the law to track down and rescue young girls who have been kidnapped by sex trafficking rings.
Watch You Were Never Really Here on Amazon.
Mandy
Mandy's unconventional approach to the most basic of narratives may try one's patience (the film can be self-consciously too pretentious for its own good) and the movie runs too long by half an hour for this kind of material. But it can be a bracing watch if you're game and serves as a reminder that Cage can still deliver the gonzo goods as an actor even in a psychotronic art-exploitation mind-fuck like this. Or maybe he just needs to do more of these until the Nicolassance really does happen.
Vox Lux
If you think the 21st century seems like it's on a slow-motion descent into hell, you're not alone. But you may not be having as much fun with it as Vox Lux, Brady Corbet's decadent fable that views modern pop culture as the ultimate reflection of our values: vain, corrosive, and also gloriously vapid. During a time when a reality television star disastrously fails to lead, reality itself becomes a fertile stage for satire so acerbic that it will knowingly put Natalie Portman in Black Swan-inspired makeup as the idol of her age. Even our monuments are diluted remixes of something once purer.
Deadpool 2
Although perhaps a bit long, Deadpool 2 doesn't really overstay its welcome. It does what a sequel should do: it expands the world of the original, adds new characters to the mix, and–as unlikely as it sounds–develops the protagonist in interesting new ways. Not all the jokes land, but many of them do, and clearly Leitch and company are working with more money, a broader variety of locales, better visual effects, and a star out to prove that the long-in-the-making first film wasn't just a one-and-done deal. Surprisingly we didn't hear any cracks about sequels that suck, perhaps because Reynolds, Leitch, and the rest know that this one doesn't.
Incredibles 2
In such a saturated superhero movie environment, it's to wonder if Incredibles 2 can really standout… and be as good as Pixar's first go at it. Luckily, such fears are quickly put to rest by Bird's charming, playful, and even subversive return to the daily lives of the Parr family. It's an easygoing and sometimes overly familiar slouch toward retro superheroics, yet unlike Pixar's last several bland sequels, and almost the entire whole of the superhero genre these days, Incredibles 2 has something to say. Which is pretty darn super, indeed.
Watch Incredibles 2 on Amazon.
Green Book
Of the recent audience-friendly films on culture clash, Green Book falls closer to the astuteness of Hidden Figures, with a better screenplay to boot in Green Book, than it does the obliviousness of The Help. However, at the end of the day, the film is told entirely from Tony's perspective and is about Tony's slow burn toward the mid-20th century equivalent of Wokeness. It's effective, but it never delves deep enough into Don's point-of-view. Admittedly, the film was co-written by the real Tony Lip's son and is based on family history from that vantage, but the film is most interesting when glimpsing into the indignities that Don faces from more than just the most sneering of racist Louisiana cops. Here is an African American with an extraordinary experience, but too much of it is glimpsed only through a rearview mirror. Nevertheless, the film aptly and disarmingly moves at the gentle pace of a curve in the road.
Solo: A Star Wars Story
Solo is not a bad film, just a relentlessly average one that has no reason to exist except as a money machine. It gets its protagonist from point A to point B efficiently enough, but it doesn't tell us anything we need to know that we didn't already glean from our first meeting with Han in a cantina 40 years ago. It doesn't shake up the mythology or offer any real emotional investment, yet at the same time, it's funny, fairly fast-moving, and at times enjoyable. But if this is the template for Star Wars movies going forward (and who knows what the nostalgia-bewitched J.J. Abrams has in store for Episode IX), we might be in for a mundane couple of decades of storytelling.
Watch Solo: A Star Wars Story on Amazon.
The Sisters Brothers
The term "revisionist" gets thrown around a lot in film criticism, especially when it comes to genres like the Western, but in the case of The Sisters Brothers, the description certainly applies. Directed and co-written (with Thomas Bidegain) by the French filmmaker Jacques Audiard–best known for searing world cinema films like A Prophet and Dheepan—The Sisters Brothers takes the traditional Western template and then veers unexpectedly, humorously and humanely away from it, creating both a funny buddy comedy and a brutal character-driven drama within the same occasionally shaggy framework.
Leave No Trace
It's been eight long years since writer-director Debra Granik last wowed us with the riveting Winter's Bone (which put Jennifer Lawrence on the map), and it's with great delight that we can say her latest feature, Leave No Trace, exits 2018 as one of the year's finest films. A sensitive portrayal of the profound but ultimately untenable bond between a deeply troubled veteran (Ben Foster) and his loving daughter (Thomasin McKenzie), Granik's low-key approach makes what could have become an overwrought melodrama into one of the year's more moving studies of PTSD and familial love.
Crazy Rich Asians
Crazy Rich Asians doesn't need to be as good as it is. In its explorations of Chinese diaspora, Asian American cultures, and identity, as well as a thematic prioritization of family in addition to romance, this film isn't just long overdue and necessary. It's a multi-faceted delight!
Watch Crazy Rich Asians on Amazon.
Bumblebee
When the notion of a Bumblebee spin-off movie was first put forth, initial reaction assumed it would just be more of the same, and a shrewd way to keep the franchise going. But then the first trailer hit and suddenly expectations changed. The prospect of an '80s-set Transformers movie, which showed brief glimpses of Generation 1 designs and touching character work, started to build hope that the film could finally be the one that original fans had been waiting for. So it's an incredible relief to say that Bumblebee exceeds all expectations and delivers a fantastic, emotional, exciting film that ranks as the best live-action Transformers movie to date, by far.
Bad Times at the El Royale
With Bad Times at the El Royale, Goddard has fashioned a neo-noirish crime thriller that is wholly his own original idea yet steeped in the trademarks of the genre. The title establishment is a rundown hotel in the Lake Tahoe area, literally situated on the border between California and Nevada, that has long since seen better days and is the exact kind of place you'd expect an ensemble of shady characters to show up and cause trouble.
Thoroughbreds
There has been much made since Thoroughbreds' Sundance premiere last year of its similarities to Heathers and other mean teen sprees. Yet this feels like it is on the wrong track. More artful and about the patient build-up to one bloody deed, as opposed to a satire of many, Thoroughbreds owes more to the era of Golden Age films that Amanda and Lily are always watching. In one of the film's best moments, they critique the inability of 1940s movie starlets to cry without pinching their throats, a lifelong useful "technique" that one girl then passes to the other. It's an even nicer touch when one realizes that Thoroughbreds is stealth noir where both of its heroines are the femme fatale.
Watch Thoroughbreds on Amazon.
Free Solo
One of the most jaw-dropping documentaries you can see this year or in any other, Free Solo is a tour de force in filmmaking that is forced to literally consider the morality of its own existence. The subject matter of the movie is fascinating unto itself: Alex Honnold is a man who likes to climb. Mountains, cliffsides, or anything else with a vertical surface, Alex feels most alive while hanging from a rockface by his fingers… and nothing else. For he is at his most free when he climbs without a rope, and as he sets his eyes on breaking the greatest free solo record, filmmakers Jimmy Chin and Elizabeth Chai Vasarhelyi are there to capture it on camera.
Yet therein lies the ethical rub: Will their cameras distract Alex as he does something incredibly dangerous? And if he does fall… do they finish making this documentary? It is a genuine high-wire act without a wire, much less a net. And given the film covertly also tracks the sweet, if sometimes strained, relationship between Alex and Sanni McCandless while this patient woman comes to understand Alex will always choose the climb over their future together, there is also an emotional core that makes this a masterpiece.
Searching
Overall though, Searching succeeds at telling its story with clarity and purpose, while keeping us concerned about the fate of Margot and how her father will ultimately deal with it. If you can forgive the last 20 minutes or so and deal with the lack of conventional cinematic composition and esthetics, Searching is absorbing enough as a narrative on its own terms–even as we're watching it through a highly unusual lens that often reduces our daily lives and connections to fragmentary bursts of information.
Vice
Ultimately, however, Vice is an excellently made and phenomenally acted cipher, much like the man it investigates. If enough people see it, it may slow the low-key, steady revision of history that is almost bound to happen, as Vice wants to make the case for why we need to avoid the likes of Dick Cheney–a mostly amoral man with little regard for other human beings and no respect for the limits of power–but it can't quite decide how it wants to present its argument.
Disobedience
There is one word though that stuck in my head, all throughout the film and in the days after; natural. I felt I was watching life, and not actors portraying it. The three leads all excel in their performances, with Rachel McAdams truly showing what a great performance should be. Subtle and timid, you can feel the river rushing inside her as she never lets an over embellished look or emotion escape her face… Disobedience on its surface is a film about two women who finally learn to break free of what is expected of them by finding each other again. But at its core, it is a story about finding true freedom, and using it to finally understand real happiness, even if it means not getting what you want.
Love, Simon
Love, Simon is a smart, funny, and endlessly charming teen comedy in the vein of Mean Girls and Easy A. Fundamentally about friendship, being yourself, and living the life you deserve, this rare, uplifting, "romantic AF" LGBTQ movie is to be prized. With a modern soundtrack and a diverse cast, Love, Simon is the kind of movie many people wish they had growing up.
Mary Poppins Returns
Led by a luminous Emily Blunt, Mary Poppins Returns is obviously engineered to revisit, and frankly remake, the 1964 classic where every child learned the words to "Chim Chim Cher-ee," but the end result nevertheless feels handcrafted and miraculously sincere. Presented with glamorous pedigree and a lavish production design, Mary Poppins Returnsin many ways more closely resembles Jack Warner's sumptuous adaptation of My Fair Lady, also from '64, than it does the comparatively economical Mary Poppins. But this is in turn fitting as that film also famously did not star Julie Andrews, and like it and Hollywood's other 1960s musical epics, there is something endearing about extravagant attention being paid to a story where epiphanies occur in drawing room parlors, and enchanted heroes can be simply an Austrian captain or cockney chimney sweeper (or in this case, a lamplighter). So long as the nanny chaperoning the adventure has a song in her heart, everything else seems wondrous by juxtaposition.
Ralph Breaks the Internet
After six years we at last have a sequel to Wreck-It Ralph, and it's gratifying to say that Ralph Breaks the Internet, while having the slight whiff of corporate obligation around it, is an entertaining, delightful and heartwarming follow-up. It sends our main characters — the massively strong yet relatively naïve Ralph (John C. Reilly) and the feisty, rebellious and glitchy racer girl from the Sugar Rush game, Vanellope (Sarah Silverman) — on a new adventure in a different environment, allowing the sequel to avoid repeating too much of the first film while still enabling both to grow as characters.
Ready Player One
In many ways, Ready Player One is the culmination of the modern pop culture landscape and its soil-rich fields of nostalgia. As media creators continue to mine our past and collective, generational childhoods to entertain adults in the present (and maybe indoctrinate their children), everything old is new again. So perhaps that is why it took one of the most revered maestros behind those cultural touchstones to not just make the Ready Player One movie, but to make it so well. For Steven Spielberg's adaptation of the Ernest Cline novel is a supremely entertaining crowd-pleaser, and a film that brings something to the table everyone should be wistful for: that classic Spielberg touch.
Watch Ready Player One on Amazon.
Suspiria
The final product of Guadagnino's obsession (he says the original Suspiria has haunted him since he first saw it at age 13) is indeed a reinterpretation, and an ambitious one, but curiously not the voluptuous buffet of supernatural and corporeal delights that one might have hoped for. The new Suspiria (written by David Kajganich, whose recent credits include The Terror and the upcoming Pet Sematary reboot) doesn't shy away from bloodletting that has kept Argento's film high in genre annals, but it attempts to find a deeper meaning in the material than perhaps there ever was.
Aquaman
The result is a zippy little piece of popcorn that is full of empty calories and is certainly no peer to Patty Jenkins' Wonder Woman from last year, but it is still a tightly wound toy that is leaps and bounds better than the rest of the DCEU. It might suffer from a patchwork script, a lack of sincere characterization, and tonal shifts that are more chaotic than any shark-on-whale battle (and there are several), but damn if it doesn't look pretty. For some that will be enough, and at times as vivid as when Arthur and Mera lead a school of monsters to the bottom of the sea in a wide shot lit by only a red flair's luminescence, it absolutely is. Just don't expect Aquaman, the character or his movie, to pass as some kind of heroic feat.
Woman Walks Ahead
With a deft hand and a large reserve of ambition, director Susanna White mounts a very elegiac vision with Woman, one in which she and star Jessica Chastain contribute to the growing subgenre of deconstructionist oaters. Within the familiar form of "Cowboys and Indians," they acutely assess the role of women in this well-worn cinematic genre, as well as the eternal tragedy of Native American relations in American history. While some have argued Woman Walks Ahead is a white savior movie, the sorrowful awareness of the film is that it knows all too well about its privilege, and the pain such good intentions can still inflict from 1890 to 2018.
Watch Woman Walks Ahead on Amazon.
The Wife
Glenn Close gives perhaps the finest performance of her career as Joan Castleman, the wife of a recent Nobel Laureate for literature named Joe (Jonathan Pryce). As a young woman, she showed great promise as an author until she wound up marrying her professor. Now decades later, it becomes an ambiguity how much of his creativity was "sparked" by a wife who put her own aspirations on permanent hold for him. It's a tantalizing premise that features strong performances from all involved, including Christian Slater. But none is more mesmerising than Ms. Close herself.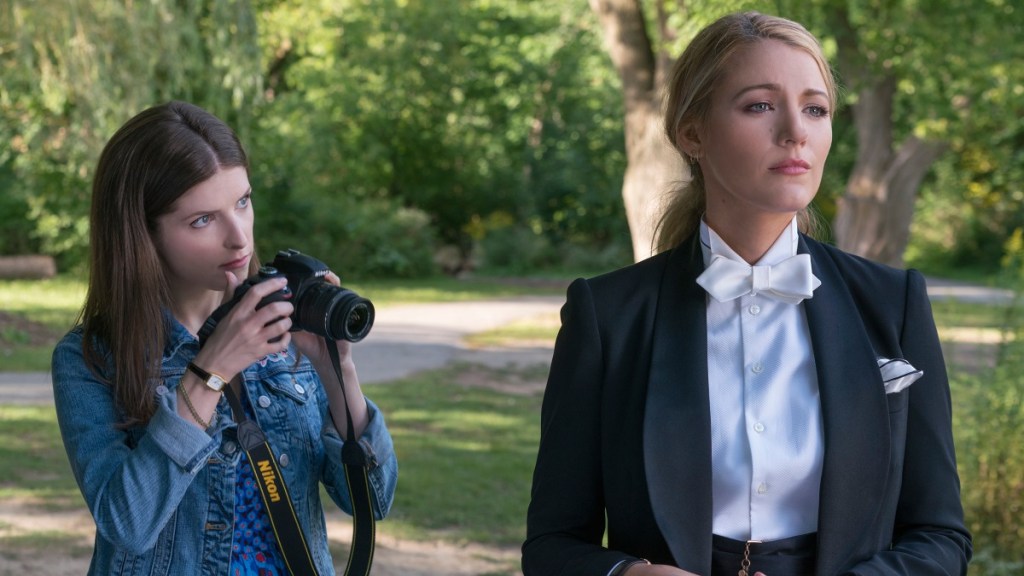 A Simple Favor
Equal parts fun and thrilling, A Simple Favor keeps the plates spinning on its central mystery until the very end. Playing into Anna Kendrick's quirky wheelhouse, it pushes Blake Lively into new and interesting territory that not only goes beyond her Gossip Girl good looks but subverts them. It mines twists that are more puzzle box than whiplash, coming as they do from the genuine complexity of the story's central mystery, avoiding the risk that one single twist will buckle under the weight of supporting the expectations of an entire film. Taking big swings and playing with perspective, it delivers a surprising combination of Hitchcock and Killing Eve that, much like its leading ladies, is so much more than it seems.
Watch A Simple Favor on Amazon.
The Miseducation of Cameron Post
The Miseducation of Cameron Post's success stems from how minimalist and yet sophisticated it can be in offering a dramatic rendering of of this special kind of hell. Adapted from an Emily M. Danforth novel of the same name, it takes a narrower and more sharply pointed, 90-minute route than the lengthy source. As opposed to older films on similar subject matters from previous decades, whether it be gay conversion satires like But I'm a Cheerleader (1999) or other melodramatic pieces about teenage evangelical crucibles, such as Saved! (2004), there is no desire to cajole or sweetly mock the naïve biases of godly oppressors. While this film depicts Gallagher's Rev. Rick as a pleasant fool who's doomed himself to unhappiness—Ehle by contrast plays a most self-content incarnation of the Devil—the movie is not interested in empathizing with the mistaken or in persuading a sheltered, skeptical audience.
Watch The Miseducation of Cameron Post on Amazon.
Overlord
Overlord is one of those movies that does exactly what it says on the box. If this doesn't look like your kind of movie, it probably isn't. But this kind of gleeful, B-movie madness, relatively unconcerned with sequels, spinoffs, and shared universes (which I love, but there's a time and a place) is becoming all too rare. And seriously, if watching a Nazi's head explode after a grenade is stuffed in his mouth isn't worth the price of admission, well, then you and I just have very different ideas about what a good time at the movies is worth. Enjoy your popcorn.
Boy Erased
It's hard to say if ramping up the intensity, as suggested earlier, would make Boy Erased a better film or plant it more squarely in the tradition of the lurid prison drama, a genre near which it occasionally skates by virtue of the events that unfold and Eduard Grau's claustrophobic cinematography. It's nevertheless a movie to be applauded and seen, even if it never quite approximates the howl of outrage that every decent human being should want to unleash upon witnessing such a stupid, vicious practice.
Isle of Dogs
Wes Anderson is no stranger to animated mischief, so the droll voice behind The Fantastic Mr. Fox returning to the form with Isle of Dogs is very welcome, indeed. While his latest film does not quite live up to the heights scaled by George Clooney's undoubtedly grinning vocal work, or Anderson's last film, The Grand Budapest Hotel, there is no denying the immense charm found in a deadpan world of talking dogs and Japanese Samurai cults who have sworn to be the furry canines' ruin.
Ocean's 8
The performances in Ocean's 8 are largely as you'd expect—in addition to Rihanna's never-ending supply of charisma, the stacked cast serves the material well. Bullock and Blanchett easily carry much of the film, and Mindy Kaling got some of the best laughs. Her combination with frequent-scene partner Helena Bonham Carter was an unexpected joy, with HBC more or less playing the straight man, for once, and with an occasional Irish brogue. Meanwhile, Hathaway was delightful as their mark, vamping it up as an exaggerated version of the worst interpretation of her public persona. She shined in a role that let her clown on herself and her industry, insinuating that she knows how she comes off, and she's cool enough to roll her eyes at it.
Upgrade
Such is the pulpy and generally amusing conceit of Upgrade, a science fiction film from Leigh Whannell and Blumhouse Productions. The film is not nearly as smart as it could have been, or even seems to think it is, yet it still makes for an enjoyable B-movie, right down to its questionable acting and wholly unconvincing science. Ex Machina, it ain't, but this attempt at Paul Verhoeven-lite reminds us of a time when sci-fi could also be seductively seedy in its conceits—fluffing the pillow in the coffin our robo-overlords are laying us down in.
Colette
In Gigi, the decidedly French novella by the mononymous author Colette, many variations of practical wisdom are shared—at least so far as when one retired courtesan attempts to train her great-niece in the chosen arts. It is an exact such scene wherein Aunt Alicia intones, "Love, my dear Gigi, is a thing of beauty, like a work of art. And like a work of art, it is created by artists." These words might appear to be euphemisms in that story, but such a vision of romance is paramount to Colette, the unexpectedly beguiling biopic about the author's life. With a laissez-faire vivaciousness, the film tracks the unconventional marriage of Sidonie-Gabrielle Colette and her husband who for more than a decade took credit for her literary genius. But even such professional slights can have their courtesies. It is through this prism that Colette turns period piece conventions on their head and offers a clever reworking of the form, as well as a superior turn for one of its greatest modern stars, Keira Knightley.
Apostle
Ambitious and unsettling, Netflix's Apostle delivers prestige horror in this early 1900s tale of kidnapping, zealotry, and the perversion of power. Written and directed by Gareth Evans, Apostle features breathtaking scenery, a hauntingly off-kilter score, and a nearly-unrecognizable Michael Sheen as the captivating cult leader Malcolm. The story itself digs into religion, cults, mythology, and faith as the ultimate ghost stories, and acknowledges that the corruption and violence of man is the truest hell there is.
The Hate U Give
The Hate U Give is one of several films in 2018 to face head-on the issue of police brutality and the agonizing frequency of which unarmed black men are gunned down during traffic stops. However, unlike some of the more indie and high-minded art pieces from both the beginning and end of this year, The Hate U Give attempts to consider this real-life nightmare from the vantage of growing up with it. It's an authentic approach, even if the movie smooths out the edges with the type of occasionally maudlin gloss one can expect from a studio YA movie.
The Ballad of Buster Scruggs
The Ballad of Buster Scruggs shoots wide, and it is therefore the nature of the beast that not all volleys find their marks. But the majority sing with a clarity of masterful precision, and all feature uniformly fantastic acting and the elements that Coen aficionados have come to expect: gorgeous cinematography, westward wit, and a devotion to finding the best extras and background players possible. For that kind of territory's most frequent travelers, it already feels like home.
Blindspotting
It's been five decades since the Black Panther Party first congregated in Oakland and many of the same issues still persist. Blindspotting has to make its uncomfortable peace with that, but it pushes us to consider how to take smaller actions in our own lives, whether that's leaving the past or a good friend behind if it means you can move forward. The duality of a film that feels uniquely tied to Oakland, yet could resonate for folks living in any big city being swarmed by transplants or troubled by a contentious relationship between the police and its citizens, is an achievement. But what makes Blindspotting a memorable film is that despite all its macho posturing, it reveals the true value in self-awareness and accepting vulnerability. And like any worthwhile movement with the mission to empower, the film unapologetically shoots from the lip with a lyrical style and flair that is as entertaining as it is profound.
Watch Blindspotting on Amazon.
Game Night
In recent years the comedy genre has taken somewhat of a beating on the big screen. Lazy scripts, barely-there directing, actors who try to improv and fail miserably, tired gross-out jokes and rehashed concepts have turned many comedies into leaden endurance tests. That's what makes Game Night so refreshing: the movie is (for the most part) tightly focused, stylishly directed and nicely acted, with its central idea bringing a slightly meta flavor to the proceedings.
A Wrinkle in Time
In any context, A Wrinkle in Time is an empowering children's film (and it very much is committed to being a children's film) with weird, wonderful visuals quite unique from anything we've seen in family films before. In this context, however, A Wrinkle in Time is a cinematic light in the darkness, a mythological statement from the biggest studio in the world, by way of Selma director Ava DuVernay, about how we all have value and deserve to be loved. Within the film, this message plays out in the journey to self-acceptance for one awkward adolescent named Meg Murry (Storm Reid), but on a meta level, it plays out in all of the kids and adults around the world who are seeing people who look like them in one of the biggest movies of the year.
Watch A Wrinkle in Time on Amazon.
I Kill Giants
I Kill Giants is an enchanting, heart-rending movie that adds to the legacy of magical realism and will fill your heart to bursting for its heroine. A middle school girl focused on the larger than life world of her imagination, Barbara takes on bullies at school and once the bell rings, ancient evil in the form of giants.
David Crow is the Film Section Editor at Den of Geek. He's also a member of the Online Film Critics Society. Read more of his work here. You can follow him on Twitter @DCrowsNest.