Reviews
The Favourite Review: Emma Stone's Anti-Costumed Drama
The Favourite is Yorgos Lanthimos' best English film, and a barbed period piece with winning performances from Emma Stone and Olivia Colman.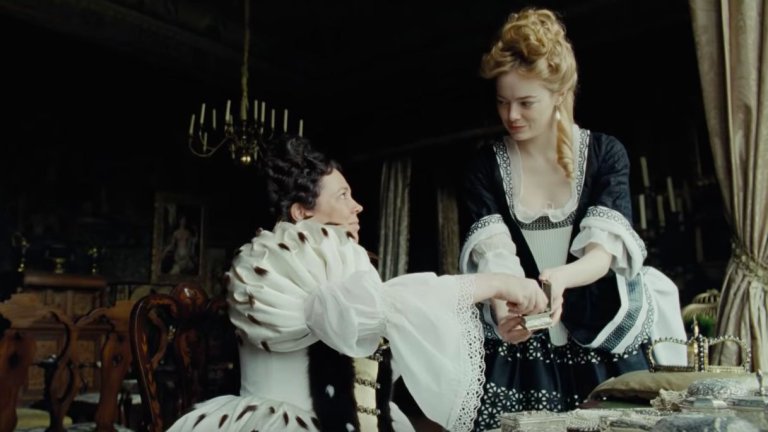 As a storyteller, Greek director Yorgos Lanthimos can be an acquired taste. Often preferring a sharp and sardonic eye, his first two English language films divided audiences more starkly than they did critics, with The Lobster being an especially cynical parable about the social pressures placed on coupling, and The Killing of a Sacred Deer updating the tragedy of Iphigenia in Aulis to American suburbia. So by virtue of being a period piece, The Favourite is automatically his most accessible (and commercial) English work to date. It also happens to be his very best, utilizing a familiar template that complements his sensibilities, as opposed to contrasts them, and thereby creates a portrait of 18th century England so dry in wit that its canvas appears built of sandpaper.
The Favourite is hence an exercise in droll deconstructionism, marveling in exquisite set design and costumes that rarely veer toward the anachronistic (although when it does, you will notice), yet still resist the urge of fawning reverence and hagiographic sentimentality that so bedevils most American productions about British monarchs and the centuries-old gentry class. In the place of such noble pursuits, Lanthimos crafts a delightfully twisted ensemble piece that happily blurs the line between affairs of state and the affairs of the head of state. And infusing passion into this potentially disaffected aesthetic is a triumvirate of tour de force performances from Olivia Colman, Emma Stone, and Rachel Weisz, which includes some of each's most indelible work.
Set in the early 1700s during the brief reign of Queen Anne (Colman), The Favourite finds the royal vessel frail and distracted by her endless battle with gout and a cornucopia of pet bunnies she keeps by a bedside that's bereft of a never-mentioned husband. Thus all duties of the crown fall to her lifelong friend Lady Sarah Churchill (Weisz), the Duchess of Marlborough. It is Sarah who must cheerfully endure daily quarrels with the opposition party in Parliament (led by a supremely sniveling Nicholas Hoult), and it is the Lady Marlborough who is required to plan the ongoing war with France and Spain—one she is perhaps a little too eager to send her husband John Churchill (Mark Gatiss) to the frontline of.
The queen's day, by contrast, is defined by her morning strolls with Sarah, who is usually pushing her in a wheelchair alongside a backhanded compliment, and her evening weaknesses of chocolates and cakes. But this empiric order of things is shattered upon the arrival of Abigail Hill (Stone), the daughter of a disgraced father and fallen household. She's initially only too happy to climb out of actual mud and take any menial work she can get. But soon the maid is now Sarah's invaluable confidante, and is then trading in the duchess' favor for that of a monarch starved of affection, feigned or otherwise. As Abigail rises, so too does the threat of rivalry she presents to a woman ostensibly in charge of running England's war, but who is wholly fixated on a different type of conflict—and one that could very easily become quite bloody in its own right.
I am not well read on the particulars of Queen Anne's England, so it is difficult to verify the accuracy of any of this film's intrigue, but I can also attest none of that is particularly relevant. With a thorny screenplay by Deborah Davis and Tony McNamara, The Favourite is the anti-costumed drama that is only too happy to indulge in its most mischievous impulses. From the strong-willed if preoccupied trio of women to all the diffident men around them vying for their attention, the cast of characters is presented with all the maturity and grandeur of cliquey high schoolers. Hoult's preening politician is not above pushing over servants he considers weak, and the dialogue between Abigail and Sarah eventually becomes downright brutal in its use of weaponized courtesies.
All of which is buttressed by a genuinely fascinating vision from Lanthimos that breaks the paradigm of this frequently stilted genre. With cinematography by Robbie Ryan that emphasizes canted wide-shots, much of the film is observed not only from a forced perspective, but from a disorienting fisheye lens. It's an apt choice since all these women lived their lives in a fishbowl drowning in gilded silk. While two-thirds of the three leads are vested with extraordinary power when the film starts, and Abigail is well on her way, they're nonetheless trapped on a permanent patriarchal stage that bleeds Anne's ostensible matriarchal rule.
Emphasizing costumes with heaving corsets on the women—and ridiculously pampered makeup and wigs for the men—the film's affectation reveals Anne to have only a fraction of the power she is supposedly ceding to her two favorite ladies. One imagines that if this queen could really take what she wanted, she might appear more like the carnivorous Henry VIII than the personage who long ago surrendered to her vices.
further reading: Widows Review
This modernist feminist perspective is underlined by the rare 21st century flourish, such as Sarah voguing in her dances, and in how its witticisms can count as a contact sport. And by wielding these deadly sharp retorts, each of the three leads offers sterling work, with Colman reigning gleefully in her creation of fierce insecurity. She has such a delicious time consuming this glorious role and inviting the audience in on the party that it's hard to imagine her next transitioning to the Anglophile-bait of The Crown as a presumably more austere figure of regality.
In the same vein, Stone brings some of the knowing wickedness she sparked in her distinctly self-aware and wrathful Sally Bowles on stage. In one instance, her feckless excuse for a suitor (Joe Alwyn) attempts to woo her by barging into her boudoir. Without rising from her bed, she warily turns her head to ask, "Are you here to seduce me or rape me?" When he protests that he's but a gentleman, Abigail gives a sigh heard all the way in 2018. "A raper then." And during scenes where Abigail is really engaged, she may embody the best ingénue-turned-semi-antagonist this side of Anne Baxter.
Weisz, meanwhile, provides the piece with the closest thing resembling warmth. For even in a power game with such a uniquely shaped love triangle as this, there's sincere feeling buried in there somewhere beyond the earthy Dutch colors and angles of Lanthimos' visual funhouse. It is an element that may not be as recognized by awards voters as Colman and Stone's showier turns, yet Weisz gives the movie enough latitude to slide from farce to horror as the stakes raise, and provides a war of words just enough battlefield real estate to matter, both as a conflict and one of the year's cleverest films.
The Favourite is the opening night film of the New York Film Festival and will be released in theaters on Nov. 23.
further reading: The Must See Movies of 2018
David Crow is the Film Section Editor at Den of Geek. He's also a member of the Online Film Critics Society. Read more of his work here. You can follow him on Twitter @DCrowsNest.