Features
Best Michelle Yeoh Movies You Need to Watch Right Now
Wondering which Michelle Yeoh movies to watch next after Everything Everywhere All At Once? Here's where to start.
Everything Everywhere All at Once describes Michelle Yeoh's career right now. She is everywhere. As Emperor Philippa Georgiou in Star Trek: Discovery, she boldly went where no one has gone before with a role so scene-stealing that there's talk of a spin-off dedicated just to her character. Yeoh also dominated as the powerful matriarch and ultimate "tiger mom" Eleanor Young in Crazy Rich Asians. And she's one of the only actors to play two completely different characters in the MCU: Ying Nan in Shang-Chi and the Legend of the Ten Rings and Aleta Ogord in Guardians of the Galaxy Vol. 2. A24's multiverse-spanning science fiction film Everything Everywhere All at Once is one more indication that Yeoh isn't slowing down. Coming soon, she has lead roles in The Witcher: Blood Origin, American Born Chinese, and the four upcoming Avatar sequels.
Most remember Yeoh from her captivating portrayal as the swordswoman Yu Shu Lien in Crouching Tiger, Hidden Dragon, one of her many martial arts roles. However, Yeoh only practiced martial arts for the movies. Her physicality actually goes back to her years studying ballet as a child. Beyond being a ballerina, she is a former Miss Malaysia, a singer, and a producer. She's quadrilingual (Cantonese, English, Malay, and Mandarin) and a stalwart activist for nature preservation, particularly to protect endangered Chinese tigers. Now with over 50 films to her credit, Yeoh has been recognized with dozens of international awards and accolades, including honorary titles from the governments of Malaysia and France.
Yeoh has had such an assortment of roles and Everything Everywhere All at Once plays to her strengths. She portrays Evelyn Wang, a woman who exists across multiple universes. Once you've watched her latest action-packed adventure in theaters, Den of Geek has cherry-picked 10 of Michelle Yeoh's most pivotal movie roles that you should watch next…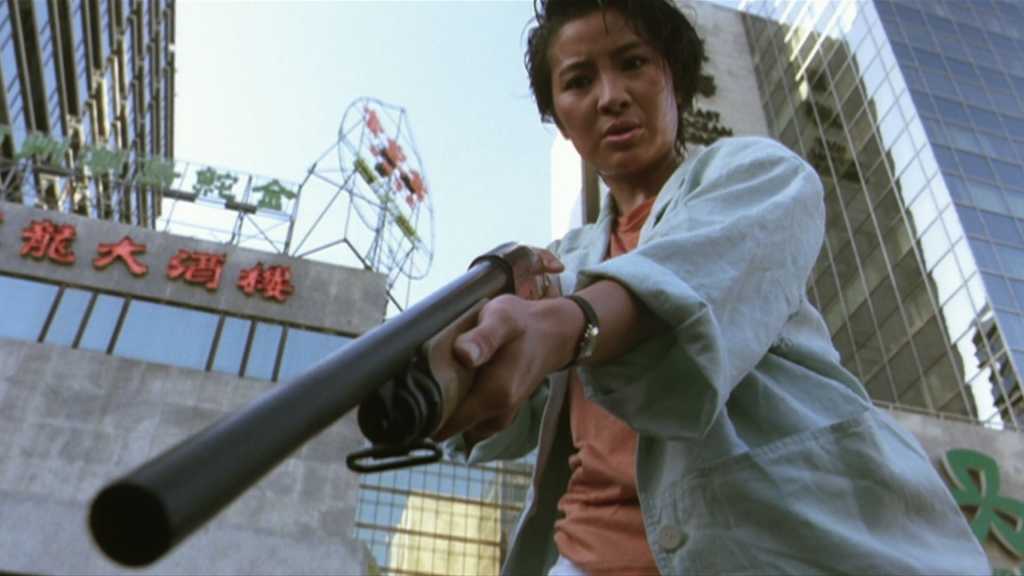 Yes, Madam (1985)
Yeoh's first leading role in this breakout action film feels dated, yet still impressive for its death-defying high-kicking stunts. A buddy-cop movie that teams Yeoh with Hollywood martial arts movie queen Cynthia Rothrock, Yes, Madam launched the In the Line of Duty film franchise in Hong Kong, a series that thematically spotlighted empowered female cops and fueled a subgenre of Hong Kong actioners known as "girls with guns."
Yes, Madam is a stereotypical story of east meets west as the two inspectors are forced to cooperate to recover some critical microfilm, but the fight choreography is marvelous. Although upstaged today, Yeoh's backwards flip over a balcony railing through a glass panel was hailed as one of the most daring stunts of that era by the Hong Kong stunt industry.
Yeoh is credited as Michelle Khan, a stage name designed to be more friendly for the western market. She abandoned Khan for her real surname in the mid-90s.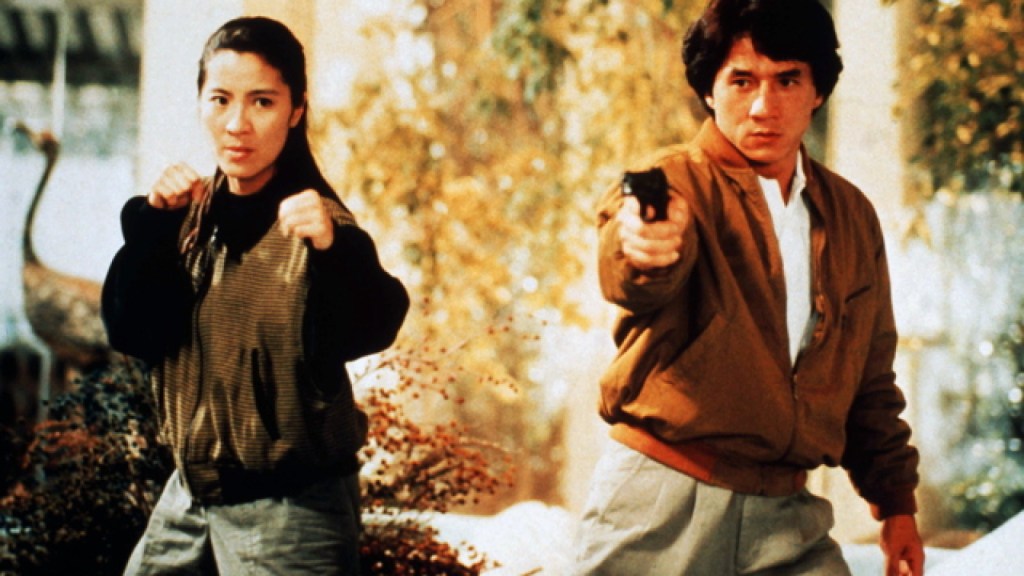 Supercop (1992)
The threequel in Jackie Chan's Police Story franchise and another buddy-cop film, Yeoh plays the mainland Chinese Inspector Jessica Yang, forced to partner with Jackie's Hong Kong policeman Chan Ka-Kui. This marked Yeoh's return to acting after announcing her retirement after her first seven films, and she quickly demonstrates that she can keep up with Chan in combat and stunts. Yeoh takes some serious falls off the hood of a car while racing down the highway and while jumping a motorcycle onto a moving train, all shown in grisly detail in the end credit NGs (NG is Hong Kong film slang for "no good" – signature outtakes in Jackie Chan films capturing stunt fails and flubbed lines). 
Beyond addressing growing concerns about Hong Kong's return to China's sovereignty, Supercop marks the first time Yeoh worked with Maggie Cheung, who played Chan's hapless girlfriend May throughout the Police Story series. Yeoh reprised the role of Inspector Yang the following year in Supercop 2 (a.k.a. Project S) where Chan makes an incongruous cameo in drag, but that film failed to meet the quality of the original.
The Heroic Trio (1993)
Long before CGI and the MCU, Hong Kong produced some incredibly cheesy superhero films, and The Heroic Trio is such an absurdly unapologetic example that it achieved cult film status. Yeoh plays Number 3, a baby-snatching villainess with an invisibility cloak. The other two-thirds of the trio are Maggie Cheung as the sassy shotgun-toting bounty-hunter biker chick Mercy and Cantopop singer Anita Mui as Wonder Woman (not the DC superheroine, the HK superheroine replete with mask and cape).
The cartoonish action abandons any respect for the laws of physics, opening the door for some imaginatively outrageous choreography. At the same time, it offers a fresh perspective for the time where it's the women who know what's up and take care of business while the men are all rather clueless.
The trio reunited later that year for The Executioners, but the sequel failed to reach the same campy gratuitousness as the original.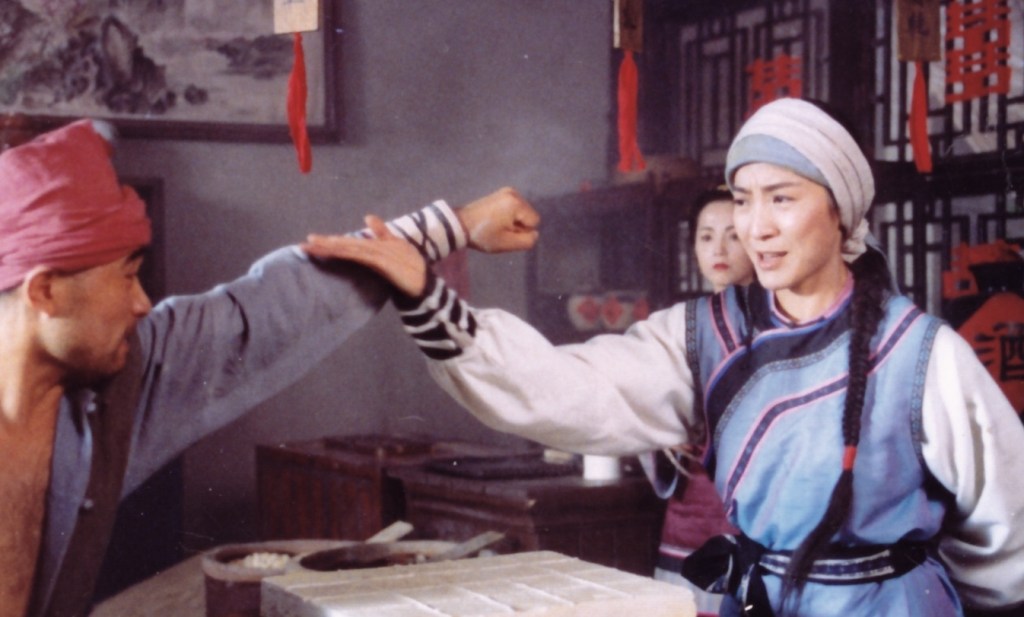 Wing Chun (1994)
Bruce Lee began his martial arts career with the Wing Chun style of Kung Fu under Grandmaster Ip Man, who is depicted in Donnie Yen's popular Ip Man film franchise. According to a Chinese legend, this style was named after Yim Wing-Chun, who learned it from a Shaolin nun named Ng Mui. Yeoh plays the titular character and by cinematic coincidence, Wing-Chun is engaged to childhood sweetheart Leung Pok-To, who is played by Donnie Yen.
Leung has been away studying Kung Fu and fails to recognize his fiancée after years of separation. In a common Chinese plot device, he mistakes Wing-Chun for a man and her friend, Charmy (Catherine Hung), as his long separated betrothed. And then there are the bandits, who lay claim to both women because that's what bandits do. Let the hijinks begin.
Directed by master fight choreographer Yuen Woo-Ping, the dynamic wire-fu is brilliant and thrilling. The duel over the table of tofu reeks of Yuen's signature choreographic style – witty, imaginative, and captivating despite its implausible physics. Playing Ng Mui is the first queen of Kung Fu cinema, Cheng Pei-Pei, who defined the Kung Fu heroine in the 1966 classic Come Drink with Me, and is best known to Hollywood for her role as Jade Fox in Crouching Tiger, Hidden Dragon.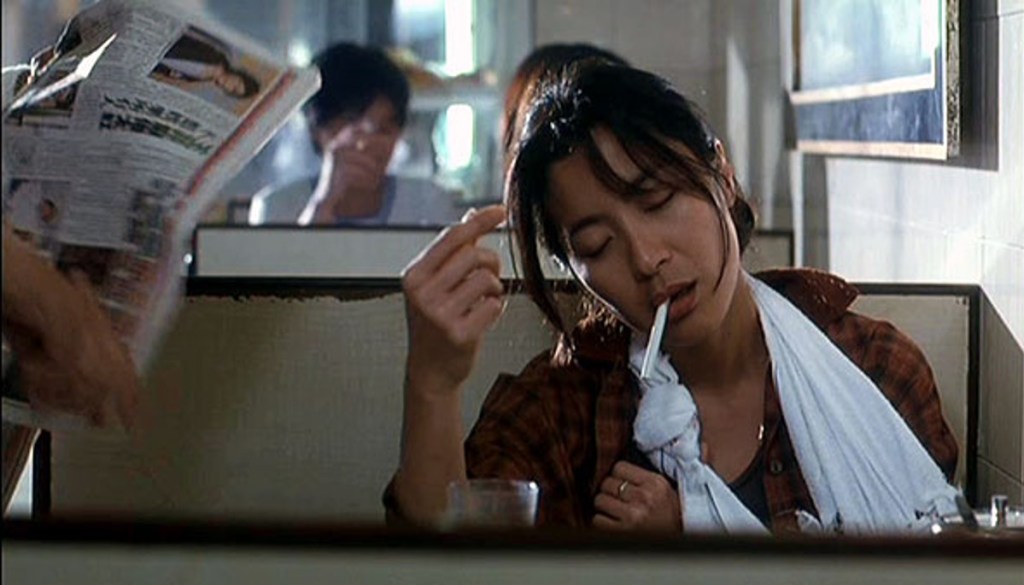 The Stunt Woman (1996)
Without watching the NG, The Stunt Woman is a horribly uneven film. It's one of Yeoh's more obscure movies, a fictional behind-the-scenes peek at moviemaking. Yeoh plays Ah Kam, an aspiring martial artist struggling to break into the stunt business, but she strives to make it on a reputed stunt team under Chief Tung (Sammo Hung). What begins as a self-reflective look at the stunt industry, with excellent stunts and fights throughout, suddenly takes an oblique turn into a romance overshadowed by triad conflicts, losing direction and muddling the tone of the film. But the end credit NGs reveal the reason behind the sudden shift.
In interviews, Yeoh commonly cites her stunts for Supercop as her most hazardous, but that's probably to appease the press with films they know. However, on Oct. 15, 1995, while filming The Stunt Woman, Yeoh suffered a devastating on set accident from a failed stunt that halted production for months and demanded major rewrites to complete the film. The accident is documented in painful detail as Yeoh takes a harrowing fall and is carried off on a stretcher writhing in pain.
While The Stunt Woman ultimately fails as a film, it is a grim reminder that actors like Yeoh truly put their lives on the line just for our entertainment.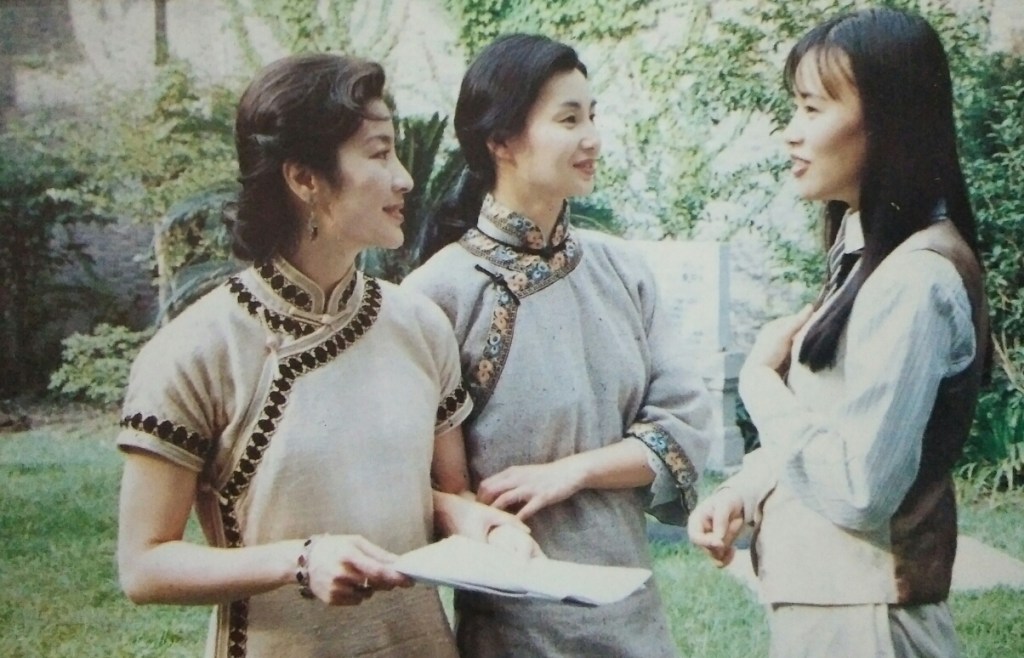 The Soong Sisters (1997)
From a heroic trio to a historic trio, The Soong Sisters reunites Michelle Yeoh and Maggie Cheung to play two of the Soong sisters, Ai-Ling and Ching-Ling, while the third Soong sister, May-Ling, is played by Vivian Wu. In real-life, these three married the founders of the Republic of China — Dr. H. H. Kung, Sun Yat-Sen, and Chiang Kai-Shek respectively. Billed as a historical drama, the film follows the Soong sisters, daughters of a wealthy businessman and publisher, as they go to college in the United States, return to China, marry, and then the inevitable loss to the communists that forced the Republic to be relocated to Taiwan.
The Soong Sisters was released at the most delicate time for Chinese cinema, the year that Britain returned sovereignty of Hong Kong to China. Hong Kong filmmakers were struggling to preserve their maverick style, fearing that communist rule might oppress their creative license. Tackling the topic of the Republic of China was bold then, and some of the film's messages straddled potentially volatile political issues. However, the film was well received, winning three awards at Taiwan's Golden Horse Awards and seven at the Hong Kong Film Awards, including Best Actress for Cheung (Yeoh was nominated for Best Supporting Actress and the film received four additional nominations).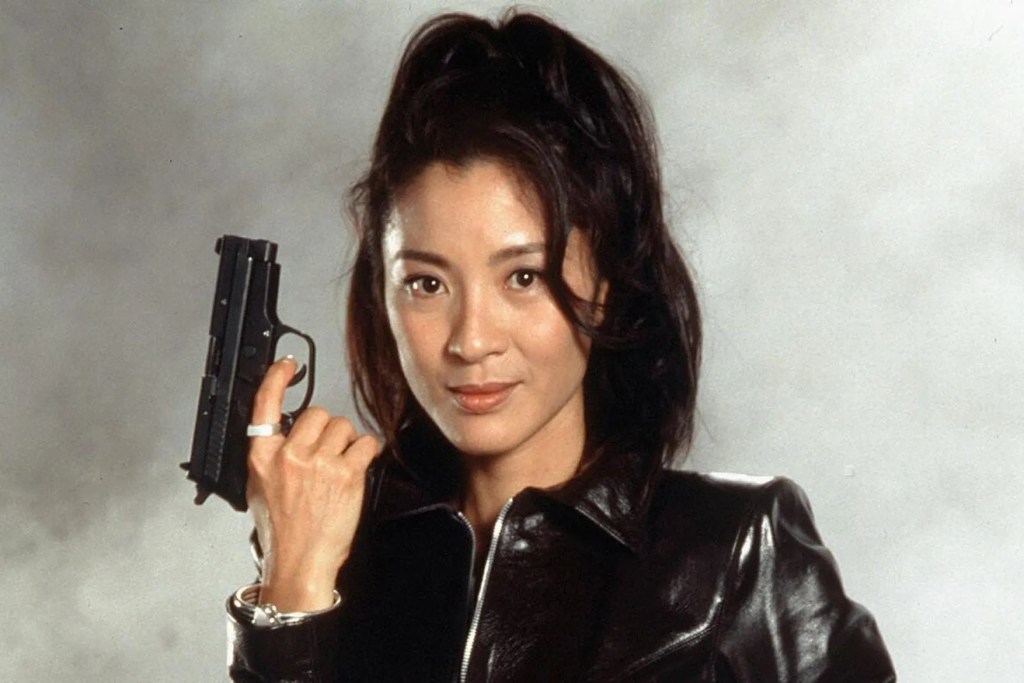 Tomorrow Never Dies (1997)
Michelle Yeoh is often categorized by the western press as one of many Bond girls, but it's really Pierce Brosnan who should be one of Yeoh's boys. She completely upstages 007 as the Chinese super spy Wai Lin in Brosnan's second outing as the secret agent. Sure, Bond must save Wai Lin repeatedly after she's taken hostage — that hackneyed damsel-in-distress storyline that's just as overused as the stolen nuke plot within the Bond franchise — but after the fight scene in Wai Lin's safehouse, which is a dumbed down bit of choreography for Yeoh, it's clear she's a better fighter. Yeoh allegedly wanted to do her own stunts but was prohibited from doing so because of insurance restrictions. 
Tomorrow Never Dies marks a pivotal moment in Yeoh's filmography, her first real break into western cinema. And she carries it off with the same panache that has pervaded her career. Wai Lin is strong, intelligent, sexy, and independent, so much so that when she acquiesces with yet another Bond cliché, saying, "Oh James!" at the end of the film, it ends up feeling cringe-worthy and inconsistent with what we know about the character.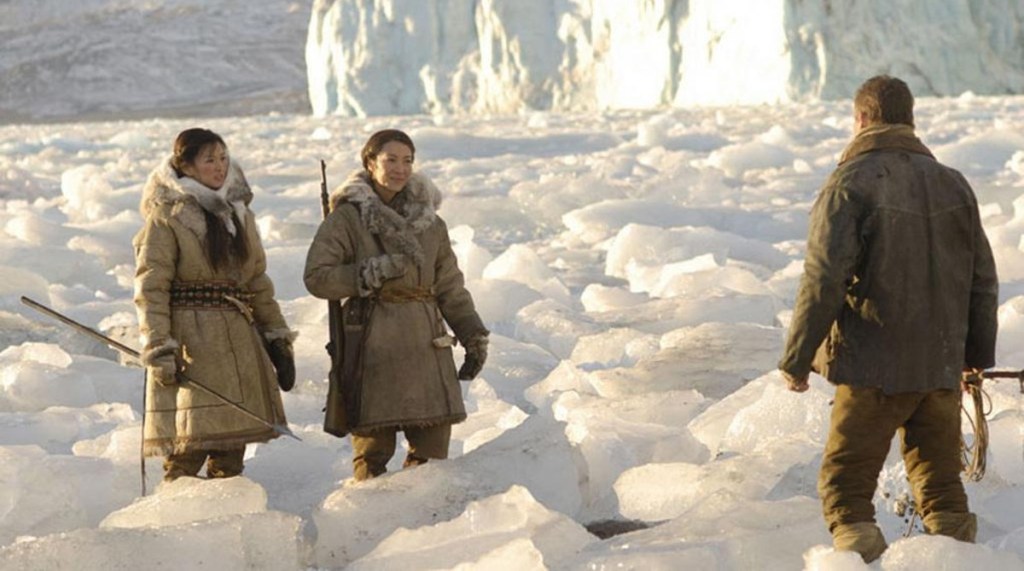 Far North (2007)
When a movie begins with the protagonist killing her dog for food, you know it's going to be grim. Yeoh plays Saiva, a recluse in the Siberian tundra who, after being told by a shaman that she was cursed at birth, lives as an outcast. But she's accompanied by a younger woman, Anja (Michelle Krusiec). As they eke out a life in the frozen wastelands, they rescue a lost soldier named Loki, played by Sean Bean, whose fate is foreshadowed by so many of his other roles that it's a meme.
This is an exquisitely beautiful film with immense panoramic locations that are utterly stunning. There's very little dialogue as they struggle against the elements and the actors appear diminutive against the expansive landscapes. Desolate scenes of howling winds are parsed with visceral moments of nature's cold harshness. Saiva is driven to do whatever she needs to do to survive in this callous environment. It's an unprecedented role for Yeoh and she sinks her teeth into it as voraciously as she eats raw seal meat. And the brutal MacGuffin is so shocking that it'll haunt you for days.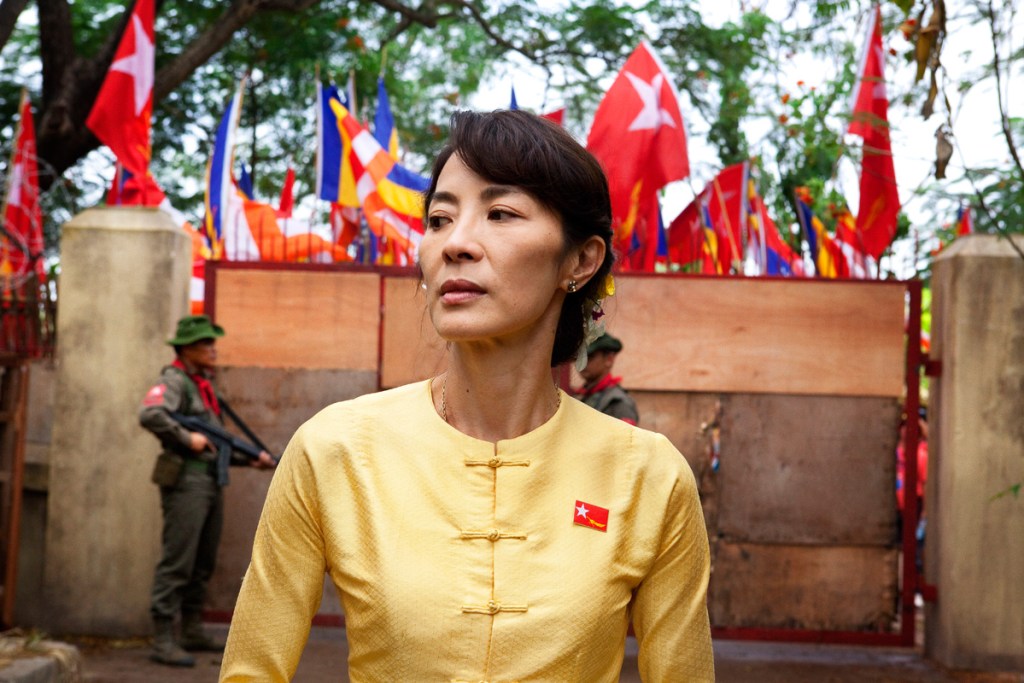 The Lady (2011)
This is Michelle Yeoh's dramatic tour de force, a sweeping biopic on Aung San Suu Kyi, the nonviolent political leader of Burma who won the Nobel Peace Prize while under house arrest for 15 years. It's also a timeless love story about her and her husband, Oxford research fellow Michael Aris (David Thewlis). Suu Kyi has lived a tumultuous yet inspirational life that gives Yeoh the opportunity to display her full range of acting chops. Every emotion is given full range, and Yeoh approaches her depiction with reverence, respect, and grace.
While Luc Besson's direction of The Lady drew criticism, the performances of both Yeoh and Thewlis were praised, as well as the sumptuous tropical landscapes and cinematography. This film also stars Yeoh's Shang-Chi and the Legend of the Ten Rings co-star Benedict Wong, although they never share a scene in either film beyond a phone conversation here.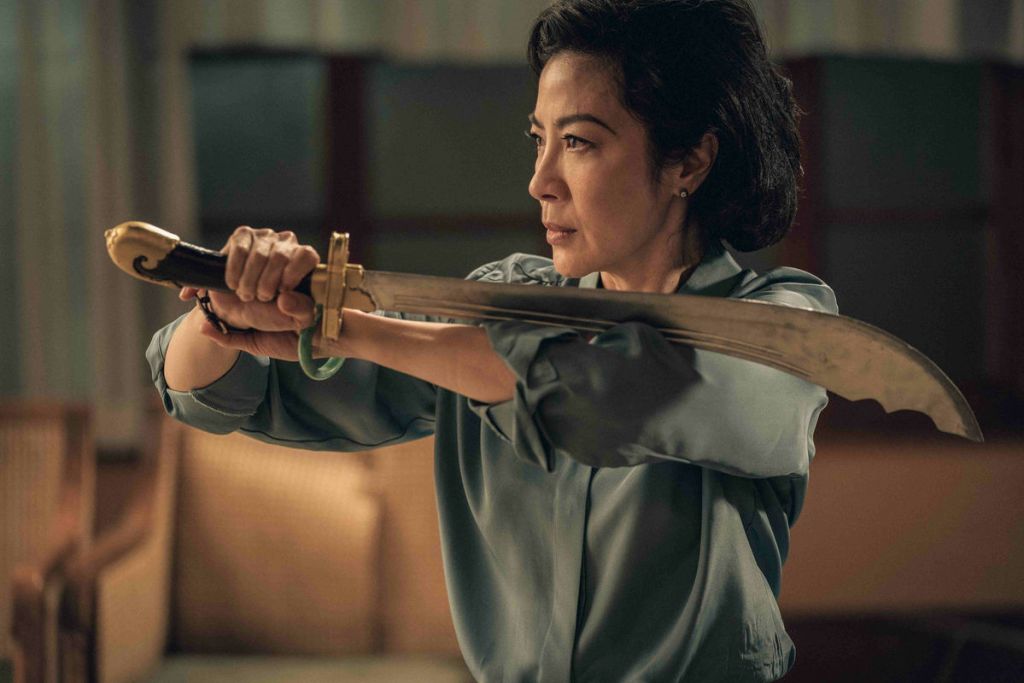 Master Z: The Ip Man Legacy (2018)
Yeoh shows that she's still got it with this triumphant return to the Kung Fu movie genre. Master Z: The Ip Man Legacy is a spinoff from Donnie Yen's popular Ip Man franchise, following Ip's rival Cheung Tin-chi (Max Zhang), who tries to leave the martial world, but just when he thinks he is out, they pull him back in. Yeoh plays Tso Ngan Kwan, a tong leader who is trying to go straight and convert her gang into a legitimate business.
Another Yuen Woo-Ping directed film, Master Z: The Ip Man Legacy is stacked with top martial arts stars. Beyond Yeoh and Zhang, the cast includes Tony Jaa, Xing Yu (a genuine former Shaolin monk), Yuen Wah (the "somersault king," a veteran martial arts star who also starred alongside Yeoh as Master Guang Bo in Shang-Chi and the Legend of the Ten Rings), and for good measure, Dave Bautista.
Everything Everywhere All at Once is out now.