News
Star Trek: Michelle Yeoh's Section 31 Spin-Off is Still Alive
Paramount hasn't given up on Star Trek: Section 31, the Michelle Yeoh-fronted spin-off, and neither have we.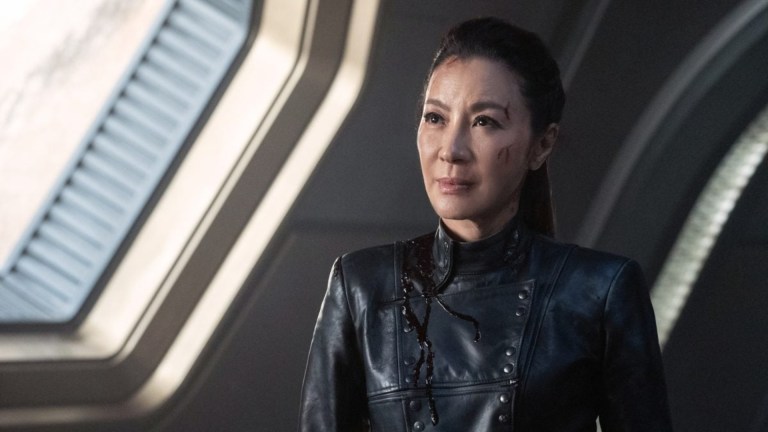 It's been three years since Paramount first announced the development of a new Star Trek series starring the incomparable Michelle Yeoh. The as-of-yet untitled spin-off has been presented as a story that will follow Yeoh's Emperor Philippa Georgiou in her work as part of Section 31, the covert intelligence organization that works autonomously within the Federation and was first introduced in Star Trek: Deep Space Nine. While we first heard word of this spin-off in 2019, the show has yet to come to fruition, even after Georgiou's Star Trek: Discovery exit last season. Now, we finally have an update…
"We are still in development on Section 31, so there will be more news on that soon," said Paramount+ Original Scripted Series President Nicole Clemens during the Paramount+ Executive Session during today's TCA Winter Tour. The news was vague, but hopeful, especially considering Paramount+ has greenlit so many other Star Trek shows, a line-up strategy company execs refer to as an "always-on slate."
Yeoh's Georgiou exited Star Trek: Discovery last season, presumably to lead her own show. Star Trek's Section 31 show entered pre-production in January 2020, and was slated to begin filming in May 2020. Production was delayed by the outbreak of the COVID-19 pandemic, and has not yet been officially rescheduled. However, executive producer Alex Kurtzman has previously confirmed that the writers' room for the project has continued work via Zoom.
"We've been running all of our writers' rooms on Zoom," Kurtzman told GoldDerby back in August 2020. "The silver lining is that we've been actually been able to get quite ahead [on] scripts for upcoming seasons of Discovery, and Picard, and Strange New Worlds — which is going to be shooting next year — and Section 31."
Production is likely impacted by Yeoh's robust career. The Hollywood icon is a much sought-after actress. Here are just some of the projects she has recently worked on, is working on, or is slated to work on: Everything, Everywhere, All At Once; The Witcher: Blood Origin; the Avatar sequels; and the Crazy Rich Asians sequels. (Not to mention she recently joined the MCU.) Scheduling productions around the industry's busiest actors is always a headache, but delays caused by COVID-19 have made it even more difficult, as media corporations push to make up for time lost due to the global pandemic, with the knowledge that more public health-driven delays are inevitable.
And there is no Section 31 spin-off with Yeoh. As Kurtzman said in a Variety Streaming Room Q&A back in 2020: "The truth is that for Section 31 the idea of doing that show, it was Michelle Yeoh's. She deserves all the credit for that. She actually came to me about it before we even aired the first season of Discovery. She loved playing the character [Captain Phillipa Georgiou] and she said, 'I know that there are a lot of young women who grew up like I did and did not see somebody like me on screen and I want to be that person.' And I said, 'That sounds amazing! Let's do it.'"
With so many Star Trek TV shows actively in production, there may be less of a pressure to get Section 31 up and running, but Paramount has already invested resources in this project so it's unlikely they will give up on it without trying to make it happen. While today's executive announcement was vague, promise of more news is good news for those of us eagerly awaiting this series.
Are you still excited for Star Trek: Section 31? Let us know in the comments below…