Features
Everything Everywhere Almost Starred Michelle Yeoh as Herself
Sci-fi epic Everything Everywhere All At Once sends Michelle Yeoh and the directors known as Daniels careening through multiple realities.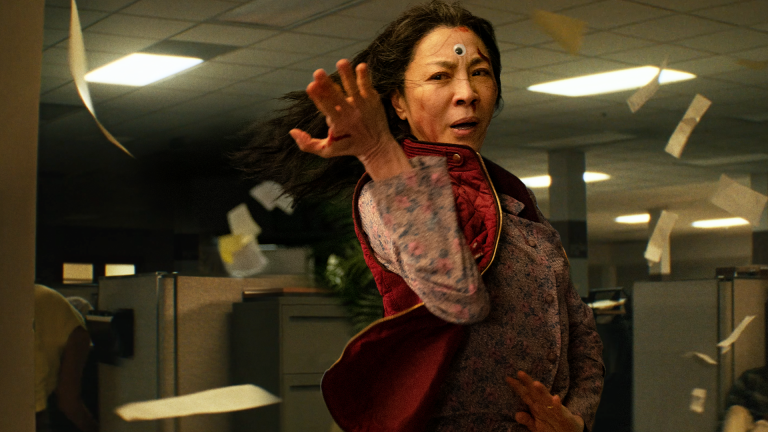 The logline for Everything Everywhere All at Once, which opens the SXSW Film Festival, describes the movie as "a hilarious and big-hearted sci-fi action adventure about an exhausted Chinese American woman (Michelle Yeoh) who can't seem to finish her taxes." That's being modest.
Directors-writers Daniel Kwan and Daniel Scheinert, billed collectively as "the Daniels" (Swiss Army Man), have fashioned a movie that, yes, is about a Chinese American woman trying to get her taxes done—as well as keep her laundromat business afloat and hold her family together. Yet the effort to do so takes her on a dizzying journey through an untold number of different realities, each featuring a different version of the befuddled protagonist.
"I was driving to Big Sur with my wife," says Kwan about the origins of the film. "For some reason my brain was just thinking about sci-fi, and we had been reading a lot about quantum physics and multiverse stuff. I was just trying to think of a fun excuse to create a sci-fi premise that would give us a playground, because a lot of our ideas are often taking a very simple idea and then extrapolating it to every possible direction."
Scheinert says that as soon as Kwan got home from his trip, he drew a diagram on the wall visualizing the multiverse and what "verse jumping"—which Yeoh does throughout the film—was. Scheinert was impressed but not sure if he wanted to make the movie.
But after a year of working on the script, new elements—a distracted adult woman protagonist, a Chinese American family—all made sense to Scheinert when combined with the idea of the main character jumping from universe to universe to save her family: "What if we took the multiverse to its nihilistic, terrifying extreme?"
Of course, the idea of the multiverse is not a new one by any means. DC and Marvel have deployed it in their comics for decades and are now getting into it on film. And as Kwan points out, numerous sci-fi writers and television shows have utilized the concept, including the popular animated series Rick and Morty. But Kwan says that he and Scheinert had a specific idea in mind for what the multiverse could represent in their story.
"I think right now, for me, life is chaos, life is overwhelming, and there's just an intersection of 10 different worldviews colliding every waking moment," Kwan explains. "That's what the multiverse represents in our film, just this feeling of too much. Too much information for us to process, too much information for us to make decisions and move forward. Looking at what Marvel was doing and looking at what a lot of other people were doing, I feel like no one was tapping into that feeling and using the multiverse as a metaphor for that. It felt like a really good excuse to play in that world."
Everything Everywhere All at Once is an independent film, although you might never guess that from looking at the bang that the Daniels get for their buck. But the lower budget meant there was somewhat more freedom to make the movie that the directors wanted to see. The Hollywood version of this story would be a $200 million behemoth starring a white male actor; by contrast, the Daniels always had an inkling who their star would be. They even named the protagonist "Michelle Yeoh" in early drafts of the script.
"When we first started writing this, it was before Crazy Rich Asians had come out," says Kwan. "This was before anyone was willing to imagine a world where Asian American-led films were bankable."
That gave the Daniels an opportunity to make the story more personal as well. "That's another thing that converged with the other ideas that made us excited," Kwan continues. "Let's make this about a family that I grew up with, or the kinds of families I went to church with, or that kind of world, because that suddenly made [the film] that much more interesting and nuanced."
Yeoh first rose to fame in the early '90s doing her own stunts in Hong Kong films including The Heroic Trio and Police Story 3: Supercop before arriving in Hollywood with groundbreaking roles in Tomorrow Never Dies and Crouching Tiger, Hidden Dragon. She says that she wanted to get involved with Everything Everywhere All at Once because of her desire to work with younger directors who will "challenge me on a very different level."
Noting that she thinks everyone can relate to Evelyn's quest to get her taxes done—the event that triggers her entire cosmic adventure—Yeoh also admits that she wanted to keep some distance from the character, asking the Daniels to change her name from Michelle.
"I always want my audience to not be seeing Michelle Yeoh on the screen," the actor says. "And if you hear the name you will just automatically relate it to Michelle Yeoh. Also, because the character in one of the universes does have a life where she's a movie star, I don't want the audience to go, 'Oh, wow, she's just playing herself.'"
When we first meet Evelyn, she's perhaps at her lowest point—that is, until the universe starts fracturing around her and revealing all the other Evelyns that exist.
"Poor Evelyn [is] probably the worst representation of herself from all the universes," says Yeoh. "It seems that she has failed in the simple things in life. She wants to have a really great family; she wants to be successful, not in a big way, but at least have a business that is making money and they can be happy and she can show her father that she made the right choice in marriage. But it's all imploding around her, and she almost doesn't even realize it."
While Evelyn must contend with numerous enemies in the various universes that she jumps through, one of her chief antagonists in the different realities is played by the great Jamie Lee Curtis. Starting out as a stern, impatient IRS accountant in our entryway timeline, Curtis' performance here is quite different from what we've seen before and marks the first time that she and Yeoh have appeared on-screen together.
"I am such a huge fan of hers," gushes Yeoh about her co-star. "She is so inspirational in that way, but the most amazing thing is when she walks in, she brings in such good vibes, such good energy. She's generous in nature, she's generous as a person, she's always good." Yeoh adds that Curtis was a constant source of encouragement throughout the arduous shoot: "You needed to have good people around you who make you bold, who inspire you. And that's what Jamie did for me."
"We feel so loved," says Kwan about the cast, which also includes legendary character actor James Hong and Ke Huy Quan, best known as Short Round in Indiana Jones and the Temple of Doom. "There's something very fun about this film because it plays on so many recognizable tropes and things that I think a lot of film lovers will identify and have fun with, and part of that is the cast. The cast also brings so much context with it, and we love to just play with those things and blow up the expectations… on top of that, they're all just good souls."
Says Scheinert about the Daniels' experience of making their second feature film together, "There were definitely things that were new, but in a lot of ways, we got to do it the same way we love making movies. We didn't scale up that much in terms of how we make movies. It was just bigger, but it was a lot of our usual collaborators and making movies our way, where we get to be involved and touch everything."
Everything Everywhere All at Once opens in theaters on March 25.