Features
The Best Donnie Yen Movies to Watch Now
Wondering which Donnie Yen movies to watch after John Wick: Chapter 4? Here's where to start.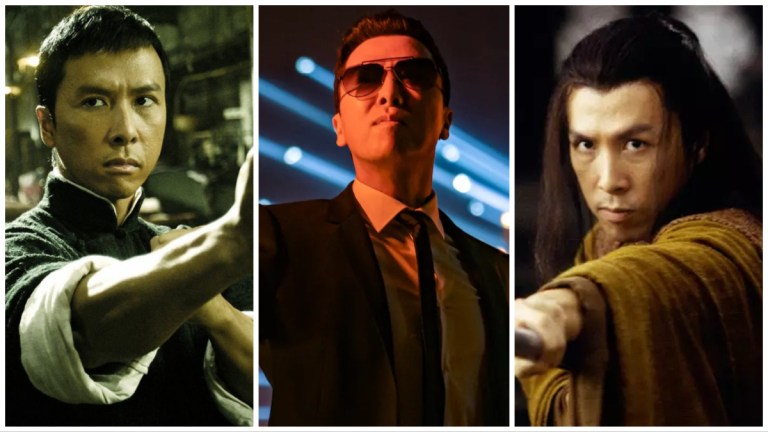 John Wick: Chapter 4 is marking yet another chance for the West to get to know Donnie Yen, one of Asia's top leading men. He has already been in several other major Hollywood franchises. He played the scene-stealing Force-sensitive blind master Chirrut Îmwe in Rogue One: A Star Wars Story, the lure for the Asian market role in XXX: Return of Xander Cage, and Commander Tung in the Disney live-action flop, Mulan. However, in that same period when these Hollywood films came out, Yen made 10 of his own Asian-produced films where he was the leading man.
Action films are Yen's specialty, so Yen's inclusion in John Wick is a perfect fit. His mother is Grandmaster Bow Sim Mark, a pioneer in the global dissemination of Wushu. Wushu is a flamboyant acrobatic style of Kung Fu, designed for competition. It's the same style that produced Jet Li along with a stable of other Asian action stars.
At age 16, Yen was sent to train with the Beijing Wushu Team, the very same team that produced Li and many others. Yen was discovered by acclaimed action director Yuen Woo-ping, who cast him in Yen's first six films. By his fourth one, Tiger Cage (1988), Yen had proven himself well enough to secure his first action director's chair. He's been choreographing fights and starring in leading roles ever since.
Yen has a longstanding reputation for delivering outstanding action and has broadened his martial arsenal to include a diverse range of fighting styles. He has inspired the global growth of Wing Chun with his titular Ip Man films, and his inclusion of MMA moves in his fight choreography inspired Zhang Weili, the first Chinese UFC champion, to start training.
Yen was born in China but immigrated to the U.S. as a child and speaks perfect English. Beyond martial arts, Yen is also an accomplished singer and pianist. If any movie star is primed to cross over the Pacific, it's Yen. With so many films under his belt already, John Wick: Chapter 4 is the perfect film to showcase Yen's command of action. Once you've seen it, we've cherry-picked 10 of Donnie Yen's most interesting movie roles that you should watch next…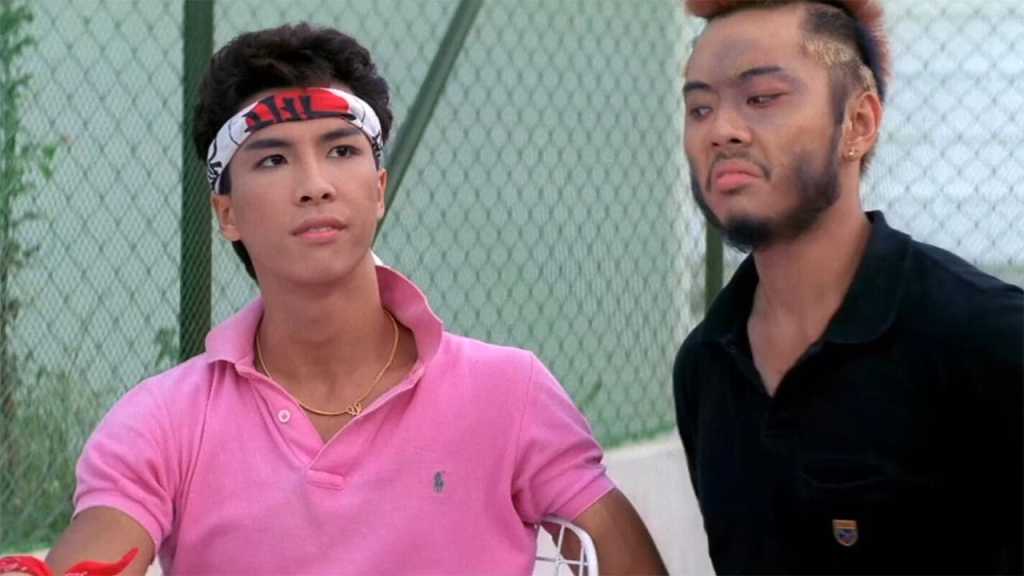 Mismatched Couples (1985)
Long before The Matrix, Yuen Woo-Ping directed several campy Kung Fu comedies. Mismatched Couples is a goofy fusion of Kung Fu and Hip Hop. Breakdancing was all the rage in the 1980s, even in Hong Kong. Yen plays a Kung Fu Hip Hop dancer named Eddie, and Yuen casts himself as a poor elderly man that falls for Eddie's older sister.
Silly slapstick gags are mashed up with outrageous Kung Fu skills (it's amazing to see young Yen in action). It's all set to horrid moog-driven caricatures of disco dance music, with Yen dressed in eye-popping gaudy threads that Hong Kong imagined B-boys were rocking. This is not a film you watch for the plot. But if you want to see how Yen got dressed in the morning (an irresistible fusion of breakdancing and Kung Fu), or how he plays tennis with a bicycle, this is sure to bring a smile.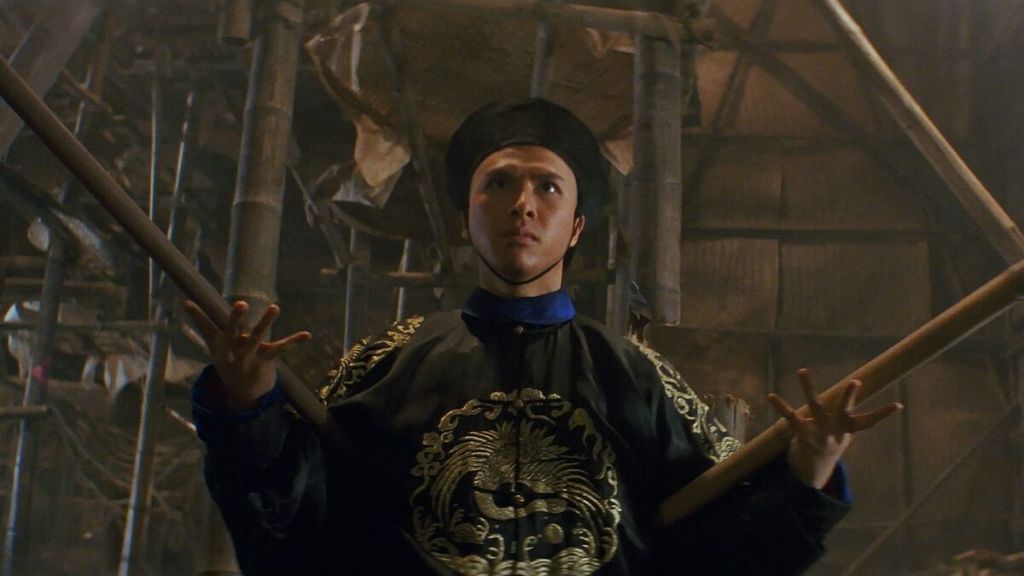 Once Upon a Time in China II (1992)
The Once Upon a Time in China franchise began as a Jet Li vehicle where he played the venerated folk hero, Wong Fei Hung. Directed by visionary Fant-Asia maverick Tsui Hark, and with Yuen Woo-Ping as action choreographer, the series went for six films plus a TV series. After Tsui and Li had a falling out during Part III, Tsui completed the film and Li made his own parody version, Iron Rooster vs. Centipede. Vincent Zhao took over as Wong Fei Hung for the rest of the franchise.
OUATIC juggles fantasy fight elements with Hong Kong identity issues about encroaching westernization and Kung Fu cults like the Boxer Uprising. Yen plays Commander Lan, who doesn't appear until almost halfway through the film. Nevertheless, the Yen versus Li fight is considered one of the best of the era, an insane game of long pole sparring. In real life, Yen got six stitches over his eye when Li missed a move after some 30 takes. Yen claimed the resulting blood spray looked like something out of Kill Bill.
Iron Monkey (1993)
Another Donnie Yen and Yuen Woo-Ping collaboration, this one written by Tsui Hark, Yen plays Wong Fei Hung's father, Wong Kei Ying. The child version of Wong Fei Hung was played by a young girl, a Wushu ingénue named Angie Tsang. Tsang only made two films before pursuing her career as a Hong Kong police officer, which remains her occupation today. Yu Rongguang (Shanghai Noon) plays the titular Iron Monkey,
Yuen achieves the epitome of Kung Fu wirework with the Kung Fu masters moving like superheroes. This is long before the day of CGI, so the suspended actors' lives literally by a thread, with only a stunt team pulling them up off-screen. In the final fight, the heroes battle while balancing high atop posts known in Kung Fu as "plum flower poles," and the fire is real too.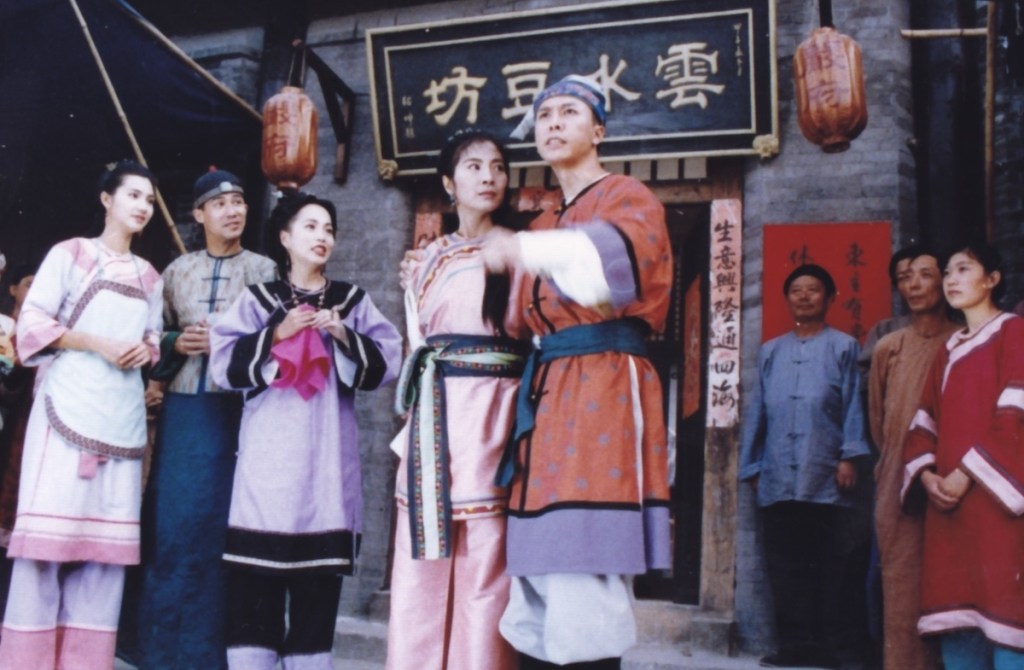 Wing Chun (1994)
Wing Chun is an early vehicle for the newly minted Oscar-winner, Michelle Yeoh. According to legend, Wing Chun Kung Fu was created by a woman named Yim Wing-Chun in the late 18th century. It was the style propounded by Ip Man and his famous pupil, Bruce Lee. Another physics defying film from Yuen Woo-Ping, Yen plays Wing-Chun's betrothed, Leung Pok-To. However, the couple has been separated for a decade, and upon his return, Leung mistakes Wing-Chun for a man because she dresses butch (a common trope in Chinese films). Making matters worse, Leung thinks Wing-Chun is a rival suitor for Charmy (Catherine Hung) who he believes to be his fiancée. And of course, there's a vengeful villain, Flying Chimpanzee (Norman Chu) pursuing Wing-Chun for burning the genitals off his brother, Flying Monkey (Chui Ah-Fai). Again, it's real fire.
It's interesting to see Yen play a submissive role to Yeoh's titular character. His boyish charm glows as he humbly eats tofu from his cupped hands, thinking it might impress Charmy, a tofu vendor. Throughout the film, he directs the spotlight to Yeoh, delivering an earnest performance as a supporting actor.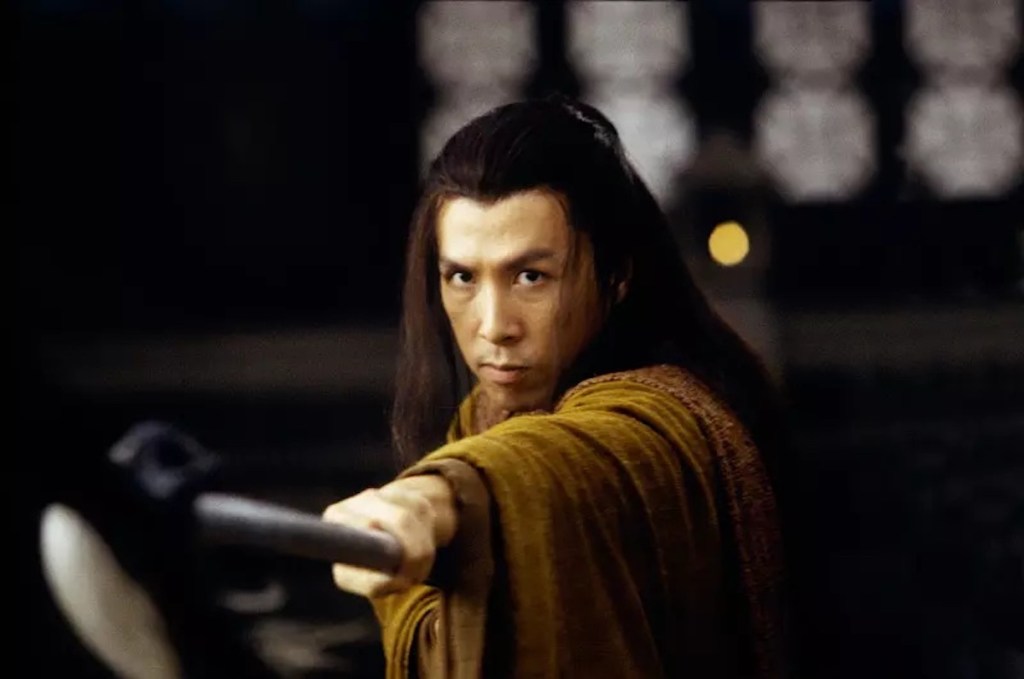 Hero (2002)
Hero is the artistic masterpiece from the global auteur Zhang Yimou. Again, a Jet Li vehicle, it also stars a powerhouse cast including Tony Leung (Shang Chi and the Legend of the Ten Rings), Maggie Cheung (In the Mood for Love), and Zhang Ziyi (Memoirs of a Geisha, Crouching Tiger, Hidden Dragon). In contrast to OUATIC2, Yen only appears in the beginning of the film. However, 10 years after OUATIC2, it's the rematch of Yen versus Li, and under the keen direction of Zhang, they produce one of the most gorgeous fight scenes ever filmed.
It took 21 days just to film the fight scene. Once again Li gave Yen six stitches, but this time over his other eyebrow. At the end of a long sequence involving some 50 moves, Li missed with his sword and cut Yen. They felt it was a lucky accident. The Chinese associate red with the wealth and lucky envelopes, so Yen's blood served to bless the production on its way to becoming a success. And so it was. Hero became the first Chinese film to top the U.S. box office and held that position for two consecutive weeks.
Once Yen's scene is done, sit back and enjoy the sumptuous vision that Zhang brings to the film. The color, tone, and cinematography elevate Hero into one of the most artistic Kung Fu films ever made.
SPL: Sha Po Lang (2005) aka Kill Zone
Sha Po Lang is an astrological term that's difficult to translate, so when it was marketed outside Chinese speaking nations, it was shortened to SPL, and finally Kill Zone. Despite the hobbling title, SPL marked a turning point for Yen as an action director. His brutally hard-hitting fight choreography introduced MMA grappling in a sanguineous no-holds-barred dose of ultraviolence.
Yen plays Inspector Ma, who's about to replace Inspector Chan, played by Hong Kong's veteran thespian Simon Yam. But Chan has revenge in his heart, and plans to take down crime lord Wong Po, played by Jackie Chan's Kung Fu big brother, Sammo Hung. Yen versus Hung results in a savage battle and a total gamechanger on how violence was depicted in Hong Kong cinema.
What's more, Wong Po's hitman Jack is played by Wu Jing. Wu is another graduate of the Beijing Wushu Team and has since risen to become one of China's biggest superstars as the leading man in two of the nation's biggest film franchises, Wolf Warrior and The Wandering Earth. Yen versus Wu in a furious alley fight that's so fast, it almost needs to be watched in slow-motion to fully appreciate its complexity.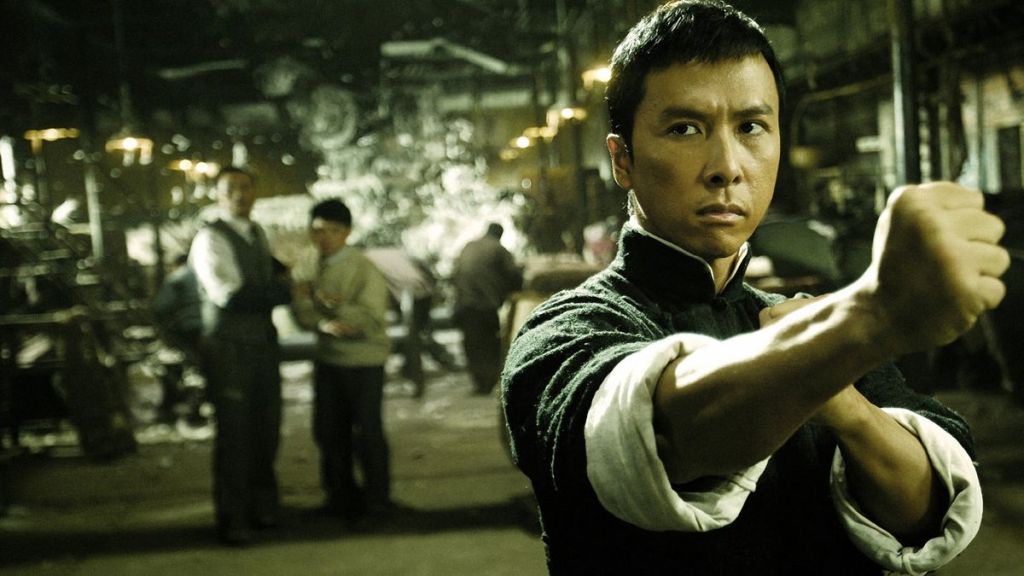 Ip Man (2008)
Yen's biggest franchise is Ip Man, a tetralogy based on the real-life Wing Chun grandmaster, who taught Bruce Lee. Yen's films are highly fictionalized, following Ip's rollercoaster life from affluence to poverty as wartorn China reels from Japanese oppression and then Hong Kong languishes under subjugation as a British colony. Finally, there's an imagined visit to San Francisco. Like John Wick, the tetralogy forms a very linear story, and while each film can stand on its own merits, the entire saga is a fantastic watch together, like one long saga. And just like no one could play John Wick but Keanu Reeves, Yen's portrayal of Ip Man is singular. Through this character, Yen exemplifies the humble yet righteous warrior, plus his fight sequences are top notch.
It's debatable which installment is the strongest. The initial film is widely recognized as the best martial arts film of that decade. However, Ip Man 2 (2010) reunites Sammo Hung and Simon Yam from SPL with Yen for a dizzying Yen versus Hung rematch balancing on a wobbly tabletop. What's more, the main villain, Twister, is played by the late Darren Shahlavi, a renowned martial arts master and stuntman. Yen versus Shahlavi sets up a battle between East and West, and this Kung Fu versus western boxing motif runs through the rest of the franchise. A persistent theme is the cruel racism of "foreign devils" as Ip struggles to maintain the face of Chinese Kung Fu.
This Kung Fu versus boxing motif is exemplified by the villain Frank in Ip Man 3 (2015), played by Mike Tyson. Yen admits to being a huge fan of Tyson, and accidentally broke Tyson's finger during their fight scene. Yen steps into the ring one last time in Ip Man 4: The Finale (2019) to face Barton Geddes, played by his John Wick: Chapter 4 co-star, Scott Adkins. In the epilogue of The Finale, Bruce Lee is depicted as paying his respects at Ip Man's funeral, which like Ip's trip to San Francisco, never really happened.
Legend of the Fist: The Return of Chen Zhen (2010)
Chen Zhen is a fictional character who first came to life in Bruce Lee's Fist of Fury (1972). Fist of Legend (1994) was a remake of that film directed by Yuen Woo-Ping with Jet Li playing Chen Zhen. No one compares to Bruce Lee. Nevertheless, Fist of Legend is one of Li's best films. In Li's remake, Chen Zhen's death was faked. This opened the door for Legend of the Fist: The Return of Chen Zhen where Yen steps into the role of Chen Zhen. Chen morphs into a vigilante superhero fighting off those pesky foreign devils. He dons the mask, chauffeur's cap, and black attire of Kato, the role Lee played in the Batman TV series spinoff, The Green Hornet (1966-67). Surprisingly again, it works quite well.
Set in Shanghai during the Japanese occupation, Yen stars alongside another veteran Hong Kong thespian, Anthony Wong (the Infernal Affairs trilogy) and the forever gorgeous Shu Qi (The Assassin). Always one to adapt and incorporate new styles, Yen deploys a lot of Parkour moves to spice up the action. Of course this is wirework driven, which ultimately defeats the point of parkour, but the influence is clear. Yen also pays loyal homage to Fist of Fury with a dojo fight, which precisely poaches some of Lee's choreography in his classic "We are not sick men" melee. Nevertheless, this film brings a fresh perspective on a time-honored classic.
Kung Fu Jungle (2014) aka Kung Fu Killer
Yen plays Hahou Mo, a Kung Fu master and former police martial arts instructor serving time for involuntary manslaughter. He is temporarily released to help catch a serial killer who is targeting Kung Fu masters. The killer is Fung Yu-Sau, played by another Asian megastar, Wang Baoqiang, best known for his blockbuster comedy Detective Chinatown trilogy. In real life, Wang learned Kung Fu from childhood at the village near Shaolin Temple. Another Shaolin graduate, Shi Yanneng, plays one of Fung's victims, Master Tam. Shi was a genuine Shaolin monk prior to leaving the monastery to become a movie star. Wang versus Shi is a surreal battle atop a giant skeleton sculpture.
Set in modern Hong Kong, Kung Fu Jungle has a gritty police procedural tone as Mo assists Inspector Luk (Charlie Young) track down Fung. Then it explodes into these spectacular Kung Fu duels as Fung duels to the death with a succession of Kung Fu masters as Mo closes in, hot on his tail. Yen delivers an emotional performance, delving much deeper into the character than expected as he ponders the true meaning of Kung Fu, honor, and revenge.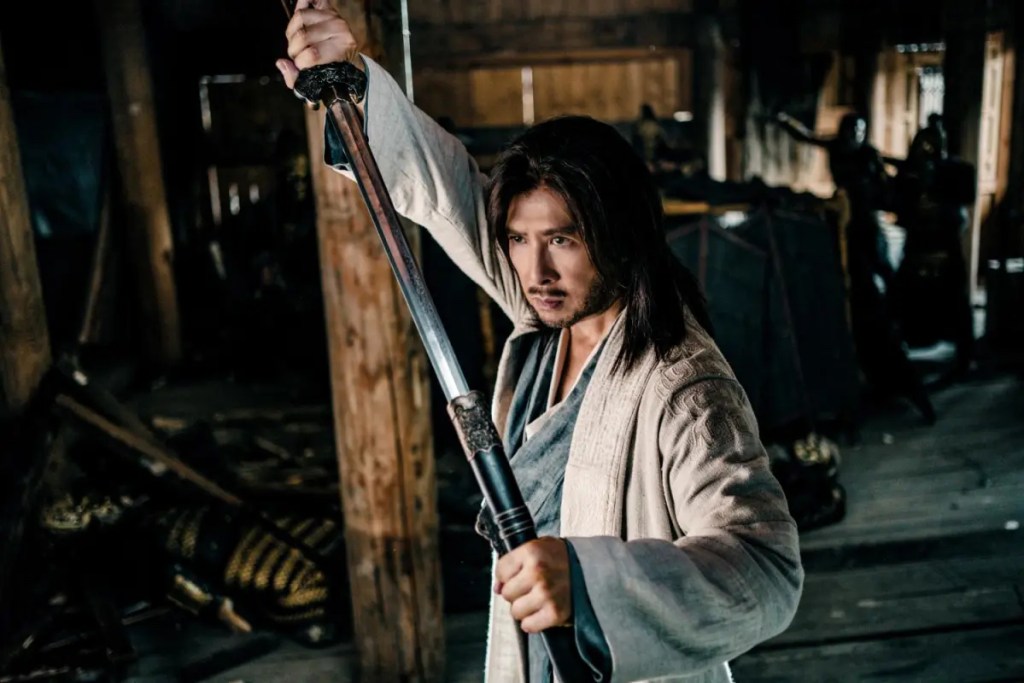 Sakra (2023)
Sakra is a dream project for Yen, who directed, produced, and stars in the film. It's an adaptation of Demi-Gods and Semi-Devils, a bestselling novel by Louis Cha, the undisputed master of Wuxia (Wuxia literally means 'martial knight' and it refers to the genre of Chinese martial arts fiction).
Sakra marks the return of Kara Wai to Wuxia films. Wai is a Kung Fu diva from the Golden Age of Kung Fu films at Shaw Brothers Studios and has appeared in nearly 200 films. As a child, she lived in a poor Hong Kong ghetto, selling wares on the street. After she took Kung Fu lessons from Yen's mom, Grandmaster Bow-Sim Mark, she got roles as an extra, and appeared in over 20 films in the first three years of her career.
Sakra was released across Asia in late January for Lunar New Year, a traditional holiday film rush in the East. It has been picked up for international distribution by Well Go USA, who promises a North American theatrical release this spring.
John Wick: Chapter 4 is in theaters now.