Features
Donnie Yen's John Wick 4 Mission Was to 'Be the Coolest Motherf**ker' in the Movie
Director Chad Stahelski and his stunt coordinators reveal how they created scene stealing foes in John Wick: Chapter 4, and cast martial arts legends like Donnie Yen and Scott Adkins to play them.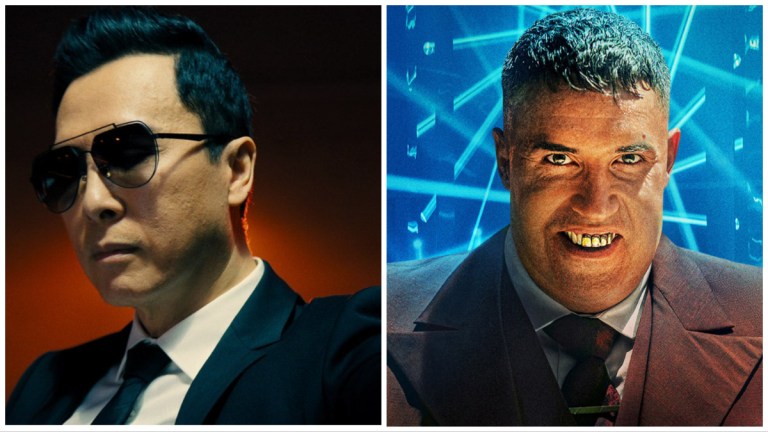 Every great hero needs great villains, so Director Chad Stahelski stacked the deck with the world's leading action stars when it came time to check back in to action cinema's Continental. John Wick (Keanu Reeves) demands opponents that can match the badassery of his franchise; and real life martial artists that can act. No other director today has such a keen eye for stunts and fight choreography as Stahelski. Assembling a cast of the heaviest hitters in Hollywood is the only way John Wick: Chapter 4 could level up. For any fan of the action genre, the names of Donnie Yen, Scott Adkins, Hiroyuki Sanada, and Marko Zaror instill massive respect. They all have extensive filmographies packed with thrilling action.
The John Wick tetralogy is also Stahelski's first directorial effort and it's designed for action. Creating roles that spotlights the superhuman talents of his cast was a collaborative effort, but Stahelski has known the cinematic stunt community inside and out since he got his start as a stunt person in the early 1990s. And part of his process is to allow his actors the creative latitude to express themselves. With the characters of Caine, Donnie Yen's blind assassin, and Fat Killa, Adkins' grotesque and unrecognizable gangster monster, that latitude birthed two antagonists who will become instantly iconic to action movie fans.
Donnie Yen as Blind Caine
Donnie Yen is one of Asia's biggest stars, best known for his numerous martial arts roles. He's already starred in a few major Hollywood productions like in Rogue One, XXX: Return of Xander Cage, and Mulan. Despite these, Yen's popularity with Western audiences pales in comparison with his following in Asia. There he's been the leading man in around 70 films.
"He's not had the best experiences in Hollywood," Stahelski tells Den of Geek when we sat down the day John Wick: Chapter 4 opens. Indeed, Yen has yet to get the global recognition he deserves. But the new Wick film is clearly a game changer.
Stahelski and Yen had not worked together before the film, but the director really wanted him in what's expected to be his final John Wick flick. Despite Stahelski's connections, getting Yen wasn't as simple as opening his rolodex.
Says Stahelski, "We had known a lot of the same team through Yuen Woo-Ping and through Kenji Tanigaki, his main choreographer. We all know each other from that world." Eventually, the filmmaker approached Yen to play Wick's rival assassin, the blind Caine, but Yen was reluctant. Both filmmakers had tremendous respect for each other, and yet Yen took some convincing before coming onboard.
"He's like, 'Look, I've done the blind guy thing before,'" recalls Stahelski. Yen's character Chirrut Îmwe in Rogue One: A Star Wars Story was blind fighter too. "He's like, 'Okay, I'm interested, but you got to sell me on this.'" Yen was already deeply invested in his own personal project, a film called Sakra, in which he was the star, the director, and the producer. Committing a year to John Wick: Chapter 4 was a big ask.
"He's like, 'Look, Chad, I love you. I'm just, you know, I'm getting older, and I don't have a lot of time. I love my family. Why is this not going to be me just coming into a couple of kicks?'"
Stahelski explained that he is a very collaborative director and said that Yen should just ask any of his past cast members for proof. "I don't want you to fit into this role," he told Yen. "What I've written on these pages is just there. It's a framework. It's a coat hanger. I need you to help me make the coat." Intrigued, Yen called him back within the week. "He showed me pictures of Bruce Lee and his skinny tie suit for the screen test. He showed me Chow Yun Fat. He's like, 'I'm going to do it like this. I'm going to use these cool aviators like Steve McQueen. I'm going to be the coolest motherfucker in your movie.'"
"I'm like, 'Okay, this sounds okay.'"
At first, Yen was thinking his role would just be another Hollywood cameo, one that he could "pop in and out of," but Stahelski had a grander role in mind.
Says the director, "I'm like, 'No, you're going to be the thread. You're going to be the guy that literally shoots John. But you're going to be his best friend.'" The dynamics of that relationship between Wick and Caine is complex. There's mutual respect, and yet they must kill each other to survive, in addition there is their own separate histories with Shimazu Koji (Hiroyuki Sanada). It took three weeks of talks for the actors and director to sort out the subtleties.
"It took a minute for us to all work out the trilogy, or the love triangle that we're working between Hiroyuki, Donnie, and Keanu," says Stahelski. "And once we all clicked with that, it just really connected because he knew he was coming in to be a very pivotal cast member."
Stahelski says Yen is very collaborative too. "He's got such confidence in his ability and he just wants to focus on where he wants to get better." Most action stars only fight with the style they do best, but Yen always pushes the envelope. Stahelski says that they regularly changed choreography on the day they shot. Yen was very specific about his fighting style. "I don't want to look like a samurai," Yen told his director. "I don't want to look like Wuxia Kung Fu. Let me see the Kali. Let me see the fencing. I'm gonna put that together."
Working with Yen was a dream come true for Stahelski. He shared a special personal moment that came out when they were working out fight choreography together.
"I'm actually 'touching hands' with Donnie Yen, figuring things out for the camera guy," recalls Stahelski, "and then he just stopped to go, 'Okay, I just gotta give you a hug, dude,' because I'm choreographing Donnie and I have a fanboy freakout moment there for a second."
But everyone was fanboying over Yen. Stunt coordinator Stephen Dunlevy gushes over him too.
"Donnie Yen has such a prolific legacy of martial arts films," Dunlevy says, "and being like a martial arts fan like I am, getting to work with him was a dream come true. Definitely it was very, very cool."
Scott Adkins as Fat Killa
Scott Adkins is one of Hollywood's hardest working action stars. He delivers several films a year as the leading man, with nearly 70 films to his credit now. He played the villain Barton Geddes, the main villain in Yen's Ip Man 4: The Finale, however many remember him best as Lucian Aster, who wrestled with the Cloak of Levitation in Doctor Strange, a comical scene but tricky to choreograph. The cloak was CGI, so Adkins had to mime the fight against nothing.
In John Wick: Chapter 4, Adkins dons heavy make-up and a fat suit. He's almost unrecognizable, but action fans get the homage.
"That's based on SPL [aka Kill Zone]," reveals Stahelski, "a Sammo Hung and Donnie Yen classic. I worked with Sammo back on Martial Law." Hung is Jackie Chan's Kung Fu big brother (and sometimes director), and despite his ample girth (at 5' 7", his former fighting weight was 220 pounds), he moves with amazing acrobatic grace. Stahelski says Hung is one of his favorite choreographers.
Stahelski has been trying to get Adkins in on all the John Wick films but it never worked out due to scheduling. Still, Stahelski also wanted to do something subversive with Adkins because as he puts it "The fucking guy is so good looking and he's so ripped." He wanted Killa to be almost a comic relief who suddenly busts out with spinning hook kicks. But knowing how stars can be, he had some trepidation about asking if Adkins would go for it. "You never know how they're gonna react when like, you know, you can't see who they really are."
But Adkins didn't miss a beat. As soon as the character was pitched, he was all in. "He said 'I'm gonna get gold teeth and have a German accent. I just want to be sweating.'" Stahelski attributes the whole look of Killa to Adkins' input. "That's Scott. He's awesome."
Stunt coordinator Scott Rogers concurs.
"He's such a handsome man already and he was willing to go completely against his type and just create this character, and the fighting is amazing," Rogers explains. The coordinator also felt that Killa is a testament to Adkins' acting skills. "I get a thrill out of just seeing that character. Because he embodied that thing."
Dunlevy likewise gives props where props are due—to the prop makers. Designing Adkins' giant suit that could accommodate Adkins flexibility was a challenge. While inside that heavy suit, he still had to deliver those high spin kicks. "Scott was amazing," says Dunlevy, "because you get hot in that suit. You're wearing an extra 40 to 50 pounds of padding on top of that, which is actually like insulation." He felt Adkins' 'go for it' attitude and perseverance was inspiring.
"And you know," continues Dunlevy, "as Scott was saying, Keanu is part of that inspiration because Keanu doesn't give up. Keanu will keep going until it's perfect. And he's the one that's wanting another take. He's not satisfied until it is perfect. And all the actors around them are inspired by that as well."
John Wick: Chapter 4 is in theaters now.