News
Link Tank: Could Donnie Yen's Rogue One Character Return?
Chirrut might be coming back to Star Wars, Paranormal Activity is on its way, Shang-Chi won't be in theaters too long, and more in Link Tank!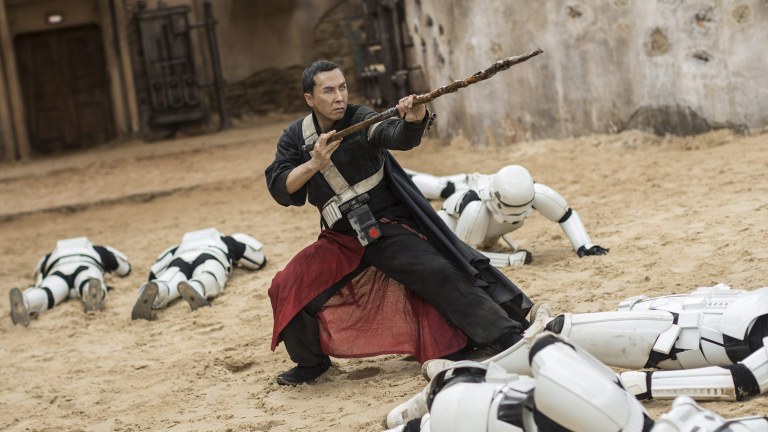 Could Donnie Yen's fan-favorite Rogue One character Chirrut Îmwe make a return to Star Wars?
"There is a lot to love about Rogue One: A Star Wars Story. The 2016 film brought us a look into characters who weren't our original trio and weren't destined for something greater in the larger Star Wars universe. They saved the galaxy and gave their lives to do so, and I will always hold this film close to my heart."
Can't make it out to a theater to see Shang-Chi? You won't have to wait that long for it to land on Disney+.
"In August, during an earnings call, Disney CEO Bob Chapek confirmed Shang-Chi's theatrical-only release on September 3, 2021. Disney plans to watch the movie's box office performance to see if audiences are ready to return to theaters en masse. But unfortunately, due to the rising number of Covid cases, many moviegoers are reconsidering their theater plans."
A 7th Paranormal Activity film could be on the way very soon.
"Deadline reports the seventh film in the Paranormal Activity franchise—this one directed by William Eubank (Underwater)—will premiere on Paramount+ "in time for Halloween" alongside a tie-in making-of documentary."
Sarah Paulson is receiving some criticism for wearing a fat suit to play Linda Tipp in Impeachment: American Crime Story.
"Ryan Murphy's American Crime Story anthology series made its bones in uncanny wigs and makeup. In the first season of the show, The People V. O.J. Simpson, Murphy drove right to the edge of the camp, parked his car, and screamed, 'Sarah Paulson shall wear this obvious wig and it will be glorious.' And it was. But this technique has its drawbacks, and Paulson, who again stars in the series, is feeling the heat."
Apex Legends is trying to quiet the beef between console and PC gamers.
"Apex Legends, the battle royale movement shooter developed by Respawn Entertainment, is no stranger to controversy. Because Apex supports crossplay, PC and Console players have been beefing for a while over the slight differences and advantages each side gets from their platform of choice."
The Lion King, Mrs. Doubtfire, and the other most searched '90s movie in each state.
"When it comes to '90s movies, some states appear to have strong preferences. Recently, television and internet service provider FrontierBundles decided to take a look at the top 20 highest-grossing movies of that decade and see which ones were the most heavily searched in each state."