Features
Mulan: The Real History of the Chinese Legend
Centuries before she became a Disney Princess, Mulan was already a legend.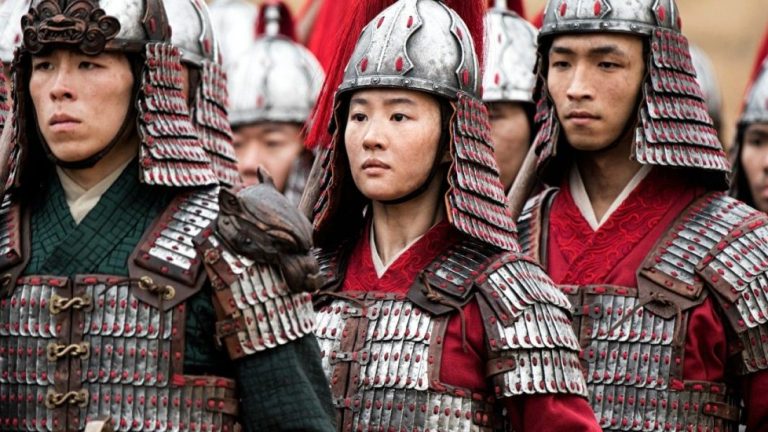 Disney has been killing it with live-action remakes of their beloved animated movie catalog. While the upcoming Mulan might look like yet another relatively straight adaptation of a previous animated film, it's not quite the same. Mulan, in 1998 and now, is based on an ancient Chinese legend. Not a fairy tale. Her story was commonly known across Asia long before Disney's animated feature, and it's that story (as much as the animated feature) that makes up the inspiration for the new film.
When it was announced that the new live-action film would not include the songs or her mini-dragon sidekick Mushu, fans of the "original" were disappointed. But Disney is hoping for an international blockbuster, especially in that lucrative Chinese film market, and many Asian fans were relieved to hear of the planned changes. In China, Disney's first Mulan feature flopped because audiences saw it as a Western appropriation of her legend, one that reduced Mulan's epic heroism into caricature. To make it in China, Mulan must return to her roots. But what was the origin of Mulan?
According to legend, Hua Mulan lived in the Northern Wei Era which was from 386 to 536 CE. She is first documented in a 6th century heroic poem titled "Ballad of Mulan." That poem was part of a lost collection titled Musical Records of Old and New. Fortunately, "Ballad of Mulan" was preserved in an 11th century anthology, Music Bureau Collection, compiled by Guo Maoqian, who thoughtfully attributed the poem's source.
Curiously, Disney changed Mulan's name to Fa Mulan. Mulan means "magnolia," which is why magnolia flowers are so prominent in that movie. In the original poem, she is only referred to as Mulan, which is a given name. Her surname was added later. Most of the time, it's Hua Mulan (remember surnames precede given names in Asia). Hua means "flower," but sometimes she's Wei Mulan or Zhu Mulan. Wei is the name of a ruling kingdom during the Warring states period from 430 to 225 BCE. Zhu means "vermillion." When called out on the name change, Disney responded by saying that Fa was the Cantonese pronunciation of Hua. That's true but Mulan is the Mandarin pronunciation. In Cantonese, her name would be Fa Muklaan.
Beyond the "Ballad of Mulan," there is no evidence to indicate whether Mulan was a real person or a myth. Nevertheless, Disney's animated retelling is relatively true to the poem if you overlook certain aspects like Mushu. The original poem is only 31 paired couplets. Like the movie, the poem describes Mulan answering the imperial draft order in her father's stead and dressing as a man. She buys a horse, bridal, saddle, and whip and rides off to fight against Rouran Khaganate invaders, who were nomads related to the Mongols and the first to use the term "Khan" (an abbreviation of Khagan). In the new Mulan adaptation, the opposing military force is the Rourans and not he Huns, as it was in the animated feature.
After over a decade at war, Mulan survives to be rewarded for her heroism by the emperor. She is offered a post as a minister but asks for a swift horse to take her home instead. Once home she drops her gender-bending disguise, much to the surprise of her comrades who fought alongside her during the lengthy campaign.
Mulan's story was elaborated upon in later retellings, notably a 16th century play, The Heroine Mulan Goes to War in Her Father's Place, and a 17th century novel, Sui-Tang Romance. Her story was the subject of several earlier films as well. The earliest was a 1927 black-and-white silent film titled Hua Mulan Joins the Army. Two more films of the same title were made in 1928 and 1939. Additionally, there were two other films documenting the Chinese opera, Lady General Hua Mu-lan in 1964 and Saga of Mulan in 1994.
More recently, China produced its own cinematic version, Mulan: Rise of the Warrior in 2009. Starring in the titular role was Vicky Zhao Wei, who is most recognizable to Western audiences as the Tai Chi goalie in Shaolin Soccer. In 2008 and 2009, Vicky also played Sun Shangxiang, another woman warrior disguising herself as a man in John Woo's two-part war epic, Red Cliff. The film Mulan: Rise of the Warrior also stars Jackie Chan's son Jaycee Chan in a notable dramatic role. Vicky beat out other noted actresses for the part, including Michelle Yeoh, Zhang Ziyi, and the star of Disney's new Mulan, Crystal Liu Yifei.
Beyond her inspirational legend and dozens of cinematic incarnations, Mulan's legacy includes a style of Kung Fu called Mulanquan. Quan literally means "fist" and is a common suffix to indicate a martial art. It is the same suffix as in Tai Chi Chuan, only Chuan is an alternate spelling of Quan. Given the ambiguousness of her origins, it's impossible for this to be based on Mulan's actual fighting style. Homage styles like this proliferate Kung Fu, akin to Monkey style honoring the mythical Monkey King from the 16th century classic novel, Journey to the West. Mulanquan is more of a dance style than a martial art and it uses folding fans as its primary weapon.
Disney has gone all out on this new live-action production, collecting an extraordinary cast of leading Chinese actors. Mulan aspires to be a major global theatrical blockbuster, but the pandemic had other plans. Nevertheless, she's a champion that has overcome obstacles for centuries. Hopefully, the new production will bring honor to us all.