Features
Ant-Man and the Wasp: Quantumania Trailer Isn't Fooling Anyone
Ant-Man, the Wasp, and friends will face Kang the Conqueror in their next big-screen adventure. But there's way more to this MCU installment than that.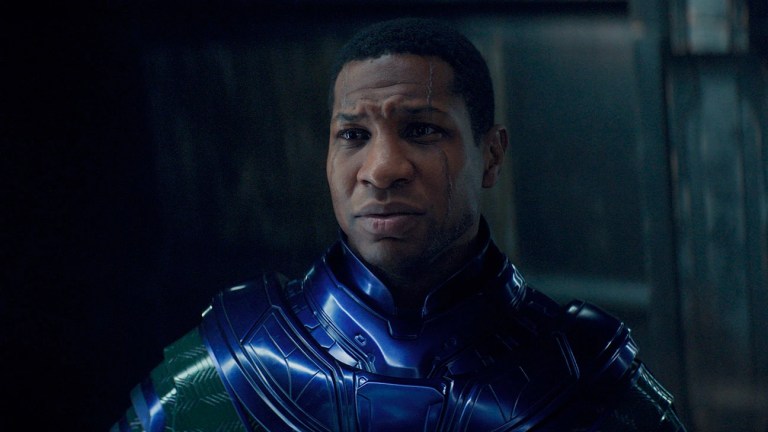 It's trailer time once again in the Marvel Cinematic Universe. While Disney is largely focused on promoting Black Panther: Wakanda Forever right now, let's remember Phase 5 is also kicking off with a bang thanks to Ant-Man and the Wasp: Quantumania. In fact, things are looking darker than ever before in the first trailer for the latter film. This doesn't quite look like the usual comedic adventure you've come to expect from these subatomic heroes.
The clue is in the name that Paul Rudd's Scott Lang/Ant-Man will once again be sharing the screen with Evangeline Lilly's Hope van Dyne/Wasp, and that we'll finally be spending some real time in the Quantum Realm. This mysterious land features briefly in 2018's Ant-Man and the Wasp, but here, it looks like it will be what ultimately unleashes the MCU's next Thanos in the form of Jonathan Majors' Kang the Conqueror.
Even though there are dramatic pauses and tense musical cues in the trailer, the big Kang surprise was spoiled ahead of time for many. When the Ant-Man and the Wasp: Quantumania trailer first debuted at September's D23 expo, it didn't take long for spoiler sports to leak the entire thing on online in covert videos and trailer descriptions. If you were one of those users who couldn't help but ruin it ahead of time, you might be asking yourselves why Disney is trying to fool us with the official trailer. From missing villains to misdirection, it looks like this is another MCU teaser trailer that does a little too much teasing to try to throw us off the real details of the film.
Is MODOK Actually the Big Bad Played by Bill Murray?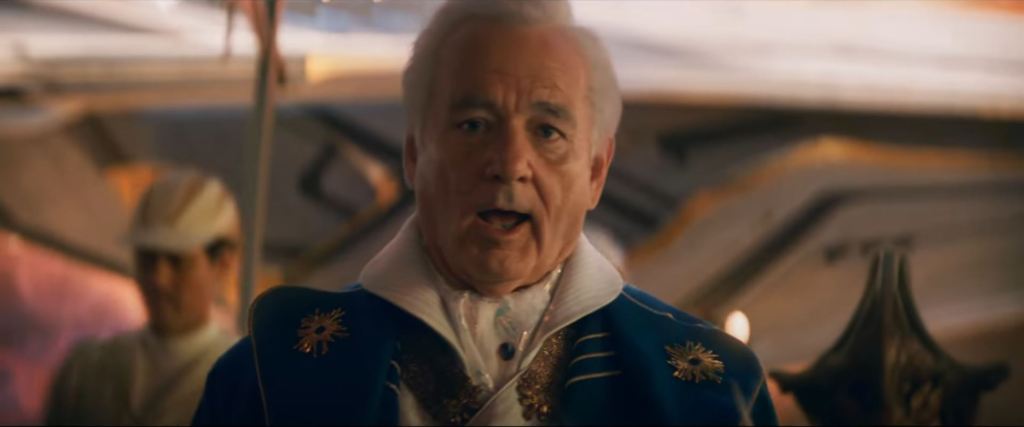 Annoyingly, the Ant-Man and the Wasp: Quantumania trailer has cut out a reported glimpse (from the D23 trailer) of the villainous M.O.D.O.K. (Mechanized Organism Designed Only for Killing), who is a classic Marvel foe and has a problematic past with the MCU. As well as being in an early script for Fox's Iron Man before it was redeveloped by Marvel Studios, Captain America: The Winter Soldier went as far as casting Peter Dinklage as M.O.D.O.K. before the big bad was swapped out for Alexander Pierce (Robert Redford). It's become a recurring joke that the MCU cuts whole characters from its trailers to hide their true roles, and just like Spider-Man: No Way Home marketing hid Andrew Garfield and Tobey Maguire (poorly), the MIA M.O.D.O.K. could suggest he'll actually play a pretty big part in the film. Perhaps he's even the film's actual big bad.
It doesn't help that Kang the Conqueror's motives for being in the Quantum Realm don't exactly line up with what we know about the character. Majors played He Who Remains in Loki and warned that there were worse versions of him out there. By killing He Who Remains, Sylvie (Sophia Di Martino) unleashed the Multiverse and presumably spurred a war-ready Kang into action. In the comics, Kang is a time-travelling villain who is not normally associated with Ant-Man, but given how the Quantum Realm looks like an amalgamation of the Microverse and Negative Zone with a bit of time travel thrown in, it's likely his live-action origins have been given a revamp. What we know for sure is that Michelle Pfeiffer's Janet van Dyne is afraid of something in the Quantum Realm, but whether that's Kang, M.O.D.O.K., or someone else, we're in the dark for now.
There are also questions about Bill Murray's mystery character. Since the Ghostbusters star was first linked to the movie, fans have been guessing who he'll play in his Marvel debut. Appearing in a single shot of the trailer, Murray wears robes that suggest he's some Quantum Realm official. Given that he's been rumored to play M.O.D.O.K for a while, we could finally make good on his promises that he's playing a "bad guy," with this shot coming before some sort of freak accident. Going against this, there were equally wild rumors that Jim Carrey was going to play M.O.D.O.K. in Quantumania. Whatever the case, M.O.D.O.K. is likely going to be voiced by a big name.
Kang the Conqueror Misdirection?
The trailer could be hiding another major talking point about Kang: whether he'll have the comic-accurate blue skin. Unfortunately, the trailer only adds to the confusion among fans on social media, as we see Majors' natural look in some shots but Kang with either blue skin or a blue visor in others. Behind-the-scenes photos that leaked last year provided a cryptic look at a blue Kang, but the picture was ultimately too blurry to tell for sure. If Quantumania wants to make Kang distinct from Majors playing He Who Remains, giving the villain his classic comic book look would be one way to do it. It sounds simplistic, but it would help explain the differences between the two characters in a very literal way.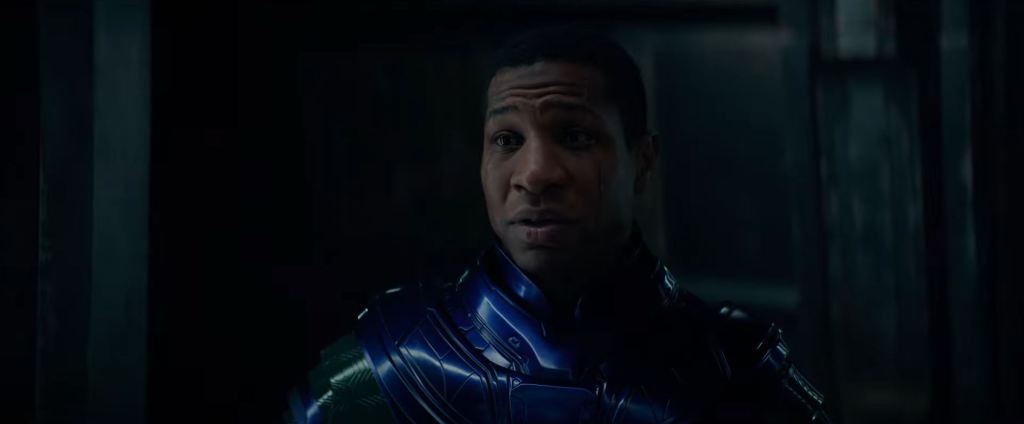 Whatever is going on, we don't trust Kang's offer to get Scott home and give him "more time" if the hero helps him with some unknown task. For all we know, the Ant-Man gang could work with Kang to take on M.O.D.O.K, before the latter betrays our heroes and vanishes into the Multiverse. Knowing how the MCU likes to build out its worlds, it makes sense to introduce him as a secondary villain who returns for a larger role later on.
If Kang's ties to the Fantastic Four and clear positioning as "the next Thanos" suggest anything, it's that he'll be popping up throughout Phase 5 and 6, leading up to Avengers: The Kang Dynasty. It makes sense to establish Kang's threat to the MCU before that ensemble film. But for now, as the clock ticks down to Ant-Man and the Wasp: Quantumania's release, we're no closer to unraveling the mysteries of the Quantum Realm and who's really pulling down in the Quantum Realm.
Ant-Man and the Wasp: Quantumania releases on Feb. 17, 2023.