News
Ant-Man and the Wasp: Quantumania Star Teases the Movie's Big Reveals
Ant-Man and the Wasp: Quantumania star Paul Rudd has been fielding questions on the upcoming threequel's MCU easter eggs and cameos.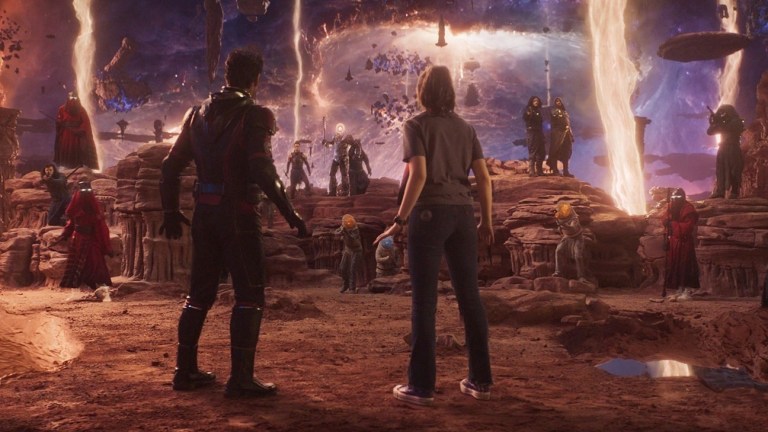 This article contains Loki spoilers
Ant-Man and the Wasp: Quantumania might seem like a weird movie to kick off Phase 5 of the MCU. The Scott Lang (Paul Rudd) solo movies have been wholesome family capers to date, with the first movie focusing on Lang's path from recently-released small time criminal to budding superhero, and the second building up the Ant-Fam's bond while they endeavored to help a suffering woman called Ava Starr, who was putting others in danger.
The third film has a bigger agenda, though. Ant-Man and the Wasp: Quantumania will see Lang and co. pulled into the Quantum Realm and Kang the Conqueror's (Jonathan Majors) domain. The villain and his many Variants will be the big bad(s) of Phases 5 and 6, and judging from the trailers and clips that Marvel has revealed so far, this threequel will be a much more serious and deadly affair for Lang as he goes up against Kang and his many minions. It will also break from the previous two Ant-Man films by being less self-contained, if Rudd's recent comments are anything to go by.
In a recent interview with Fandango, host Erik Davis asked Rudd directly if Ant-Man and the Wasp: Quantumania would have the kind of Easter eggs and cameos fans have come to expect from Marvel Studios' more ambitious projects, and if he would gauge on a scale of 1-10 whether the ones in his upcoming movie would blow people's minds.
"I think we have some good ones in there," Rudd teased. "Some really good ones. I'm obviously not going to tell you what they are, but I think the the ones that people find out about or learn about will… it would be a ten."
This is in line with comments that Rudd and director Peyton Reed made after last year's San Diego Comic Con. "Things happen in this movie that are going to change the Marvel Cinematic Universe permanently," Reed said. "[There are] some surprising faces that may show up in the Quantum Realm. We're very excited."
As for who those faces might be, we're still none the wiser (which is nice) but Marvel fans will no doubt be hoping to see Tom Hiddleston's Loki pop up ahead of the second season of his self-titled Disney+ show later this year. Loki and his Variant, Sylvie, are the only denizens of the MCU to have met one of Kang's Variants to date as far as we know, and it would be an understatement to say it did not go well, with Sylvie killing the man called "He Who Remains" against Loki's advice. This event then reignited the multiverse, and it looks like Lang and his family will be the first to pay the price of that deadly encounter – if you don't count all the poor souls who met their maker in Marvel's What If…?
Ant-Man and the Wasp: Quantumania stars Rudd, Majors, Evangeline Lilly, Michelle Pfeiffer, Michael Douglas, Kathryn Newton, David Dastmalchian, William Jackson Harper, Katy O'Brian, and Bill Murray, from a screenplay by Rick and Morty writer Jeff Loveness, who has previously penned Marvel comics for Groot, Spider-Man, and Nova. The film will be released on February 17 ahead of Marvel's Secret Invasion TV event on Disney+.