News
New Ant-Man 3 Trailer Finally Reveals Corey Stoll's Big MODOK Face
Corey Stoll's big, smooshy MODOK face has finally popped up in the latest trailer for Marvel's Ant-Man and the Wasp: Quantumania.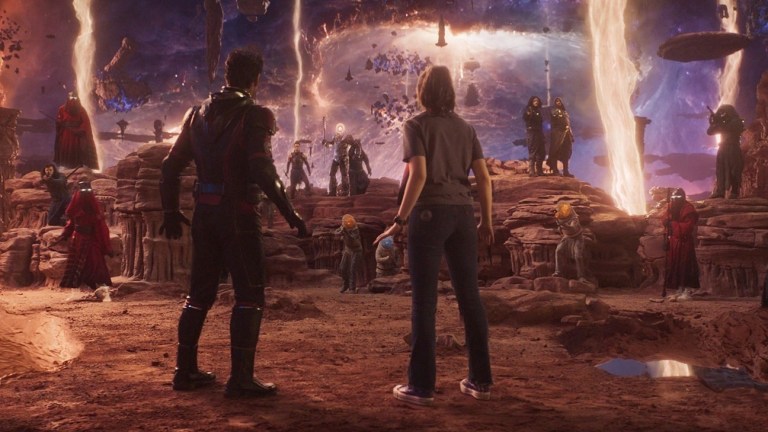 This article contains some historical MCU spoilers
What happened to Corey Stoll's villainous Darren Cross after Scott Lang (Paul Rudd) penetrated his Yellowjacket suit and sabotaged it to shrink uncontrollably in the climax of Marvel's first Ant-Man film? Well, he probably didn't die, as the new Ant-Man and the Wasp: Quantumania trailer reveals. I'm using the word "probably" here because we're now in the thick of the Multiverse Saga, so as far as we know, the Darren Cross in this trailer could be some kind of variant pain in the butt!
What we do know for sure is that whatever version of Darren Cross we're dealing with here has certainly become the MCU's MODOK – the Mechanized Organism Designed Only for Killing. Not only do we see MODOK in his shiny new hoverchair in this brand-new trailer, we also catch a glimpse of Stoll's big ol' head sitting in it. It's a "blink and you'll miss it" shot, so here's a capture: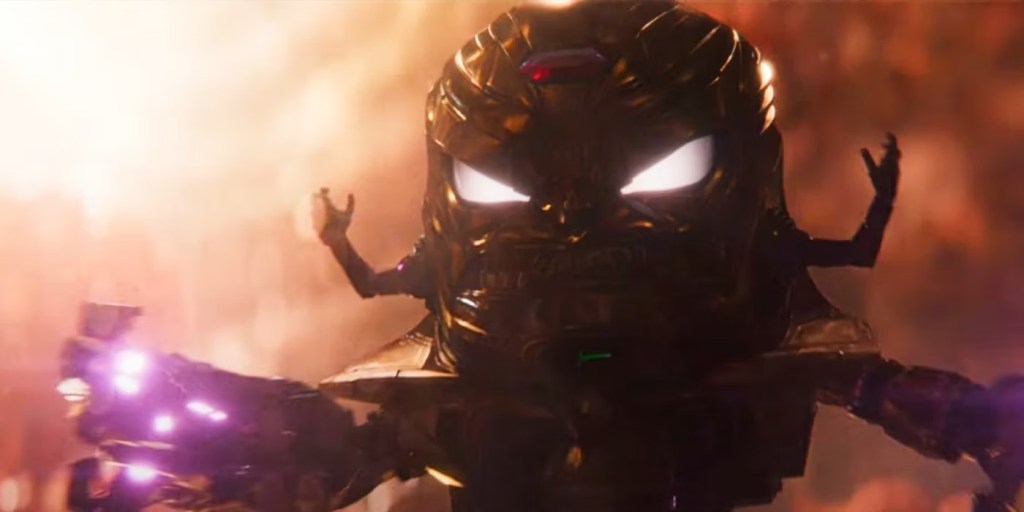 Depending on how deep you are with Marvel, you'll find yourself either yelling "MODOK!" or "WHO?" so here's a little info on the classic Marvel Comics villain to get you up to speed: his first full appearance was in 1967's Tales of Suspense #94, he's a human mutate-cyborg with superhuman intelligence and psionic powers, he's gone through a bunch of different iterations (standard), and he's also been part of several big villain crews, including Intelligencia. If that rings a bell, it was the name Marvel gave to the insidious incel brigade in last year's Disney+ series, She-Hulk: Attorney at Law.
But here, MODOK seems to be working with Kang the Conqueror (Jonathan Majors), who appears in a much more sinister fashion during the new trailer for the upcoming Ant-Man threequel. We previously met a variant of Kang in the Loki TV series. That variant was called He Who Remains, and he had put himself in charge of preventing the multiverse from existing, which all went to hell in a handcart when Loki variant Sylvie decided to bump him off. The denizens of the MCU will now have to contend with the ramifications of a reactivated multiverse and Kang's inevitable variants, one of which is seen trying to stomp the life out of Scott Lang here after the Ant Fam finds themselves pulled back into the Quantum Realm.
The trailer also revealed a little more about the plot of Quantumania, and how Lang is grappling with losing so many years of time with his daughter Cassie after being trapped in the Quantum Realm between Ant Man and the Wasp and Avengers: Endgame. Kang seems to offer Lang a way to get those years back using his skills at time manipulation, but their relationship apparently soon sours. We see Kang on the attack, and Lang outgunned as his family try to escape Kang's clutches. As Tony Stark once warned us, "You mess with time, it tends to mess back."
MODOK will no doubt prove to be a formidable foe during this adventure, though he's always been a slightly ridiculous one, and his Sir Patrick Moore Gamesmaster vibes are leaning into some of that ridiculousness in live action. If you want to enjoy a little MODOK before his big screen debut, you can check out his self-titled stop-motion animated TV series on Disney+ in the UK and Hulu in the US, where he is voiced by none other than Patton Oswalt. But a word of warning: it's not for the kiddies.
Ant-Man and the Wasp: Quantumania stars Paul Rudd as Scott Lang, Evangeline Lilly as Hope van Dyne, Jonathan Majors as Kang, Michelle Pfeiffer, Michael Douglas, Kathryn Newton, David Dastmalchian, William Jackson Harper (potentially as Reed Richards), Katy O'Brian, and Bill Murray.
This will be the first movie in Phase 5 of the Marvel Cinematic Universe, and it will be released wide on February 17.