News
First Ant-Man and the Wasp: Quantumania Reactions Pour In
Phase 5 officially gets underway with the release of Ant-Man and the Wasp: Quantumania! Here's what the people lucky enough to have seen some previews of the latest MCU entry are saying about it.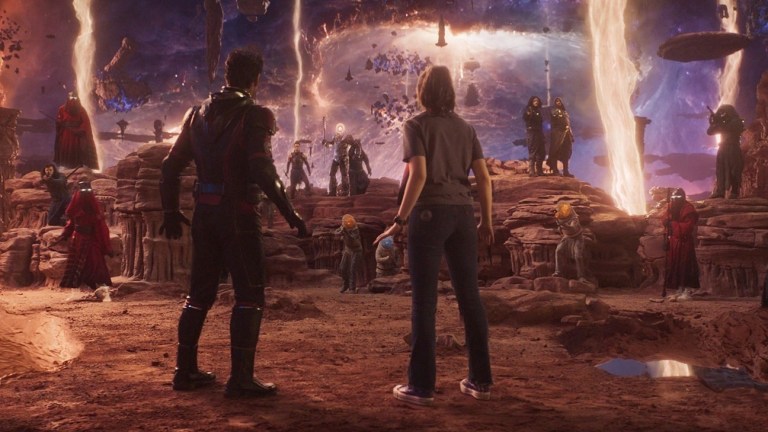 You've got big dreams. You want Marvel. Well, Marvel costs. And right here is where you start paying: in sweat 2023 theater tickets and Disney+ subscription fees.
With a divisive Phase 4 of the MCU wrapped and shipped, it's almost time to clap our eyes on the first of Marvel Studios' Phase 5 entries: Ant-Man and the Wasp: Quantumania. Paul Rudd reprises his role as the little guy who could, Scott Lang, in a threequel that appears to be taking a tonal diversion. Where both 2015's Ant-Man and 2018's Ant-Man and the Wasp were fun, family-friendly capers that Marvel was happy to churn out despite their relatively low box office payoff, Ant-Man 3 has the Quantum Realm on its shoulders as it kicks off a serious and deadly new dynasty. It's also handling the job of properly introducing Phase 5 and 6's big bad: Kang the Conqueror (Jonathan Majors).
In the upcoming movie, the Ant-Fam is unexpectedly pulled into the Quantum Realm again, but this time Lang's now grown-up daughter Cassie (Kathryn Newton) is along for the ride. Cassie has superheroic ambitions, but she's not ready to face one of Marvel Comics' most iconic (and headache-inducing) supervillains down there in the tiny verse.
The journey will indeed feature Kang's first appearance in the MCU, but we've already met one of his Variants in Loki. "He Who Remains" warned the God of Mischief and his Variant Sylvie that reigniting the multiverse was a bad idea, knowing full well that Variants of himself are trouble with a capital T, but Sylvie decided to kill him and awaken the multiverse again anyway. Thus, we find ourselves immersed in Marvel's new Multiverse Saga, where Lang, Hope, Janet, Hank, and Cassie will be the first to feel Kang's wrath, and Rudd says we can expect some big easter eggs and cameos in this one.
The trailers for the film haven't really offered much hope that Lang and co. will make it out of this alive or unscathed. Turns out that Lang's former antagonist Darren Cross aka Yellowjacket (Corey Stoll) is also roaming Kang's patch in the Quantum Realm, but to say he's changed since we last saw him in Ant-Man would be an understatement. He is now the MCU's MODOK – Mechanized Organism Designed Only for Killing – a giant head with little arms and legs poking out of it. You love to see it! But we can safely assume Lang won't.
Some lucky people have already seen Ant-Man and the Wasp: Quantumania previews. With a pinch of salt (these initial reactions are usually pretty glowing regardless), let's take a look at what they're saying about the movie.
Ant-Man and the Wasp: Quantumania has been handled by returning Ant-Man 1 and 2 director Peyton Reed, from a script written by Jeff Loveness. It stars Paul Rudd, Evangeline Lilly, Jonathan Majors, Michelle Pfeiffer, Michael Douglas, Kathryn Newton, David Dastmalchian, William Jackson Harper, Katy O'Brian, and Bill Murray. It is set to be released on February 17.