News
AMC Theatres Reverses Policy on Wearing Masks
AMC Theatres reverses position about wearing masks being a "political controversy." When the theater chain reopens in July, masks will be mandatory.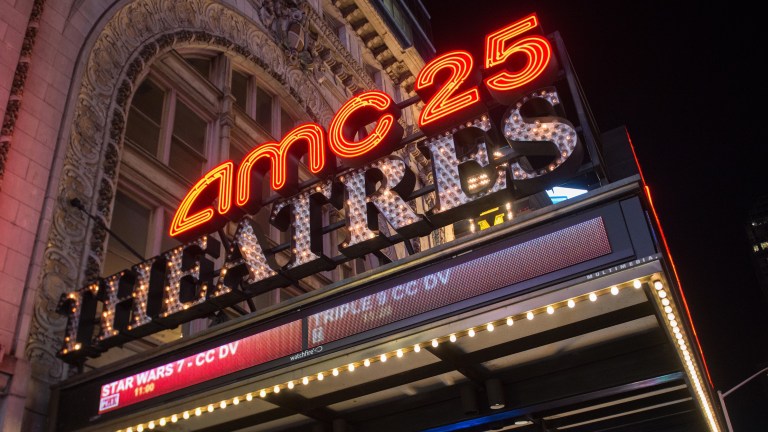 AMC Theatres, the largest chain of movie theaters in North America, is finally set to reopen its doors next month. With the coronavirus pandemic still going strong, AMC Entertainment announced plans to reopen 450 of its more than 600 locations on July 15, marking the first time the chain will have been ready for business in about four months. The company also is going to require masks… after initially saying they wouldn't.
The move to open while mandating employees wear masks, but allowing customers to do otherwise, received fierce pushback in the media and online, including in the original version of this story. Since then AMC CEO Adam Aron had a change of heart.
"This announcement prompted an intense and immediate outcry from our customers, and it is clear from this response that we did not go far enough on the usage of masks," Aron said in a statement. "At AMC Theatres, we think it is absolutely crucial that we listen to our guests. Accordingly, and with the full support of our scientific advisors, we are reversing course and are changing our guest mask policy." Aron added the speed with which this decision was made is an emblem of their concern for customer feedback and customer safety.
The negative reaction Aron is referencing regards an interview he did with Variety. Speaking with the trade, Aron rationalized the company's position on making masks optional as, "We did not want to be drawn into a political controversy. We thought it might be counterproductive if we forced mask wearing on those people who believe strongly that it is not necessary. We think that the vast majority of AMC guests will be wearing masks. When I go to an AMC feature, I will certainly be wearing a mask and leading by example."
The change-up is encouraging that at least when forced to by public opinion, corporate entities can place public safety over the bottom line. Now requiring customers to wear masks–presumably still with $1 masks being available at open AMC locations–is also only part of their rollout of new safety procedures. Indeed, AMC has revealed plans to reduce seating capacity, beginning with theaters being 30 percent full and gradually working their way up to 50 percent capacity on an unspecified timetable, and to "encourage" contactless and cash-free concessions.
The initial suggestion that masks are "political" and not a scientifically proven necessity for public health belied earlier claims of placing public health first above the dollar. But then AMC may have been calculating—much like Cinemark before them—that they need all the dollars they can get. Despite being the largest chain in North America, AMC Entertainment confirmed earlier this month that there is "substantial doubt" the company will be able to stay in business during the coronavirus pandemic. This is due to the fact that AMC was already $5 billion in debt before COVID-19 forced their 600-plus locations to close up shop in March. S&P Global subsequently suggested a default on their credit was imminent.
Clearly the hope is to turn this around by reopening in July in time for Disney's Mulan and Warner Bros. and Christopher Nolan's Tenet, both of which are expected to release at the end of the month on July 24 and July 31, respectively. While this theoretically could change for both films—although Nolan is eager to see his film released in cinemas this summer so as to protect the theatrical experience—movie theaters like AMC's locations are desperate to have them open soon and reestablish the excitement of going to the movies.
AMC is additionally partnering with the Clorox Company and current and former faculty members of Harvard University's School of Health for cleaning procedures, which will include deploying electrostatic sprayers, HEPA vacuums, and upgraded MERV 13 ventilation filters, which are intended to reduce airborne particles.