News
Tenet: Trailer Pledges Christopher Nolan Movie is Coming to Theaters
Christopher Nolan's Tenet is still scheduled to come out in theaters in July, and it has the new trailer to prove it. And it looks wild.
They're not backing down. That is the pledge and also the prestige (to borrow a phrase from another film) behind the second trailer to Christopher Nolan's upcoming film, Tenet. Still a vague and enigmatic tease of high-concept ideas and teasingly time-bending physics, the second trailer almost confirms defiantly that the first Nolan film in three years will be going to theaters. Albeit without an exact date or even month in the fine print.
In his first film since 2017's Dunkirk, the acclaimed director appears to be challenging (or at least re-contextualizing) our basic understanding of physics in much the same way that Interstellar did, albeit with a film that looks as sleekly exciting as his biggest popcorn triumphs to date, The Dark Knight and Inception.
For Tenet, Nolan reteams with a big chunk of his Dunkirk crew, including cinematographer Hoyte van Hoytema, production designer Nathan Crowley, costume designer Jeffrey Kurland, and visual effects supervisor Andrew Jackson. Nolan has picked Black Panther and Creed composer Ludwig Göransson to create a score this time, separating (at least for now) from his long-time musical collaborator, Hans Zimmer. For the first time since 2006, Nolan is working with someone other than his Batman Begins composer. He also ditched long-time favorite editor, Lee Smith, for Hereditary editor Jennifer Lame.
Here's everything you need to know…
Tenet Trailer
The new trailer, as promised, aired during Fortnite of all things. It also leans heavily on Nolan's legacy while making a seeming last stand for the sanctuary of movie theaters and cinemas. Feast your eyes for yourself…
Here is the first trailer.
Tenet Release Date
Tenet will be released on July 17, 2020. Supposedly. However, its release date appears to depend on whether 80 percent of global cinemas will be open by that date. If not, one report suggests the movie will be moved to August on Wonder Woman 1984's current date. It's one of our must-see movies of the year, no matter its final release date.
Tenet Cast
The Tenet cast consists of the following:
John David Washington (BlacKkKlansman) will lead the cast of Tenet alongside Robert Pattinson (The Lighthouse). The rest of the main players are Elizabeth Debicki (The Night Manager), Dimple Kapadia (Bobby), Aaron Taylor-Johnson (Avengers: Age of Ultron), Clémence Poésy (In Bruges), Michael Caine (The Dark Knight) and Kenneth Branagh (Murder on the Orient Express). No details about any of their parts have been revealed yet.
Both Washington and Pattinson are joining Tenet off the back of extremely well received roles – Washington for his award-winning turn in BlacKkKlansman and a noted appearance in David Lowery's The Old Man & The Gun, and Pattinson in Good Time, High Life and Cannes darling The Lighthouse. Pattinson is also donning the cowl for Matt Reeves' The Batman solo movie. Maybe he can get a little advice from Nolan about how to handle the fallout from that!
Himesh Patel also has one of the last mystery main cast roles for Tenet, reported Variety. He comes into the ensemble with significant momentum from his recent starring turn in this past June's world-without-the-Beatles dramedy, Yesterday, which he fielded off a TV run on the Alan Davies-starring British comedy, Damned, and a nine-year (2007-2016) run on the venerable BBC drama, EastEnders. He'll next be seen as part of a large ensemble on the upcoming HBO limited series, Avenue 5.
Tenet Story
Here is the official synopsis.
Armed with only one word — Tenet — and fighting for the survival of the entire world, the Protagonist journeys through a twilight world of international espionage on a mission that will unfold in something beyond real time.

Not time travel, inversion.
Tenet Poster
Here was the first poster for the new Christopher Nolan movie.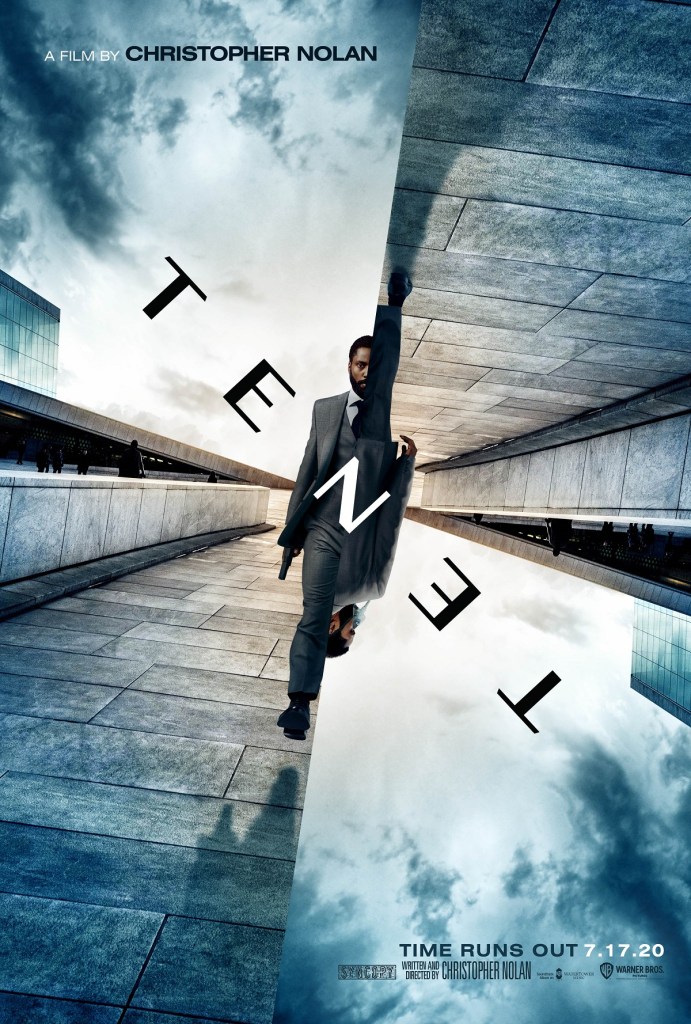 Joseph Baxter is a contributor for Den of Geek and Syfy Wire. You can find his work here. Follow him on Twitter @josbaxter.