Features
Why the PS5 vs. Xbox Series X Console War Turned So Ugly in 2022
Xbox and PlayStation are fighting tooth and nail to get their hands on Call of Duty. The console wars have never been bloodier.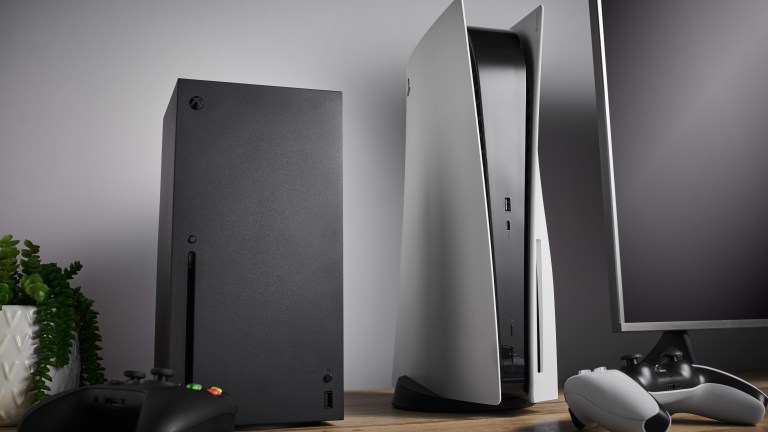 Console wars are nothing new. Back in the Sega Genesis and SNES days, Sega tried to convince audiences that their console did what Nintendon't (and vice versa). But with the advent of cross-play and cross-progression in more recent console generations, companies like Sony and Microsoft have largely been content to play nice with each other. Lately though, they have gone back to their old, competitive ways, especially in 2022.
Microsoft struck first with a surprise announcement: The company planned to purchase Activision Blizzard. While shocking, this is hardly the first major video game acquisition in recent memory. In fact, Sony and Microsoft have spent the past several years buying up game publishers and developers, racing to grab as much territory as possible. In 2021, Sony purchased studios Bluepoint Games and Housemarque, while the year before, Microsoft acquired ZeniMax Media, owners of Bethesda Softworks and all the studios that come with it. Earlier this year, Sony also bought Bungie, the legendary studio behind the original Halo trilogy and more recently the MMO shooter franchise Destiny.
So what is different about the Microsoft-Activision Blizzard deal? For starters, Microsoft plans to spend almost $69 billion on the acquisition, compared to the $8.1 billion the company paid for ZeniMax. And if the deal goes through, Microsoft will get complete control of massive franchises like Call of Duty, Warcraft, Diablo, and even mobile gaming king Candy Crush in one fell swoop. This would be status quo-shattering for several reasons, but here's a big one gamers care about: in theory, if the merger were to happen, Microsoft would now have the right to publish Call of Duty games, a franchise that has earned over $30 billion throughout its lifetime, exclusively on Xbox platforms, pushing out competitors like PlayStation and Nintendo completely. It would potentially mean that gamers would have no choice but to get an Xbox or sign up for Game Pass to play future Call of Duty titles.
In order to allay fears, the head of Microsoft's Xbox division, Phil Spencer, has made many promises regarding Call of Duty's future place on PlayStation consoles. Forbes has chronicled these assurances, from Microsoft promising to honor any existing contracts between Sony and Activision to reassuring PlayStation owners will play Call of Duty "as long as there is a PlayStation out there to ship to." Spencer even offered Sony the right to sell Call of Duty games as part of the PlayStation's subscription services. However, these olive branches seem to have done little to sway Sony or prevent hostilities between the two gaming giants.
According to Microsoft, Sony has always been hostile toward its big competitor and has been working behind the scenes to sabotage the Xbox for years. Recently, Microsoft has pointed an accusatory finger at Sony for a number of reasons. In an interview with Second Request, Spencer claimed Sony is the only major party against the Activision Blizzard deal because Sony is "trying to protect its dominance on the console." As he put it, Sony makes the PlayStation grow "by making Xbox smaller." During an annual shareholders meeting, Microsoft president Brad Smith echoed Spencer's sentiment and claimed the Activision Blizzard acquisition was more than fair because Sony sports far more exclusive titles — 286 to Microsoft's 59 by Smith's estimates.
In hefty responses filed by Microsoft and Sony to an inquiry by the UK government's Competition and Markets Authority (CMA), each company presented its case for why Activision Blizzard would or wouldn't hurt competition in the market. Microsoft claimed Sony was a much bigger player in the industry, and so the Acti-Blizz deal would only serve to help it catch up to Sony, making it a more level playing field for all. Sony argued the acquisition would actively cripple its console business and force consumers to buy an Xbox.
Some accusations levied by both companies are far more inflammatory than others. For instance, in a filing with Brazil's Administrative Council for Economic Defense (CADE), Microsoft claimed that Sony was intentionally trying to hamstring Xbox's growth by paying for "blocking rights." What does this mean? According to Microsoft, Sony has allegedly been bribing developers and publishers to keep their titles off Xbox Game Pass and other competing subscription services. Meanwhile, a document published by Sony (via Nintendo Life) examined a statement made by Microsoft that Nintendo doesn't need Call of Duty to be successful and claimed it meant something more sinister. According to Sony's interpretation, Microsoft wants "PlayStation to become like Nintendo" and become less of a direct competitor, using the Activision Blizzard merger to accomplish that goal. Yes, that's quite the accusation.
During an interview with GamesIndustry.biz, analyst Piers Harding-Rolls claimed if Microsoft were to add Call of Duty to Xbox Game Pass, the game would significantly drive people to the service. In its CMA filing, Sony claimed that its PlayStation Plus is already lagging behind Game Pass in terms of subscribers. Assuming Harding-Rolls is correct and Microsoft were to purchase Activision, it's possible PS Plus wouldn't stand much of a chance against Xbox Game Pass once Call of Duty were folded into the latter service.
But throughout all this, Spencer has stated time and again that he is willing to play ball with Sony and continue to publish Call of Duty on PlayStation platforms for the foreseeable future — and has even agreed to port the shooter to Nintendo consoles for the next 10 years. Spencer has a track record of working well with rival companies. Remember Minecraft? In 2014, Microsoft purchased its developer, Mojang, but the game didn't turn into an Xbox exclusive. Minecraft is still available on multiple platforms, including PlayStation and players can team up with friends regardless of what console they're playing on. Several years after the acquisition, Microsoft released Minecraft Dungeons on Xbox, PlayStation, and Switch, and the next Mojang title, Minecraft Legends, will also launch on all platforms.
More recently, Microsoft honored the timed console exclusivity deals Sony and ZeniMax inked for Deathloop and Ghostwire: Tokyo prior to the Bethesda acquisition. Granted, PlayStation owners still won't get to play Xbox first-party exclusives like The Outer Worlds 2 and Starfield, but Xbox fans don't get to play PlayStation-only hits like God of War or The Last of Us either. None of these are exactly anywhere near as big as Call of Duty or Minecraft, though.
Because of the Federal Trade Commission's recent attempts to block Microsoft's purchase in court, the future of the merger with Activision Blizzard is more up in the air than ever before. But no matter which direction the story ultimately takes, 2022 has revealed Microsoft and Sony's true feelings about the other. While the companies were playing nice on the surface, behind closed doors they were harboring a grudge, and things could get even uglier in 2023.