Features
Video Game Gifts: The Den of Geek 2019 Holiday Gift Guide
These are the games you need to own this holiday season!
The holidays are here, which means that it's time to load your online shopping carts with all of the best video game deals. From console bundles to new gaming laptops to the latest and greatest in video game titles, there are plenty of deals coming up during Thanksgiving, Black Friday, Cyber Monday, and Christmas that you absolutely won't want to miss. 
We've picked all of the best deals from Amazon and Walmart that you should absolutely take a look at if you're looking to level up your gaming experience:
AMAZON
Sega Genesis Mini – $49.99
The iconic SEGA Genesis console that defined a generation of gaming returns in a slick, miniaturized unit. The SEGA Genesis Mini console is loaded with 40 legendary games and is plug and play ready right out of the box! Games will be announced in four waves of 10 games.
PlayStation 4 Slim 1TB Bundle – $199
This Playstation PS4 bundle includes a Jet Black 1TB PS4, matching DualShock4 Wireless Controller, God of War, The Last of Us Remastered, and Horizon Zero Dawn.
Buy PlayStation 4 Slim 1 TB Bundle
Xbox One X 1TB Star Wars: Jedi Fallen Order Console Bundle – $349
Own the Xbox One X Star Wars Jedi: Fallen Order Bundle and experience the thrill and challenge of becoming a Jedi. Step into the role of a Jedi padawan who narrowly escaped the purge of order 66. Engage in innovative lightsaber and force combat on a galaxy-spanning adventure as you stay One step ahead of the Empire and its deadly inquisitors. Continue your training, explore the mysteries of the force, and become the Jedi you were meant to be. This bundle includes an Xbox One X, an Xbox wireless Controller, a full-game download of Star Wars Jedi: Fallen Order Deluxe Edition, a month Xbox Live Gold subscription, a month Xbox Game Pass for Console trial, and month of EA access. With 40% more power than any other console, a library of over 2200 games, and true 4K gaming, games play better and are more immersive on Xbox One X.
Lenovo Legion Y740 17″ Gaming Laptop with NVIDIA GeForce RTX 2080 GPU – $2149.00
Gaming's evolution continues. The Lenovo Legion laptop design has evolved even further to match the two sides of today's gamers: stylish for work, Savage for play. We've reimagined the gaming PC with the latest high-performance hardware from Intel and NVIDIA, housed in a thin and light, all-aluminum chassis. The 17. 3″ Lenovo Legion Y740 laptop is engineered to defy expectations and shatter limits, to deliver the Absolute pinnacle of gaming immersion. The bezels on the Y740 17-inch gaming Laptop are thinner than previous generations, delivering a captivating visual experience. The bright, full HD display, NVIDIA G-SYNC technology, and Dolby Vision high-dynamic range Combine to provide stunning fidelity. With the powerful Intel Core i7-8750H Processor, this computer masterpiece breaks the constraints of conventional gaming laptops.
The Legend of Zelda: Link's Awakening – $48.96
Explore a reimagined Koholint Island in one of the most beloved games in the Legend of Zelda series. Link has washed ashore on a mysterious island with strange and colorful inhabitants. To escape the island, Link must collect magical instruments across the land and awaken the Wind Fish. Explore a reimagined Koholint Island that's been faithfully rebuilt in a brand-new art style that will entice fans and newcomers alike. Battle enemies as you conquer numerous dungeons and uncover the hidden secrets of the island. Encounter Super Mario enemies like Goombas, Piranha Plants, and more, and interact with unique locals who help Link on his adventure. As you clear dungeons throughout the main story, earn dungeon rooms (Chambers), then arrange them into custom layouts in the all-new Chamber Dungeon. Place your dungeon entrance, Nightmare room, and everything in between as you try to fulfill objectives and play through a new dungeon. Tap compatible amiibo figures to earn more Chambers and find additional Chambers throughout the game in updated mini-games, such as the river rapids, trendy game, and fishing.
Buy The Legend of Zelda: Link's Awakening
Pokemon Sword and Shield – $58.93
A new generation of Pokémon is coming to the Nintendo Switch system. Become a Pokémon Trainer and embark on a new journey in the new Galar region! Choose from one of three new partner Pokémon: Grookey, Scorbunny, or Sobble. In this all new adventure, you'll encounter new and familiar Pokémon as you catch, battle, and trade Pokémon while exploring new areas and uncovering an all-new story. Get ready for the next Pokémon adventure in the Pokémon Sword and Pokémon Shield games.
Death Stranding – $59.88
From legendary game creator Hideo Kojima comes an all-new, genre-defying experience for the PlayStation 4. Sam Bridges must brave a world utterly transformed by the Death Stranding. Carrying the disconnected remnants of our future in his hands, he embarks on a journey to reconnect the shattered world one step at a time. With spectral creatures plaguing the landscape, and humanity on the verge of a mass extinction, it's up to Sam to journey across the ravaged continent and save mankind from impending annihilation. What is the mystery of the Death Stranding? What will Sam discover on the road ahead? An unprecedented gameplay experience holds these answers and more. Starring Norman Reedus, Mads Mikkelsen, Léa Seydoux, and Lindsay Wagner.
Mortal Kombat 11 – $24.99
Continue the epic Mortal Kombat saga through a new cinematic story that is more than 25 years in the making. Players will take on the role of a variety of past and present characters in a time-bending new narrative that pits Raiden against Kronika, the Keeper of Time who created existence at the dawn of history. Choose from a roster of fighters with unique abilities and Fatalities, with new characters, such as Geras, a powerful and loyal servant of Kronika who can manipulate time, along with fan-favorite characters, including, Baraka, Raiden, Skarlet, Scorpion, Sonya Blade and Sub-Zero and more.
Control – $29.88
After a secretive agency in New York is invaded by an otherworldly threat, you become the new Director struggling to regain Control. From developer Remedy Entertainment, this supernatural 3rd person action-adventure will challenge you to master the combination of supernatural abilities, modifiable loadouts and reactive environments while fighting through a deep and unpredictable world.
The Outer Worlds – $54.40
The Outer Worlds is a new single-player first-person sci-fi RPG from Obsidian Entertainment and Private Division. Lost in transit while on a colonist ship bound for the furthest edge of the galaxy, you awake decades later only to find yourself in the midst of a deep conspiracy threatening to destroy the Halcyon colony. As you explore the furthest reaches of space and encounter various factions, all vying for power, the character you decide to become will determine how this player-driven story unfolds. In the corporate equation for the colony, you are the unplanned variable.
Gears 5 – $24.99
From one of gaming's most acclaimed sagas, Gears is bigger than ever, with five thrilling modes and the deepest campaign yet. With all out war descending, Kait Diaz breaks away to uncover her connection to the enemy and discovers the true danger to Sera – herself.
Luigi's Mansion 3 – $59.99
Luigi's dream vacation turns into a ghostly-and gooey- nightmare! Luigi embarks on a dream vacation with Mario and friends upon receiving an invitation to a luxurious hotel. However, his dream quickly becomes a nightmare when King Boo reveals everything had been a ploy to capture Mario and friends. With the assistance of Professor E. Gadd once again, the reluctant and cowardly hero Luigi traverses up and down treacherous floors of the now-ominous hotel on a quest to save them. Wield the upgraded Poltergust G-00 to slam and blow away the ghosts' defenses, or summon Gooigi, an all-green doppelganger that can help Luigi overcome obstacles he can't get past alone. Interchange between Luigi and Gooigi as one player, or grab a friend and control one each. For more frenetic multiplayer action, race the timer to clear various objectives on a series of floors in ScareScraper mode. Scarescraper mode can be played online or locally with up to eight players on four Nintendo Switch systems.
PlayStation Plus: 12 Month Membership [Digital Code] – $44.99
PlayStation Plus gives you access to exclusive online features for your PlayStation gaming consoles, including Free Monthly Games access and online multiplayer on PS4 systems. Play amazing games for free. New games are added each month.
WALMART
Call of Duty: Modern Warfare – $38
The stakes have never been higher as players take on the role of lethal Tier One operators in a heart-racing saga that will affect the global balance of power. Call of Duty: Modern Warfare engulfs fans in an incredibly raw, gritty, provocative narrative that brings unrivaled intensity and shines a light on the changing nature of modern war. Developed by the studio that started it all, Infinity Ward delivers an epic reimagining of the iconic Modern Warfare series from the ground up. In the visceral and dramatic single-player story campaign, Call of Duty: Modern Warfare pushes boundaries and breaks rules the way only Modern Warfare can. Players will engage in breathtaking covert operations alongside a diverse cast of international special forces and freedom fighters throughout iconic European cities and volatile expanses of the Middle East. And the story doesn't end there. In Call of Duty: Modern Warfare, players will be thrust into an immersive narrative spanning the entire game. Experience the ultimate online playground with classic multiplayer, or squad-up and play cooperatively in a collection of elite operations accessible to all skill levels.
Buy Call of Duty: Modern Warfare
Star Wars Jedi: Fallen Order Deluxe Edition – $49.99
A galaxy-spanning adventure awaits in Star Wars Jedi: Fallen Order, a new 3rd person action-adventure title from Respawn Entertainment. This narratively-driven single player game puts you in the role of a Jedi Padawan who narrowly escaped the purge of Order 66 following the events of Episode III: Revenge of the Sith. On a quest to rebuild the Jedi Order, you must pick up the pieces of your shattered past to complete your training, develop new powerful Force abilities, and master the art of the iconic lightsaber – all while staying one step ahead of the Empire and its deadly Inquisitors. While mastering your abilities, players will engage in cinematically-charged lightsaber and Force combat designed to deliver the kind of intense Star Wars lightsaber battles as seen in the films.
Buy Star Wars Jedi: Fallen Order
The Division 2 – $20
The fate of the free world is on the line in The Division 2. Lead a team of elite agents into a post-pandemic Washington DC to restore order and prevent the collapse of the city.
Red Dead Redemption 2 – $30
America, 1899. The end of the wild west era has begun as lawmen hunt down the last remaining outlaw gangs. Those who will not surrender or succumb are killed. After a robbery goes badly wrong in the western town of Blackwater, Arthur Morgan and the Van der Linde gang are forced to flee. With federal agents and the best bounty hunters in the nation massing on their heels, the gang must rob, steal and fight their way across the rugged heartland of America in order to survive. As deepening internal divisions threaten to tear the gang apart, Arthur must make a choice between his own ideals and loyalty to the gang who raised him. From the creators of Grand Theft Auto V and Red Dead Redemption, Red Dead Redemption 2 is an epic tale of life in America at the dawn of the modern age.
Grand Theft Auto V Premium Edition – $15
When a young street hustler, a retired bank robber and a terrifying psychopath land themselves in trouble, they must pull off a series of dangerous heists to survive in a city in which they can trust nobody, least of all each other. The Grand Theft Auto V: Premium Online Edition includes the complete Grand Theft Auto V story experience, free access to the ever evolving Grand Theft Auto Online and all existing gameplay upgrades and content including The Doomsday Heist, Gunrunning, Smuggler's Run, Bikers and much more. You'll also get the Criminal Enterprise Starter Pack, the fastest way to jumpstart your criminal empire in Grand Theft Auto Online.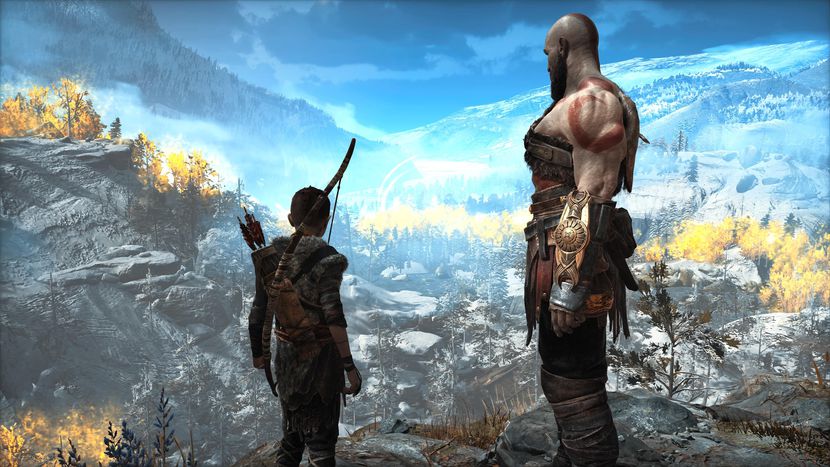 God of War – $15
It is a new beginning for Kratos. Living as a man, outside the shadow of the gods, he seeks solitude in the unfamiliar lands of Norse mythology. With new purpose and his son Atreus at his side, Kratos must fight for survival as powerful forces threaten to disrupt the new life he has created.
Marvel's Spider-Man – $15
This isn't the Spider-Man you've met or ever seen before. This is an experienced Peter Parker who is more masterful at fighting big crime in New York City. At the same time, he's struggling to balance his chaotic personal life and career while the fate of Marvel's New York rests upon his shoulders. When a new villain threatens Marvel's New York, Peter Parker and Spider-Man's worlds collide. To save the city and those he loves, he must rise up and be greater. After eight years behind the mask, Peter Parker is a crime-fighting master. Feel the full power of a more experienced Spider-Man with improvisational combat, dynamic acrobatics, and environmental interactions. A rookie no longer, this is the most masterful Spider-Man you've ever played.
Resident Evil 2 – $20
The genre-defining masterpiece Resident Evil 2 returns, completely rebuilt from the ground up for a deeper narrative experience. Using Capcom's proprietary RE Engine, Resident Evil 2 offers a fresh take on the classic survival horror saga with breathtakingly realistic visuals, heart-poundingly immersive audio, a new over-the-shoulder camera, and modernized controls on top of gameplay modes from the original game.
Super Mario Party – $35
Inspired by original Mario Party board game play, the beloved series is coming to Nintendo Switch with new minigames and play styles that make use of the Joy-Con controllers. The Super Mario Party game includes features like character-exclusive Dice Blocks that add depth to players' strategy. Up to four players take turns rolling the dice, and individually race across the board searching for Stars. In Toad's Rec Room Mode, new gameplay links two Nintendo Switch systems for side-by-side fun.
Xbox One S 1TB All-Digital Edition Console Bundle – $149
Go all digital with the Xbox One S 1TB All-Digital Edition and enjoy disc-free gaming with three great digital games included: Sea of Thieves, Fortnite Battle Royale, and Minecraft. Fortnite Battle Royale download also includes 2000 V-Bucks and Legendary Rogue Spider Knight Outfit with 2 Style Variants that unlock as in-game challenges are completed in free Fortnite Battle Royale and Creative modes.
PlayStation VR Five-Game Bundle – $199
Your heart will race. Your pupils will dilate. Your instincts will kick in and take over as you discover new worlds. This brand-new bundle features a PS VR Headset, a PS Camera, and vouchers for five amazing and popular VR games that offer a variety of worlds to explore, and experiences to be had. Games included are Astro Bot, Skyrim VR, Resident Evil 7, Everybody's Golf VR, and PlayStation VR Worlds.