News
Redfall Release Time: When Can You Download the Game?
Horror-themed shooter Redfall's release date is much closer than you think. Here's when you'll be able to start playing the game.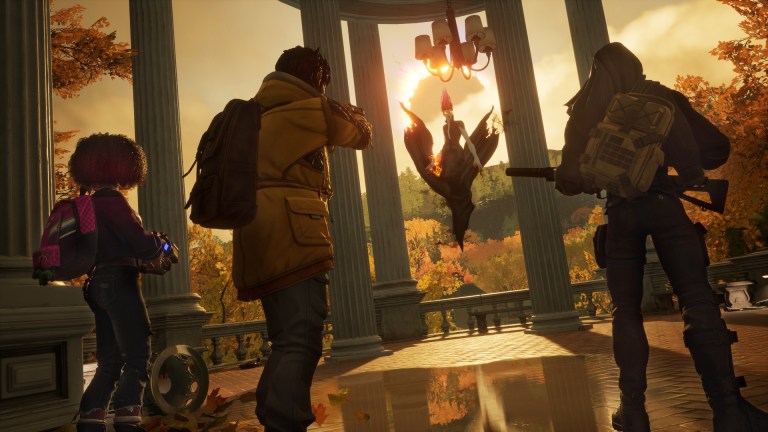 While most new games from developer Arkane Studios are anticipated, Redfall is a bit different. Much of its anticipation can be attributed to the fact that this horror-themed multiplayer shooter represents such a significant departure for Arkane. Many questions remain about Redfall, but "What time will the game be released?" sits near the top of that list.
Redfall is scheduled to be released on May 1st at 8:00 PM EDT, 5:00 PM PDT. Interestingly, that is a "global" release time. That means that many non-Western countries will actually not be able to play the game until May 2nd. For instance, the game will release at 1:00 AM BST on May 2nd, 9:00 AM JST on the same date, and 12:00 PM NZST for our friends in New Zealand (which means the famous New Zealand trick won't work this time around). Of course, the unique "pre-midnight" release time for this game also means that U.S. gamers will actually be able to spend a decent amount of time with the title as soon as it is available.
For more information about Redfall's release times, please be sure to check out this release time map the developers have provided: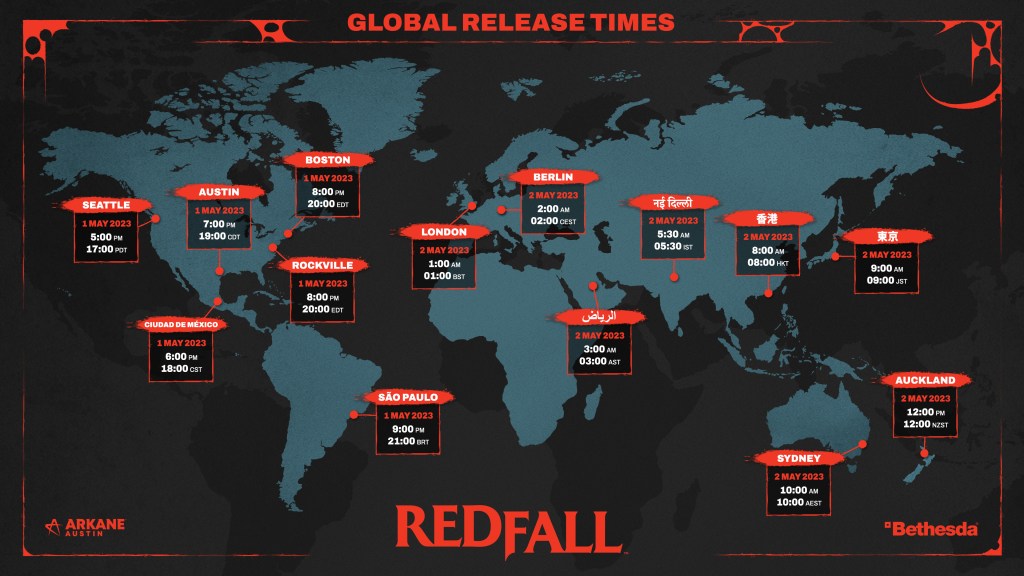 The good news is that you can preload Redfall on PC and Xbox Series X/S. By the time you read this, the preload process should be available. Redfall isn't the biggest game in recent memory, but here are the known file sizes for every version of Redfall:
Xbox Series S: 40.38GB
Xbox Series X: 86.5GB
PC: 103.19GB
While Redfall does offer a few pre-order bonuses, those who waited on the game aren't missing much. Most of the pre-order bonuses are purely cosmetic, so everyone will be able to enjoy the full game.
As for whether you will enjoy Redfall…well, that remains to be seen. Reviews of the game are expected to be available soon, but Redfall's development process has been defined by uncertainty. Arkane Studios (the minds behind Dishonored, Prey, and Deathloop) are known for their Immersive Sim games. Redfall is an open-world horror FPS game that emphasizes co-op play and potential live service elements. We'll see what the game ultimately has to offer, but the project has long been something of a curiosity for all involved.
It's also a rather important game for Xbox. While the Xbox Series X/S line is selling well, the Xbox team has drawn widespread criticism for their lack of exclusives. Simply put, Microsoft keeps buying new studios, but we've yet to play (or even see) many of the games those acquisitions will reportedly result in. While Redfall will not make or break Xbox's fortunes, it's one of the few notable exclusives Xbox gamers have to look forward to until Starfall. Full expectations for the game vary, but it's not unpopular to suggest that Redfall needs to offer at least a worthwhile Game Pass experience to keep Xbox fans satisfied.
We won't be reviewing Redfall ahead of its release, so we're as eager as you are to see whether or not it can give Xbox the "filler app" the console needs right now. The good news is that we won't have to wait long to find out.