Features
Pokémon Legends Arceus: Who is the Most Powerful Pokémon?
If you're looking for the strongest Pokémon in Pokémon Legends: Arceus, there are actually quite a few stats to consider.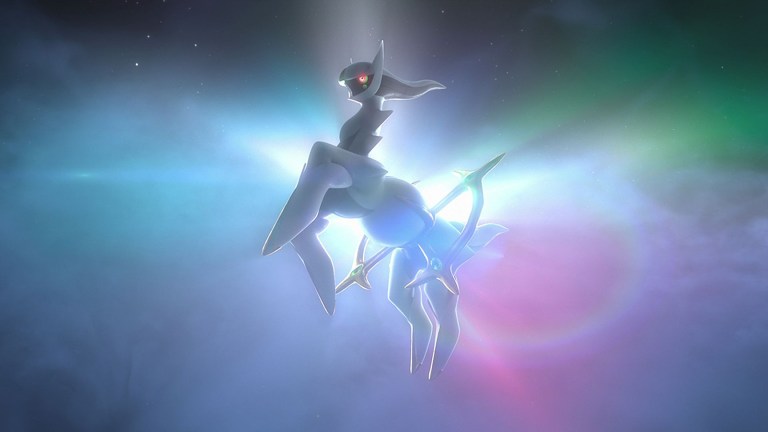 There's definitely a lot to say about Pokémon Legends: Arceus (we've certainly had quite a lot to say about the game so far), but it's not exactly a surprise that some players are already rushing to figure out who the most powerful Pokémon in the game is.
So far as that goes, it first has to be said that the idea of "strongest" or "most powerful" in this context is a little difficult to accurately talk about with absolute certainty. While there are some Pokémon that are certainly more powerful than others (Arceus will beat Magikarp in a fair fight), things like Type weaknesses, team compositions, and specific combat situations will still help determine the majority of encounters. You'll probably do pretty well for yourself if you build a party of Legendary Pokémon with high overall stats, but that's not your only (or always your best) option.
That being the case, we're instead going to talk about a Pokémon's various stats in order to give you a slightly better idea of where they stand on the relative power scale in relation to others. It's not exactly a tier list or a guide to building the best overall team, but these figures should give you a general idea of how one Pokémon stands next to another.
Please also note that this breakdown does not account for Alpha Pokémon. While Alpha Pokémon are always more powerful than their base forms, I haven't yet found any reliable information regarding their exact stats. Should that change (or if any Pokémon's stats changes in any notable way), we'll be sure to update this article.
Pokémon Legends: Arceus – Which Pokémon Have the Highest Total Stats?
So, it shouldn't surprise you that many of the most powerful overall Pokémon in Arceus are legendaries. Legendary Pokémon make up the majority of this list of the ten Pokémon with the highest total stats:
Arceus – 720
Dialga – 680
Palkia – 680
Giratina Origin – 680
Giratina Altered – 680
Regigigas – 670
Hisuian Goodra – 600
Garchomp – 600
Heatran – 600
Cresselia – 600
There are quite a few other Pokémon with similar stats, but most of the Pokémon that belong to the 600 stat club (or above) are also legendaries. Notable exceptions to that rule include Garchomp and Manaphy.
So while you should never just look at total stats when forming your party, the fact that a lot of the Pokémon in Arceus with the highest stats can't be caught until after you've beaten the main story should really highlight the fact that you can't rely on most of the Pokémon listed above for most of your adventure.
So far as that goes, here are some notable non-Legendary Pokémon that have high total stats:
Ursaluna – 550
Togekiss – 545
Snorlax – 540
Gyarados – 540
Blissey – 540
Magmortar – 540
Electivire – 540
Crobat – 535
Tangrowth – 535
Magnezone – 535
Infernape – 534
Pokémon Legends: Arceus – Which Pokémon Have the Highest Hit Point Stats?
HP is obviously a pretty valuable stat, so it's nice to see that some of the Pokémon with the highest stats pools are fairly easy to acquire (relative to Legendary Pokémon, that is).
Blissey – 255
Chansey – 250
Snorlax – 160
Drifblim – 150
Giratina – 150
Munchlax -135
Vaporeon -130
Ursaluna – 130
Basculegion -120
Cresselia -120
There are about 30 Pokémon in Arceus with HP stats above 120, so while Blissey and Chansey are hilariously far ahead of the pack in this area, you certainly have plenty of options if you're looking to add a few to your party.
Pokémon Legends: Arceus – Which Pokémon Have the Highest Attack Power and Special Attack Power Stats?
While the total stats category is dominated by Legendary Pokémon, there's a little more variation in the top ten list of Pokémon with the highest total Attack Power.
Rampardos – 165
Regigigas – 160
Landorus Therian – 145
Ursaluna – 140
Rhyperior – 140
Kleavor – 135
Garchomp – 130
Mamoswine – 130
Flareon – 130
Sneasler – 130
There are quite a few other Pokémon in that "130" attack power range, but as you can see, attack power is distributed a little more evenly among a greater variety of Pokémon. If you're looking for Pokémon with the absolute highest attack power for whatever reason, it's a little easier to focus on that stat throughout the game.
In terms of Special Attack Power, this is what the top of the list looks like:
Dialga -150
Palkia – 150
Thundurus Therian – 145
Enamorus – 135
Darkrai – 135
Porygon-Z – 135
Alakazam – 135
Heatran – 130
Magnezone – 130
Espeon – 130
Again, there are a few more Pokémon in that 125-130 Special Attack Power range, but as you can see, there aren't a lot of Pokémon that offer both top-tier Attack Power and top-tier Special Attack Power. Only some Legendary Pokémon offer incredibly high, and relatively even, numbers in both categories (such as Arceus who has a 120 rating for both).
Pokémon Legends: Arceus – Which Pokémon Have the Highest Defense Stats?
When we talk about a Pokémon's defense, we're actually talking about their physical defense and their defense against special attacks. Here are the Pokémon with the highest physical defense stats:
Steelix – 200
Hisuian Avalugg – 184
Bastiodon -168
Onix – 160
Probopass – 145
Dusknoir – 135
Nosepass – 135
Rhyperior – 130
Golem -130
Leafeon – 130
Here are the Pokémon with the highest special defense:
Probopass -150
Hisuian Goodra – 150
Mantine – 140
Bastiodon – 138
Dusknoir – 135
Blissey – 135
Uxie – 130
Dusclops – 130
Cresselia – 130
Umbreon – 130
The big thing you probably just noticed is that Probopass, Bastiodon, and Dusknoir boast both high physical defense and high special defense. There are also a few other Pokémon a bit further down the list that benefit from relatively even figures in both of those key categories. It's not strictly necessary to fill your roster with Pokémon with high defensive stats in both areas, but it's obviously an advantage.
Pokémon Legends: Arceus – Which Pokémon Have the Highest Speed Stats?
The Speed stat in Pokémon Legends: Arceus is kind of a weird one.
In theory, it helps determine the order of a combat sequence. So while a Pokémon with higher Speed than its opponent should be able to attack before it, that doesn't always seem to be the case. Instead, attack order seems to be based on a combination of factors that include sneak attacks and perhaps a bit of randomness. You can theoretically increase your chances of early attacks by stacking your party with "fast" Pokémon, but there's a debate about how valuable that strategy really is.
Regardless, here's a rundown of some of the fastest Pokémon in the game:
Hisuian Electrode – 150
Jolteon – 130
Crobat – 130
Shaymin Sky – 127
Darkrai – 125
Weavile – 125
Tornadus Therian – 121
Arceus – 120
Origin Palkia – 120
Alakazam – 120
Pokémon Legends: Arceus – Every Pokémon's Complete Stats
Finally, here is a list of every Pokémon in Arceus (sorted by Pokedex number) and their currently known stats across all six major categories (as well as their total stats).
To make this information as readable as possible, the stats have been separated by commas and are displayed in the following order:
Total Stats, Attack, Special Attack, Defense, Special Defense, Speed
Wither that out of the way, here is what the game's complete Pokémon roster looks like:
Rowlet – 320, 68, 55, 50, 55, 50, 42
Dartrix – 420, 78, 75, 70, 75, 70, 52
Hisuian Decidueye – 530, 88, 112, 95, 80, 95, 60
Cyndaquil – 309, 39, 52, 60, 43, 50, 65
Quilava – 405, 58, 64, 80, 58, 65, 80
Hisuian Typhlosion – 534, 73, 84, 119, 78, 85, 95
Oshawott – 308, 55, 55, 63, 45, 45, 45
Dewott – 413, 75, 75, 83, 60, 60, 60
Hisuian Samurott – 528, 90, 108, 100, 80, 65, 85
Bidoof – 250, 59, 45, 35, 40, 40, 31
Bibarel – 410, 79, 85, 55, 60, 60, 71
Starly – 245, 40, 55, 30, 30, 30, 60
Staravia – 340, 55, 75, 40, 50, 40, 80
Staraptor – 485, 85, 120, 50, 70, 60, 100
Shinx – 263, 45, 65, 40, 34, 34, 45
Luxio – 363, 60, 85, 60, 49, 49, 60
Luxray – 523, 80, 120, 95, 79, 79, 70
Wurmple – 195, 45, 45, 20, 35, 30, 20
Silcoon – 205, 50, 35, 25, 55, 25, 15
Beautifly – 395, 60, 70, 100, 50, 50, 65
Cascoon – 205, 50, 35, 25, 55, 25, 15
Dustox – 385, 60, 50, 50, 70, 90, 65
Ponyta – 410, 50, 85, 65, 55, 65, 90
Rapidash – 500, 65, 100, 80, 70, 80, 105
Eevee – 325, 55, 55, 45, 50, 65, 55
Vaporeon – 525, 130, 65, 110, 60, 95, 65
Jolteon – 525, 65, 65, 110, 60, 95, 130
Flareon – 525, 65, 130, 95, 60, 110, 65
Espeon – 525, 65, 65, 130, 60, 95, 110
Umbreon – 525, 95, 65, 60, 110, 130, 65
Leafeon – 525, 65, 110, 60, 130, 65, 95
Glaceon – 525, 65, 60, 130, 110, 95, 65
Sylveon – 525, 95, 65, 110, 65, 130, 60
Zubat – 245, 40, 45, 30, 35, 40, 55
Golbat – 455, 75, 80, 65, 70, 75, 90
Crobat – 535, 85, 90, 70, 80, 80, 130
Drifloon – 348, 90, 50, 60, 34, 44, 70
Drifblim – 498, 150, 80, 90, 44, 54, 80
Kricketot – 194, 37, 25, 25, 41, 41, 25
Kricketune – 384, 77, 85, 55, 51, 51, 65
Buizel – 330, 55, 65, 60, 35, 30, 85
Floatzel – 495, 85, 105, 85, 55, 50, 115
Burmy – 224, 40, 29, 29, 45, 45, 36
Wormadam – 424, 60, 59, 79, 85, 105, 36
Mothim – 424, 70, 94, 94, 50, 50, 66
Geodude – 300, 40, 80, 30, 100, 30, 20
Graveler – 390, 55, 95, 45, 115, 45, 35
Golem – 495, 80, 120, 55, 130, 65, 45
Stantler – 465, 73, 95, 85, 62, 65, 85
Wyrdeer – 525, 103, 105, 105, 72, 75, 65
Munchlax – 390, 135, 85, 40, 40, 85, 5
Snorlax – 540, 160, 110, 65, 65, 110, 30
Paras – 285, 35, 70, 45, 55, 55, 25
Parasect – 405, 60, 95, 60, 80, 80, 30
Pichu – 205, 20, 40, 35, 15, 35, 60
Pikachu – 320, 35, 55, 50, 40, 50, 90
Raichu – 485, 60, 90, 90, 55, 80, 110
Abra – 310, 25, 20, 105, 15, 55, 90
Kadabra – 400, 40, 35, 120, 30, 70, 105
Alakazam – 500, 55, 50, 135, 45, 95, 120
Chimchar – 309, 44, 58, 58, 44, 44, 61
Monferno – 405, 64, 78, 78, 52, 52, 81
Infernape – 534, 76, 104, 104, 71, 71, 108
Buneary – 350, 55, 66, 44, 44, 56, 85
Lopunny – 480, 65, 76, 54, 84, 96, 105
Cherubi – 275, 45, 35, 62, 45, 53, 35
Cherrim – 450, 70, 60, 87, 70, 78, 85
Psyduck – 320, 50, 52, 65, 48, 50, 55
Golduck – 500, 80, 82, 95, 78, 80, 85
Combee – 244, 30, 30, 30, 42, 42, 70
Vespiquen – 474, 70, 80, 80, 102, 102, 40
Scyther – 500, 70, 110, 55, 80, 80, 105
Scizor – 500, 70, 130, 55, 100, 80, 65
Kleavor – 505, 70, 135, 45, 95, 75, 85
Heracross – 500, 80, 125, 40, 75, 95, 85
Aipom – 360, 55, 70, 40, 55, 55, 85
Ambipom – 482, 75, 100, 60, 66, 66, 115
Magikarp – 200, 20, 10, 15, 55, 20, 80
Gyarados – 540, 95, 125, 60, 79, 100, 81
Shellos – 325, 76, 48, 57, 48, 62, 34
Gastrodon – 475, 111, 83, 92, 68, 82, 39
Hisuian Qwilfish – 440, 65, 95, 55, 85, 55, 85
Overqwil – 510, 85, 115, 65, 95, 65, 85
Happiny – 220, 100, 5, 15, 5, 65, 30
Chansey – 450, 250, 5, 35, 5, 105, 50
Blissey – 540, 255, 10, 75, 10, 135, 55
Budew – 280, 40, 30, 50, 35, 70, 55
Roselia – 400, 50, 60, 100, 45, 80, 65
Roserade – 515, 60, 70, 125, 65, 105, 90
Carnivine – 454, 74, 100, 90, 72, 72, 46
Petilil – 280, 45, 35, 70, 50, 50, 30
Hisuian Lilligant – 480, 70, 105, 50, 75, 75, 105
Tangela – 435, 65, 55, 100, 115, 40, 60
Tangrowth – 535, 100, 100, 110, 125, 50, 50
Barboach – 288, 50, 48, 46, 43, 41, 60
Whiscash – 468, 110, 78, 76, 73, 71, 60
Croagunk – 300, 48, 61, 61, 40, 40, 50
Toxicroak – 490, 83, 106, 86, 65, 65, 85
Ralts – 198, 28, 25, 45, 25, 35, 40
Kirlia – 278, 38, 35, 65, 35, 55, 50
Gardevoir – 518, 68, 65, 125, 65, 115, 80
Gallade – 518, 68, 125, 65, 65, 115, 80
Yanma – 390, 65, 65, 75, 45, 45, 95
Yanmega – 515, 86, 76, 116, 86, 56, 95
Hippopotas – 330, 68, 72, 38, 78, 42, 32
Hippowdon – 525, 108, 112, 68, 118, 72, 47
Pachirisu – 405, 60, 45, 45, 70, 90, 95
Stunky – 329, 63, 63, 41, 47, 41, 74
Skuntank – 479, 103, 93, 71, 67, 61, 84
Teddiursa – 330, 60, 80, 50, 50, 50, 40
Ursaring – 500, 90, 130, 75, 75, 75, 55
Ursaluna – 550, 130, 140, 45, 105, 80, 50
Goomy – 300, 45, 50, 55, 35, 75, 40
Hisuian Sliggoo – 452, 58, 75, 83, 83, 113, 40
Hisuian Goodra – 600, 80, 100, 110, 100, 150, 60
Onix – 385, 35, 45, 30, 160, 45, 70
Steelix – 510, 75, 85, 55, 200, 65, 30
Rhyhorn – 345, 80, 85, 30, 95, 30, 25
Rhydon – 485, 105, 130, 45, 120, 45, 40
Rhyperior – 535, 115, 140, 55, 130, 55, 40
Bonsly – 290, 50, 80, 10, 95, 45, 10
Sudowoodo – 410, 70, 100, 30, 115, 65, 30
Lickitung – 385, 90, 55, 60, 75, 75, 30
Lickilicky – 515, 110, 85, 80, 95, 95, 50
Togepi – 245, 35, 20, 40, 65, 65, 20
Togetic – 405, 55, 40, 80, 85, 105, 40
Togekiss – 545, 85, 50, 120, 95, 115, 80
Turtwig – 318, 55, 68, 45, 64, 55, 31
Grotle – 405, 75, 89, 55, 85, 65, 36
Torterra – 525, 95, 109, 75, 105, 85, 56
Porygon – 395, 65, 60, 85, 70, 75, 40
Porygon2 – 515, 85, 80, 105, 90, 95, 60
Porygon-Z – 535, 85, 80, 135, 70, 75, 90
Gastly – 310, 30, 35, 100, 30, 35, 80
Haunter – 405, 45, 50, 115, 45, 55, 95
Gengar – 500, 60, 65, 130, 60, 75, 110
Spiritomb – 485, 50, 92, 92, 108, 108, 35
Murkrow – 405, 60, 85, 85, 42, 42, 91
Honchkrow – 505, 100, 125, 105, 52, 52, 71
Unown – 336, 48, 72, 72, 48, 48, 48
Spheal – 290, 70, 40, 55, 50, 50, 25
Sealeo – 410, 90, 60, 75, 70, 70, 45
Walrein – 530, 110, 80, 95, 90, 90, 65
Remoraid – 300, 35, 65, 65, 35, 35, 65
Octillery – 480, 75, 105, 105, 75, 75, 45
Skorupi – 330, 40, 50, 30, 90, 55, 65
Drapion – 500, 70, 90, 60, 110, 75, 95
Hisuian Growlithe – 350, 60, 75, 65, 45, 50, 55
Hisuian Arcanine – 555, 95, 115, 95, 80, 80, 90
Glameow – 310, 49, 55, 42, 42, 37, 85
Purugly – 452, 71, 82, 64, 64, 59, 112
Machop – 305, 70, 80, 35, 50, 35, 35
Machoke – 405, 80, 100, 50, 70, 60, 45
Machamp – 505, 90, 130, 65, 80, 85, 55
Chatot – 411, 76, 65, 92, 45, 42, 91
Duskull – 295, 20, 40, 30, 90, 90, 25
Dusclops – 455, 40, 70, 60, 130, 130, 25
Dusknoir – 525, 45, 100, 65, 135, 135, 45
Piplup – 314, 53, 51, 61, 53, 56, 40
Prinplup – 405, 64, 66, 81, 68, 76, 50
Empoleon – 530, 84, 86, 111, 88, 101, 60
Mantyke – 345, 45, 20, 60, 50, 120, 50
Mantine – 485, 85, 40, 80, 70, 140, 70
Hisuian Basculin – 460, 70, 92, 80, 65, 55, 98
Basculegion – 530, 120, 112, 80, 65, 75, 78
Vulpix – 299, 38, 41, 50, 40, 65, 65
Ninetales – 505, 73, 76, 81, 75, 100, 100
Tentacool – 335, 40, 40, 50, 35, 100, 70
Tentacruel – 515, 80, 70, 80, 65, 120, 100
Finneon – 330, 49, 49, 49, 56, 61, 66
Lumineon – 460, 69, 69, 69, 76, 86, 91
Magby – 365, 45, 75, 70, 37, 55, 83
Magmar – 495, 65, 95, 100, 57, 85, 93
Magmortar – 540, 75, 95, 125, 67, 95, 83
Magnemite – 325, 25, 35, 95, 70, 55, 45
Magneton – 465, 50, 60, 120, 95, 70, 70
Magnezone – 535, 70, 70, 130, 115, 90, 60
Bronzor – 300, 57, 24, 24, 86, 86, 23
Bronzong – 500, 67, 89, 79, 116, 116, 33
Elekid – 360, 45, 63, 65, 37, 55, 95
Electabuzz – 490, 65, 83, 95, 57, 85, 105
Electivire – 540, 75, 123, 95, 67, 85, 95
Gligar – 430, 65, 75, 35, 105, 65, 85
Gliscor – 510, 75, 95, 45, 125, 75, 95
Gible – 300, 58, 70, 40, 45, 45, 42
Gabite – 410, 68, 90, 50, 65, 55, 82
Garchomp – 600, 108, 130, 80, 95, 85, 102
Nosepass – 375, 30, 45, 45, 135, 90, 30
Probopass – 525, 60, 55, 75, 145, 150, 40
Hisuian Voltorb – 330, 40, 30, 55, 50, 55, 100
Hisuian Electrode – 490, 60, 50, 80, 70, 80, 150
Rotom – 440, 50, 50, 95, 77, 77, 91
Chingling – 285, 45, 30, 65, 50, 50, 45
Chimecho – 455, 75, 50, 95, 80, 90, 65
Misdreavus – 435, 60, 60, 85, 60, 85, 85
Mismagius – 495, 60, 60, 105, 60, 105, 105
Cleffa – 218, 50, 25, 45, 28, 55, 15
Clefairy – 323, 70, 45, 60, 48, 65, 35
Clefable – 483, 95, 70, 95, 73, 90, 60
Hisuian Sneasel – 430, 55, 95, 35, 55, 75, 115
Sneasler – 510, 80, 130, 40, 60, 80, 120
Weavile – 510, 70, 120, 45, 65, 85, 125
Snorunt – 300, 50, 50, 50, 50, 50, 50
Glalie – 480, 80, 80, 80, 80, 80, 80
Froslass – 480, 70, 80, 80, 70, 70, 110
Cranidos – 350, 67, 125, 30, 40, 30, 58
Rampardos – 495, 97, 165, 65, 60, 50, 58
Shieldon – 350, 30, 42, 42, 118, 88, 30
Bastiodon – 495, 60, 52, 47, 168, 138, 30
Swinub – 250, 50, 50, 30, 40, 30, 50
Piloswine – 450, 100, 100, 60, 80, 60, 50
Mamoswine – 530, 110, 130, 70, 80, 60, 80
Bergmite – 304, 55, 69, 32, 85, 35, 28
Hisuian Avalugg – 514, 95, 127, 34, 184, 36, 38
Snover – 334, 60, 62, 62, 50, 60, 40
Abomasnow – 494, 90, 92, 92, 75, 85, 60
Hisuian Zorua – 330, 35, 60, 85, 40, 40, 70
Hisuian Zoroark – 510, 55, 100, 125, 60, 60, 110
Rufflet – 350, 70, 83, 37, 50, 50, 60
Hisuian Braviary – 510, 110, 83, 112, 70, 70, 65
Riolu – 285, 40, 70, 35, 40, 40, 60
Lucario – 525, 70, 110, 115, 70, 70, 90
Uxie – 580, 75, 75, 75, 130, 130, 95
Mesprit – 580, 80, 105, 105, 105, 105, 80
Azelf – 580, 75, 125, 125, 70, 70, 115
Heatran – 600, 91, 90, 130, 106, 106, 77
Regigigas – 670, 110, 160, 80, 110, 110, 100
Cresselia – 600, 120, 70, 75, 120, 130, 85
Thundurus – 580, 79, 115, 125, 70, 80, 111
Thundurus Therian – 580, 79, 105, 145, 70, 80, 101
Tornadus – 580, 79, 115, 125, 70, 80, 111
Tornadus Therian – 580, 79, 100, 110, 80, 90, 121
Landorus Therian – 600, 89, 145, 105, 90, 80, 91
Landorus – 600, 89, 125, 115, 90, 80, 101
Enamorus – 580, 74, 115, 135, 70, 80, 106
Enamorus Therian – 580, 74, 115, 135, 110, 100, 46
Dialga – 680, 100, 120, 150, 120, 100, 90
Origin Dialga – 680, 100, 100, 150, 120, 120, 90
Palkia – 680, 90, 120, 150, 100, 120, 100
Origin Palkia – 680, 90, 100, 150, 100, 120, 120
Giratina Origin – 680, 150, 120, 120, 100, 100, 90
Giratina Altered – 680, 150, 100, 100, 120, 120, 90
Arceus – 720, 120, 120, 120, 120, 120, 120
Phione – 480, 80, 80, 80, 80, 80, 80
Manaphy – 600, 100, 100, 100, 100, 100, 100
Shaymin Sky – 600, 100, 103, 120, 75, 75, 127
Shaymin Land – 600, 100, 100, 100, 100, 100, 100
Darkrai – 600, 70, 90, 135, 90, 90, 125